Even a minor project can brighten your home and raise its value.
In this slow market, sellers have to do more to attract buyers, and buyers are making steep tradeoffs to afford a home at today's interest rates. But whether you're planning to sell soon or not, you might find the time right for a quick home update that won't break the bank.
We've compiled this list of 10 renovations for under $1,000 that will transform your home while simultaneously adding value.
General projects and renovations
1. Refresh the walls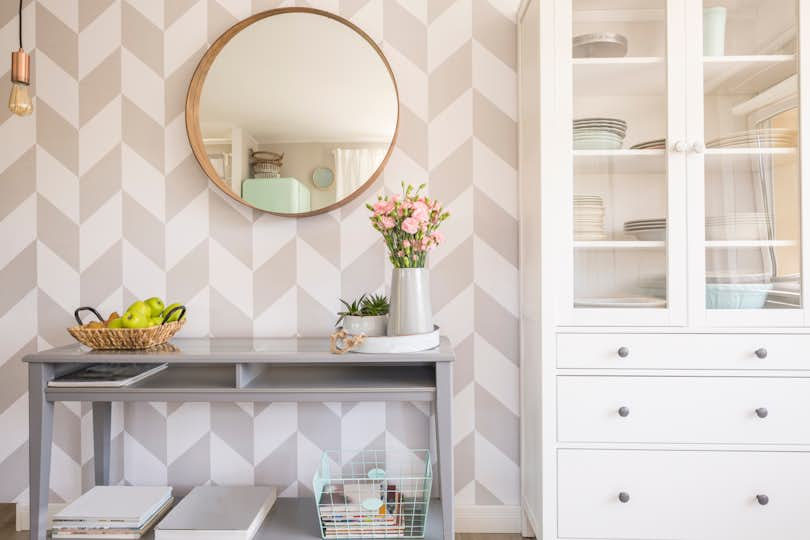 Painting is one of the easiest and most cost-effective ways to give your space a new look. "It's the least expensive investment for the biggest return," says Jennie Norris, chairwoman of the International Association of Home Staging Professionals and owner of Denver-based home staging business, Sensational Homes.
Having your home's entire interior professionally painted costs an average of $8,700 for a 2,500-square-foot house. However, you don't need to pay nearly that amount or touch every wall to make a noticeable impact. If you have the patience, you can do it yourself for just the cost of paint, brushes, and tape.
For a clean and modern look, stick to a neutral color palette in high-traffic areas like the kitchen and family room. Painting an accent wall is a great way to add a pop of color and will keep costs down.
If you're feeling adventurous, hanging wallpaper is another relatively inexpensive project that will completely transform your walls by adding color, texture, or pattern. While the idea of wallpaper sounds intimidating for many folks, there are plenty of temporary
peel-and-stick options that can be easily hung in an afternoon. The best part is, when you're ready to try something new, it can be just as easily taken down.
Average cost: $3.50 per square foot
Project duration: 1 to 2 days
Expected ROI: 107% (meaning you'll get all your money back plus 7% more)
2. Switch out your lighting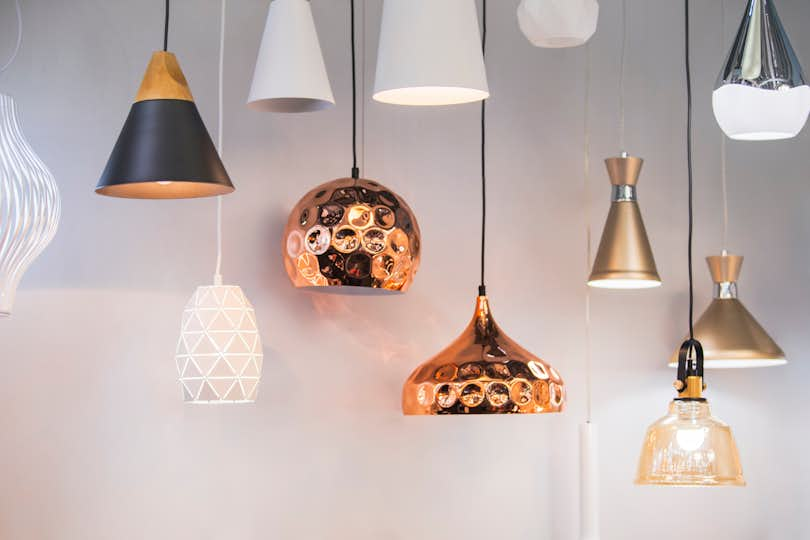 Outdated light fixtures can instantly ruin the vibe in any room and are a tell-tale sign your home may need updating. With the help of a few DIY YouTube tutorials and a couple of hundred bucks, you can give your home an entirely new look. Swapping out your lighting, whether a chandelier, overhead pendant, or wall sconce, makes a dramatic difference in any space, both in terms of style and overall lighting.
The type of bulbs you use is equally important. Choose soft white bulbs and add a dimmer to boost the overall ambiance. And, for cost savings, switch to LED lights.
While costs and return vary depending on the quality of your existing and upgraded fixtures, beautiful lighting makes a great first impression, which will ultimately raise your home's perceived value when you decide to sell.
Average cost: $75-$300 per fixture. For more complex electrical work that requires an electrician, expect to pay $50-$100 per hour.
Project duration: 1 day
Expected ROI: Varies
3. Deep clean your furniture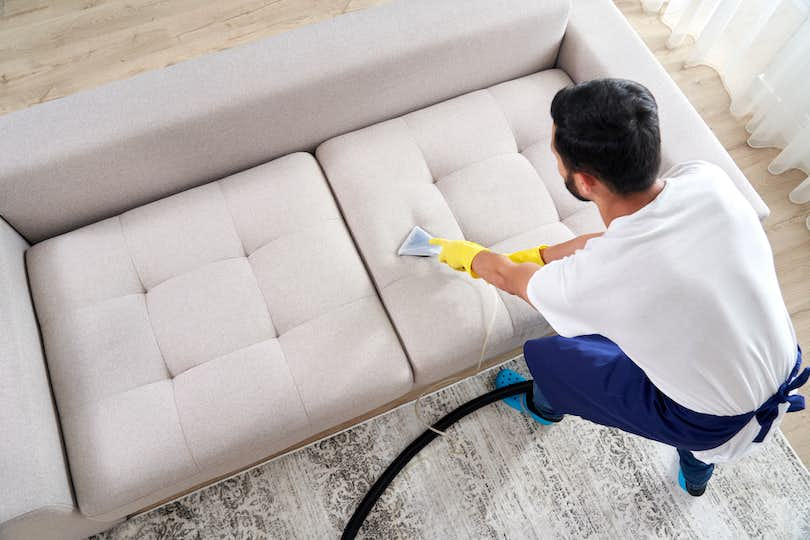 On average, the life expectancy of your sofa is 7 to 15 years. If you're considering a cleaning versus a replacement, it's well worth spending a couple hundred dollars to see if you can bring your couches back to life before shelling out big bucks for a new set.
Besides removing dirt and debris, professional deep cleaning provides additional benefits:
Removes sweat, dust, and pet dander
Improves air quality
Gets rid of lingering odors
Eliminates stubborn stains
Average cost: $100-$300 per item
Project duration: 1 day
Expected ROI: N/A
Bedroom projects and renovations
4. Install decorative trim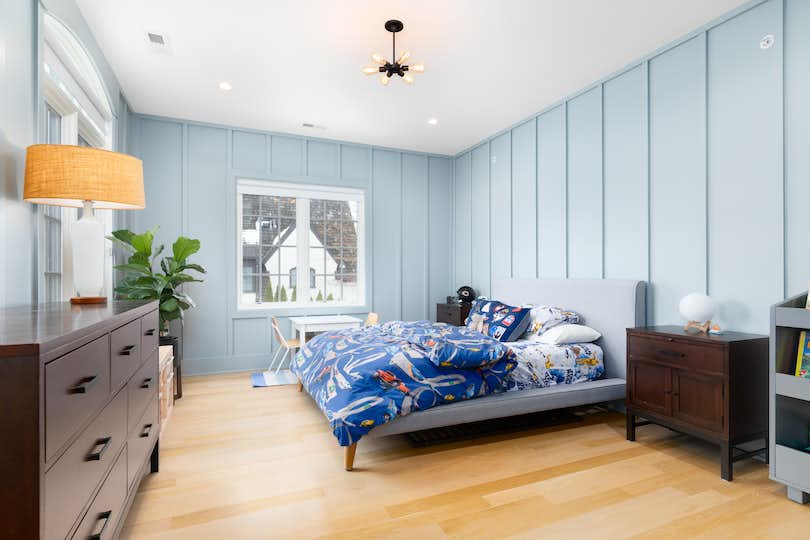 Add character and a custom look by installing crown molding, baseboards, beadboard wainscotting, and more. Doing your entire house can quickly become expensive, but focusing on a few rooms, like the primary bedroom, home office, or dining room, can go a long way toward giving your home an updated and expensive feel.
To make your life easier, choose prefinished millwork, which will cut down on labor and save you more of your renovation budget.
The return on this investment varies greatly depending on the materials and extent of the work, but real estate experts agree decorative moldings get noticed.
Rory Doyle, owner of Doyle Renovations, puts it this way: "If you have two identical houses next to one another, and one has crown molding, and the other one doesn't, the home with the crown molding would absolutely be worth more money."
5. Hang mirrors and art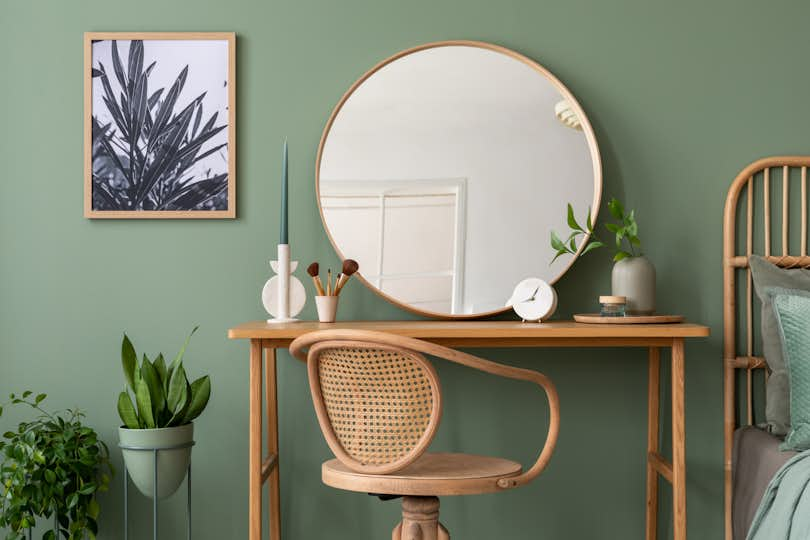 Mirrors can make a smal space look bigger, brighter, and better. If you have a small room lacking windows, a great trick is to use a mirror that mimics a window. This will make the space feel more open and remove any feeling of claustrophobia. Another tip is to use a tall, slender mirror to draw the eye up and create the illusion of higher ceilings.
On the other hand, if you're wondering why your house feels stark or cold, it may be because your walls are bare. Although it can be a striking design choice to keep a wall entirely bare and have one piece of art as the focal point, if you're trying to create a warm and inviting feeling, we suggest loading up your walls with intentional, meaningful pieces that will add personality and showcase family photos and special memories.
Original artwork can sell for thousands of dollars, but if that's not in your budget, prints are a much more economical way to go and can start as low as $10. Popular websites for finding affordable prints include Minted, Etsy, and Society6.
Average cost: $10 and up
Project duration: 1 day
Expected ROI: Varies
Kitchen and bathroom projects
6. Replace old hardware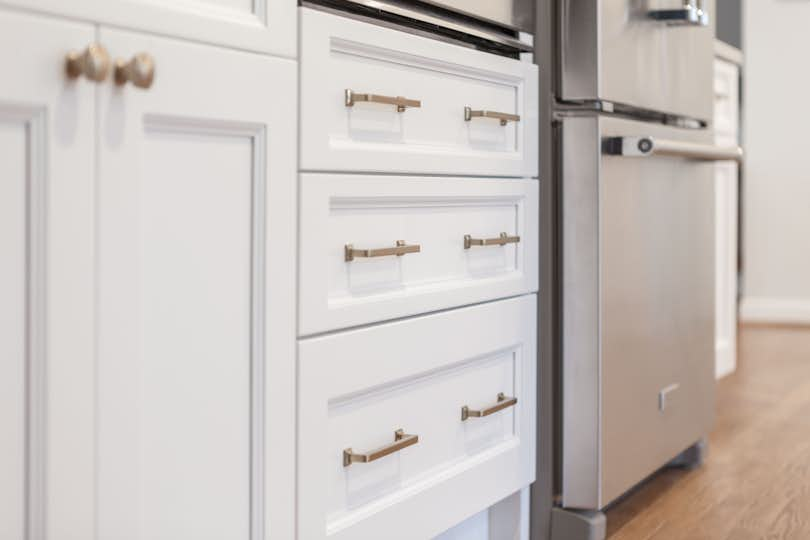 Without structurally changing your kitchen or bathroom, you can replace old knobs, pulls, and hinges with sleeker options to drastically improve your space. Even though these are surface-level changes, they have a substantial impact on the overall feel of your home. It's one of the most cost-effective remodeling tactics.
7. Add a stylish backsplash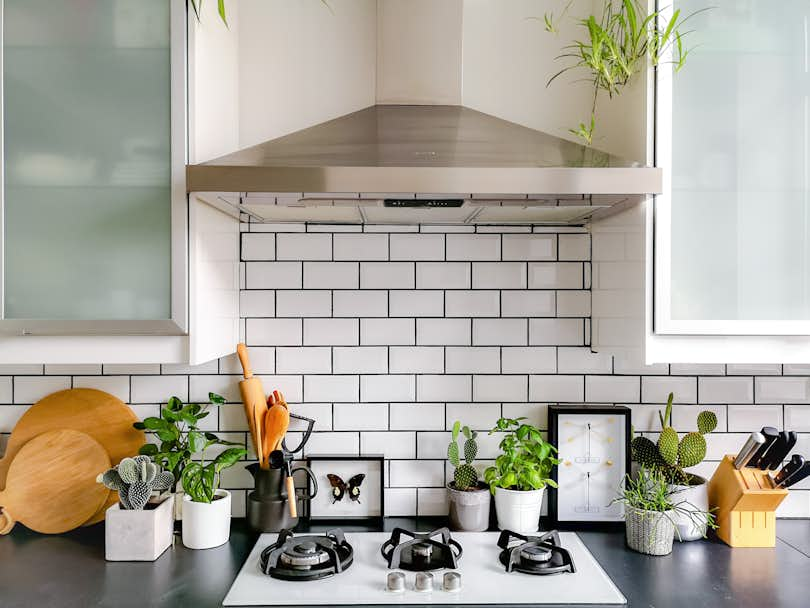 A backsplash is as functional as it is beautiful. It protects your walls against damage from grease, water, and other liquids, and it injects personality. A new backsplash will breathe new life into an older kitchen or bathroom by using glass tiles to reflect light or contemporary mosaics to boost style, any of which will help increase resale value.
Exterior projects and renovations
8. Make over your front door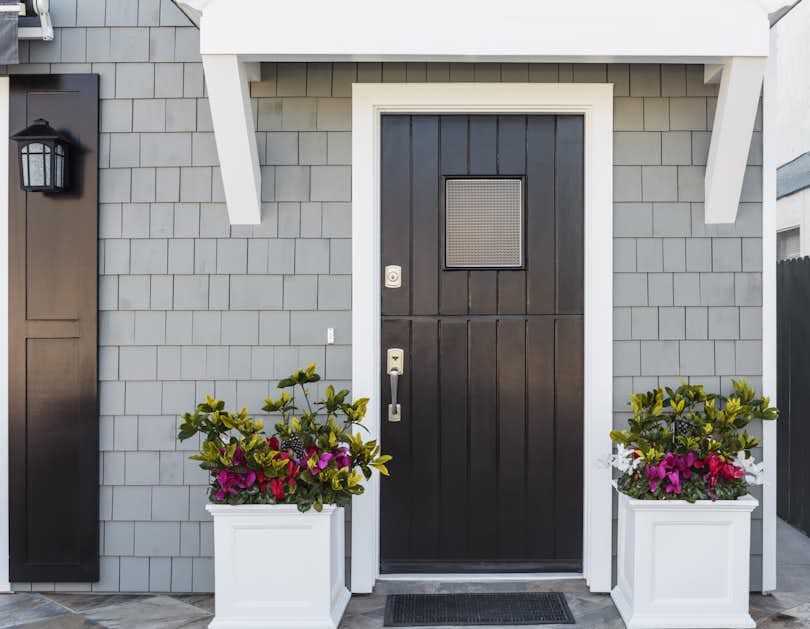 Make your home stand out with a newly painted or refurbished front door. While there are many popular color trends, the ideal color choice for your front door will depend on various factors, including the architectural design of your home, your taste, or the color of your house. Experts have suggested that a traditional shade, usually associated with power, tends to have the highest added value. "The number one front door color buyers will pay more for is black. A black door with a shiny finish may sell for up to $6,500 more than a similar house with a different colored door. It is also the top searched front door color," says Kerry Sherin, consumer advocate at home valuation company, Ownerly.
Average cost:$10-$40 (cost includes paint to cover a standard front door)
Project duration: 1 day
Expected ROI: 74.9%
9. Liven up your landscaping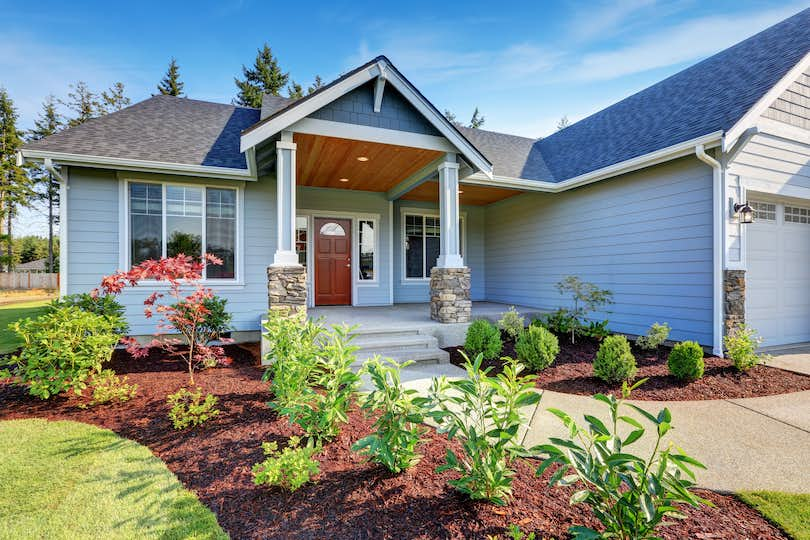 Whether you're a seller looking to add curb appeal or just beautify your outdoor space, attractive landscaping can add significant value to your home. The American Society of Landscape Architects (ASLA) claims professional landscaping can add 15 to 20% more at the time of resale.
Focus on your lawn first. Mulching and edging will transform your yard and give it a well-manicured look. Any dead spots or overgrown areas should be attended to, so your property looks well taken care of. Once your lawn is healthy and green, add pops of color by planting low-maintenance perennials. You'll also want to make sure your driveway and walkways are free from layers of dirt and build-up. An inexpensive fix is to rent a pressure washer, which will run you less than $50 daily.
Average costs:
Project duration: 1-3 days
Expected ROI: 100% or more, depending on the value of your home and purchase price
10. Invest in new outdoor furniture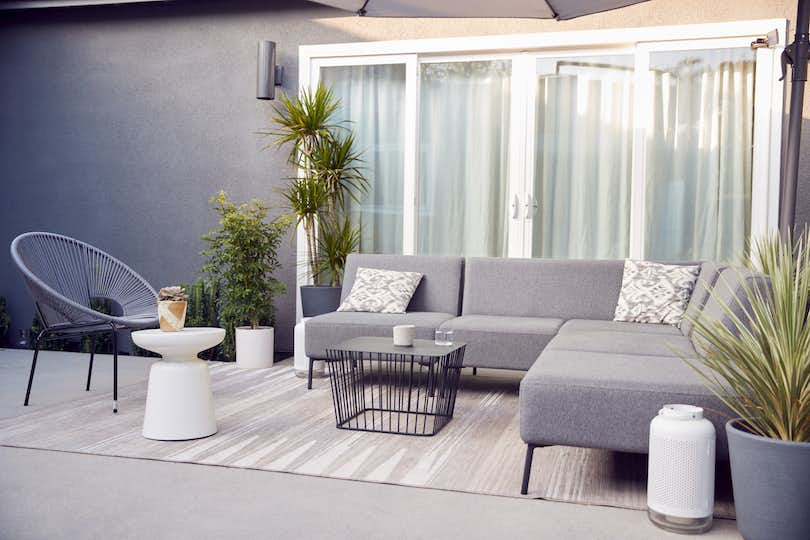 The backyard should be an extension of your home's interior and a place you and your family can enjoy. Investing in a new outdoor dining set or a couple of couches and a coffee table will be the perfect backdrop for weekend cookouts, sporting events, and al fresco dining.
Many affordable options offer both style and functionality, like this modern sectional or this dining set with room for eight! Pull your space together with colorful throw pillows and an eye-catching area rug.
While adding outdoor furniture alone might not add a ton of value to your home, well-designed patios can add as much as 8-10% to a home's value.
Average cost: Varies
Project duration: 1 day
Expected ROI: Up to 80%
Bottom line?
A thousand dollars can go a long way to revive your home's appearance. From new paint to fresh landscaping, you can make minor updates with a ton of impact for very little – and often, these upgrades will help raise your home's overall value.
Remember that updating your home is an ongoing project — think of it as a marathon, not a sprint. Design trends and technology are ever-evolving, so we recommend staying on top of what's in style and making changes as needed.
Related articles