Between record-high home prices and rising mortgage rates, today's buyers are getting much less house for their money.
So, unless you can increase your budget to cover higher monthly payments, you'll need to find a home with a lower asking price and probably give up square footage or amenities in the process.
The idea of cramming all your things into a tiny space can quickly feel overwhelming.
Luckily, small-space living doesn't mean you have to sacrifice style, comfort, or even functionality. In fact, by keying into a few expert-approved tips and tricks, you can maximize your small space and make your floor plan feel like it has doubled in size.
How to make a small space work for you
Declutter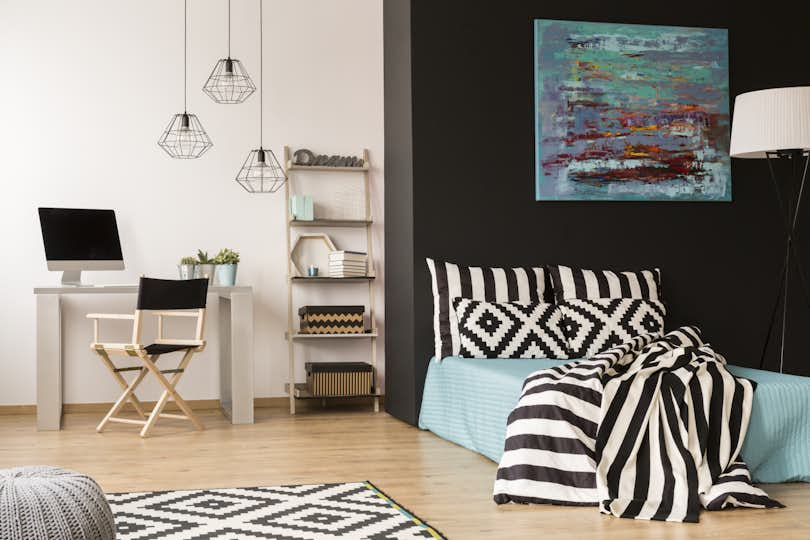 While it's certainly not rocket science ,removing all your extra "stuff" is easily one of the best ways to maximize space in your home.
It might be challenging at first, but learning to let go of things you don't necessarily need will save you a lot of stress in the long run.
Before moving into any new home, consider asking yourself, "Do I really need this? When was the last time I used it?" If the answer is "More than a year ago," consider tossing it out.
Once you move in, all your belongings should have their designated space. "Generally, when things get strewn all over, it's because they don't have a clear or intuitive place to go," says professional organizer Shira Gill. "Invest in hooks, catch-all trays, and under-bench storage so that everything (from keys to shoes) has a place. "
Bring in multi-purpose furniture
Once you've removed the clutter, it's time to invest in furniture that doubles as storage. This is extremely helpful if you have little to no closet space. Multi-functional furniture like ottomans and beds with built-in storage are great places to start.
In a small space, you'll need to get strategic when concealing items you don't want visible
24/7. Examples include a bookcase with a pull-down desk, a Murphy bed with an integrated table for when company comes over, or under-bed storage that doubles as a side table.
Multipurpose pieces can help transform a room quickly and efficiently to fit your ever-evolving needs.
Utilize your wall space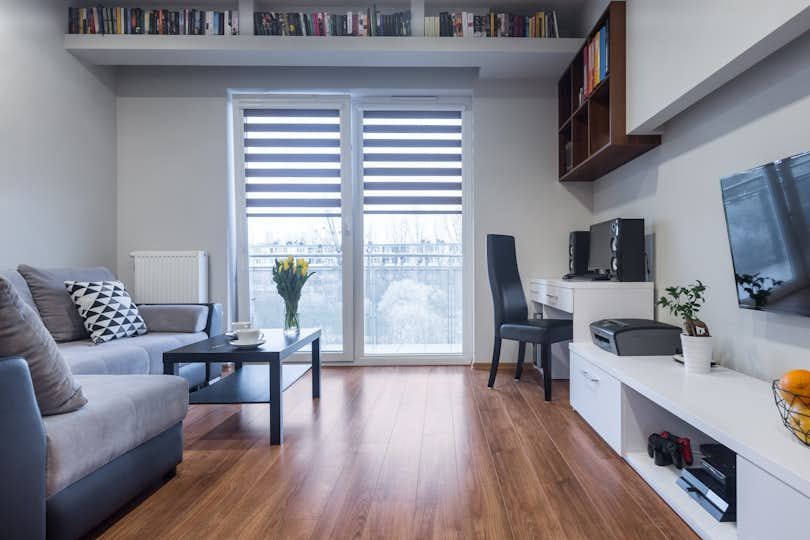 When working with limited square footage, it's time to tackle the walls. And that means you should look for storage opportunities all the way to your ceiling.
Areas with storage potential include the spaces above your cabinets and doors — basically any place with room for a few shelves.
How does your closet look? Is there underutilized space above your clothes racks?
Storage is one of many things that can go vertical – if you have high ceilings and are comfortable with hand tools, consider building an addition, like a loft bedroom.
Make a statement with oversized art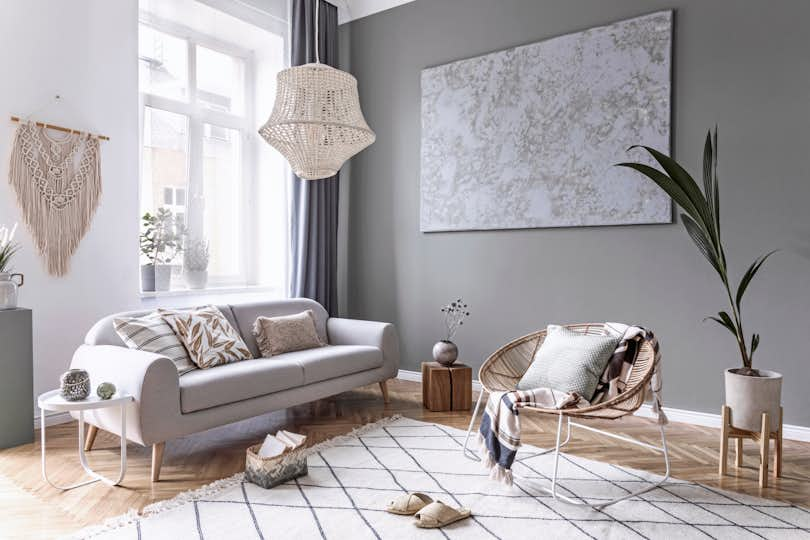 A frequent misconception about decorating your small space is that you must fill it with tiny things. The whole room can feel busy and out of proportion when you have small furniture, wall art, and area rugs.
Choosing an oversized piece of art to anchor the room will make your space much roomier. Cate St. Hill, an interior design writer and stylist, says, "A general rule of thumb is that the frame should take up two-thirds or more of the wall."
A single large piece of art will feel more calming, while "a bunch of smaller pieces will make the space feel cluttered and overwhelming," she says. So, while it may be tempting, we recommend skipping a gallery wall in your small space.
Play with paint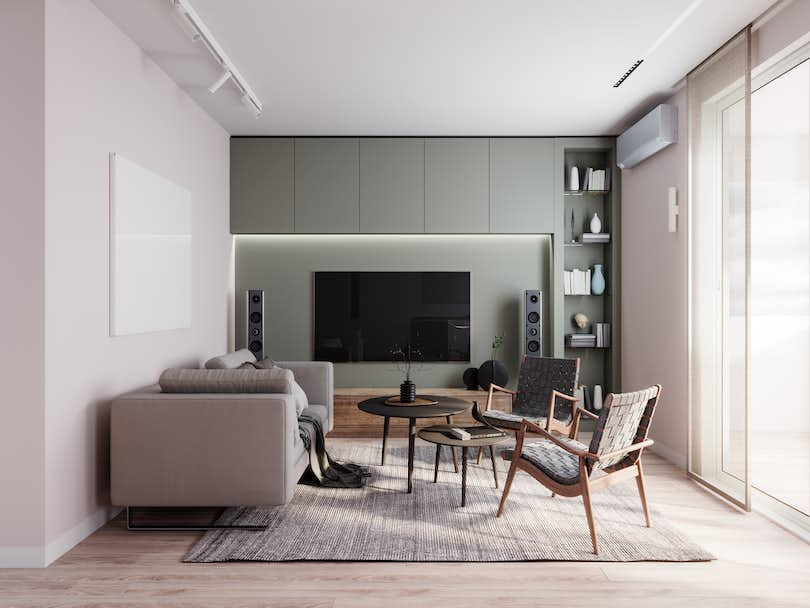 One of the most impactful ways to refresh your small space is also one of the easiest: changing the paint color.
Play around with different swatches, and test a couple of variations on your walls to see how they sit with you. Certain hues will have more impact than others.
"Light, bright colors draw less attention to themselves and help to make a space feel bigger — largely because they disappear," says Clare Paint CEO and founder Nicole Gibbons. "On the other hand, darker colors tend to recede from view, so a more saturated color on the walls could help to 'push' the walls out and therefore give the appearance of a larger space."
Before choosing to go lighter or darker with paint, think about your home's lighting.
"If there is nice, natural light, then a dark paint color can be really lovely," says Atlanta-based interior designer Alice Cramer.
A darker accent wall can be fun to add depth and personality without being overwhelming. Just remember to balance out the space with neutral furniture and accessories.
You can also brighten things by adding mirrors to reflect your wall colors, especially if the room lacks windows or natural light.
Another way to trick the eye is to paint the walls and ceiling the same color. This optical illusion creates a grander feel without having to add any square footage. If a painted ceiling isn't your thing, you can create a similar effect by painting the baseboards and walls the same color.
Create zones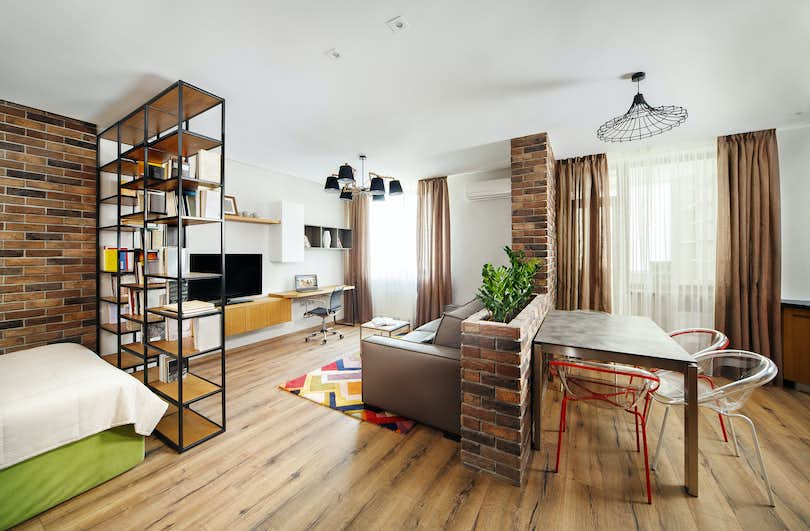 Your small space may consist of only one room. In that case, creating different zones for different purposes is essential.
For example, your living and sleeping spaces might be in the same area. Therefore, we recommend using rugs to ground different spaces so they feel together yet separate.
When possible, create a division between your sleeping area and the rest of the living space with room dividers such as an antique folding screen, bookcases, or even some lightweight curtains.
Make it your own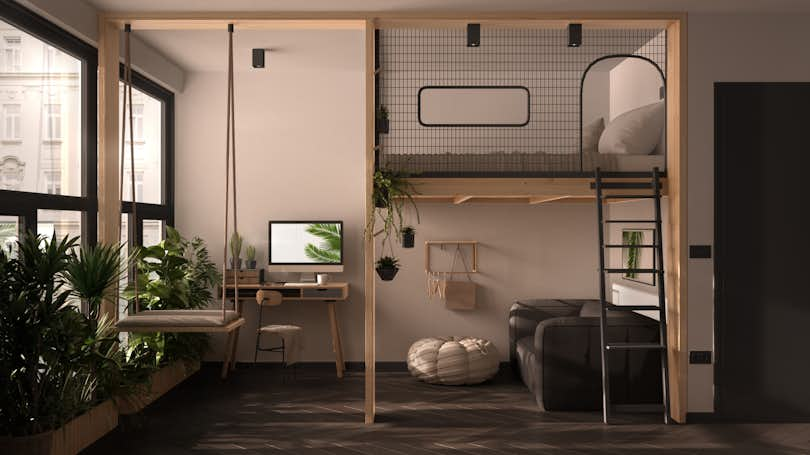 Adding a personal touch is essential for creating a place you feel comfortable in. Custom furnishings and storage solutions can help ensure a perfect fit, especially if you're trying to configure a room with an oddly shaped layout.
Don't be afraid to get creative! This is your home, so while being aware of other people's space-saving ideas can be helpful, you're the one living there.
Most importantly, consider your lifestyle and how you plan to use your space. Then, as you and your home become more acquainted, you'll find what works best for you.
Related articles