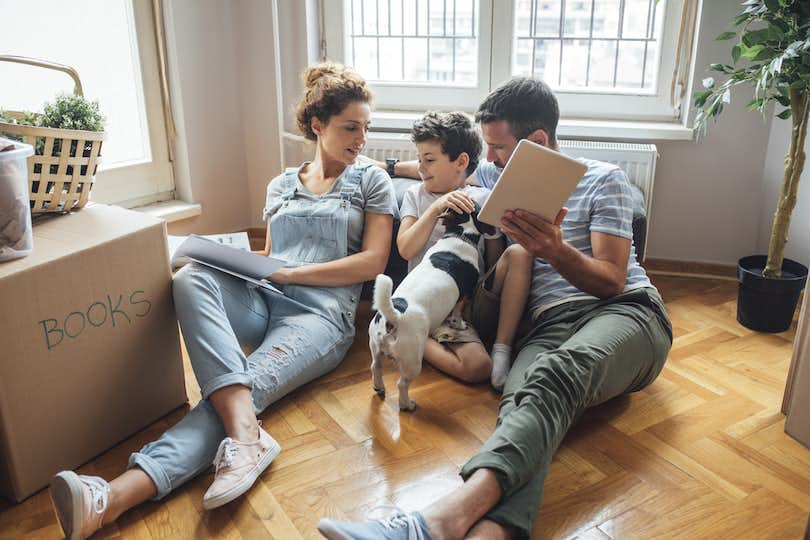 There's nothing quite like picking up the keys to your new home, especially after a long home search and closing process.
Those keys represent a fresh start, but before celebrating too much, take these 11 steps to ensure a seamless transition.
>>TIRED OF COSTLY APPLIANCE REPAIRS? Check out these top home warranty companies today
1. Create a checklist
"The first thing you should do when you move into your new house is create a new house checklist to stay organized, " says Andrew Daniels, co-founder of Millennial Homeowner. "This can include items like a moving timeline, kitchen essentials, pantry staples, and more."
You don't have to buy everything new for your home, but it helps to know what you need. Also, a moving timeline can help you to remember important steps, like setting up utilities, internet service, and pest control. (More on those steps below.)
2. Change the locks
Don't just assume you're the only one with the house keys. It's important to change the locks on all of the doors. This will make your home more secure and give you peace of mind knowing that only you and your family have access.
You don't know how many people have keys from the previous owner. Contractors, utility workers, and others may have keys without your knowledge.
If you're calling a locksmith, ask about additional items, such as better deadbolts and door latches. You may decide the cost is well worth it. And to go a step further, consider a home security system.
>>OUTSMART THE MARKET. Get Clever Real Estate's free weekly newsletter for homeowners, buyers and sellers.
3. Inspect the home for damage
Before you start unpacking your belongings, it's important to inspect the home for any damage, even if you previously did a walk-through.
This includes checking for water leaks, wall or ceiling cracks, or electrical issues.
Try all your lights, faucets, appliances, AC, heat, doors, and windows. Look inside all the cabinets and closets. Contact your realtor if you notice any damage.
Ideally, you should do a final walk-through with your realtor. This is the best time to notice problems that an inspection might have missed. It can be a challenge to remedy these problems after you close, so take photos and video when you do your final walk-through as extra insurance.
4. Deep-clean the house
Even if the previous homeowners left the house in good condition, it's always a good idea to thoroughly clean it before you move in.
Sara Angelo, a professional house cleaner, says, "Cleaning without all your belongings in the house is much easier than cleaning around boxes and furniture. Many cleaning services have move-in cleaning deals if you would like to hire someone."
Giving the kitchen and bathrooms a deep clean is especially important, as those are likely the most-used and highest-traffic areas. Some home sellers might take extra care to clean, patch holes, and generally make the house they sold welcoming to new buyers. Others might pack up and move quickly, leaving new homeowners with hours of cleaning work.
5. Connect the utilities
You'll need to connect utilities like electricity, gas, and water before you can start using them.
Contact the appropriate companies a few days before moving in so everything will work when you arrive. Double-check your closing documents to ensure any start and stop date on the utilities.
>>TIRED OF BAD MOVES? Check out the best moving companies in your area and get free quotes
6. Develop a maintenance plan
Now that you're the proud owner of a new place, it's important to maintain it. This might mean purchasing a home warranty if you don't have one already and opening a home maintenance savings account.
According to American Family Insurance, it's prudent to save 1% of the purchase price of your home for home maintenance annually. So, you should aim to save $3,000 for maintenance annually if your home costs $300,000.
If you need help figuring out where to start, you can use your inspection report as a maintenance checklist and start with a few small updates.
7. Organize your belongings
Unpacking boxes after you've moved in can be an overwhelming process. That's why so many of us (yours truly included) still have boxes from a move in a closet or garage.
"Start with your easy wins to feel successful," says Amelia Pleasant Kennedy, a life coach and professional organizer. "Unpack your essentials first for your bedroom, bathroom, and kitchen. Then, give yourself time to live in your new space and see how you move throughout it. Allow yourself to feel the urge to fill an empty space, but wait to act."
Kennedy emphasizes giving yourself time to adjust. Plus, the more you adapt before filling your new space with new furniture and other items, the more you can save financially.
8. Familiarize yourself with your neighborhood
Getting to know your neighbors will help your transition, says Joey Sasson, vice president of sales & logistics at Moving APT.
"Don't forget to introduce yourself to your new neighbors and learn about the community," Sasson says. "This way, transitioning into your new house will feel smoother and more enjoyable."
Also, explore practical matters like "finding out about trash and recycling pickup days, locating the nearest grocery store or gas station, and understanding local ordinances or regulations."
9. Update your address and insurance
Update your address with the U.S. Postal Service so that you don't miss any mail. (You can manage mail forwarding and holds online via that link.)
"Don't throw away mail from previous tenants," says Kerry Sherin, consumer advocate at Ownerly. "Interfering with mail delivery is a federal crime. Post a sticky note near your mailbox with the names of any current tenants, so your carrier only drops off mail for them."
When updating your address with the postal service, make sure you update your address with your bank account and insurance companies, too. While updating your insurance documents, take the time to read through them, understand them, and update beneficiaries if necessary.
10. Check for plumbing problems
"Many people buy new homes without knowing of plumbing problems that have been ongoing for some time," says Jake Romano, manager of John The Plumber, "Some issues can turn into emergencies if they're not handled appropriately."
Romano advises that homeowners:
Check for corrosion or damage in their pipes throughout the home, where visible.
Check the age and condition of the water heater.
Test and inspect all fixtures.
Check drain pipes for leaks when in use.
Inspect the home for signs of water damage.
11. Keep out pests
Hate bugs? It's wise to schedule a pest control service. That way, you don't have any expensive, unpleasant surprises.
You also can take some steps yourself.
"Before moving in, it's important to seal up any cracks and crevices in your new home," says Rick Conti, a bed bug and pest inspector. "Doing this before you bring in the furniture will save you time and energy down the line."
Conti explains a simple reason: "Bed bugs, roaches, mice, and stink bugs can all squeeze through cracks and crevices and either invade your home or make it harder to find them after they set up shop." This is also something you can DIY, saving you money when you're moving in.