The American dream of homeownership is taking a beating.
Facing high home prices, elevated mortgage rates, and runaway inflation, would-be home buyers are growing pessimistic about their prospects.
More than half of Americans feel they'll never be able to afford a home, according to a 2022 survey from The Harris Poll.
Additionally, a 2022 Gallup poll found that only 30% of American adults believe now is a good time to buy a home. That's down 23 percentage points from 2021. It's also the first time it's ever been below 50%, despite Gallup asking this question since 1978.
One reason for the pessimism is "simple math," says Alex Byder, the owner of BD Home Holdings. "The median cost of a home is around $428,700. A 5% down payment for this is over $20,000. Many people are struggling just to pay their bills and can't even imagine saving $20,000."
Yet homeownership is still a high priority for Americans regardless of age.
>>GET THE FACTS BEFORE YOU BUY. Download Clever Real Estate's free home-buying guide and get weekly tips.
So how can Americans who want to buy a home realize their dream?
For many, the answer may involve understanding the main barriers to purchasing a home and considering alternative home-buying strategies.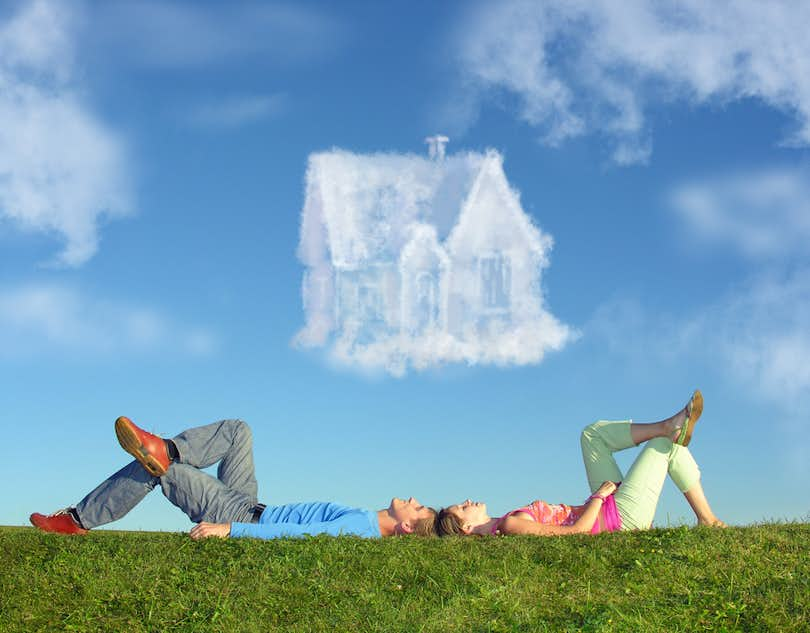 Why are Americans struggling to afford homes?
Many Americans have been facing worsening affordability challenges since the pandemic housing market started.
Almost three years later, the American Dream seems farther away than ever as many people struggle to save money for a home.
In fact, housing affordability dropped by 29% in the last year — the sharpest year-over-year decrease on record.
"Many Americans are having to face a harsh reality and make major changes in their plans for the future," says Cody Neumann, a real estate entrepreneur at Turbo Cash Home Buyer. "It's becoming more difficult for many people to own a home. They may have to put off their dream of buying a home, adjust their retirement goals, or rethink how they'll use savings for the future."
According to a March 2022 Bankrate survey, non-homeowners state the main reasons they don't own a home are due to:
Not enough income (43%)
Home prices being too high (39%)
Difficulty affording a down payment and closing costs (36%)
About 61% of Americans and 69% of Millennials say they feel priced out of the housing market.
"As someone who has struggled to save enough for a down payment and has faced competition from other buyers in a tight housing market, it's frustrating and demoralizing to feel like you may never be able to achieve the dream of homeownership,"
Says Julian Goldie, the CEO of Goldie Agency.
Wages aren't keeping up with inflation
Saving for a down payment and closing costs is hard, especially with the average personal income in the U.S. at just over $63,000 and the median at $44,225.
"Coming up with the deposit has become even harder since the pandemic. So many peoples' emergency funds and savings were depleted, and parents simply are unable to help their kids get on the property ladder," notes Catherine Mack, co-owner of House Buyer Network.
Additionally, many people are struggling to keep up with the rising costs of everyday goods — including those who have received raises. Bankrate found 55% of workers surveyed report their incomes aren't keeping pace with rising costs.
Greg McBride, the chief financial analyst for Bankrate, notes that even those receiving higher pay through a raise or promotion still may be unable to cover the increase in household expenses.
Higher mortgage rates hit hard
The average 30-year mortgage rate increased from around 3% in January 2022 to a high of about 7% in October, making it more difficult for many to buy a home.
For instance, some people now struggle to get pre-approved for loans, while others may wait to buy because of high monthly mortgage payments.
Drake Johnson, a house flipper at Greenway Homes, had been considering refinancing. But the change from around 3% to 7% in the rates was too much. "It was a 58% increase in monthly payments on the same valued house. I felt like I'd never be able to afford that."
House prices remain high, and supply is low
Affordability took a hit during the red-hot pandemic housing market with fast-rising home prices, high buyer demand, and limited inventory.
Because of the imbalance, buyers often engaged in bidding wars and paid more than the asking price.
And while home prices are dropping in some markets, they're still high — more than 6% higher than a year ago.
Additionally, the construction of affordable homes has been slow to recover.
Potential home buyers are wary
A Gallup poll found that 70% of Americans believe housing prices will continue to rise, which may also impact potential buyers' behaviors.
Denise Supplee, a co-founder of SparkRental.com, has noticed that concerns about housing prices and the increasing cost of living have affected some buyers.
"I've had two purchasers back out from looking for a home recently," she says. "One was a first-time homebuyer who decided to rent. The other was a couple who wanted larger quarters."
Some Americans are pursuing alternative solutions
Despite the difficulties with the current housing market, some people are seeking alternative solutions to help them save faster or buy a home.
Here are five alternative strategies many potential buyers are considering.
1. Moving to a less expensive location
With the rise of remote work, more people are contemplating moving away from cities to less expensive locations, such as the suburbs or rural areas. Some are even considering moving to other countries to save money and be able to buy a home.
Drake Johnson says, "Our dream house isn't feasible inside city limits, so we'll have to at least go to the outskirts of the city where it costs less. My wife and I have considered selling everything and moving somewhere cheaper, like Bali or Mexico."
They aren't alone. The Harris Poll found that over 50% of Millennials and Gen Z were open to moving to the suburbs or a rural area. And while 49% of Gen Z was open to moving out of the country, only 39% of Millennials were open to that option.
>>THINKING OF MOVING? Check out the best moving companies in your area and get free quotes.
2. House hacking to help pay the mortgage
Mark Severino, a real estate investor in Dallas and owner of Best Texas House Buyers, has used house hacking for the last six years to pay for housing costs.
"You buy a property and rent out part of it to either partially or completely cover your mortgage payment."
House hacking can also help some people qualify for loans with a lower interest rate as an owner-occupant.
Denise Supplee suggests considering a small multi-unit (under four units). "It still qualifies for an FHA loan which means a lower down payment and lower interest rates. Plus, the other units can assist in lowering the cost of living."
However, house hacking doesn't work in all situations, so it's important to investigate this approach before attempting it. For instance, some markets may be too expensive, or you may not qualify for the right financing.
3. Co-buying a home
Another strategy people are turning to is co-buying — where two or more people pool their resources to buy a home together.
Co-buyers can range in groups as small as two or more than 10. For instance, Phil Levin and his girlfriend co-own a multiunit property with 17 adults and two infants.
Groups also can include a diverse mix of unmarried couples, friends, and family members.
Martin Orefice, the CEO of Rent To Own Labs, says, "We're seeing more people living with their parents as a permanent arrangement, more people buying homes with friends and roommates, and more people looking into alternative financing options for homebuying."
According to CoBuy, about 25% of U.S. homes sold in 2021 were co-buyers.
If pursuing co-buying, it's important to have a clear plan and agreement among all buyers and, ideally, get support from a real estate professional with experience helping co-buyers.
>> GET A FULL-SERVICE AGENT AT A 1.5% COMMISSION. Get personalized agent matches today from Clever Real Estate with no obligation.
4. Rent an accessory dwelling unit (ADU) to save money
ADUs are compact, typically affordable spaces, sometimes called garage apartments or granny flats. These self-contained units are on the lot of a larger, primary home.
Homeowners can rent these to generate additional income. But, as Catherine Mack suggests, "renting an ADU instead of your dream apartment can be cheaper, helping you save for your deposit faster."
5. Buying a home through a lease-to-own contract
Buying a home through a lease-to-own agreement allows you to rent or lease the home from the owner while you work on improving your credit and other financials.
A portion of your rent or security deposit is set aside and put toward purchasing the house. Before the end of your rental period, you apply for a loan from the bank, and if you are approved, you can buy the home.
Melanie Hartmann, the owner of Creo Home Buyers, says, "Buying a home via lease-to-own or seller financing is a great option for renters who believe they cannot afford to buy a home. A mortgage loan from a bank requires applicants to jump through hoops to be approved, hoops that many renters aren't yet prepared for."
However, some rent-to-own programs may also have drawbacks, such as forfeiting your accumulated down payment if you choose not to buy.
How can the U.S. improve housing affordability?
The nation can take steps to improve affordability, especially for lower-income people, first-time homebuyers, and people of color.
However, it will take increasing the supply of affordable homes, changes in policies, and government assistance to correct the problem.
In May 2022, President Biden released a Housing Supply Action Plan focusing on legislative and administrative solutions to help improve the housing supply shortfall.
The plan includes:
Expanding existing federal financing
Reforming the Low Income Housing Tax Credit (LIHTC)
Providing incentives to reduce restrictive local zoning laws
Working with private sector businesses to address supply chain challenges to help complete construction on new homes
Additional solutions that can help ease the housing shortage and help more Americans own a home include:
Increasing the availability of new affordable homes by providing incentives to builders. Janneke Ratcliffe, the vice president of the Housing Finance Policy Center at the Urban Institute, recommends exploring a variety of incentives. They include federal support and fewer regulations and restrictions to reduce the cost of building.
Preserve existing affordable housing. Work with landlords and property owners to keep developments and rents affordable even after their affordability restrictions pass.
Changing outdated zoning rules to allow for more options, such as allowing more than one home to be built on a parcel of land. These changes can enable people to build additional homes, including ADUs.
Related articles