Many people struggle to afford a home these days. Mortgage rates recently hit 6%, double from a year ago. The median home price shot up by $100,000 during the pandemic boom. And even before that, many people found it tough to come up with the down payment.
As a result, more buyers and sellers are considering rent-to-own arrangements, but there are pros and cons. Here are the factors to consider if you're thinking about rent-to-own.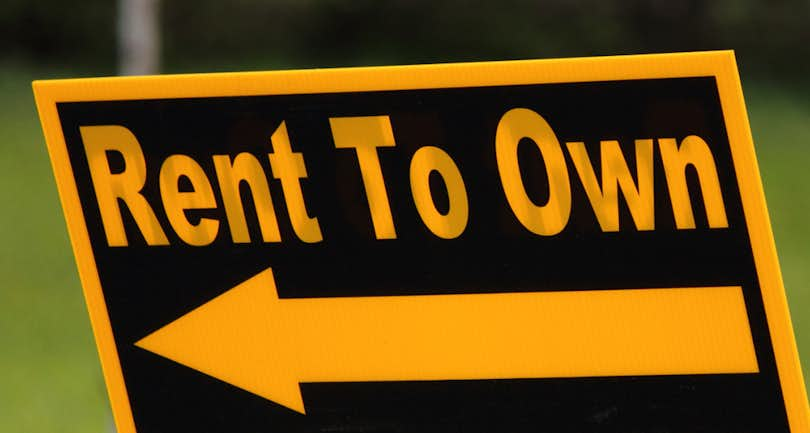 1. You'll pay toward a down payment, but…
In a typical rent-to-own (RTO) contract, you rent a home for a set period. You pay a monthly rent that's typically higher than the market rate, and a portion goes toward your down payment on the home. At the end of the lease period, you have the option to purchase the home for a predetermined price.
But, if you decide not to buy the home, you may be forfeiting any money you've paid toward the down payment.
2. RTOs have a checkered past
Rent-to-own home arrangements tend to favor the current owner because they can cancel the agreement if you miss a payment or keep your money if you change your mind about purchasing the home. So it's no surprise that opportunistic property owners are looking to take advantage of the situation.
Poor and minority communities have historically been victims of an unfair system. A prime example is Chicago in the 1950s and '60s. White homebuyers had access to government assistance for home ownership. But federal policy and "redlining" bank practices forced black buyers into a secondary, unregulated market known as land contract selling, according to a Duke University report, The Plunder of Black Wealth in Chicago. These contracts hugely favored the owners, and the buyers often ended up with no equity.
Even today, no federal laws regulate the RTO industry, though some states and local jurisdictions do. So, unfair and predatory elements of the past can still make their way into rent-to-own contracts today.
The lesson? Read your rent-to-own contract thoroughly and make sure you fully understand the terms. Better yet, work with a real estate attorney with rent-to-own experience.
3. Despite the cons, RTOs work for some people
If you're eager to own a home sooner than later, renting to own a home can be a valid option, with the right contract.
"Rent-to-own offers people the possibility to become homeowners while still residing in the property they will ultimately buy," says Amar Vig, managing director at London-fs. "It also gives them the ability to identify problems with the home before deciding to buy it."
During the term of your rent-to-own agreement, you can work on getting your credit score up, save for a down payment, and maybe find more stable employment. Then you'll be prepared to apply for a traditional loan when your rent-to-own agreement matures.
Rent-to-Own Pros and Cons for Buyers
| | |
| --- | --- |
| Pros | Cons |
| Gives you time to get your finances in order | Can lose money (option fees, additional payment above market rent price), if you don't end up purchasing the home |
| Can potentially lock in a sales price below current market value | Home value could decrease over time and you'd end up owing more than the home is worth |
| Monthly payments could be lower than a mortgage | May end up paying more for the house than you would have under a traditional purchase option (higher interest rates, etc.) |
| If you want a particular home you can live in it immediately and make sure no one else gets it. | Stuck if you change your mind about the house but agreed to purchase at the end of the lease. |
4. RTOs can benefit some sellers, too
In a seller's market, as we've seen until recently, a seller can get the price they want for their home and sell it quickly. But, in a buyers' market, or even a balanced market, it's not so easy. And if an owner plans to sell the home "as is," there will be even fewer takers and lower bids.
Getting a tenant to agree to a rent-to-own arrangement means the seller secures a potential future buyer, locks in a sales price, and has a guaranteed tenant for several years who is motivated to take good care of the property.
In fact, the tenant may be obligated, based on the terms of the contract, to maintain and repair the property. Who wouldn't want that kind of arrangement? The tenant may also be responsible for property insurance and taxes -- it's all a matter of what the contract specifies.
"You will want to be sure to negotiate as much as possible," says Jennifer Murtland, team leader for Team Synergi, a Cincinnati real estate team. "This way, you can make sure that you are getting the best deal possible."
5. You have other options
The seller's market of the past two years has cooled, but homeowners can still get a decent price for their homes if they are patient. And as interest rates increase, owner financing vs. bank financing will come at a premium.
"For anyone looking to rent-to-own, why would they consider that now?'' says Ryan David, owner of We Buy Houses In Pennsylvania. "Any owner financing agreement for a rent-to-own is going to be higher than a bank interest rate, because it almost always is. Yes, the (buyer) will be renting to own, but paying more in interest. The tenant is better off playing the waiting game and just renting."
And it's important to note that RTO isn't your only option.
"There are various options for home ownership other than rent-to-own," says Ryan Stewart, founder of the digital marketing firm Webris and a real estate investor. "You can attend auctions for foreclosed real estate properties or go the shared ownership route."
There are also federal government programs – FHA, VA and USDA loans – with flexible mortgage terms to accommodate low credit scores, high debt and low income.
"If you have access to mortgage options, I wouldn't recommend renting-to-own," says Isaiah Henry, CEO of the property management company Seabreeze. "I'd treat it as a last resort. Usually, the seller comes out on top. It's more expensive than if you just bought it in the first place."
Related Articles