Ameena Walker and her boyfriend bought their first home together three years ago — part of a growing wave of unmarried couples purchasing a home together.
The couple had already been together nine years when they took the co-ownership plunge. They bought a three-bedroom, two-bathroom condo in The Bronx for $467,000.
"My partner didn't seem to have any concerns because he had been ready to buy for years," Walker told Clever News. "I had some reservations since it was the largest purchase I had ever considered making, and I questioned if we were ready.
"I wanted to make sure that it was something that either one of us could afford on our own, in the event one of our employment statuses changes or something else impacted our financial circumstances."
Stephanie Lewis and her fiancé, Nick Goode, have lived together since 2020 and plan to get married in May 2023. The couple recently co-bought their first home for $530,000 in the town of Brewster on Cape Cod. A family gift allowed one partner to contribute more funds toward the down payment. Now they are splitting the mortgage payment, taxes and other expenses 50/50.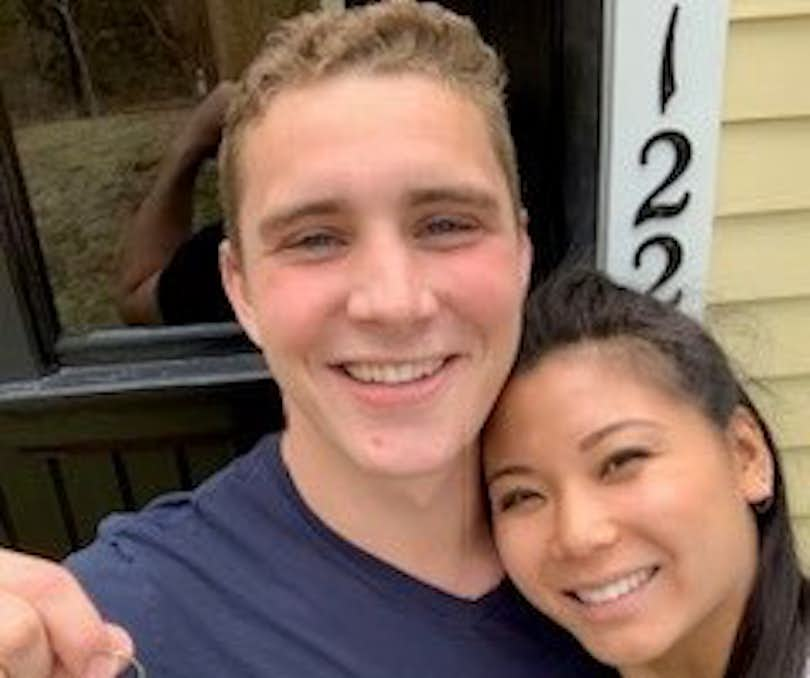 Photo courtesy of Leo and Emily Marseglia
Leo and Emily Marseglia co-bought their home in 2020 right before the pandemic.
Their friends, Emily and Leo Marseglia, also bought their first home in Brewster for $329,000 before getting married. Together almost nine years, they purchased the home in 2020 just before the pandemic. That's when prices began to skyrocket.
"We had been living together for a long time and were saving up for when the right house came along," Emily says. "When this property came on the market, we jumped on it – especially with so few options for affordable homes on the Cape for first-time home buyers."
Co-buying is on the rise, prompted by affordability concerns
In its 2022 Profile of Home Buyers and Sellers, the National Association of Realtors (NAR) reported that 10% of homebuyers were unmarried couples. That's the highest share of unmarried couples recorded.
The study also showed that:
61% of recent buyers were married couples
17% were single women
9% were single men
Among first-time buyers, 18% were unmarried couples. And 5% were either family members or friends. Both were the highest shares recorded to date.
Zillow predicts this trend will continue for 2023 due to steadily rising home prices and mortgage interest rates. Zillow's market forecast for 2023 says co-buying will gain momentum as a way to afford a home.
"With housing costs rising far beyond previous affordability norms, those chasing down homeownership are turning to unconventional means of making it pencil out financially," the report states.
In fact, a recent Zillow survey found that 18% of new home buyers had purchased with a friend or relative who wasn't their spouse or partner. And 19% intended to buy with a friend or relative in the next 12 months.
Affordability and qualifying for a mortgage were named as the top reasons for co-buying. Mortgage payments for a typical U.S. home increased from requiring 27% of median household income last January to 37% in October – a huge shift in making homes less affordable.
Divvying up the costs of homeownership
Walker and her partner agreed to split the mortgage payments 50/50 but made other arrangements for other costs. "We decided that he would tackle the down payment, and I would cover the closing costs," Walker says. In addition, they agreed that if they ever decide to move, they would consider renting it instead of selling it right away.
Since they are not married, the couple signed an agreement with an attorney, naming them equal partners in the home-buying transaction, with each having 50% ownership.
"In the event that something were to happen to one of us, the other would inherit that person's share of ownership," Walker explains. "Should we decide to part ways, one would have to either buy the other person out of the home or we both would have to agree to sell it and split the profit once the remaining balance on the home is paid."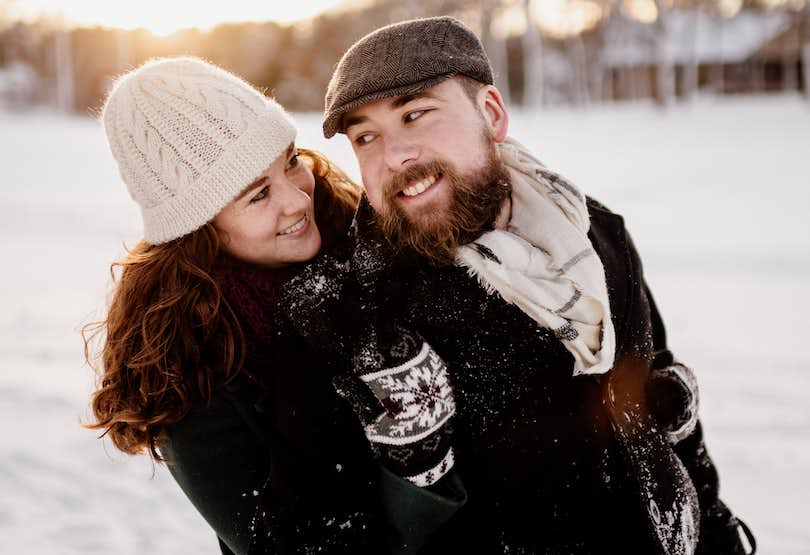 Photo courtesy of Stephanie Lewis and Nick Goode
Stephanie Lewis and Nick Goode co-bought their home in 2020 and plan to get married in May 2023.
On the other hand, Lewis and Goode did not sign a formal ownership agreement, as they were already planning their wedding.
"We had no concerns about us as a couple when we bought, as we were already engaged," Lewis says. "However, we did have concerns about the housing market because of the high purchase prices and low inventory of homes available at the time. We were concerned that we would be priced out of the market, even though we are well above the median household income."
[inline-image url="41ba4c00-8084-11ed-8730-d9eebcd39d9f-Brewster-House.jpg" alt="Stephanie Lewis & Nick Goode's new home in Brewster, Cape Cod, MA"]Photo courtesy of Stephanie Lewis and Nick Goode
Lewis and Goode bought their Cape Cod home for $530,000.
The Marseglias also did not sign an agreement at the time of purchase, and both parties put in different amounts for the down payment. Because they were already planning to get married, they felt they didn't need the pre-purchase agreement.
Phillip Salem, a real estate agent with Compass in Los Angeles and Manhattan, is quite familiar with handling unconventional home purchases. He recently sold a $3.6 million three-bedroom Manhattan apartment to a California family. The father, son and daughter were looking for a place to call home when they visited New York City for business and pleasure.
Originally, the family had set out to purchase a one-bedroom condo but decided that the three-bedroom would be more economical for a potential re-sale or rental.
"One-bedroom apartments in Manhattan are typically going for about $1.5 million, so they were able to get a much more spacious home when they increased their budget," Salem says. "They also saved money in that they would have had to spend almost $5 million to buy three one-bedroom apartments."
Salem said all three family members were involved in the search. In total, he showed them more than 40 apartments over three months.
"Sometimes it was all three of them, and then other times I showed them individually," he recalls. "Of course, selling them on the area was also a big part of my job. Ultimately, the family settled on the Hudson Square area of Manhattan, a quieter location near Soho but away from tourists yet close to restaurants and public transportation.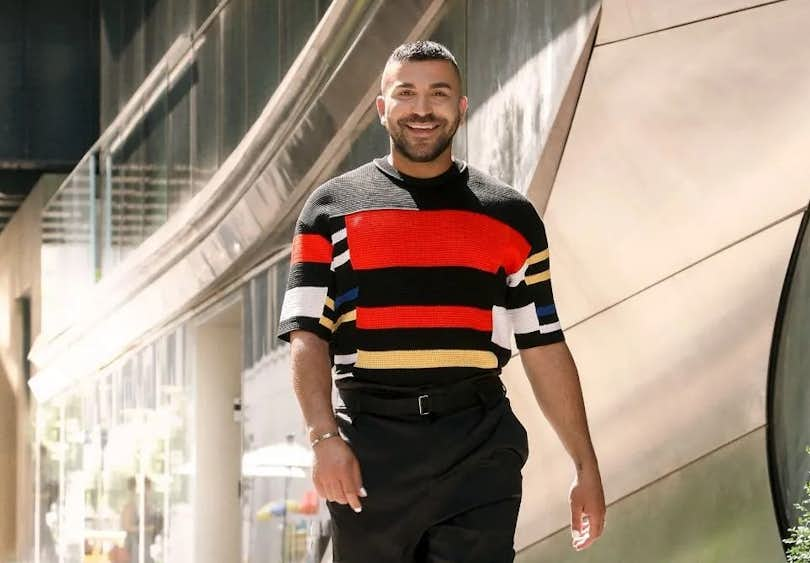 Photo courtesy of Phillip Salem
Real estate agent Phillip Salem recently sold a Manhattan condo to a father and his two adult children.
Like many higher-end real estate transactions, the family's purchase was a cash deal, with the father paying for everything but extending personal loans to his son and daughter. "The children are very hard-working people and didn't want their father paying for them," explains Salem. "The deal was seamless, and I know everyone was happy." All three are named on the property title.
The family may eventually choose to rent the property, and if they do sell it, Salem says they'll get a very good return on their investment. "In the meantime, they'll be able to enjoy the flexibility and freedom of living there when they come to New York," he adds.
>> GET A FULL-SERVICE AGENT AT A 1.5% COMMISSION. Get personalized agent matches today from Clever Real Estate with no obligation.
In his more than 20 years in the mortgage industry, Jason Griesser has handled many applications from unmarried or unrelated buyers for single-family homes, townhouses and condos. Based in Philadelphia, the senior vice president of strategic growth at Guaranteed Rate says these loan deals are similar to married couples buying property, with both parties typically having their names on the mortgage application.
"They sign the promissory note jointly, and regardless of marital or relationship status, we're protected," Griesser says. In most cases, he says, things have moved smoothly, but he did have one unmarried couple back out of a deal. "The couple could not agree on the ownership type, nor the level of payments they felt were acceptable."
Legal considerations when co-buying
New York attorney Tracey Daniels has been handling real estate deals for over 25 years. "I've seen a lot of friends and unmarried couples buying property together – sometimes to live in or sometimes just for investment purposes," she says. Daniels has even worked with two couples buying a vacation property together.
"The number one conversation is always about how they'll get along in the future. If the relationship ends, they don't have the same legal protection as married couples do, so I always ask unrelated people to sign an agreement prior to the purchase."
Daniels recommends friends, family members, or unmarried couples discuss everything in advance.
"It's always a lot less expensive for them to talk through the issues first before coming to me, although I do provide them with a checklist to go through," she said. "It can also avoid a lot of fights if the partnership ends and someone doesn't want to sell, for example."
Items include the financial splits for the down payment, closing costs, mortgage payments, taxes, and home renovations. But, perhaps most important are the actions to take if things don't work out as planned.
"These are topics that nobody likes to talk about, but they do need to be discussed," says Daniels. "Also, if someone dies, they need to decide who would inherit the property. For married couples, the house automatically goes to the living spouse."
Unmarried couples, friends or family members could opt for a "right of survivorship," meaning that if one owner dies, the other becomes the owner of the deceased owner's share. However, these "joint tenants" must hold property in equal shares. If they opt for a "tenancy in common," each individual can own different and unequal percentages of the property. In this case, there would be no right of survivorship, so if one person dies, that individual's share goes to the person designated in their will.
Daniels warns against co-buying with only one person named as the owner.
"The home being owned by just one individual is the most dangerous, particularly for the non-owning partner," she explains. "Although there may be joint interests in the property, there is only one person who is recognized as the legal owner. That means that person could sell the property without the consent of the other and take all of the profit." In addition, the individual listed as the owner could reap all the tax benefits. In that situation, there could also be a huge problem if the owner passes away without a will.
In her practice over the years, Daniels has seen many clients getting married later in life and deciding to buy property first. "My job is to raise the questions, and they can figure out what they want to do," she says. "I leave the business terms up to them, but the goal is to have the agreement in place."
She believes this trend will continue, especially since home prices nationally haven't fallen significantly, and interest rates don't seem to be coming down.
Salem echoes those sentiments from what he's experienced on both the East and West coasts.
"I do expect more co-buys in the future – especially in higher-priced areas of the country," he predicts. "I hear people all the time talking about buying a place together, just to get a piece of New York City real estate. They pool their funds for a down payment, and either live there or rent it out to make additional funds. I personally think investing in real estate is much better than putting it into stocks or cryptocurrency."
Related articles