Facing high home prices and mortgage rates, more buyers are trying alternative avenues to homeownership.
One idea is house hacking, where you occupy a portion of a property and rent out the rest.
The benefit is that your tenants cover all or part of your mortgage. Plus, since you live in the property also, you get qualified for a loan as an owner-occupant, which typically comes with a lower interest rate.
House hacking can be particularly appealing to millennials, who often struggle to enter the housing market due to student debt and the limited availability of affordable starter homes.
In fact, a 2021 survey found that 67% of millennials surveyed were open to renting out extra space in their home.
While house hacking can work, it's not a good fit for everyone or every situation. For instance, some markets may be too expensive for house hacking to work, or you may not be able to qualify for the right financing to maximize cash flow to pay for the mortgage.
If you're thinking of house hacking, here are 6 tips from house hackers who've been there.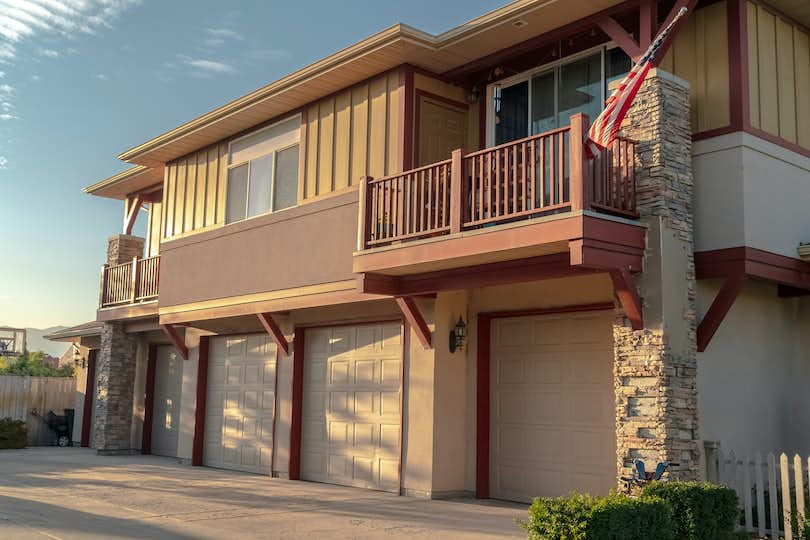 6 house hacking lessons from the experts
1. Research properties thoroughly before purchasing
Not all properties or locations work well for house hacking. To be successful, you'll need to find a property that provides a good deal, can accommodate roommates, and isn't in an area with rental restrictions.
"The biggest lesson I learned was to research before buying a property," says Matt Teifke, founder and CEO of Teifke Real Estate. "I researched comparable properties in my area and learned about local rental laws and regulations to ensure I was getting a good deal."
When researching properties, you'll want to consider:
If the area is likely to attract renters
What renters typically pay in the area
Whether you can offset your costs, including the mortgage, through renting to roommates
If the property has enough space or a layout that will work comfortably with roommates
If local rental laws and regulations allow for rentals
If you're new to buying real estate or house hacking, consider working with a real estate agent to guide you. Jacob Butler, a buyer's agent and founder of Hunter Gather, has found house hacking to be a viable solution for his clients who have limited resources but want to own a home.
"Real estate agents can help you determine whether it's the right time or location to get into house hacking. I help my clients find the perfect property in the area they want to live in. Then, help them find a tenant, get the property ready, and negotiate the lease agreement with the tenants."
2. Consider whether a single-family or multi-family home will be best for your situation
House hacking can work with a single-family or multi-family residence, but you'll want to consider what's best for you and your situation.
Consider whether you're open to sharing spaces like the kitchen or living room with a renter. Alternatively, you could look for multi-family properties or single-family homes that allow for fewer interactions, such as those with a finished basement or accessory dwelling unit (ADU).
Brandon Brittingham, the CEO and team leader at the Maryland & Delaware Group of Long & Foster Real Estate, focuses on buying multi-family homes. "The renters pay for the mortgage. Once the property is paid off, I can use the cash to live off of."
If you settle on a single-family home, you'll want a property with many bedrooms, so you have more spaces to rent out.
3. Explore your financing options
When traditionally buying a home, many people try to make a 20 to 25% down payment, which can be challenging, especially in the current housing market.
However, house hacking can open up other options besides conventional loans. For example, as an owner-occupant, you may qualify for homebuyer assistance programs. Additionally, you could pursue smaller down payments or seek private investors, which can help you have more available funds to help you get started.
For instance, Doug Greene, owner of Signature Properties, purchased his home with a 5% down payment on a 30-year fixed loan. "By putting down such a small amount, I reserved the rest of my capital for paying for contractors, materials, and other improvements."
Additionally, many house hackers opt for conventional loans from a bank but also seek out private investors. For instance, Alex Capozzolo, co-founder of SD House Guys, found this combination made it possible for him to purchase a multi-family property.
"I opted for a conventional loan from a bank that included a down payment and an attractive interest rate. Additionally, I sought out private investors who could provide additional financing with more favorable terms."
4. Market to renters who fit your lifestyle
Getting used to renting your home to strangers can be challenging. To help, many house hackers focus on marketing their space to specific types of renters who fit with their lifestyles.
For instance, Nick Castello, founder and CEO of New Heights House Buyers, rents a furnished bedroom out of his single-family home to traveling medical professionals through Furnished Finder.
"We liked this approach because medical professionals tend to be reliable and respectful renters. Since we have two small children, this was really important to us. Plus, we like that renters are typically only with us for a few months at a time."
Additionally, you can consider whether you're looking for a more long-term or short-term renter. However, house hackers who focus on short-term renters will need to look more frequently for renters and be financially prepared to have vacancy periods each year.
As Nick Castello points out, "We make a little less money with this approach, but we also like having a break from having someone living in our house."
5. Understand your cash flow and set aside money for unexpected expenses
Shaun Martin, CEO of Cash for Houses, recommends that house hackers have a strong understanding of their cash flow. "Don't over-leverage yourself. You'll want to ensure that you have enough cash left over after paying your mortgage each month so you can handle unexpected repairs or if your tenants move out suddenly."
At a minimum, owning property comes with the following expenses:
Taxes
Insurance
Mortgage
Utilities
Maintenance
Repairs and renovations (roof, sewer, kitchens, etc.)
Vacancy
Management costs
If you can budget for these monthly and accurately predict your rent, you can estimate a property's future returns and monthly cash flow.
Additionally, focus on minimizing costs to maximize your profits.
Alex Capozzolo, a co-founder of SD House Guys, recommends examining ways to reduce your operating expenses and looking for tax deductions, such as home improvements and repairs. "You'll want to keep your finances organized and find ways to minimize your costs to help you maximize your profits."
⚡ Do the math with Clever's free rental property calculator for investors
6. Set realistic expectations for your house hack
House hacking can help cover some or all of your mortgage payments or other expenses, but this isn't a fast process.
Some investment properties may offer positive cash flow, while others eventually pay off through equity. In the meantime, be prepared to cover the costs of financing and holding the home.
"You won't see results overnight," Shaun Martin says. "It takes time for your investment decisions to pay off, so set aside funds specifically for this purpose."
Final thoughts: Determine if house hacking is right for you
House hacking can be financially rewarding, but it takes effort and patience. Additionally, it can often mean a lifestyle change, especially when sharing a living space with a roommate.
To help you decide, current house hackers recommend:
Talking with other house hackers about their experiences — forums like Bigger Pockets and Reddit can be a great place to start.
Listening to real estate investing podcasts, especially those focusing on house hacking.
Finding a mentor or speaking with experienced property investors who can guide you through the process.
Related articles