With housing costs at an all-time high, accessory dwelling units (ADUs) – also called granny flats or garage apartments – are gaining popularity as a strategy for bringing more affordable homes to the market.
In 2016, California passed legislation designed to bypass local regulations limiting the construction of ADUs. Since then, the number of ADU permits in the state has shot up from about 80 in 2016 to over 5,000 in 2021.
Policymakers at all levels of government, including the White House, are taking note of the possibilities. To spur more housing development, some states and cities are even taking steps to relax zoning regulations around the building of ADUs.
Not only do these compact dwellings contribute to affordable housing, they also create income-generating opportunities for homeowners. In some cases, the projected rental income from an ADU can even help a buyer qualify for a loan.
If you're thinking of jumping on the ADU wave, consider these models — ranging from budget-friendly to luxe — for inspiration.
Studio Shed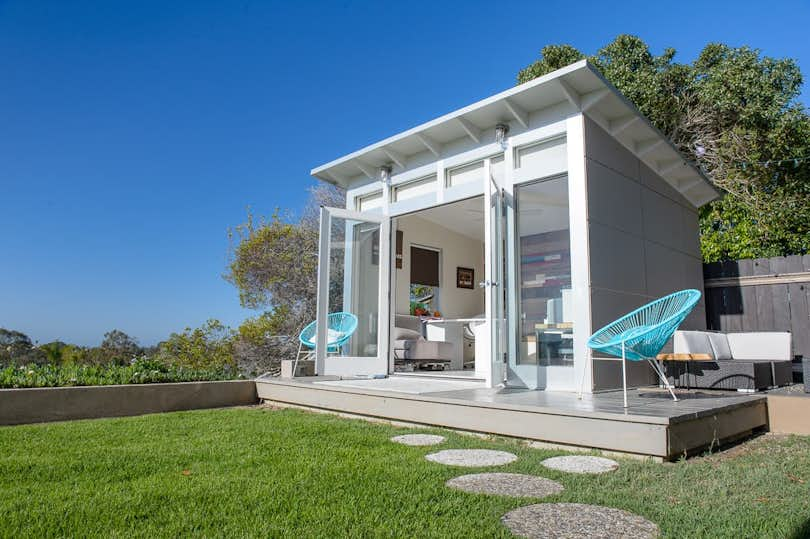 Image credit: Studio Shed
Most people think of a shed as a musty place to store your lawnmower and gardening tools. But the folks at Studio Shed are turning that idea on its head by transforming the common shed into a show-stopping backyard focal point.
Started in 2008, Studio Shed offers pre-designed ADU structures starting at just under $20,000. They range in size from 96 to 1,000 square feet, and the company's 3D Design Center lets you play around with customizable options, like adding a bathroom.
Studio Shed has also done an incredible job of streamlining the installation process of their chic sheds. They use fully sustainable materials that come in a flat-packed, panelized kit right to your door. While the setup is DIY, Studio Shed offers a comprehensive library of reference materials, including 3D video tutorials and step-by-step planning guides.
Abodu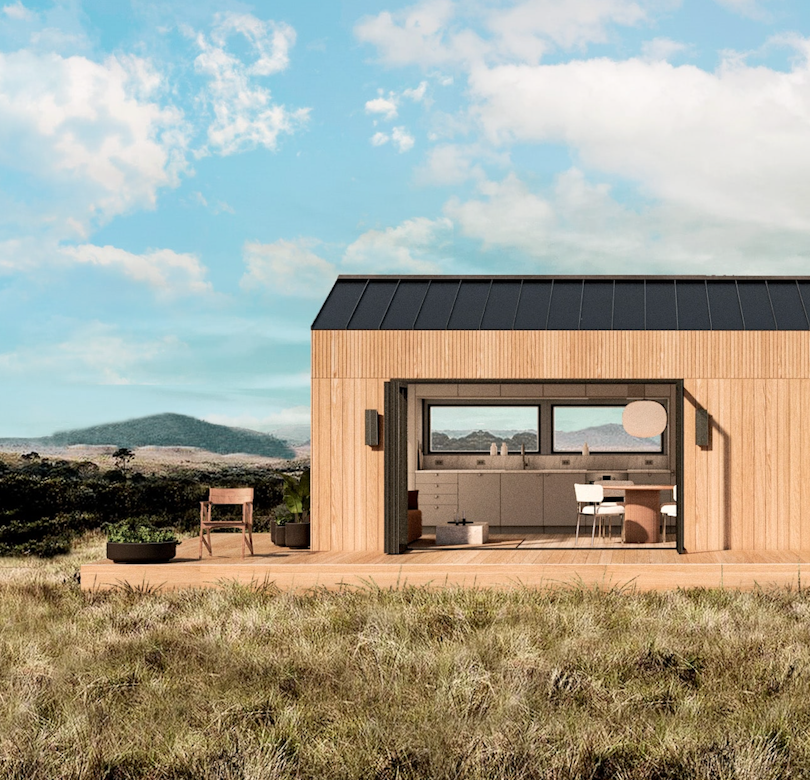 Image credit: Abodu
Ultra-luxe ADU design company Abodu has set out to "maximize the living potential of every yard" one structure at a time. Abodu takes a hands-on, concierge approach to fabricating ADUs customized for you and your space. This level of personalization comes with a hefty price tag as well, with units starting at $228,800. If you're willing to spend that kind of money, Abodu will take care of everything from pulling permit approvals to building your ADU's foundation, trenching, utility tie-in, delivery, and installation.
The most recent product line from Abodu is called the Dwell House, designed exclusively for the company by Danish studio Norm Architects in collaboration with Dwell Magazine and aims to bring Scandinavian style to American backyards. Billed as their most "premier backyard home yet," Dwell House pricing starts at $389,000 and takes up 540 square feet of space.
Samara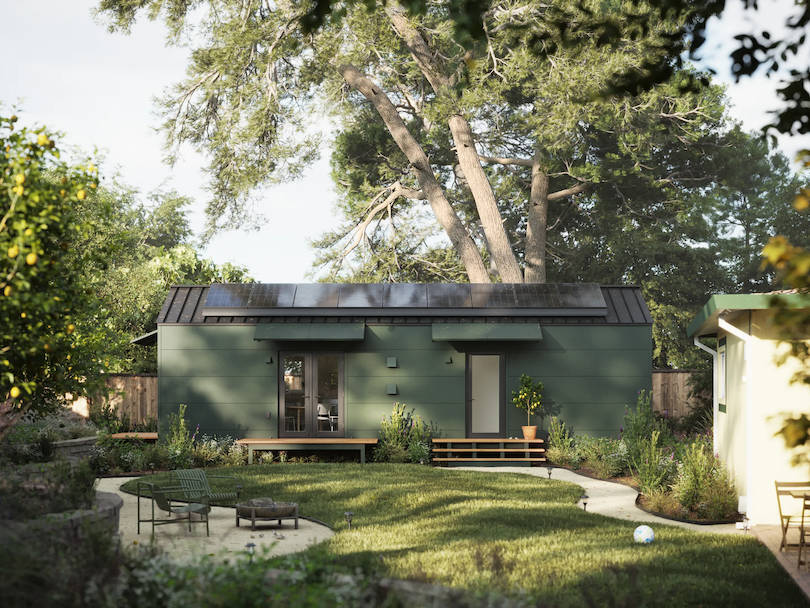 Image credit: Samara
A new competitor in the luxury ADU space is Samara. Currently available only in California, Samara offers their net-zero tiny house (called Backyard) in two structure options – a 430 sq. ft. studio model starting at $289,000 and a 550 sq. ft. one-bedroom model starting at $329,000. Both models feature top-of-the-line finishes, including custom cabinetry, customizable windows and window coverings, red cedar decking, dimmable LED fixtures, a dual-phase air filtration system, and a state-of-the-art heating and cooling system.
Samara was founded by Airbnb co-founder Joe Gebbia and actually began within the walls of Airbnb headquarters as an innovation studio. The whole goal of Gebbia's new venture is for the structures to be multi-use and "adapt to new ways of living," he says.
In addition, sustainability is also at the heart of Samara's company mission. The company's website explains, "Backyard is fully electric and consumes less than half of the energy of equivalently sized homes." Samara plans to expand out of California soon, and you can sign up for updates on their website.
Den Outdoors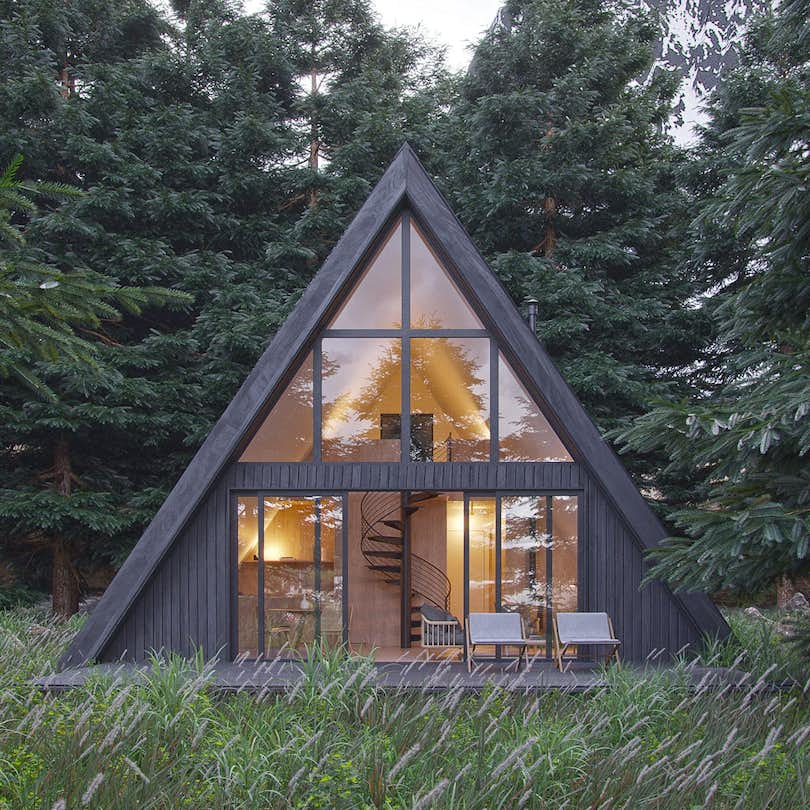 Image credit: Den Outdoors
Unlike most ADU companies that sell fully built units or complete kits, Den Outdoors serves up building plans, which start at $199. The New York-based company specializes in schematics for Japandi-looking tiny homes and ADUs. They also offer clients assistance with finding local builders, contractors, and materials to complete the project.
Although Den Outdoors doesn't provide actual building materials, they claim that by offering customizable plans, customers can start their projects immediately and avoid any possible shipping or manufacturing delays. Den Outdoor's service might also be the most economical option on the market because it allows you to avoid manufacturers' markups and instead sources materials from local suppliers at a lower cost for a one-off build.
With complete blueprints and project specifications, Den Outdoors takes the guesswork out of what to buy and how to implement it, which means more accurate project budgets, less back and forth between you and your builder, and a faster build overall.
Den Outdoors offers over 30 fully customizable models in varying styles, from a sleek A-frame retreat to a modern alpine cabin or barn house loft, ranging from 200 to 1,200 square feet.
In an interview with Business of Home, Founder and CEO Michael Romanowicz offered the following summary of the company's concept: "We're the equivalent of buying a Hugo Boss suit off the rack instead of getting one custom-made. If I could afford it, I would hire an architect and have a custom home built just for me. But I think most people can't afford the incredibly steep entry point for hiring an architect for this scale of a project. That said, those people are still aesthetically minded. People want to live well."
NOMAD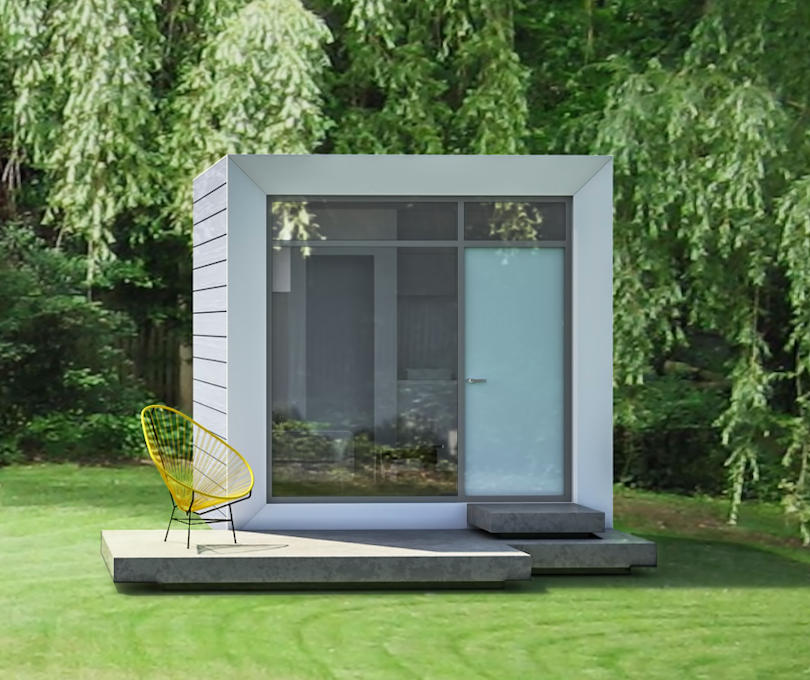 Image credit: NOMAD
If cost and convenience are what you're looking for, consider NOMAD. Micro-units start at $25,500 and are manufactured using an advanced 3D-printed galvanized steel frame, ensuring durability and precision craftsmanship. Unlike many other ADUs, these structures don't require a foundation and can be supported on precast concrete blocks, saving money on foundational costs. It's also a mobile unit, so you can easily disassemble the structure for easy relocation or resale.
NOMAD's "Guest Suite" model offers 100 square feet of living space that has been thoughtfully designed to include a 48-inch countertop, pedestal sink, wall-mounted toilet, 30-inch-by-30-inch shower, and additional storage capabilities. Best of all, it only takes a $1,000 deposit to start production of your micro unit, with delivery time ranging from 30 to 90 days.
AbleNook Modular Dwellings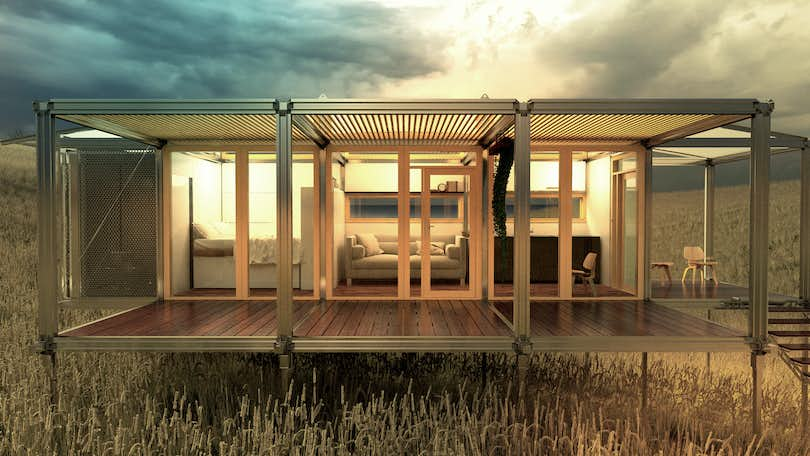 Image credit: AbleNook
Based out of Florida, AbleNook — which started as the founder's architecture school project — offers a prefabricated, flat-pack home kit made from aircraft-grade aluminum framing and structural insulated panels (SIPs). Their ADUs start at $75,000. Surprisingly stylish, these modular structures offer a proprietary technology that makes them easy to assemble in only two hours without needing tools beyond two Allen keys and a ladder.
These fully insulated structures include all the classic features such as a bedroom, bathroom, storage facilities, and kitchen area. However, the layouts are highly customizable and left to the buyer's discretion.
AbleNook units can serve as primary residences, eco-friendly second homes, or Airbnbs. The company notes that the structures are incredibly durable in most climate conditions and can even withstand hurricane-force winds.
Buhaus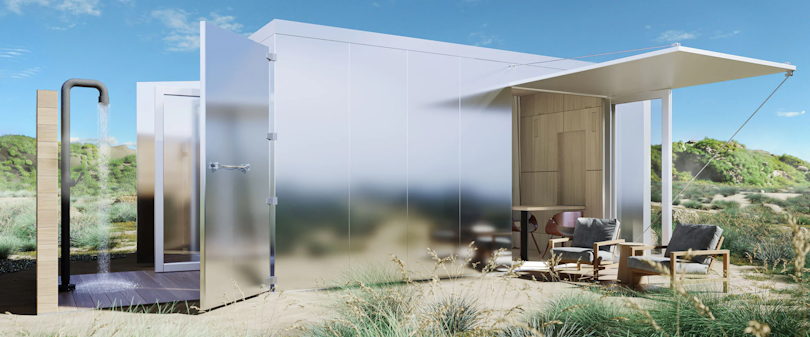 Image credit: Buhaus
Founded in Malibu, Buhaus is a 160-square-foot luxury ADU characterized by linear and geometric forms, innovative design, fire-resistant materials, and off-grid capabilities.
Units are made from a shipping container and designed for an array of uses including guest house, backyard office, or studio. Outfitted with high-end finishes, Buhaus aims to create purposeful and luxurious units. The base model features an all-inclusive price tag of $96,000 (not including shipping costs) and can be further customized with a selection of finishes and hardware options.
"People appreciate great design, and most shipping container designs seem to be more low-end," says Buhaus co-founder Douglas W Burdge, AIA. "We wanted to create a higher-end shipping container living unit." The Buhaus model features space-saving measures, like a custom Murphy bed with integrated storage and an efficient bathroom.
And if you're in the market for something more substantial, Buhaus is now offering their 3-container "Buhom" model, made from original Buhaus units with the inclusion of a "wet module" that provides plumbing for a kitchen and bathroom. Buhaus offers an anticipated completion timeline of three to four months and only requires buyers to secure local site planning permits since each unit comes pre-inspected.
Related articles