Uses and purpose l Value l How to build l Prefabricated in-law suites l Custom build l Converting an existing space l Ways to finance l Buying a home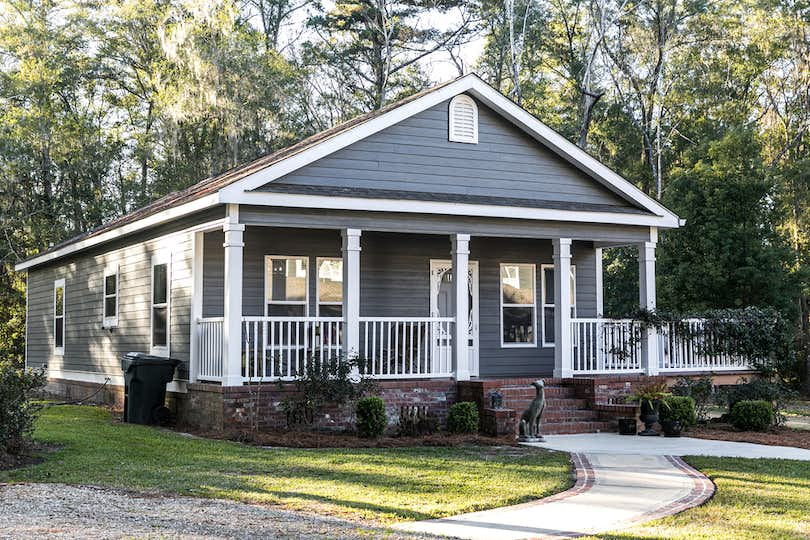 Mother-in-law suites are additional or separate living spaces located on the same property as a single-family home. These dwellings are also referred to as in-law suites, multigenerational suites, secondary suites, granny flats, and accessory dwelling units (ADUs).
In-law suites can be attached to a home or detached. This means they can be part of the main house located in a converted space — such as a garage, basement, or attic — or located on separate housing constructed on the property.
These spaces offer a sense of privacy with the full comforts of home. Technically, a mother-in-law suite must contain at least a bedroom and full bathroom. However, it's not unusual to find ones that also include a living room and either a full kitchen or kitchenette. Many mother-in-law suites also have their own entrances.
Uses and purposes of mother-in-law suites
Ways to use an in-law suite
Multigenerational suite
Allows aging parents and relatives a place to live closer to immediate family
Rental property
Homeowners rent the property for extra income
Home Office
Gives homeowners a private space to work and think creatively
Mother-in-law suites are used for a wide range of purposes, from housing aging parents and relatives to serving as a rental property bringing in extra income for homeowners.
Multigenerational suites
In-law suites are best known for offering aging parents, older children, and other relatives a place to live closer to family. This is why in-law suites are sometimes referred to as multigenerational suites.
More and more Americans have opted to live with family members over the last few decades. A study conducted by the Pew Research Center shows that 64 million Americans are currently living with two or more adult generations in a single household.
Multigenerational living has a lot of upsides. Families are able to save money and divide up expenses. And for those living with elderly family members, adding or buying a home with a multigenerational suite can be more affordable in the long run than paying for assisted living or an in-home nurse.
The best part of families living under the same roof is the memories that can be made together. Grandparents can help out with their grandchildren while their parents are at work and create bonds that last a lifetime.
Rental property
Adding or buying a home with an in-law suite comes with a lot of perks, including the possibility of bringing in extra income. These apartments can be used for short-term or long-term rentals, giving the homeowner extra flexibility if the space isn't used by the family.
If you're thinking of adding a mother-in-law suite but don't have a mother-in-law suite to move in to right now, renting out the space would pay for itself over time. You would reap the benefits of having it on your property and collecting extra income at the same time. Homeowners would also be able to keep their privacy since in-law suites typically have their own entrance.
However, there are a few things to keep in mind when renting out a property. The renter will be entering your personal space. This means potentially dealing with their guests and pets. As a homeowner, you would need to come up with clear guidelines and rules that would work for both you and your tenant.
If homeowners choose to use an in-law suite as a short-term rental, they may be required to pay occupancy or short-term rental taxes depending on the state they live in. These taxes can also be imposed on the local level like in California or statewide in states including Alabama, Arizona, and Connecticut.
Having a rental could also affect your home insurance policy. Renting is defined as a business activity, so homeowners' policies would not cover losses related to the rental.
Last but not least, having to keep up maintenance on an in-law suite can break the bank. Appliances and electronic systems may break, meaning the homeowner would be required to fix it in a timely manner.
>>READ: How to Rent Out Your House and Make a Profit
Home Office
In-law suites are becoming more popular thanks to the rise in remote work. They make great home offices due to their privacy and space.
A recent study by Upwork found that 41.8% of the American workforce is currently working remotely. An estimated 27% of people will be working remotely through the end of this year, with up to 36.2 million Americans working from home by 2025. The figures dealing with future remote work are up 87% since the coronavirus (COVID-19) pandemic started in early 2020.
Working in a separate space such as an in-law suite has a lot of positives. It allows homeowners to keep their work and home lives separate without the need for a commute. This is particularly advantageous for those with larger families who need a separate space to focus on the work of the day.
What value does an in-law suite bring to a home?
The value of having a mother-in-law suite on your property can be immense when built properly. Some homeowners choose to rent out their granny flats as a vacation rental or long-term tenant rental, meaning they receive a quick return on investment (ROI).
However, when an in-law suite is built poorly, it can hurt a home's overall value. These suites, just like any home, require regular maintenance and work otherwise they will eventually fall apart.
Recouping costs
When selling a home with an accessory dwelling unit (ADU), there is no set number of returns you can expect to get back for having built the apartment unit on your property.
Recouping the cost of an in-law suite depends on a few factors, including:
size of the in-law suite
location
rentable condition
Homeowners can expect to see a 65% return on investment (ROI) for a two-story in-law suite featuring a master suite and downstairs living area. Converting a garage into a living space can also give homeowners up to an 80% ROI.
Those looking to sell should not build an in-law suite just to get a return on investment. These apartments are long-term investments that should be built by homeowners looking to stay in their homes for years and years to come.
How do you build an in-law apartment?
Costs of building an in-law suite
Prefabricated or modular in-law suite
$45,000-65,000
Custom build of an in-law suite
$60,000-300,000
Converting an existing space
$15,000-175,000
Building an in-law suite can cost a pretty penny. Costs vary on whether a homeowner builds out of an existing space, such as a garage or attic, or whether they build a custom or prefabricated structure separate from the house.
Prefabricated and modular in-law apartments
Building a modular or prefabricated guest home typically costs between $45,000-65,000. These costs include building materials, building permits, and installation costs.
Prefabs are built in a factory according to state and local building codes and then transported to the building site where construction is completed. These homes typically come fully outfitted with interior fittings such as plumbing, electrical, doors, closets, and stairs. There's very little work to be done once they arrive on-site other than assembly.
Custom build
Building a custom in-law suite is monumentally more expensive than buying a prefabricated structure, with estimates ranging from $60,000-300,000. While they may have a higher price tag, custom buildings last longer than prefabs, which have an average life of 35 years.
One of the biggest costs for building a custom in-law suite is hiring a construction manager to oversee the entire project and keep it within budget. Their salary for the project roughly runs around $21,500 on average or 5-10% of the overall project cost.
Additional costs for building a custom in-law suite include:
Land and site work (3-8% of final costs): $5,000-38,000
Foundation of the home (10-15% of final costs): $16,600-72,000
Framing (10-15% of final costs): $16,600-72,000
Major systems, including electric and HVAC (10-15% of costs): $17,000-72,000
Interior finishes, such as drywall and flooring (25-35% of costs): $42,000-167,000
Converting an existing space
Converting an existing space inside a home can be less costly than a custom build. It's easier to convert a garage or attic into an apartment than constructing a separate space from the home located on a property.
Converting a garage
Converting a garage into an in-law suite can cost between $15,000-30,000. Costs can skyrocket even further depending on plumbing and electrical work needed.
Some of the expenses a homebuyer can expect for converting a garage include:
Adding interior walls, including drywall: $1,800-3,000
Installing ducts and vents for HVAC: $500-2,000
Adding electricity: $75-400
Plumbing: $300-1,800
Building an apartment over a garage
Building an apartment over a garage can cost around $400 per square foot on average. For an apartment above a 24 x 24-foot two-car garage, you can expect to pay about $175,000 or more to build an in-law suite.
There are more costs to consider when building an apartment over a garage versus converting a garage into a living space.
Costs to keep in mind include:
Architectural services: $2,000-8,000
Excavation, demolition, and site-prep costs: $1,000-4,000
Foundation for addition: $4,000-12,400
Support beams: $1,000-5,000
Roof trusses: $30-600
Roofing: $80-100 per square foot for asphalt shingles, $75-350 per square foot for steel roofing, and $200-600 per square foot for slate shingles
Installing vinyl siding and trim: $4 per square foot
Drywall, ceiling, and walls: $1-3 per square foot
Insulation: $2 per square foot
Door installation: $950
Adding windows: $85-1,400
Electrical wiring: $40-100 per hour to wire a home
Flooring: $1,500-4,500 depending on the material chosen
HVAC costs: $1,050
Do you need a permit to build?
Building an in-law apartment is legal in most states but requires a permit. Permits usually cost $1,200 but can reach up to $1,500 depending on if you live on the East Coast, West Coast, or near a big city.
Some cities or homeowners associations (HOAs) may not allow secondary dwelling units to be built. It's important to find out whether an in-law suite is allowed to be built on your property in your residential neighborhood. This involves reaching out to your city and code enforcement to find out their zoning regulations and talking to your neighborhood center or HOA.
Ways to finance a mother-in-law suite
| Type of Loan | Interest Rate | Pros of Loan | Cons of Loan |
| --- | --- | --- | --- |
| Home Equity Loans | 3% | Can be repaid over a number of years | Home is used as collateral against the loan |
| Home Equity Lines of Credit (HELOCs) | 2-6% | Low-interest rates | Must have sufficient home equity to borrow money |
| Mortgage Refinance | 2-3% | Potential for lower interest rate | Extra costs including appraisal, origination fees, and taxes |
Financing a big addition like an in-law suite can be difficult, but there are a few options available to help make it a reality.
>> LEARN: Best Grants for Building Buying or Repairing Your Home in 2021
Home Equity Loans
Home equity loans are often referred to as a second mortgage. The loan is paid out in a lump sum that can be repaid over a number of years in regular fixed monthly payments.
These loans use your home as collateral, meaning if you fail to make repayments, the loan originator can foreclose on your home. Home equity loans offer less payment flexibility compared to other options available.
Home Equity Line of Credit (HELOC)
Home Equity Lines of Credit (HELOCs) are revolving lines of credit that have shorter repayment terms and only charge interest on the balance you have drawn on the line.
HELOCs are backed by equity in your home, and your home can be foreclosed on if payments are not made in time. The payment of your HELOC can also increase based on current market conditions.
Cash-out refinancing
Cash-out refinancing is another popular option when it comes to financing an in-law suite addition.
When refinancing, lenders look at the current appraisal value of your home and compare it with the principal value remaining on your current mortgage. If your home has increased in value since you purchased it, then you may be eligible to refinance it for the current appraisal value and get cash out based on your new equity balance.
There are a few downsides to refinancing your home, including extra costs for an appraisal and origination fees. Refinancing is truly only worth it if you can wrangle out a lower interest rate from your mortgage lender.
Buying a home with an in-law suite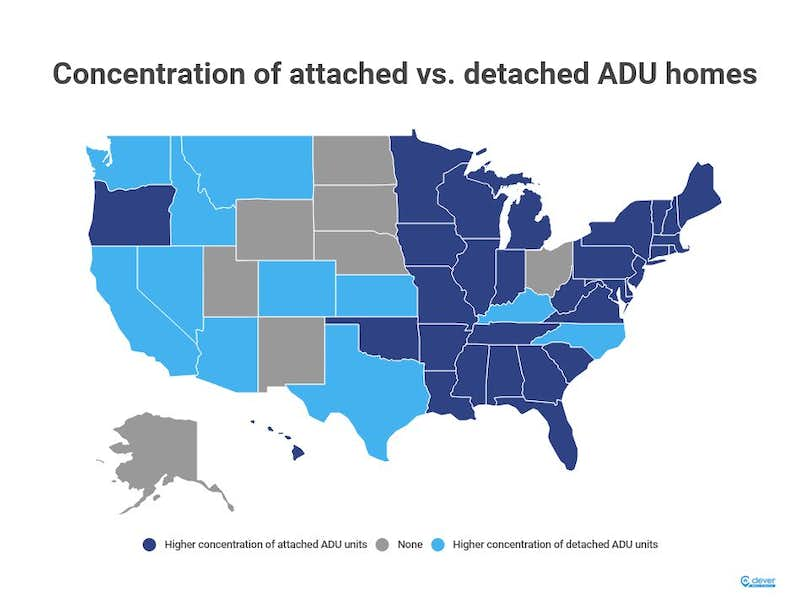 Buying a home with an in-law suite can be a challenge since there are only 1.4 million unique properties with ADUs in the entire United States. Over half of those ADUs are located in California, Florida, Texas, and Georgia.
However, homes with ADU listings have increased over the last decade, growing at an annual rate of 8.6%. Homes on the East Coast and in the Midwest have a preference for attached units while the West Coast tends to see homes with more detached units.
Talking to a real estate agent and professional can help you decide if buying a home with a mother-in-law suite is right for you and where you can locate some options in your area.
Next steps: Talk to a real estate expert
If you're looking to buy or sell a house and weighing your options, Clever can help! Our fully licensed Concierge Team is standing by to answer your questions and offer free, objective advice about how to sell your home, given your specific goals and situation.
Buy or sell your home and save thousands!
Clever offers big discounts without skimping on service or results.