With more businesses and people going cashless, Americans have never been more accustomed to paying their bills with credit cards.
Although credit card usage has benefits, such as helping a person build their credit score and earn points for travel or home renovations, it can also open a gateway to serious personal debt.
Clever Real Estate recently conducted a survey asking 1,000 American credit card users about their spending and debt. Here are 11 findings from the study that illustrate the impact credit card debt is having on Americans — and how they're dealing with it.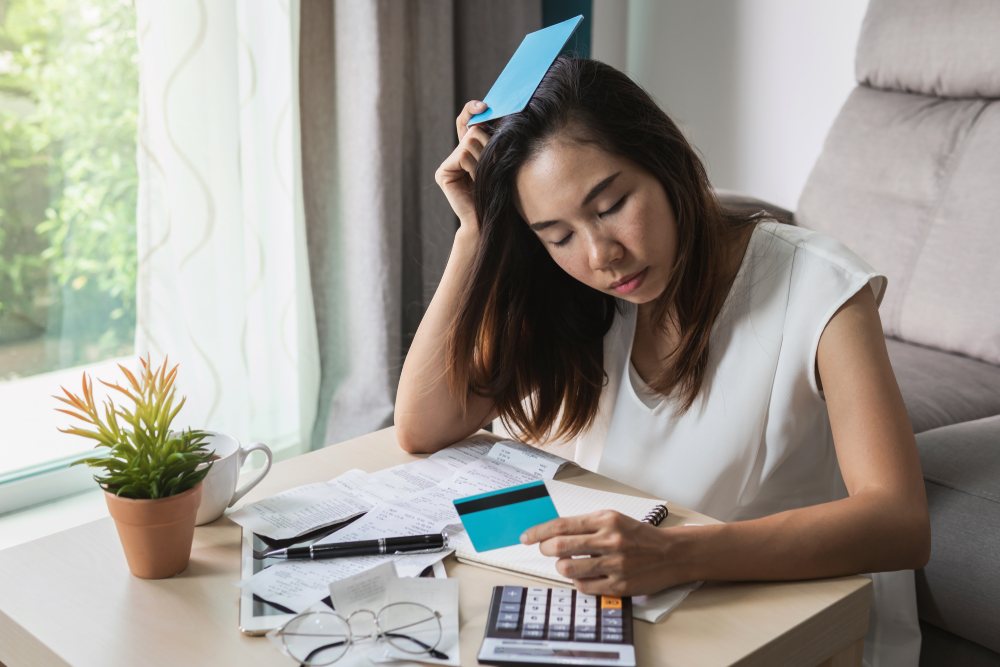 1. Credit card debt is an extremely widespread problem
Being in debt is a leading cause of stress, but it's hardly a rare occurrence. About 82% of U.S. credit card users have fallen into debt at some point. Nearly two-thirds (61%) of credit card users are currently in debt, owing an average of $5,875.
Credit card debt remains a persistent problem that can take years to pay off. About 40% of those in credit card debt have been underwater for more than five years, including 15% who have been in debt for at least 15 years.
2. Millennials are the most indebted
While debt is a cross-generational issue, about 67% of millennials carry credit card debt, the most of any generation. They also carry a higher amount of debt, with an average balance of $6,794.
Accordingly, millennials are the biggest spenders. The average American spends $1,506 on their credit cards each month, but millennials spend $2,410 per month. By comparison, baby boomers spend an average of $794 and Gen Zers spend $1,626.
3. Bad spending habits take a share of blame
Although there are countless reasons why a person might find themselves in debt, there's no denying that it sometimes comes down to bad financial habits.
Nearly half of people with credit card debt (49%) blame it on excessive spending. In fact, about 2 in 5 credit card users (43%) admit they tend to spend more than they earn, and 22% say they don't track their spending at all.
4. Credit cards are essential for necessities
People aren't just spending money on artisan coffees or lavish vacations. Over the past few years, many Americans have become more dependent on their credit cards to pay for basic necessities. Nearly half (48%) rely on their credit cards to cover necessary expenses, such as housing, groceries, and utilities.
5. Credit card debt wreaks havoc on the future
Not only does carrying credit card debt hurt consumers in the short term, but it also prevents them from investing in their futures. About 39% of those who have been impacted by credit card debt say it prevented them from saving for retirement.
Debt also makes achieving the American dream of homeownership more difficult. About 22% of those impacted by credit card debt say their debt has kept them from buying a home.
6. Many credit card users have missed payments at some point
It isn't just the amount of debt people carry that's causing problems, it's also their inability to repay what they owe. About 43% of credit card users have missed at least one payment in the last five years, with 78% of that group reporting they've missed more than one.
The most common reasons people provided for missing payments involved having to pay for unexpected emergencies (33%), utility bills (33%), or rent/mortgage payments (27%).
7. Credit cards cost more than people think
Americans are spending more paying back their credit card debt than they think. About 41% think average credit card interest rates are less than 20% — and 13% of card users think rates are under 10%. In actuality, the rates reached an all-time high this summer of 20.7%.
It's costly to keep carrying a balance and having to pay interest. Americans spend an average of $18,072 on their credit cards each year.
8. People with credit card debt spend less than those without
Having debt will limit a person's buying power. People without credit card debt spend 9% more per year than people with it. That's perhaps unsurprising when Americans say about 30% of their monthly income goes toward paying off credit cards.
9. It isn't just credit cards
Although credit card debt is the most stressful form of debt for Americans, it isn't the only one. About 81% of Americans with credit card debt also have another form of debt. This includes auto loan debt (33%), personal loan debt (31%), and medical debt (28%).
What does the future hold for credit cards?
Despite the stress that comes with credit card debt, Americans don't see them going away. Nearly two-thirds of credit card users think the U.S. will one day become a cashless society reliant on credit cards. That includes 31% who believe it will happen in the next decade.
With credit cards playing such a prominent role in the country's future, it's clear Americans might need to increase their financial literacy, so they can protect their money in the short term and long term.
This article was first published on Clever Real Estate.