If you're looking to buy a home, the market looks pretty daunting.
The combination of rising inflation, higher mortgage rates, and a possible recession may make home shopping feel more like fighting Mike Tyson on an airplane. Still, many buyers continue to seek new homes out of necessity.
Maybe you're moving for a job, your family is growing, you need the room to take care of an aging parent, or you need to buy a home for tax purposes to close out a 1031 exchange.
When you need a new home due to changing circumstances, here are strategies and tactics you can use to help you win the day.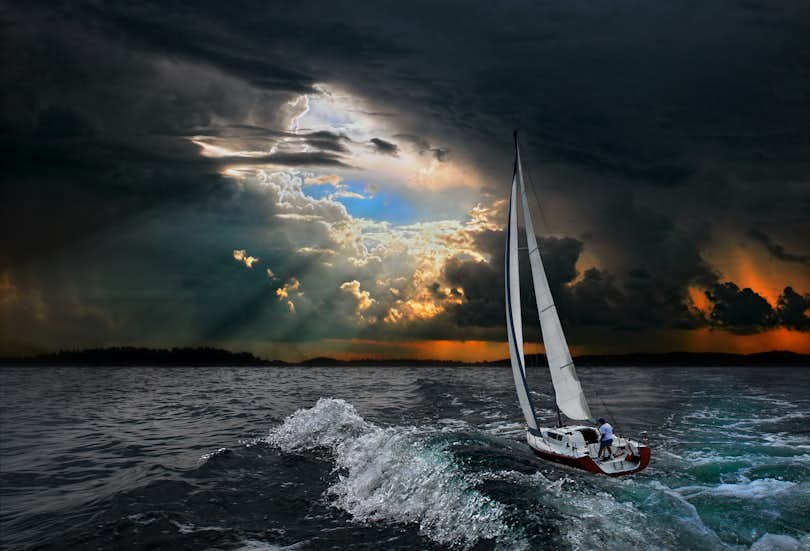 Source: Shutterstock
1. Above all, don't panic. We've been here before
While interest rates are much higher today than they've been over the past two years, historically speaking, they're still pretty low.
Anyone who bought their homes in the late 1970s and early 1980s faced double-digit interest on their mortgage. In June 1981, when Federal Reserve Chairman Paul Volcker tried to crush runaway inflation and pushed the economy toward the 1981-82 recession, mortgage rates stood at a jaw-dropping 20%.
Americans have since enjoyed a fairly steady decline in mortgage rates. However, those lower rates sparked rising home prices as more people qualified for home loans.
When the housing market crashed in 2008, mortgage rates dropped even further, fueling still greater competition in the housing market.
The good news about the recent rate increases is that it'll likely drive home prices lower. Back in the day of double-digit mortgage rates, home prices were much more reasonable, relatively speaking.
Regardless of the market, if homes are too expensive for people to afford the monthly payment, they won't get sold. Already we're seeing signs of falling prices in certain markets, and that trend may soon accelerate. As they say, the cure for high prices is high prices. Just be patient.
2. Stay informed and focused while you prepare to buy
Every batting coach tells the player to focus on the fundamentals when a hitter is in a slump. The same applies to home buying, especially when dealing with rising home prices and interest rates.
The real estate fundamentals include finding good coaches: your realtor and loan officer. Talk with them to stay informed about the current housing market and how you might approach it.
You also should keep up with real estate news and tips on your own. Make sure you understand your options.
3. Kill unnecessary spending and debt with extreme prejudice
Cut your spending and cut your debt. Even in good times, this advice is fundamental for buying homes.
Crush your credit card debt and other revolving unsecured accounts. With the Fed jacking interest rates, it's not just increasing mortgage rates. It's your credit card interest rates, too. So pay them down, but don't close the accounts.
The best FICO scores get the best interest rates. That doesn't change and is critically important when every 75 basis point interest rate hike the Fed makes can raise your mortgage payment several hundred dollars a month.
Do you really need that new car (with the aforementioned higher interest rates)? That Netflix subscription? Can you ditch that gym membership and walk around your neighborhood instead? Maybe brown bag your lunch at work? Stop the weekly or biweekly DoorDash? Forgo that daily $4.50 double-caramel whipped cream misto-mocha-frappo-latte at Starbucks?
All these little things add up. You'll need that extra $200-$500 monthly to account for higher interest rates. Be disciplined, and you can do it.
4. Maximize cash for a down payment or rate buydown
As a realtor, I always hear this: "There's no way I can raise $20,000 for a down payment."
Actually, you might be able to raise $20,000 or more for a down payment in 30 days or less. You just have to know where to find the funds.
The first thing is you probably have more cash available to you than you think:
You can tap your 401(k) or IRA penalty-free for a down payment. For IRAs, you can withdraw up to $10,000 per family membe r if it's for your personal residence. The terms of "personal residence" are generous, as it can be for anyone in your immediate family, so long as the money is spent within 120 days. However, make sure to borrow, not withdraw, from your 401(k) unless you're over 59½. Typically, you can borrow 50 percent of your 401(k) balance up to $50,000. Your lender will tell you what sources you can use. They will tell you they need the funds "sourced and seasoned." That means they have to know where the money came from, and the money usually needs to be in your bank account 30 to 60 days before you close on your home.
Many cities, counties, and federal government loan programs offer down payment assistance programs. These typically are no-interest loans that you pay back only when the house resells. Your realtor and lender should be familiar with these programs where you are planning to buy.
Do you have a whole life insurance policy? You can borrow from its cash value at a low interest rate. Like a home, a whole life insurance policy forces you to save as the premium keeps the insurance portion active while the rest of the monthly payment helps build cash value. In any case, once you own a home, keep paying on that whole life policy, and increase it to cover the home's full value, so that if something happens to you, the mortgage is paid off. (A cheaper term life policy can do the same thing but doesn't build cash value.)
It also matters where you stash all of these funds. Your checking account probably charges you money, and your bank "savings" account only pays a paltry amount of interest. Remember your grandma's certificates of deposit? Yes, they're back in fashion again. That's the good news about rising interest rates. Savers benefit. So can you. Yes, a 12-month CD pays just about 1.6 percent interest, but every little helps moderate that inflation bite.
5. Use that cash for an interest rate buydown AND a longer rate lock
Over the past 20 years, mortgage seekers haven't bothered much with rate buydowns and long rate locks. Given the cheap interest rates, why would they? If anything, lenders offered "float down" provisions where they would give you a lower rate if a drop occurred between loan approval and closing.
Now longer rate locks are not only desirable but also worth paying for. Typically, a lender will give you a 15-day to 60-day rate lock between when you qualify and when you close.
But with interest rates rising and buyers searching longer for homes, a 90-day to 120-day lock is worth paying a point for. In addition, each mortgage loan product and lender can have a different minimum or maximum rate lock, so work with your lender closely.
As interest rates have crept back up, rate buydowns (where you pay points upfront to your lender to 'buy down" the interest rate) have also come back in vogue.
As your parents learned buying their homes in the 70s and 80s, a one-point rate buydown up front can save hundreds in interest payments each month over the life of the loan.
Talk to your lender about how much a buydown, or points, will cost upfront. You could even ask the home seller for a concession to help you pay for it. And remember, you can write off points on your federal income taxes, just like mortgage interest payments.
And thankfully, the mortgage interest deduction of up to $750,000 for joint filers ($1 million if your mortgage debt was incurred before Dec.16, 2017) isn't going anywhere. In higher interest rate environments, you'll just get more back at tax time.
Related Articles