Get ready for some new looks, because 2023 promises to be a big year for home improvements. Recent Clever survey data found that 52% of recent home buyers purchased a fixer-upper in 2021–2022. What's more, with 85% of homeowners holding a mortgage rate below 5%, many are foregoing upsizing to a new place and simply staying put.
If you're one of the many homeowners staring down a renovation, you're just in time to get ahead of the styles — both classic and trendy — that are taking hold as we head toward 2023. (And, if you intend to sell once the market picks back up again, you might also want to take a look at the styles falling out of favor with buyers. Sorry, modern farmhouse).
Before you pick up your paintbrush, here are 10 interior design trends gaining traction.
>>TIRED OF COSTLY APPLIANCE REPAIRS? Check out these top home warranty companies today
Nature-inspired design
"Biophilic" or nature-inspired design incorporates materials, colors, and art that occur in nature. Its popularity has grown in recent years as people continue to favor a more sustainable, eco-conscious way of living.
For many, prioritizing nature in the home brings comfort and connection that can easily be lost in our daily lives. "There's nothing like turning to nature as an alternative to phone screens and emails," explains designer Sarah Barnard. "Biophilic design offers a break from the tech and helps restore balance."
In 2023, expect to see colors inspired by nature, like softer greens and blues that are calming to the eye, as well as natural accents like bamboo, rattan, and stone. An easy way to embrace this design style is to add fresh flowers, fresh-cut branches, or herbs throughout your home. They add a great pop of color and fresh scent to enhance any space.
Moody and dramatic interiors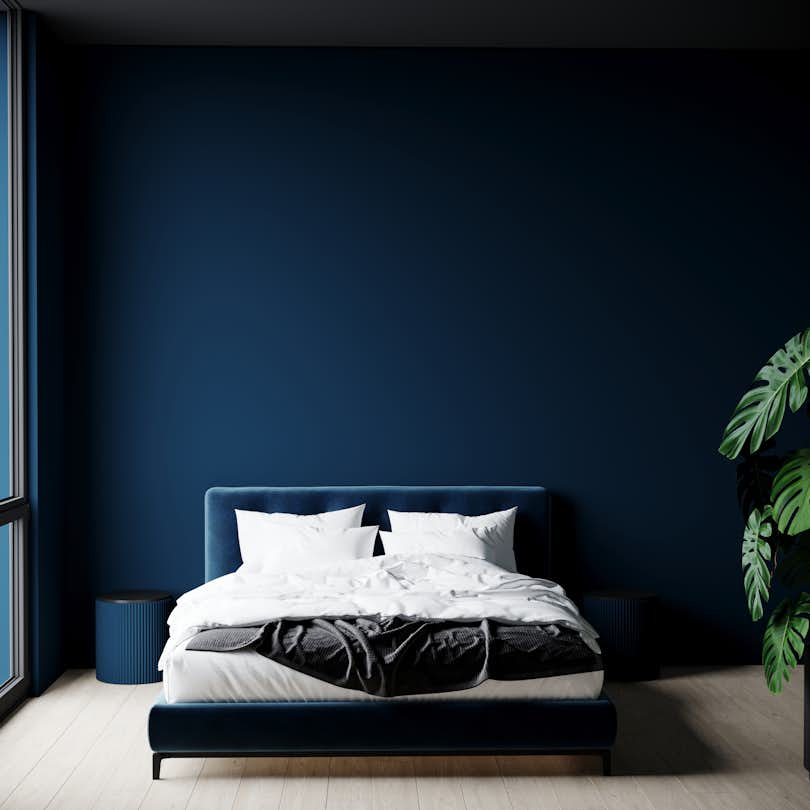 So long, all-white interiors! Bold and moody design is officially in for the new year —everything from furniture to wallpaper to cabinetry. There is a generally held belief that darker colors can make a space feel small. However, when correctly balanced and used with appropriate lighting, they can provide warmth and depth that lighter colors can't always achieve.
Whether you try a shade of dramatic navy, rich brown, or mossy green in your living spaces, dark color palettes — even in larger areas —can make an excellent backdrop for stylish furnishings. Fully adopt the moody look by pairing rich leather furniture with dark walls, for example, to create indulgent and sophisticated spaces that feel cozy and inviting.
"An easy way to embrace this trend is by painting all four walls and the ceiling of a smaller room in chocolate brown for a warm and snug effect," explains Natalie Myers, owner and principal designer at Veneer Designs. And for an even more dramatic and luxurious look, paint your trim a matching dark hue.
>>OUTSMART THE MARKET. Get Clever Real Estate's free weekly newsletter for homeowners, buyers and sellers.
Statement stone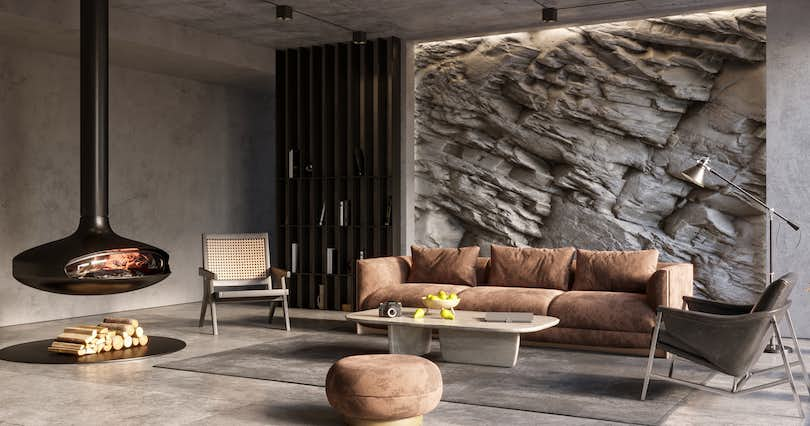 From Carrara marble countertops to sleek limestone flooring and vibrant agate accents, stone finishes make a major impact. It's no surprise that in 2023 we'll see a renewed appreciation for some of nature's most beautiful materials, including split-face travertine, varying shades of marble like rich greens, browns, and pinks, as well as dramatic veining, antiqued textures, and terrazzo.
Lindye Galloway, founder of Lindye Galloway Design Studio + Shop, explains that "people want to make a statement in places like powder bathrooms and primary bathrooms, and stones with a heavy vein quality will now be that statement in the room."
If you're a renter or simply looking for a less permanent way to incorporate the stone trend into your space, some cool malachite coasters, a stone coffee table, or a few stone accent pieces throughout your bookshelf are easy ways to make this trend a part of your everyday living areas.
The rebirth of Art Deco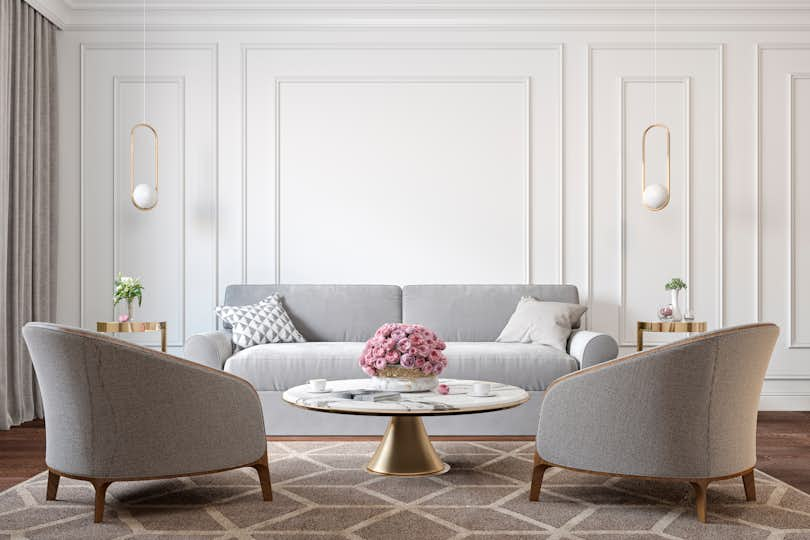 The Roaring '20s are making their grand return with the use of dramatic colorways, linear elements, geometric patterns, plush velvet, and decadent details. This trend is all about glamour, luxury, and symmetrical designs that bring a sense of energy and optimism to a space.
"Many elements of the Art Deco style are coming back, including colorful pastels, and we'll continue to see fun and elegant pops of color in things like bathroom tiles and kitchen cabinets," says Tatiana Seikaly, owner of Studio Seikaly. And if royal navy walls and mustard-colored seating are too much for your taste, you can always add touches of Art Deco through accessories like fluted mirrors, gold sculptural pieces, and statement lighting.
Unique and colorful kitchens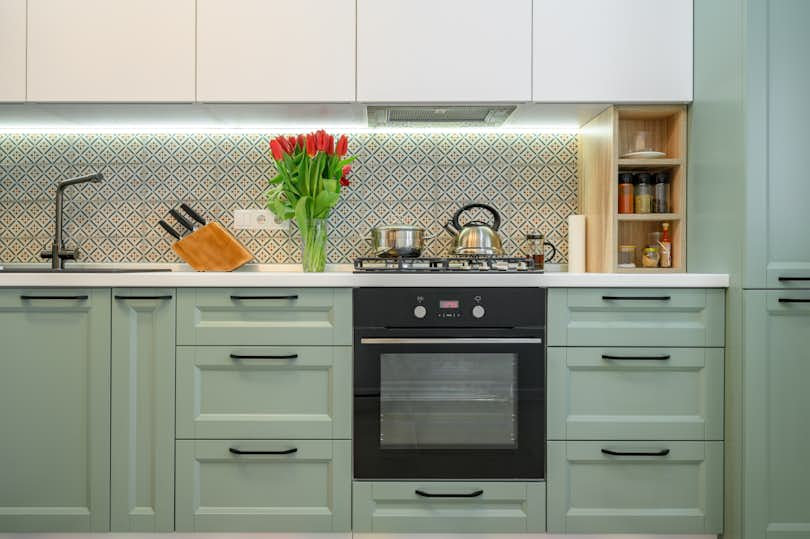 Regarding kitchen updates in 2023, take a page from famed chef Emeril Lagasse's playbook and "kick it up another notch!" Avoid making your kitchen a sterile, all-white monochrome. Instead, jazz it up with unique, colorful paints and decor.
Now, something to keep in mind is that unique doesn't mean kitschy. Think more along the lines of a vintage table and chairs, a patterned backsplash, or eye-catching pendant lights. Before you start redesigning, remember that you want your kitchen to be a place where friends and family want to gather, not like an art gallery where guests are afraid to sit down and enjoy their meal.
Modern lavender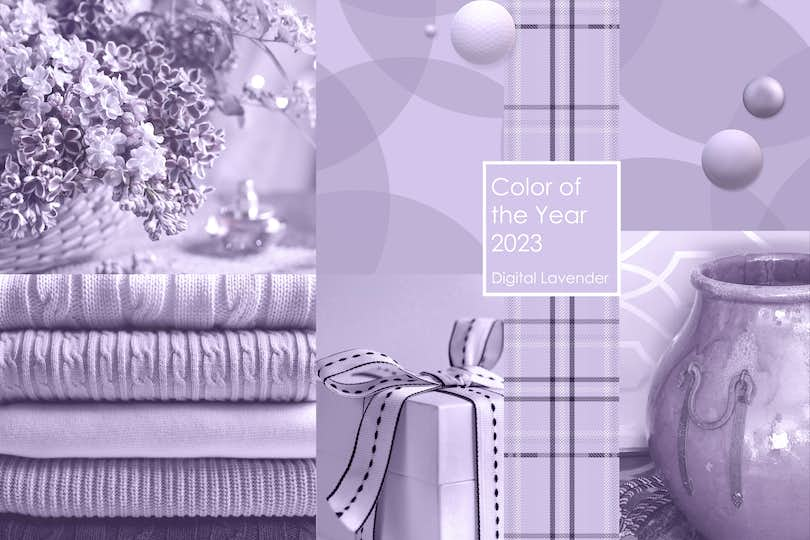 There may be no easier way to keep your home on trend than by rolling on a new coat of paint. With so many swatches and shades out there, it's easy to feel overwhelmed and not know which color to go with. Thankfully, the experts at Coloro and WGSN have taken out the guesswork by announcing Digital Lavender as the 2023 Color of the Year. "Purple will return as a key color for 2023, representing wellness and digital escapism," according to Coloro and WGSN. "Digital Lavender will connect to this focus on well-being, offering a sense of stability and balance." The color lavender, much like its namesake flower, will bring a sense of "calmness and serenity" to your home, making it an ideal choice for those who work remotely and spend day and night in their abode.
Workplace redesign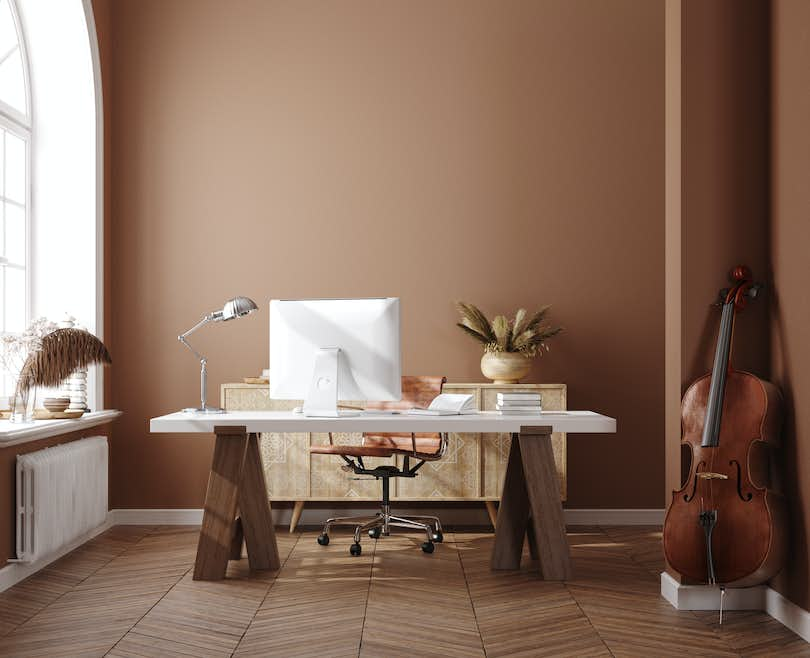 Over the last few years, the idea of the home office has been completely redefined. In a post-pandemic world, they are no longer considered symbols of luxury —something many homes went without. As more and more people continue to work remotely on a full or part-time basis, dedicated at-home workspaces are becoming the norm. And while it's possible to work from your couch or kitchen table, there's something to be said about a dedicated home office space. Not to mention they make for a much better Zoom background!
If you're in the market for an office upgrade, whether a stylized corner or a dedicated room, experts recommend personalizing the space, introducing natural light, and keeping the clutter minimal to create a productive and calming work environment.
Eye-catching archways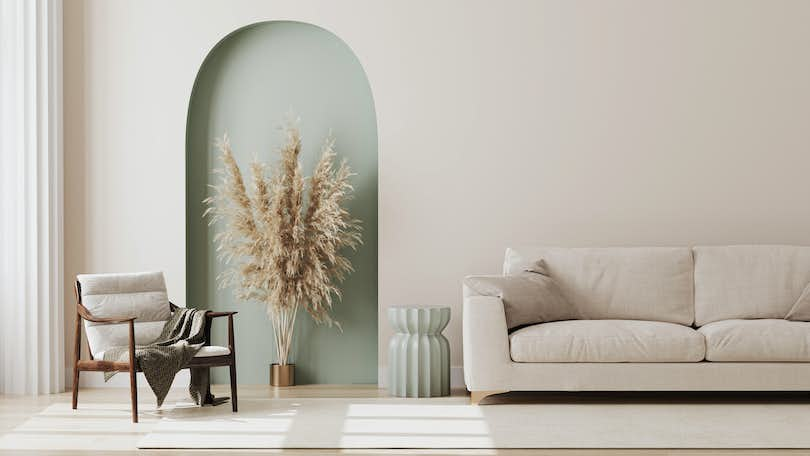 Comeback alert! Archways are making a return to the interior design palette in the coming year. From a structural standpoint, archways have always been used to evoke strength and power in home build-outs. Next year, it's time to incorporate archways as a compelling visual element throughout your space.
"Drawing inspiration from Renaissance architecture, the use of arches will be returning to furniture design as well as other decorative elements around the home," write the experts at Sona Visual Real Estate Marketing. "This can take the form of doorways, windows, mirrors, paint effects, or wallpaper."
Yes to curves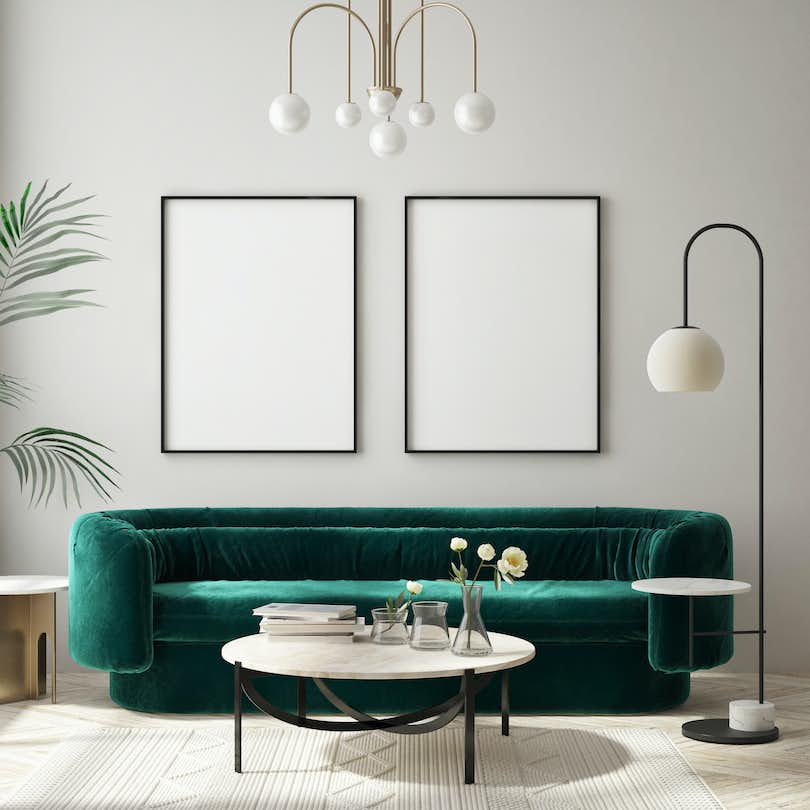 In addition to architectural archways, keep an eye on curved décor in general. Originating in the 1960s, furnishings with rounded corners, soft edges, and arched shapes are quickly reemerging as one of the hottest design trends. So why is curvaceous furniture so popular? Curves are visually appealing and add an element of softness and sophistication to a space. Additionally, curved furniture is versatile and can be used in traditional and contemporary settings. Experts also believe curved furniture positively influences your well-being, evoking emotional responses such as calmness, contentedness, and hopefulness.
To pull off this look, designer Jen Samson recommends pairing curved pieces with natural stone elements to achieve "the soft but dramatic design that so many of our clients are leaning into for 2023." She continues: "Add curves into your home with a chair or sofa that has soft feminine edges or try accessorizing with a scalloped marble bowl."
Antique and vintage pieces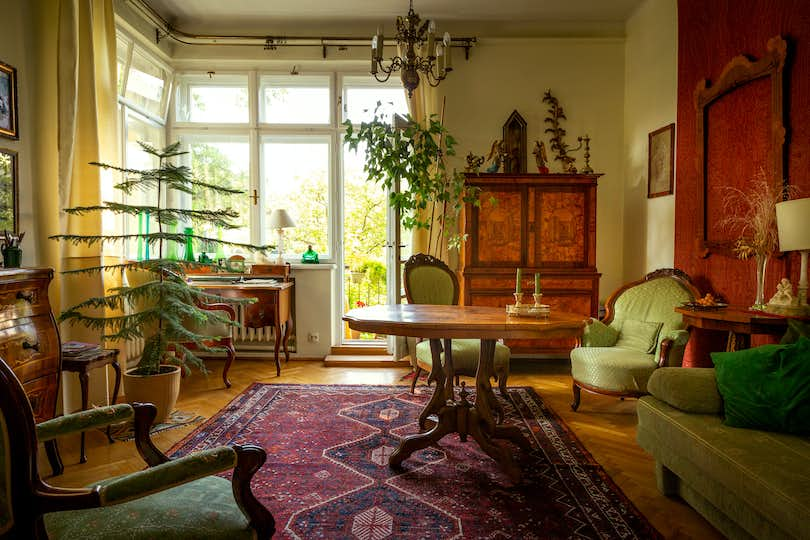 With the rise of "grandmillenial" style décor, the concept of combining old-school aesthetics with modern flair has reached new heights. One hallmark of "granny-chic" design is heirloom furniture and artwork. "Vintage pieces add a sense of heritage, authenticity, and character to a home. More than ever, people want to blend aesthetics, and adding in a vintage item is one way to achieve that mix," explains Julia Miller, creative director at Yond Interiors in Minneapolis.
Sustainability is another contributing factor to the growing popularity of pre-loved pieces. Rather than purchasing mass-produced "fast furniture," designers can shop vintage, using what already exists and reducing the additional waste that comes with a new piece, like manufacturing, shipping, and packaging materials.
If you're new to the world of antique and vintage furnishings, art is the perfect way to incorporate this trend into your home. Local flea markets and websites like Etsy, 1st Dibs, and Chairish are great places to get started.
Related articles