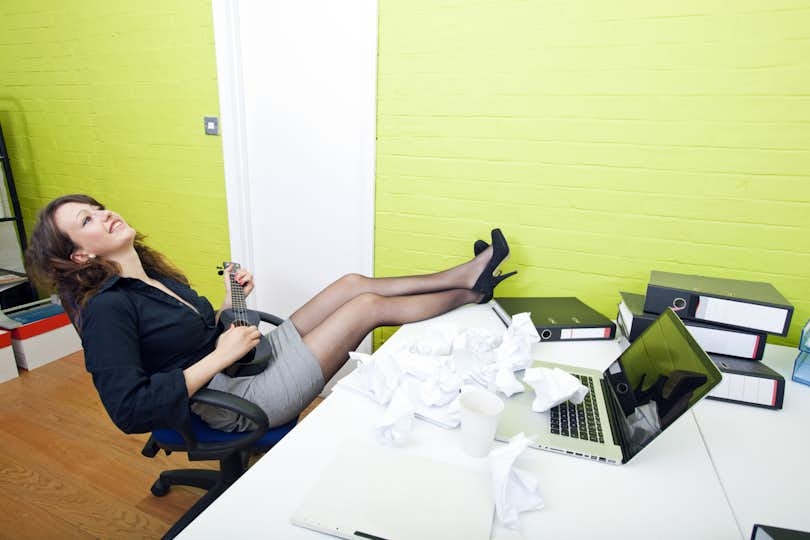 Last year, a viral TikTok about "quiet quitting" took the internet by storm. The term describes employees who have turned their backs on hustle culture by doing the bare minimum at their job instead of going above and beyond for their employer. The idea of "phoning it in" isn't new in the workplace, but the trend has picked up steam as Americans continue to reevaluate their work-life balance following the COVID-19 pandemic.
One-third of employees admit to quiet quitting their jobs, according to a recent study of 1,000 full-time workers conducted by Clever's sister site, Real Estate Witch, but the actual number is likely much higher. Although two-thirds of workers don't consider themselves quiet quitters, 78% have taken actions that constitute quiet quitting, including socializing more with co-workers during the workday, using their phones, watching TV, taking a longer lunch break, or calling in sick when they're healthy.
These are the top 10 reasons American workers quiet quit in 2023:
1. Employees feel undervalued in the workplace
For many employees, quiet quitting is often a direct response to their perceived treatment at work. Although most workers (86%) say they care about their company's success, 39% say their company doesn't care about their well-being. What's more, 56% of the people surveyed feel underpaid, and 40% say they are underappreciated at work.
2. They want a better work-life balance
A top reason so many workers reject hustle culture is because they need to alleviate burnout and create a more balanced lifestyle. Many employees see quiet quitting as a way to protect their mental and physical well-being against the stress of the daily grind.
Remote workers are 12% more likely than office workers to say they have an unhealthy work-life balance. To create boundaries and separate their professional and personal lives, remote workers (13%) are about 2x more likely than in-office workers (7%) to quiet quit by removing email and communication apps from their phone.
3. They believe hard work won't help them get ahead
The average person spends one-third of their life at work. That's a lot of emails, a lot of meetings, and a whole lot of coffee. When employees fail to see the fruits of their labor, they can quickly become disenchanted. More than half of workers (55%) believe hard work won't help them get ahead in today's workplace, and many may resort to quiet quitting as a result.
4. Managers have less direct supervision
As remote positions continue to increase, employees have less direct supervision and may feel enabled to quiet quit. About 81% of employees who work from home quiet quit in some capacity, compared to 76% of in-office workers.
Nearly 30% of employees say their manager doesn't keep track of their work. Additionally, 39% of those who have reduced their efforts over the past year say their manager hasn't noticed.
5. Workers are unhappy in their position
Workplace unhappiness is a consistent reason why employees may quiet quit. If they're unhappy, workers may not feel inclined to improve their performance, no matter how high their salary.
More than half of respondents (58%) say they'd be willing to take a pay cut if it means they'd be happier at work. Even in this turbulent economic climate, nearly 20% went as far as to say they would accept a salary decrease of $20,000 or more if necessary, possibly hindering their ability to buy a home or make other big purchases.
6. Employees want better benefits
Although 64% of workers indicated that a raise would improve their output, there were a litany of other incentives that would motivate them to work harder. Employees say they'd work harder for a promotion (40%), more schedule flexibility (37%), more paid time off (36%), and better health care and retirement benefits (33%). For businesses looking to avoid the quiet quitting trend, offering a more robust employee incentive program could go a long way.
7. Toxic work environment
Even if employees enjoy their day-to-day job functions, a toxic company culture will likely sour their happiness at work. Among survey respondents, 44% say workplace culture in the U.S. is getting worse.
A toxic workplace tends to start at the top, with 40% of employees saying their supervisors don't appreciate their efforts. What's more, nearly a third (29%) say they have not been rewarded for their extra efforts in the workplace.
Management's lack of support and encouragement can lead to unhappiness among workers, with almost half (45%) indicating they feel stressed or burnt out.
8. It's easier to quiet quit than resign
Despite 11 million unfulfilled jobs in the labor market, 82% of survey participants say they'd remain at a job they hated rather than resign. No matter how much workers hate their jobs, it's difficult to walk away without a better opportunity around the corner.
Workers have a "bird in the hand" mindset when it comes to their job. More than one-third of workers (38%) won't apply for a new job because there's no guarantee that their next position would be better than their current one. If that job requires workers to sell their home and move, it's a risk many employees won't accept.
Additionally, respondents say they avoid looking for alternate opportunities simply because they don't have the energy (23%) or aren't qualified for a better position (14%).
9. They don't see their job as part of their core identity
Sometimes a job is just a job. A majority of workers (55%) say they view their role simply as a way to pay the bills rather than a core part of their identity.
However, this "means to an end" mentality has a significant generational divide. Baby boomers, for instance, are far more likely (56%) to define themselves by their work than their Gen Z counterparts (33%).
10. Employees won't do additional work without additional pay
A staggering 4 million Americans have quit their jobs every month since July 2021, according to the latest available data from the Bureau of Labor Statistics. A high turnover rate can mean that many workers are left to manage a growing workload, usually without added resources or compensation.
Workers are beginning to put their well-being first, with 81% consciously choosing to set healthy boundaries at work — which may mean saying no to extra, unpaid labor. This ideology is especially true for young employees, who may have seen their parents work hard only to be treated as disposable assets during tough economic times.