Driving for dollars in real estate describes the process of driving around neighborhoods in search of off-market properties and inquiring with homeowners about their interest in selling.
Real estate investors who drive for dollars look for distressed properties (neglected, abandoned, or foreclosed homes). It's a profitable strategy as investors are often able to purchase these off-market homes at a discount.
However, driving for dollars can be a time consuming process. Investors need to identify neighborhoods, drive through the area (or hire drivers), note properties of interest, and contact homeowners.
Thankfully, driving for dollars apps help streamline this process, making it easier to find and make contact with homeowners, and keep driving records.
Learn more about this process and if it's the right strategy for you.
What is driving for dollars in real estate?
Investors who use this strategy drive around neighborhoods looking for signs of derelict or uncared for properties.
A distressed property often means the current owner doesn't have the money or motivation to maintain the house. Signs of a distressed property include:
Yards with overgrown grass, weeds, and vegetation.
Broken windows and peeling exterior paint.
A notice of default (foreclosure) note placed on the front door or window.
As a result, you may find the owners more inclined to sell the property for less than typical market prices, to reflect the current condition of the home or other issues.
Why driving for dollars works for investors
The strategy can be especially useful for house flippers, BRRRR-method investors, and wholesalers.
Here's why: These investors are experts at fixing properties and reselling them for higher than the original purchase price. It's more cost effective to purchase off-market houses at a low price point, instead of competing with multiple buyers on public listings.
Driving for dollars can land you a good deal. But it's often a time consuming process, and there's no guarantee owners will be interested in selling when you reach out.
That's why we recommend using a driving for dollars app to scale your business. Apps like DealMachine automate the process, and make it much easier to find and contact motivated sellers.
» LEARN: How to drive for dollars using the DealMachine app
How driving for dollars actually works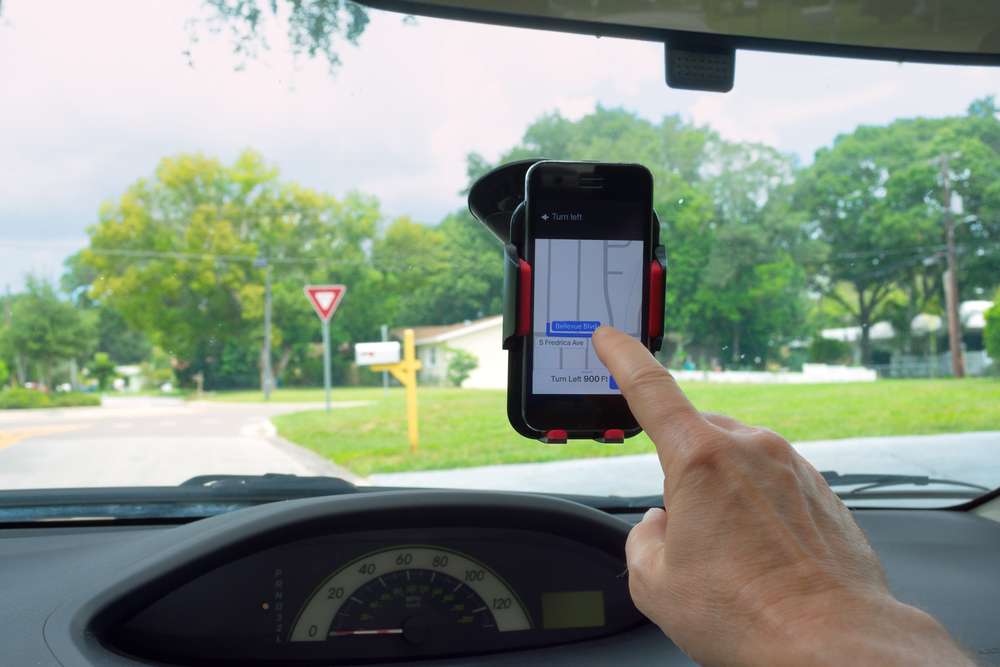 1. Pick a neighborhood or location
Before identifying a neighborhood to begin driving for dollars, it's helpful to clearly outline your investment criteria. This includes coming up with a budget and knowing your investment strategy, like house flipping or a rental. You'll use this framework as a starting point to decide which areas to start focusing your search.
One good way to pick a location is searching areas where housing prices have meaningfully increased. Older homes in disrepair in these locations can be attractive as they have potential to rise in value once the fix is addressed.
Some other criteria to consider when choosing a location include:
Average home prices (within your budget).
Type of home (single-family, duplex, apartment buildings).
Proximity to you.
2. Plan out a driving route
Once deciding on an area, map out your route ahead of time. This ensures you cover all streets within the boundaries of your search without going over the same areas twice (apps like DealMachine do this for you automatically).
Keep a notepad on hand so you can keep track of where you've been and any houses of interest you come across.
When driving across larger areas that take more than a day to explore, stay organized by making a list of streets you've visited so you can pick up where you left off when resuming your drive.
3. Drive the area looking for distressed homes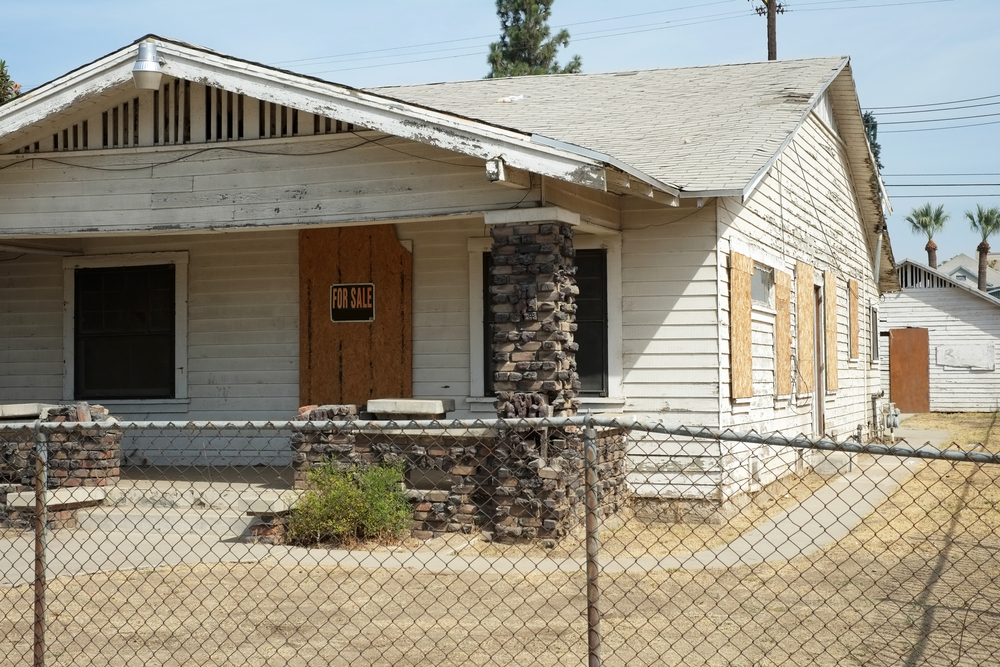 As you drive for dollars, keep an eye out for properties that look vacant or in need of repair. Signs of a distressed property include:
Broken or boarded up windows.
Lights off at night.
Overgrown grass or landscaping.
Peeling paint, missing roof shingles.
Uncollected mail.
General property disrepair.
The simplest way to search is by driving around the area yourself. Another approach to driving for dollars is by hiring a "bird dog" to assist if you don't have time or want to increase your coverage area.
A bird dog is a reference to dogs that retrieve birds for a sportsman that has successfully hunted. In real estate, it refers to hiring a driver who searches for distressed properties on your behalf in exchange for a finder's fee or commission.
4. Write down the addresses and take photos
After identifying a property of interest, write down the address on a notepad. If you prefer digital-friendly options you can use your smartphone or laptop to make a spreadsheet that makes the tracking process a bit easier.
Snap a photo of the house, too. You can use the photos to create a visual reminder of the property condition. As you find more houses that are potential investment options, photos will take on a more important role in keeping you organized.
Note: Driving for dollars apps make this part of the process easier by having this information at your fingertips. These apps keep up with your driving route as you search, so you'll have address records, owner information, photo storage, and other public information available to pull up within seconds.
5. Skip trace homeowners
Skip tracing describes the process of finding and verifying an individual's information that isn't readily available. The phrase comes from combining the words "skip", as in "skipped town", with "tracing" which references the process of tracking down information.
Real estate investors use skip tracing to find accurate contact information on the owner of a property. This information can be found on property lookup websites and public records that show someone's name, phone number, email, and address.
6. Contact homeowners
Reaching out by direct mail or email is a cheap, cost-effective way to quickly get in touch with the homeowners from your driving for dollars list. However, either method can come across a bit impersonal and may get you a lower response rate than a personal phone call.
When you speak with the homeowner, keep a friendly, engaging tone and ask if the person you're speaking with is the owner of the house. If they are, mention that you're looking to purchase a home in the area and you're reaching out to see if there is interest in selling.
It can take many calls to find a motivated seller, but if the timing is right the owner may be interested in continuing the conversation.
Your phone call is a good time to inquire about the house details, such as the number of bedrooms, square footage, major repairs needed, what is owed on the property, and if you can visit the house for a viewing.
7. Visit the homes in person
If the homeowner is open to selling, ask to set up a time to visit the house in person. Mention when you'll be in the area and ask if the owner will be around, or set up a time that's good for the homeowner.
During your visit, inspect the entire property so you can make a good assessment of any repair work or improvements needed. Consider bringing in contractors for a more accurate estimate.
The interior in particular is important to view since you weren't able to make an assessment during your initial drive around the neighborhood.
Keep an eye out for areas in need of repair and make a note as you go along so you can estimate how much money it may cost to fix the house.
8. Run the numbers and make an offer
Once you've made a repair estimate, you may want to make an offer.
A good rule of thumb when coming up with your offer number is the 70% rule. The rule says that you shouldn't make an offer that exceeds 70% of the after-repair value of the house. This gives you some room in case you go over budget on repairs, protecting your profit margins.
View the area's recent, comparable home sales to get an idea of the after-repair value. Use this number as a starting point and the 70% rule to finalize your offer amount.
9. Close the deal
If the numbers line up, let the owner know when they can expect to receive an offer from you. You want to make it as easy as possible for the owner to sell to you.
Since you'll have unique insight as to why the owner is selling, you can pair your offer with a handwritten letter or note that appeals to the owner on a personal level can also help close the deal.
After submitting the offer, set up a time to discuss the terms with the homeowner in person or over the phone. If accepted, give your contractors a heads up so you can start repairs as soon as the house closes.
» MORE: How to write an offer letter to sellers
Driving for dollars: Pros and cons
Pros
You may find great off-market deals
Driving for dollars targets property owners that are potentially motivated to sell. These off-market properties aren't available on the retail market, and less buyer competition means you have a greater chance to secure a great deal.
Create unique, tailored list of properties
You have full control over the area and types of property you're searching for. So you can find properties that meet your specific criteria based on your real estate investing goals.
Deals have high potential return on investment (ROI)
Driving for dollars makes it possible to generate higher returns as an investor. Owners of distressed houses are often more willing to sell their property at a lower price compared to publicly listed homes on real estate sites like Trulia and Zillow.
Cons
The process takes time and effort
Physically driving through an area, taking notes on properties of interest, and making contact attempts takes a lot of time and effort, especially if you don't have a bird dog to help you.
Success is not guaranteed
Landing a deal can be challenging as it depends on the competition in your area,, your outreach strategy, and owner response rates. It's possible that you may not discover quality leads or deals when driving for dollars.
Repairs can be costly
Fixing properties can cost a lot of time and money. There's the potential for delays, and you may discover new issues that weren't discovered during your initial inspection. These factors impact your overall return on the investment.
Driving for dollars apps: Best solutions
Driving for dollars apps make the process of finding and winning a property easier. These apps simplify the strategy by putting homeowner and property information in the palm of your hand so you can more quickly close a deal.
We break down several driving for dollars apps so you can see which platform is best for you.
| App | Pricing (per month) | Rating | Reviews |
| --- | --- | --- | --- |
| DealMachine | $49 - $249 | 4.8 | 3,200 |
| PropStream | $99 | 3.8 | 100+ |
| Driving for Dollars App | $19.99 - $399 | 3.4 | 50+ |
| BatchDriven | $49 - $199 | 3.9 | 55+ |
| BatchLeads | $49 - $199 | 3.3 | 20+ |
Show more
DealMachine
Price: $49 - $249
Features: Up to 30 team members and 300 drivers.
DealMachine's driving for dollars app makes it easier to find and land your next deal. The app automates the most time consuming parts of the process such as locating the property address, finding owner information, and making contact attempts.
Its app is intuitive so anyone can quickly get started. When driving for dollars, simply pull up the app when you locate a property of interest. Within moments you'll have property information, homeowner records, and contact details ready to go.
The service costs between $49 and $249 per month depending on which tier you sign up for. Additional products like mail campaigns are offered for an additional monthly fee. (Check out our full DealMachine review for more details).
DealMachine's driving for dollars app is focused on wholesalers and real estate investors looking to automate their search and close deals more effectively. The company rates highly in the App Store with a 4.8 rating and over 3,200 reviews.
⚡Ready to drive for dollars? DealMachine offers a 7-day free trial
PropStream
Price: $99/month, with add-on packages costing $20- $27/month
Features: Up to 10,000 property records per month and five users.
PropStream also focuses on streamlining the driving for dollars process to help real estate investors find and analyze off-market properties. Using PropStream's driving for dollars feature, you can discover properties, build lists, and create marketing strategies to find your next deal.
PropStream gives access to up to 10,000 property records per month for a $99 monthly fee. You can also create lists and add monitoring features for $27 per month and add up to five teammates for an additional $20 per month. Outreach tools such as email campaigns are also available to purchase separately.
The App Store user experience receives a 3.8 rating based on over 100 reviews.
Driving for Dollars App
Price: $19.99 - $399.99/month
Features: Access up to 2,000 property records per month
The Driving for Dollars app focuses exclusively on the mobile driving for dollars experience. Established in 2014, this app has over 10,000 downloads and lets you access up to 2,000 property records per month. The cost is between $19.99 and $399.99 per month based on which service you use.
The platform includes an integration with a major data provider to give you the latest information for property and homeowner records. The app is geared towards investors who want to automate outbound campaigns by mail. Voice-to-search functionality is another helpful feature that's included in the experience.
The Drive for Dollars app has a 3.4 rating on the app store based on 50+ reviews.
BatchDriven
Price: $49 - $199/month
Features: Up to unlimited property lookups and 10+ users.
BatchDriven is a real estate lead generation service that offers a driving for dollars feature that lets you streamline the search for your next investment property. Using this app you can quickly pull up owner information and get in touch through mail, a phone call, email, or text message.
BatchDriven's platform is offered with three tiers that cost between $49 and $199 per month, with additional services like adding property images and real time driving routes available for $20 per month each.
The BatchDriven app has a 3.9 app store rating based on 55+ reviews.
BatchLeads
Price: $39 - $299/month
Features: Up to 2 million contacts and unlimited team members.
BatchLeads is another notable real estate lead generation service that offers a driving for dollars feature. This platform is positioned as an all-in-one solution for a range of investors with access to a large amount of property information.
Batchleads costs anywhere from $39 to $299 per month for between 100,000 and 2 million owner records. Additional tools such as list creation and tracking are available for an extra fee between $59 and $149 per month depending on how many records you need.
Batchleads app has 20+ reviews at a 3.3 rating on the App Store, which is on the lower end in terms of user experience.
Driving for dollars: FAQs
Is a comparative market analysis free?
Driving for dollars is a strategy where you explore neighborhoods looking to identify off-market homes in need of repair or maintenance. If the homeowner is unwilling or unable to make the necessary improvements but is motivated to sell, you can potentially get a good deal on these properties.
The process itself takes a lot of time and effort as you'll need to physically drive around an area, keep track of properties you're interested in, and attempt to contact the homeowner. There's also no guarantee that you'll be able to seal a deal using this strategy but you can improve your chances the more contact attempts you make.
Driving for dollars apps can help improve your chances of success by automating the most time consuming parts of the search like looking for owner information. Using an app while driving for dollars lets you identify, contact, and close deals more efficiently as you look for your next real estate investment.
What is the best driving for dollars app?
DealMachine has one of the best driving for dollars platforms available in the real estate industry. The app appeals to a variety of investors with different backgrounds and experience levels, starting as low as $49 per month going up to $249 per month for more high volume drivers. Additional services like mail campaigns can also be purchased through the site.
The "Driving For Dollars" feature is unique to the industry as it also allows you to upload and customize lists of off-market properties. The mobile app scores high marks in the App Store with a 4.8 average rating and over 3,200 reviews.
Overall, the platform is a smart, effective tool at a reasonable cost that helps score your next real estate deal.
What is virtual driving for dollars?
Virtual driving for dollars further streamlines the driving for dollars strategy by letting you use street view from your phone or laptop to search for properties of interest. DealMachine recently launched a virtual driving for dollars experience that lets you take advantage of street view technology.
Physically driving to explore locations takes time and effort, but you can shorten this entire process to a matter of minutes by taking a virtual drive. The less time you spend driving around neighborhoods and noting properties of interest, the more you can focus on increasing the number of homeowner contact attempts towards your next deal.
Related links