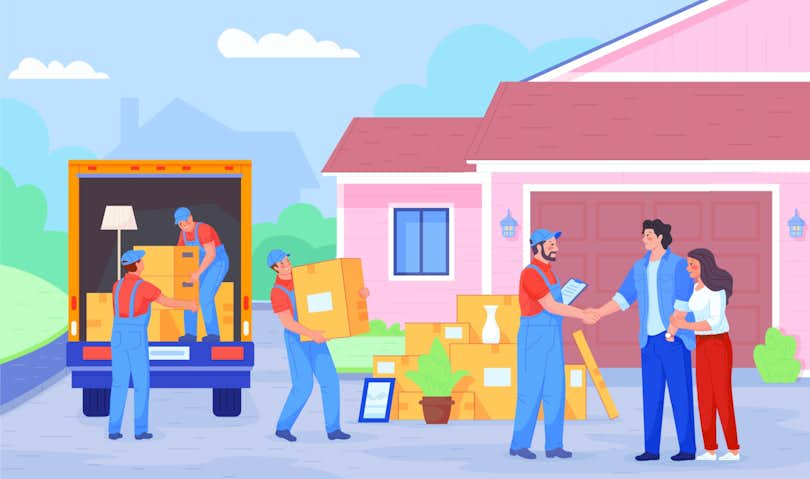 When you get a quote from the moving company, their estimate will include a breakdown of their charges, but it typically won't include tips for the movers.
Moving large pieces of furniture and carrying boxes up and down stairs is tough work, but do you tip movers if they've done a good job?
If a gratuity has not been included in the estimate, how much is the right amount to tip movers? How much to tip movers is debated all the time. We will examine some essential information to consider regarding gratuities for movers.
When moving, there are many things to consider, so knowing how to handle tipping movers can be one less to-do on your plate.
Are You Expected to Tip Your Movers?
Moving tips aren't expected, but they are certainly appreciated. There isn't a standard practice within the moving industry for how much you should tip.
Movers' average salary is around $16 per hour; though considering the amount of work involved in moving, it might not seem enough.
What Should You Tip Your Movers?
If you're wondering how much to tip a mover, there are a few things to consider. If you don't have that many items and the move doesn't take too long, you may not tip as much. But if you're moving a lot of stuff, have a large house, or are moving a long distance, you'll want to tip more.
Consider tipping between $6 and $12 for each mover for each hour. So if there is a four-person crew and they work for four hours, your tip would be between $96 and $192.
If you have five movers working eight hours, the tip would be from $240 to $480.
When You Should Tip and When You Shouldn't
Hiring movers is already expensive, and if you feel the movers could have done a better job, perhaps you don't want to tip. Tips for movers show your appreciation for their work and the care they've taken with your possessions.
But if there have been problems and your movers haven't done a great job, it's fine to reduce the tip or not tip.
When might you want to tip more:
If your movers had problems getting furniture in or out of your home.
If they have treated fragile possessions in moving boxes with care
When they have done the job quickly
If they've gone out of their way to assemble items
When they've been kind and friendly
When you might want to tip less:
If they arrive late
If there are problems because of mistakes they've made
When they are taking longer and wasting time
If items get broken due to carelessness
When you had to do a lot of the work yourself
How to Tip Your Moving Crew
When you have decided how much you would like to tip, how do you hand over the money?
You can hand the cash to the lead mover, but there is a risk that they won't distribute all the money as they should. The other option is to hand money to the movers one at a time at the end of the move.
If your move is over a few days, you can tip at the end of each day. If you instead tipped at the end of the final day, you might miss out on movers not there on the last day.
Different crews might also be used on different days, so tipping on the last day would miss many of your movers.
Whichever method you choose, you must have the cash available to tip. This won't be the case if a tip is on the bill from the moving company, but otherwise, you will want to make sure you have cash on hand to tip.
Should You Provide Food and Refreshments?
Moving can take hours of hard work from your movers, but should you feed them? While they are likely to bring their own food and refreshments, it is another way to show your appreciation for the work they've done.
Your moving crew will certainly appreciate the gesture, which could mean they go further to help your move go well.
If you don't have the money available for mover tips, offering them something to eat and drink is a cheaper alternative. Most people like pizza or subs, and it doesn't cost too much if your budget is limited.
You could even offer the moving crew money to buy their own food if that were easier. Some people consider this a good substitute for providing a moving tip.
Final Thoughts on Tipping a Mover
How much you decide to tip movers is ultimately your call. If you have ever worked in the service industry, you know how much it is appreciated.
If the movers go out of their way to make your move an excellent experience, it may be worth being a little extra generous.
On the other hand, if the moving company is not meeting your expectations, keep the money in your pocket.