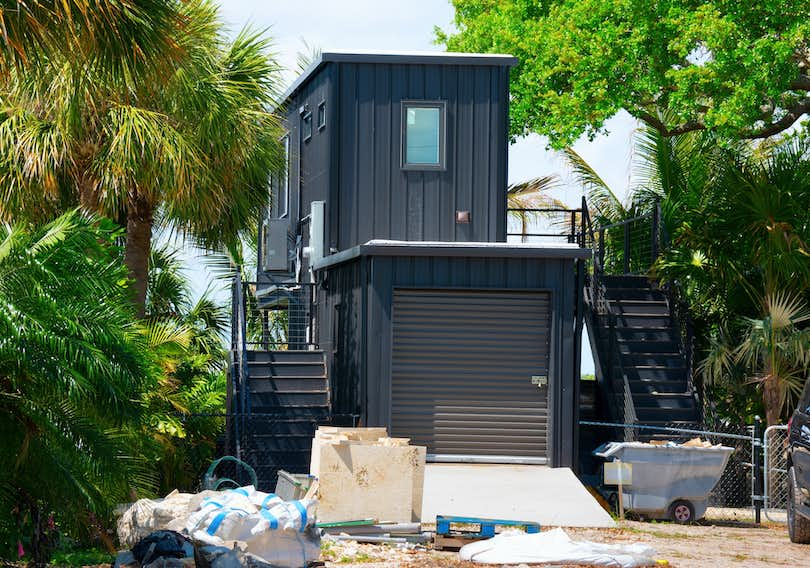 Using a shipping container as the basis of a new home is an interesting trend in affordable housing. While you can use one container to build a tiny home, fixing together and stacking multiple containers can create an unusual and large family home.
Building this type of home is increasingly seen as a way to create appealing and bold homes cheaper than traditional ones.
The container home cost is one big reason you might consider this type of home. But how much does it cost, and what do you need to know? We take a look.
What Are Shipping Container Homes?
If you've never heard of this type of construction before, you're probably wondering what a shipping container home is and whether you should consider one. The most basic answer is that it is a home made from shipping containers. However, there is a whole lot more to it than just that.
Maximum Real Estate Exposure has one of the most comprehensive resources on everything you should know about this affordable housing choice.
What is the Typical Cost for Shipping Container Homes Construction?
The cost for container home project completion will vary considerably depending on your goals for the property. Average costs can range between $15,000 and $50,000 for a typical home, with larger homes costing as much as $300,000.
Much of the cost will depend on the amenities you choose to include. The materials and finish of the home will also alter the costs, and you can't forget the lot the home will be built on, either.
Shipping container houses are an excellent housing choice for lower-income buyers.
The Cost of Land
Where you want to live will have a large effect on overall costs. If you want to live in a rural area, you might be able to buy farmland for less than $5,000, while prices closer to the city will be typically be considerably higher.
The cost can also depend on whether the lot is ready for a home to be constructed. Without access to utilities or a road, your construction costs will be much higher. though the land may be cheaper.
Constructing Foundations
When you have the land, you'll need foundations to support your shipping container home. If the ground is suitable, a shallow trench foundation is more affordable than the slab foundations used for soft ground. Pier foundations can also support shipping containers and raise them a few feet above the ground.
The cost of foundations will depend on which type is more appropriate for your construction and the size of your home. Foundations typically cost at least $5,000.
Sourcing Shipping Containers
The cost of a shipping container can start at around $2,000. This will give you a used shipping container that might not be in the best condition. You can expect to pay significantly more for a new container.
Typically containers measure 20 feet by 8 feet, though there are some variations, like those with higher ceilings. Multiple containers can be purchased to be stacked together, but there will likely be delivery costs added to the price.
Adding Insulation
With your shipping containers on your foundations, insulation can be added. Insulation is required to make the home livable, whether you live in colder or warmer climates.
You can choose spray insulation, foam boards, and blanket insulation to prevent the home from becoming too hot or cold. You can pay more than $2 per square foot to insulate the home, though costs can also be lower.
Choose Your Amenities
To make the home livable, you will want to install the normal amenities you're used to in a traditional home. You will want to install plumbing, electricity, HVAC systems, flooring, interior walls, windows, and doors. Your home will also need a roof to make it waterproof.
The quality of the finish and the choices you make at this stage will greatly affect overall costs. While a shipping container home is often cheaper to construct than a traditional property, you still need to ensure you are ready for the expense.
Pre-made Shipping Container Homes
Buying pre-made can save on the complications and headaches of constructing your own container home. Specialist companies manufacture container homes as finished products with many different designs.
Prices of these finished homes depend on your specifications and start at about $50,000.
Choosing a Used Shipping Container Home
Shipping containers are designed to last at least two decades, but these homes can easily last longer with proper care. You may also consider buy a shipping container home that has already been constructed.
Avoid any homes with signs of rust and make sure proper siding has been installed. You'll also want to check for a traditional roof for best protection from the elements.
Like any other property, spending money to have the home inspected first by a professional inspector is crucial.
Final Thoughts
Shipping container homes are an affordable housing option that are becoming increasingly more popular. If you're considering this type of property, it's essential to determine if they are acceptable according to local zoning and building regulations. In some locations, these types of homes are not permitted.