What is Purplebricks? | Failure in U.S. | Top U.S. alternatives | Other locations | Review scandal

Purplebricks is a discount real estate brokerage available to home sellers and buyers in the United Kingdom.
The company tried — and failed — to establish a foothold in the U.S. back in 2017, suspending its U.S. operations less than two years later in 2019.
If you're looking for low-cost listing services in the U.S., Purplebricks is no longer an option — but there are plenty of other companies that can help you sell your house for a discounted rate.
» MORE: Compare the best low commission real estate brokerages near you
Purplebricks continues to be an industry leader in the U.K., although a series of review scandals have done some damage to its reputation. Read on to learn more.
What is Purplebricks?
Purplebricks is a discount real estate broker based in the U.K. The company owns a major stake in a similar German brokerage called Homeday. Until 2019, it had operations in Canada, Australia, and the United States.[1]
Purplebricks' core offering is discounted listing fees for home sellers. Sellers can list their home with a Purplebricks agent for a low, flat fee. The potential savings are significant — but so are the risks.
⚡ Why Purplebricks is risky
Sellers have to pay Purplebricks' fee up front and out of pocket. It's also nonrefundable, meaning Purplebricks keeps the money whether it successfully sells the home or not.
Arrangements like this are common in the U.K., but U.S. sellers typically pay realtor fees ONLY if and when a deal actually closes. This is one of the key reasons Purplebricks failed to gain traction in the U.S.
Purplebricks expanded aggressively — then retreated back to the U.K.
After becoming a market leader in the U.K., Purplebricks embarked on an aggressive international expansion effort.
By 2018, the company had opened up shop in the U.S., Australia, and Canada, and had acquired major stakes in German and Canadian subsidiaries.
One by one, however, each expansion fizzled.
Expensive marketing campaigns failed to generate a sustainable customer base, causing Purplebricks' stock price to crater.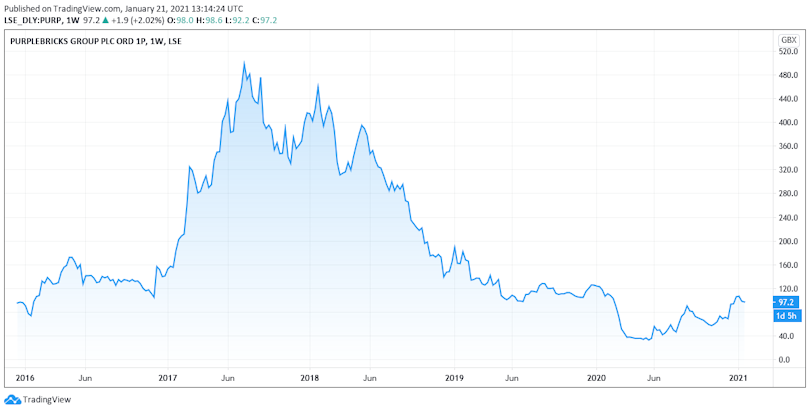 Source: TradingView
Purplebricks pulled out of Australia and the U.S. in 2019. It sold its Canadian subsidiary in 2020, although the new owner retained the right to use the Purplebricks branding until December 2021.[2][3]
Today, Purplebricks remains a major force in the U.K. — and is hanging on in Germany via Homeday.
» LEARN: How to save on real estate commission in the U.S.
Best U.S. alternatives to Purplebricks
Purplebricks is no longer available in the United States, but home sellers still have LOTS of options to save on real estate commission.
Unlike Purplebricks, these companies charge "pay-for-performance" fees. This means you won't owe them a dime unless your house sells.
Discount brokers offer savings — but come with service-quality risks
Redfin and REX are discount brokerages. Like Purplebricks, they "create" savings by handling a higher volume of customers with an in-house team.
However, these cheap listing fees come with service-quality risks. Agents juggling lots of customers have less bandwidth to provide hands-on, personalized service throughout the sale.
Why agent-matching services may be a better choice than discount brokers
Agent-matching services like Clever are different. They pre-negotiate discounted rates with traditional realtors, so sellers can save on commission without compromising on service quality.
Here's how these services work:
Most realtors charge 3% commission rates because they spend a TON of time and money to build their brand and attract new customers.
Agent-matching services send their partner agents a steady supply of business at zero upfront cost.
As a result, partner agents can charge lower rates, provide first-class service, and still turn a profit.
The best part? The top agent-matching services are 100% free for consumers — with zero strings attached.
💰 Compare low commission agents and save thousands
Try our free, no-obligation agent-matching service! Clever will get proposals from the top agents in your area — and negotiate discounted 1.5% listing fees.
Why Purplebricks USA failed
Purplebricks failed in the U.S. because it spent a HUGE amount of money on advertising and failed to attract enough customers to become profitable.
In a nutshell, Purplebricks USA was spending approximately $5 in advertising for every $1 it earned. It doesn't take an economics degree to recognize that's not going to keep a company afloat for very long...
Purplebricks USA bet big on an ill-fated advertising blitz
According to real estate tech analyst Mike DelPrete, Purplebricks USA burned through a $20 million marketing budget between June and December 2018.[4]
During that same period, Redfin — the largest discount real estate broker in the U.S. — spent roughly $16 million on marketing.
Purplebricks USA's ad blitz netted approximately 1,200-1,400 new listings, translating to an average cost of $15,000 to attract one new customer. In other words, it was burning $15,000 to earn back $3,200 in revenue.
Redfin's smaller advertising budget yielded a whopping 22,000 closed transactions, or an average of $730 spent per new customer acquired.[4]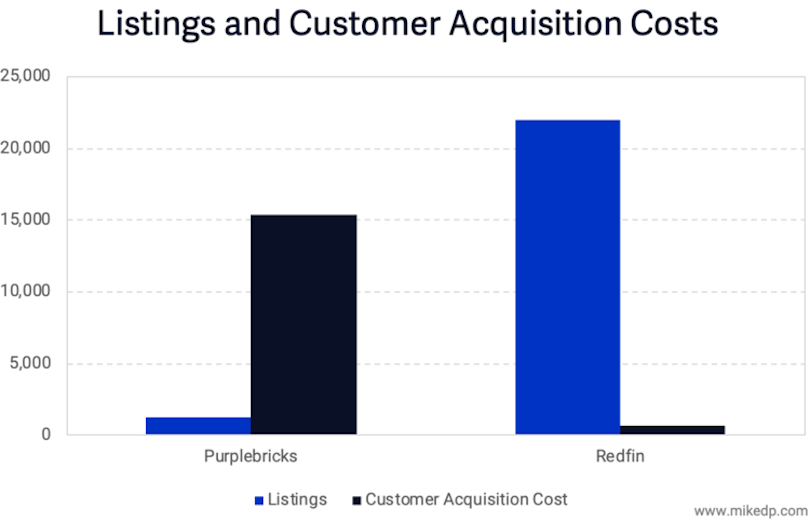 Source: Mike DelPrete
At face value — and particularly in contrast to Redfin's numbers — Purplebricks USA's marketing strategy appears nothing short of disastrous.
Why would any business — especially one with so much past success — let this happen? To answer that question, we need to explain how Purplebricks makes money.
How does Purplebricks make money?
To remain viable, discount brokers like Purplebricks must find ways to offset the savings they offer consumers.
Purplebricks aims to do this in three primary ways:
Reducing the cost of acquiring new customers
Working with a higher volume of customers per agent
Collecting a fee from every customer, regardless of their outcome
Importantly, Purplebricks' pricing model is only profitable at scale. Even with the nonrefundable fee, it has to attract a HUGE number of customers to make up for its hefty discounts.
💰 Purplebricks' strategy to conquer new markets
When Purplebricks launched in new markets, it spent TONS of money on ads for radio, TV, billboards, etc. to build its brand and attract new customers.
The idea was Purplebricks would operate at a loss until it saturated the market and became a household name.
At this point, it would turn down its ad spend and make up the difference via word of mouth and general brand awareness, thus becoming a profitable business.
In the U.K., this approach played out like clockwork. It's how Purplebricks became — and remains — a profitable powerhouse brokerage on its home turf.
Purplebricks confidently entered the U.S. ready to spend (and lose) a ton of money knowing that, if it caught hold, it could become profitable over time here, too.
Unfortunately, that's not how things played out. There are many reasons Purplebricks USA flopped, but three stand out in particular:
Americans didn't want to pay upfront fees
Its price point wasn't competitive enough
The company launched in the wrong U.S. markets
Purplebricks' nonrefundable fees didn't resonate with Americans
When Purplebricks first entered the U.S., it employed the same basic pricing model that helped it become the leading real estate agency in the U.K.[5]
U.S. sellers would pay a flat, upfront $3,200 fee (which it later raised to $3,600) that was non refundable — meaning they were on the hook whether Purplebricks USA successfully sold their home or not.
While these sorts of nonrefundable, upfront arrangements are common in the U.K., sellers in the U.S. typically pay success-based fees. In other words, agents and brokers collect their commissions ONLY if and when a home actually sells.
That made Purplebricks USA a riskier option than its U.S. competitors.
Purplebricks USA's price point wasn't competitive enough
Maybe customers would have accepted that additional risk if Purplebricks USA was really the cheapest option, but it wasn't...
The company entered into an already crowded marketplace with zero brand awareness or credibility AND a very middle-of-the-pack price tag.
Considering U.S. home sellers had plenty of cheaper, more established options to choose from that also DIDN'T charge upfront fees, is it any wonder that Purplebricks USA struggled to gain traction?
» MORE: Which company charges the lowest real estate commission?
Purplebricks targeted the wrong U.S. markets
Purplebricks compounded its problems by launching in the wrong U.S. markets.
When Purplebricks entered the U.S., it targeted Los Angeles, San Diego, and New York City — three of the most expensive real estate markets in the country![6]
On the surface, these markets made sense. Since Purplebricks charges a flat fee regardless of home price, it offers the most savings in super-expensive areas.
But this strategy had three big flaws:
1. More competition among brokers and agents in high-end markets
Because home values were so high in these locations, the discount broker landscape was already competitive.
Purplebricks USA didn't just have to show customers it was a better deal than an old-school realtor. It also had to persuade them that it was superior to other discount services with more brand recognition — and better pricing models.
2. Higher advertising costs in major metro areas
It's incredibly expensive to advertise in Los Angeles and New York City!
Remember, Purplebricks USA's strategy relied on saturating the market with ads to build brand awareness. It could have stretched its marketing budget much further by picking metros where it didn't cost so much to run ads.
3. Purplebricks' target consumers don't live in high-end markets
Purplebricks targets cost-conscious consumers, so it may not have been the best fit for high-end markets where the average cost-conscious consumer can't afford to own a home. As Mike DelPrete notes, "It's like taking a budget airline that caters to price-conscious families and launching a New York-to-London route for business travelers."[7]
Purplebricks eventually realized the flaws in its U.S. launch strategy. It scrapped its upfront fee and entered less expensive markets like Las Vegas and Phoenix.
Unfortunately, by then, it was already too late — and Purplebricks was forced to leave the U.S. for good shortly thereafter.[8]
Where does Purplebricks still operate today?
As of this writing, Purplebricks only operates in the U.K. It also retains a major stake in Homeday, a discount brokerage in Germany.
Purplebricks has established itself as the U.K.'s premier discount real estate agency brand. It listed more than 58,000 properties 2020. That translates into a 3.6% share of the overall U.K. sales market, which is more than double the size of its largest competitor.[9]
How much does Purplebricks cost in the U.K.?
Purplebricks charges U.K. home sellers a nonrefundable listing fee of £999 or £1,499 ($1,350-2,000), depending on their location:
| Location | Listing fee |
| --- | --- |
| London area | £1,499 |
| Rest of the U.K. | £999 |
Note that Purplebricks customers pay the entire listing fee whether their home sells or not. However, they can choose to pay this fee either up front or within 10 months of Purplebricks advertising their listing.
How much can you save with Purplebricks?
The average real estate commission rate in the U.K. is around 1.5%, so Purplebricks customers generally save big, especially when they sell more expensive homes.[10]
» MORE: Learn about selling with Purplebricks in the U.K.
Purplebricks review controversy
Purplebricks has been embroiled in several controversies over the years, mostly related to the credibility of its online customer reviews.
Customer reviews have always been a cornerstone of Purplebricks' marketing strategy, especially in new markets where it was attempting to build brand awareness.
⚠️Purplebricks review scandal timeline
Jun-Sept. 2017: Questions surface about Purplebricks' aggressive attempts to remove negative, unverified ratings from Trustpilot.

[11]

Sept. 2017: Purplebricks is accused of "corporate bullying" after sending legal threats to consumer review website allAgents.

[12]

Mar. 2019: Purplebricks Canada allegedly offers employees paid vacations for made up 5-star reviews.

[13]

Sept. 2019: Purplebricks faces renewed accusations of "gaming the system" to inflate its customer rating on Trustpilot.

[14]
Discount brokerages have long faced a stigma — sometimes deserved, sometimes not — that low prices mean subpar service quality.
To combat this stereotype, Purplebricks touts its excellent rating on third-party consumer review website Trustpilot as evidence that its customers have outstanding outcomes.
As of 10/21/2022, Purplebricks has an average rating of 4.9 out of 1821 total reviews on Trustpilot.
Does Purplebricks 'game the system' on consumer review websites?
However, critics have raised numerous questions about the validity of Purplebricks' Trustpilot rating.
The company has faced accusations that it attempts to "game the system" with tactics such as:
Asking customers to leave reviews before their home has sold
Only asking "happy" customers to leave reviews
Flagging negative reviews as suspicious to attempt to get them removed from Trustpilot
Purplebricks faces 'corporate bullying' accusations
Critics have also accused Purplebricks of "corporate bullying" for its behavior toward allAgents, a website where consumers review U.K. real estate agents.
While Purplebricks' Trustpilot rating is pristine, its customer rating on allAgents is currently an abysmal 1.2 out of 357 reviews.
Purplebricks issued legal threats to allAgents in 2017, demanding that the website remove negative reviews it claimed were fake. The U.K.'s Advertising Standards Authority later rejected a Purplebricks complaint alleging that allAgents was deliberately soliciting negative Purplebricks reviews.[15]
The review scandal spreads
Finally, in 2019, Purplebricks' Canadian subsidiary reportedly offered staff members days off in exchange for getting friends and family members to post made-up positive reviews on Facebook and Google.[16]
Always do your due diligence before hiring ANY agent
Purplebricks' series of review scandals demonstrate why you can't always take a company's overall customer rating at face value. That said, reading individual customers reviews CAN teach you a lot.
Look for themes that consistently appear in both positive and negative reviews to get a general sense of things like:
What customers like/don't like about the company
Built-in advantages and drawbacks
Remember: selling a home is one of the biggest financial transactions you'll ever make. It's crucial to do your research before hiring any real estate agent or service.
We recommend interviewing at least 2-3 different realtors from different companies. Compare rates, service offerings, and overall value to make sure you find the perfect fit for your situation and goals.
👋 Next Steps: Talk to an expert!
If you're weighing your options for buying or selling a house, Clever can help!
Our fully licensed concierge team is standing by to answer questions and provide free, objective advice on getting the best outcome with your sale or purchase.
Ready to get started?
Give us a call at 1-833-2-CLEVER or enter your info below. Our concierge team will be in touch shortly to help.
Remember, this service is 100% free and there's never any obligation.
FAQs about Purplebricks USA
What are the top alternatives to Purplebricks USA?
The best alternatives to Purplebricks USA include Clever Real Estate, Ideal Agent, and Houwzer. These companies offer a similar experience to selling with a traditional realtor, but charge much lower rates. That said, it's a good idea to compare all your options to find the right fit for your needs and budget. Check out our list of the best low commission companies to find the top discount realtors in your area!
Is Purplebricks USA still in business?
No, Purplebricks USA went out of business in 2019. But if you're looking for a way to save on realtor fees, you still have lots of options!. We've reviewed dozens of low commission brokerages, and the best companies offer bigger savings than Purplebricks ever did. Check out our rankings to find the best discount brokerage near you!