What is Faira? | Is Faira legit? | How it works | Pricing | Alternatives | Selling | Buying | Rebates | Reviews | Contact info

✍️ Editor's take: Faira's pricing and service model have changed since we published this review, so some details may no longer be accurate. We're updating the page to reflect these changes, but it's still a work in progress.One thing hasn't changed: We still don't recommend Faira Real Estate. The savings look good on paper, but hidden fees and a confusing online listing platform could cost you money in the long run.

The best discount brokerages cost about the same as Faira — or less! — but offer better service (and no hidden fees). We've ranked and reviewed all the top companies, so you can find the right fit for your needs and budget.
Faira is a discount real estate brokerage and technology company that operates in Washington State.
Faira offers several low-cost listing options for home sellers, including a "free" basic listing package.
If this deal sounds too good to be true, that's because it is...
"Faira Free" isn't really free. In fact, hidden fees, limited agent selection and service, and a shaky business model make any Faira listing package a risky choice compared with other options.
» LEARN: Save on commission fees without sacrificing service
What is Faira?
Faira is discount real estate broker with licensed agents who can help you buy or sell a home in Washington State. Somewhere else? Find discount brokers near you.
It's part of a new breed of real estate brokerages that depend heavily on technology to create savings for consumers.
The company's goal is to leverage its online platform to make the process of buying and selling homes transparent and "fair" (hence the name).
However, in practice, these potential savings come with some pretty huge trade-offs.
📢 Why we DON'T recommend FairaFaira once hoped to become a technology-heavy disruptor in the real estate industry. But thanks to its convoluted pricing model, shrinking number of agents, and nearly empty listing platform, we DON'T recommend using this company for buying or selling.
Hidden fees and misleading advertising
First, in examining the company's pricing model, we discovered hidden and/or misrepresented fees, including a 0.5% "platform fee."
Faira advertises that the platform fee is paid by the buyer, but it's taken from the sale proceeds, which of course impacts the seller's bottom line.
Faira's premium service may cost MORE than a traditional realtor
Second, Faira's highest level of service is just as — or even more expensive than — using a traditional real estate agent.
The company's footprint is shrinking rapidly
Third, to be frank, the company isn't in great shape. Faira has recently closed offices and laid off staff, and its platform is now limited to a handful of listings in Washington State.
» SAVE: Match with top agents nationwide — get full service for 1.5%
Is Faira legitimate?
Faira is a legitimate licensed brokerage, but the business appears to be facing headwinds and shrinking its operations, which might negatively impact your experience.
Until recently, Faira operated in Washington State, California, and Arizona. However, the coronavirus pandemic has had an impact on the company. Currently, Faira agents are focused on Washington listings.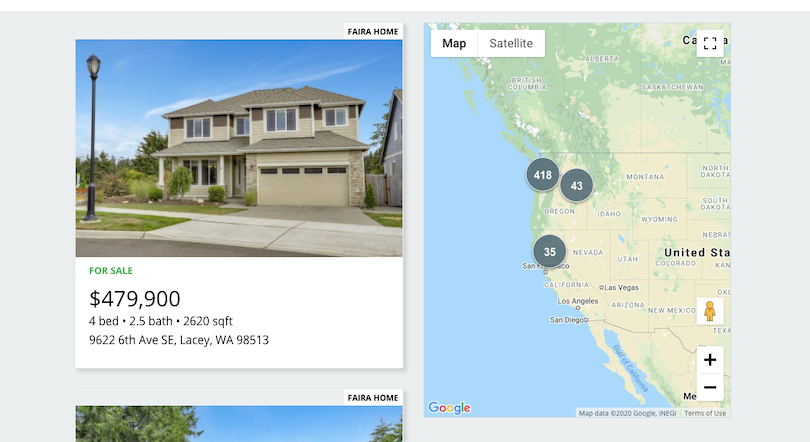 📢

Don't be fooled by Faira's misleading listing map!Although Faira's website listing map shows nearly 500 properties across the West Coast, in reality it has three — yes three — active for sale listings as of this writing.

The vast majority of the remaining listings are properties Faira has sold over the past several years.
For sellers, that means it's unlikely Faira's listing site will draw much traffic to your listing. And as with the company's seemingly misleading platform fee, it's another example of Faira presenting itself as a better deal than it really is.
» COMPARE: Faira vs. top alternatives
How does Faira work?
The Faira platform lets anyone with a free account view information about each listing — including third-party inspection reports and property disclosure statements. Users can also see all current bids on properties listed on the site.
How the Faira platform works
When you use Faira for a real estate transaction, you can choose to make or receive bids via the web.
Faira sellers control their listings via a property dashboard, where they set their desired list price. Buyers can input their maximum offers and outbid each other with the click of a button.
✍️ Editor's noteIf Faira's platform sounds a bit like eBay, it's no coincidence — Faira co-founder and ex-CEO Kamal Jain helped develop business models for the online auction platform.
Faira's tech-forward approach may be changing...
To use Faira's platform, you need to sign in with a Google, Microsoft, Yahoo, or Facebook account. If you don't have one of those accounts, you'll need to set one up first — a bit of an unexpected term for those of us who are more "old fashioned"!
However, from our research and conversations with the Faira team, we get the feeling that Faira is leaning away from depending on its online platform and offering more in-person services that you would find at a traditional real estate brokerage.
How much does Faira cost?
Faira offers three different tiers of service, each with its own price point:
Note that Faira also requires you to offer a 3% buyer's agent commission to help market your home. This is higher than the average buyer's agent commission rate in Washington, so you may be overpaying on this fee.
Additionally, when it comes to Faira's advertised fees, what you see isn't always what you get:
Many of Faira's advertised prices are misleading
You may encounter hidden fees, especially if you opt for Faira Free
Read the fine print carefully to understand what services you'll get, what fees you'll be on the hook for, and what recourse you'll have if your sale goes sideways.
Watch out for Faira's misleading "platform fee"
ALL Faira sellers — even those who use "Faira Free" — pay a 0.5% platform fee. This is how Faira makes its money. But frankly, the way the company presents the platform fee is a little sketchy.
Here's Faira's pitch:
When you make an offer on a home listed on the Faira platform, you'll pay the fee in two chunks: $500 on making an offer, and the rest of 0.5% of the sale price after the offer is accepted.
However, this money is baked into the home price, so it's actually the sellers who are ultimately "paying" this fee — that's money they're not receiving from their home purchase, just like traditional commission to a listing agent or buyer's agent.
Read on to learn about Faira's pricing tiers in detail.
Faira Free
The first tier is called Faira Free. This package offers limited service for a reduced price, but — contrary to what the name suggests — it's NOT actually free.
Faira Free is NOT actually free
Faira Free users won't pay any listing agent commission. But no matter what, You'll still be on the hook for at least two fees:
Buyer's agent commission
Faira's platform fee
In other words, you should expect to pay a minimum of 3.5% of your home's sale price when you sell using Faira Free. But you could end up paying a lot more...
Faira will charge you an EXTRA 1% if you accept an "offline offer" — meaning the buyer or the buyer's agent submits the offer outside of the Faira platform. Based on the current state of the company, this is likely what's going to happen. The platform has very limited adoption, so it's improbable that buyers will find your listing and submit an offer through Faira's website.
Faira Free is an overpriced MLS listing service
At its core, Faira Free is just an MLS listing service. When you sign up for Faira Free, you'll receive no assistance from a dedicated agent. It's strictly DIY.
You will receive a few services that flat fee MLS listing companies don't offer — namely, professional photography, signs, flyers, and a lockbox.
But considering that most flat fee MLS services charge just a few hundred dollars, you're likely better off using one of those services and then hiring a professional photographer yourself.
» MORE: What is a flat fee MLS listing service?
Faira One
| Service | Fee |
| --- | --- |
| Platform fee | 0.5% |
| Listing fee | 1% |
| Buyer's agent commission | 3% |
| Total cost: | 4.5% |
The next level, Faira One, charges a 1% listing agent's commission in addition to the 0.5% platform fee (and the fee you'd pay the buyer's agent). This package offers the services of the "Free" tier, plus a complimentary home inspection and a dedicated real estate agent.
Faira One offers savings of up to 20-30% compared with selling with a traditional real estate agent, but the fees are fairly middle-of-the-pack compared with other discount brokers. You can likely find comparable savings — and fewer trade-offs — elsewhere.
» MORE: Which real estate company has the lowest commission?
Faira Premium
| Service | Fee |
| --- | --- |
| Platform fee | 0.5% |
| Listing fee | 3% |
| Buyer's agent commission | 3% |
| Total cost: | 6.5% |
Faira Premium combines all of the services of Free and One with upgraded photo options, a home warranty (which transfers to the buyer), and an in-home agent consultation.
Altogether, Faira Premium costs 6.5% of your home's sale price, which is 0.5-1% MORE than you'd expect to pay to sell your home with a traditional real estate agent. For a $500,000 home, Faira Premium would cost roughly $5,000 more than selling the conventional way.
It's important to note that Faira Premium is available only in markets where there are Faira agents — in particular, around Seattle and Tacoma, WA, as well as the Bellevue/Eastside area.
How does Faira compare to top alternatives?
It's hard to compare Faira to other discount brokers, thanks to its varied levels of service.
Faira Free is like a flat fee MLS service — but a LOT more expensive
The Free version compares closest to a flat fee MLS listing service. These companies give you access to a self-service portal that helps you list your home for sale by owner on the MLS — a service traditionally reserved for licensed real estate agents.
But there is a MAJOR difference: price.
Flat fee MLS services typically cost less than $500. Faira Free doesn't charge any upfront fees. But you will pay a 0.5% platform fee if your home sells. And if the transaction occurs off Faira's platform, you'll incur an additional 1% fee on top of that.
The bottom line is that Faira Free is more expensive than a flat fee MLS listing service at almost EVERY price point. These services have their drawbacks, but if you're genuinely considering selling with Faira Free, a flat fee MLS package will provide you with a similar range of services — most likely for a MUCH lower price.
» LEARN: Everything you need to know about flat fee MLS listings
Faira One offers savings — but limited support
Of the three tiers, Faira One is the most similar to other discount brokerage services that we've reviewed. Discount brokers provide customers with some or all of the services offered by a traditional real estate agent but usually offer a lower rate.
With Faira One, you'll pay a 1% listing fee and a 0.5% platform fee — still lower than the typical 2.5-3% listing fee charged by traditional agents. However, at this level of service, your Faira agent will be 100% remote; they'll handle paperwork and negotiations on your behalf but won't visit your home.
Faira Premium may cost MORE than a traditional realtor
If you want in-person service, you'll have to pony up for Faira Premium. This package includes all of the services you'd typically find with a traditional real estate agent — plus access to the listing platform — and with a price point to match: 3%. Keep in mind that currently, Premium agents are serving only homes in the greater Seattle metro area.
However, if dedicated, hands-on service and support is a top priority, it's worth shopping around and comparing rates for a few traditional agents in your area.
Save thousands without sacrificing service!
Match with top agents for free, sell for just 1.5%.
Selling with Faira
The services sellers receive when they list with Faira depend on which tier they choose. Here's a table comparing the offerings from the three levels:
| Service | Faira Free | Faira One | Faira Premium |
| --- | --- | --- | --- |
| Local MLS Listing | ✅ | ✅ | ✅ |
| Dedicated Agent | ❌ | ✅ | ✅ |
| In-home Consult | ❌ | ❌ | ✅ |
| Photography | ✅ | ✅ | ✅ |
| Videography | ❌ | ❌ | ✅ |
| Yard Sign | ✅ | ✅ | ✅ |
| Lockbox | ✅ | ✅ | ✅ |
| Flyers | ✅ | ✅ | ✅ |
| Inspection | ❌ | ✅ | ✅ |
| Home Warranty | ❌ | ❌ | ✅ |
What you should know about Faira's listing agreement
Before listing your home, you must e-sign a contract with Faira. This agreement holds you to a 90-day listing commitment with the company.
📢 Make sure you read the fine print!If you decide to leave the contract early, Faira will charge you a cancellation penalty equal to 1.5% of your listing price.

Always make sure that you read the fine print of any contract before signing.
Once you've electronically signed your agreement, you'll be taken to a dashboard with a checklist of tasks you must do to complete your listing.
Here's a rundown of the major tasks you'll need to complete to get your home on the market.
Schedule vendors
Faira provides all home sellers who list with the company with professional photography. Faira Premium members also receive "upgraded photo options," which a Faira representative defined for me as the potential for drone footage and/or a video tour.
Faira One and Premium listings also include a third-party inspection completed by one of the company's partner vendors. This inspection has two aims:
To provide guidance for the home's pricing
To aid in the completion of the state-required seller disclosure statement
The inspection report is also part of Faira's transparency campaign and is made available to all buyers.
Faira's vendors also install yard signs on listed properties, but this doesn't need to be scheduled by the seller.
Set the price
The pricing process is where Faira starts to get complicated. On a Faira Free dashboard, you'll see three prices listed, which you can increase or decrease in tandem with a slider:
MLS Listing Price
The MLS Listing Price is what's advertised to buyers and agents. It includes a 3% buyer's agent commission and a 0.5% platform fee. The platform fee is how Faira makes money and is always baked into the sale price.
Buyer Without Agent Price
The Buyer Without Agent Price price is offered to buyers who aren't represented by an agent. It includes the 0.5% platform fee but excludes the 3% buyer's agent commission. Faira advertises this price to unrepresented buyers as a 3% discount from the MLS Listing Price.
Base Asking Price
The Base Asking Price is the list price, minus the 3% buyer's agent commission and the 0.5% platform fee.
Here's what that the seller dashboard would look like with an MLS Listing Price of $500,000:
| | |
| --- | --- |
| MLS Listing Price | $500,000 |
| Buyer Without Agent Price | $486,500 |
| Base Asking Price | $482,753 |
Faira One and Faira Premium sellers will also see their Estimate of Net Sale Proceeds, which further removes the 1% or 3% commission, respectively, from the Base Asking Price.
Don't forget about buyer's agent commission!
Faira automatically sets the buyer's agent commission at 3%. As a seller, you're NOT able to change that percentage.
For Washington State, 3% is a bit higher than the average buyer's commission, which our research shows to be 2.52-2.92%.
✍️ Editor's noteOffering an above-average buyer's agent commission could make your listing more competitive, since realtors might feel more compelled to show your home (and get that higher commission!). But it could also be an unnecessary cost.
When planning to sell your home, you should always do your due diligence and shop around. Ask agents what the most effective buyer's agent commission is in your neighborhood.
» LEARN: Average realtor commission rates in Washington
Schedule an open house
If you use Faira One or Faira Premium, you can also set up an open house for buyers to view your property. If you use Faira Premium, your open house will be staffed by a member of the Faira office team. If you use Faira One, the open house will be handled by an outside vendor whom Faira contracts.
There's also the potential to host an open house yourself if you're a Faira Free seller.
Write your listing description
Ultimately, what goes into your listing description is 100% up to you. Although Faira One and Premium users can receive input from their dedicated agent, sellers can go onto the dashboard and write whatever description they like. They can also upload additional photos and documentation that they feel would help sell the property.
This sounds great, but good real estate agents have marketing expertise and know how to present your home to prospective buyers. Sometimes allowing a local agent to control the listing can be a good thing.
Review offers
Once you've listed your property on Faira, you can start receiving offers. You can review these as they're made through text or email notifications. Once an offer has arrived, you have 24 hours to consider it before it expires.
Or you can set an offer review date ahead of time. When you take this option, you'll review all offers on the same date, regardless of when they came in. Offers will be valid for 24 hours following the start of the offer review date.
You can also receive an offer outside the Faira platform, but note that if you're a Faira Free member and accept an offer made in the traditional way, you'll incur an extra 1% fee.
✍️ Editor's noteBefore you accept an offer, it's wise to make sure the buyer has been preapproved for financing. If you're a Faira Free seller, the onus is on you to do this. You'll find the buyer's contact information with the offer. Faira One and Premium members can enlist the aid of their dedicated agents to handle this step.
Once you've accepted an offer, the buyer has five days to complete any additional due diligence and to pay the 0.5% platform fee. Once that's been done, you'll receive a purchase and sale agreement to sign.
Of course, Faira One and Premium sellers have the added advantage of a dedicated agent who can handle off-platform price negotiations for you. In fact, paying sellers can have the entire transaction handled without juggling online bids.
Buying with Faira
Faira also offers two tiers of service for home buyers.
Faira Essentials
Faira Essentials is geared toward buyers who already have a property picked out. Essentials buyers receive help writing and negotiating offers on homes through closing from the Faira team.
Here's the downside: if you sign up for Essentials and want to schedule a showing of the home via Faira, you have to pay $99 per showing, or $399 for up to five showings. (Traditional real estate agents don't charge their clients for property showings.)
So why sign up for Faira Essentials? It does offer a rebate of up to 2% in return for you doing a lot of the legwork. This percentage is larger than you'll find with most discount brokers. However, keep in mind the actual rebate amount you'll receive depends on the listing's location and price. You'll receive the rebate check at closing.
📢 An important note about home buyer rebatesThere are a TON of rules and restrictions surrounding commission rebates. This is why you'll almost always see conditional language in advertisements — i.e., "Get up to X%" or "$X on average."

Make sure to read the fine print up front so you don't encounter any unwelcome surprises later on.

» LEARN: Everything you should know about home buyer rebates
Faira Plus
Faira Plus buyers receive service from a dedicated agent who will help them pick out and view homes. As with Essentials, Plus clients will also have assistance in writing and negotiating offers.
Faira Plus comes with unlimited free showings, and users receive a rebate of up to 1% (again, depending on location and price).
Always do your due diligence when making such a momentous purchase. Find the agent you're comfortable with, preferably one without a confusing business model.
Faira customer reviews
Note: The following review information is up-to-date as of 8/17/2022. We will update this section as new information becomes available.
Faira has received mixed reviews from previous clients, with an average customer rating of 4.3 out of 139 total reviews.
Some users praise the company for low commissions, while others wished they had received better service.
Selling with Faira was a 'wonderful experience'
Zillow reviewer Mike L. of Bonney Lake, WA was pleased with his Faira One experience:
We were 'NOT happy' with Faira's service quality
However, there are quite a few negative reviews for Faira too — especially on Yelp. Most complaints are about Faira One's level of service. Sellers don't feel as if they received good-enough service, and agents weren't focused on helping them earn more.
Yelp user Shawn K. of Graham, WA complained about agents who didn't feel particularly compelled to help them sell his home:
Also...she failed to share it was the Faira agent "Sheryl", who encouraged the original price we listed at. She also failed to share WE reduced the price to $459,000 while still under contract with Faira.
Additionally, Sheryl stated to us because the way Faira is structured, they "limit" the amount of contact they have with their "Faira One" (1% commission) clients vs "Premium clients" (3 % commission). So basically if you want more service, you need to opt to provide your agent 3%, not the 1% they "recommend" on their website. Interesting...
I am only sharing our experience with Faira, which was clearly BAD!! But that is just our experience. As posted on their website, they have many happy clients. WE WERE NOT HAPPY AND ENTITLED TO SHARE OUR EXPERIENCE.
By the way...our house sold at $410,000 (the second offer we received with Caldwell Banker). This was also after we raised the price and relisted to $407,000. We closed in a month and our agent arranged compensation for the additional days delayed from the buyer. Also interesting...
I also invited Katrina to call me so we could discuss her comments. I am still waiting. I will update if I hear from her." loading="lazy">
Conclusion: Is Faira right for you?
Faira buyers can receive up to 2% as a rebate if they're willing to do much of the legwork themselves
Faira agents are contractual employees who are paid commission, rather than a flat fee This should encourage your agent to sell your property for top dollar
Cons of using Faira:
Faira's pricing is misleading, and you may encounter hidden fees
The full-service selling option, Faira Premium, costs as much — or more! — as using a traditional agent
Faira is available in a very limited market — and its geographic footprint is shrinking
Faira was built on the idea of harnessing technology to make the process of buying and selling real estate transparent and accessible.
However, in practice, the company's confusing and — in our opinion — misleading pricing models lead us to believe Faira hasn't lived up to its promises.
We DON'T recommend using Faira for buying or selling a home. Instead, we recommend that you shop around. Interview agents who have experience and knowledge in your area and at your price point.
👋 Next Steps: Talk to an expert!
If you're weighing your options for buying or selling a house, Clever can help!
Our fully licensed concierge team is standing by to answer questions and provide free, objective advice on getting the best outcome with your sale or purchase.
Ready to get started?
Give us a call at 1-833-2-CLEVER or enter your info below. Our concierge team will be in touch shortly to help.
Remember, this service is 100% free and there's never any obligation.
FAQs about Faira Real Estate
Is Faira Real Estate worth it?
What are the top alternatives to Faira?
Faira's business hours and contact information
Faira's business hours:
Faira's contact information:
Phone
(800) 571-3247
Email
[email protected]
Address
608 State St S
Kirkland, WA 98033