Closing costs can be a significant amount of money and most of them come out of the buyer's pocket. Here are the typical closing costs charged in Wisconsin, who pays what, and advice on how to save money when it's time to close on your new home.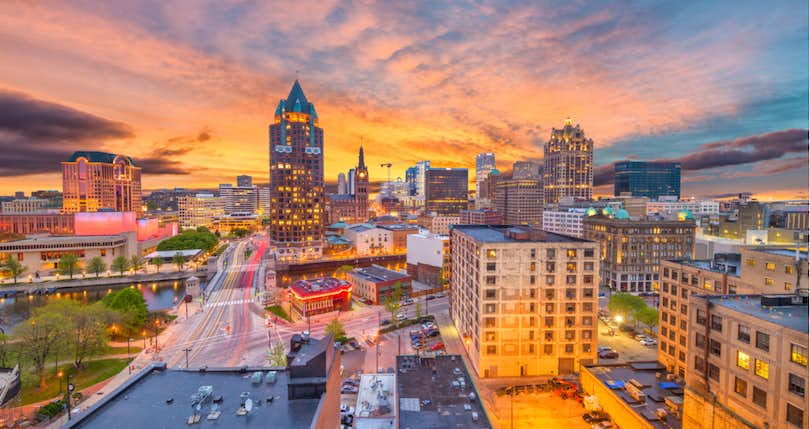 The money for a down payment isn't the only home buying expense you'll have to pay out of pocket. Closing costs come due when you sit down to sign the papers on your new home, and they can add up to thousands. Savvy home buyers know to include closing costs in their home buying budget.
If you're unsure how much to save, a local real estate agent can set realistic explanations on the additional costs involved in Wisconsin. Want to connect with a top-rated, Wisconsin buyer's agent? Fill out our online form. A Clever representative will reach out and connect you with one of our local Partner Agents for a no-obligation consultation.
»FIND: Top Real Estate Agents in Wisconsin
Closing Costs for Wisconsin Homes: What to Expect
According to a study from Bankrate, origination plus third-party fees for a closing in Wisconsin average $1,817. However, this average doesn't include fees such as title insurance, title search, taxes, escrow fees, and discount points. Your closing costs will be higher than this average, and a few weeks before closing you should ask your lender for a closer estimate.
Nationwide, closing costs average between 2-3% of the home's sale price. Median home values in Wisconsin are $187,100, so your closing costs could be anywhere from $3,742-$5,613. Include these costs in your home buying budget so that you have all the cash you need to buy your home.
While closing costs can be expensive, one of the largest mortgage expenses is the interest rate. Over the life of the loan, a few small percentage points can result in hundreds of thousands of dollars in interest payments.
One of the best ways to lower your interest rate? Shop around and compare lenders! Fill out the form below for a quote from a licensed, local lender – even if you're pre-approved it pays to compare.
Common Closing Costs for Wisconsin Home Buyers
Because so many of the closing costs come from your mortgage, buyers typically pay more closing costs than sellers.
Expect to pay fees throughout the mortgage application process. When you first apply, they'll charge a loan application fee and credit check fee partially to ensure that you're serious about working with them. Then you'll pay an underwriting fee, an appraisal fee, and possibly document fees. If you're a lower-qualified applicant using a grant or other assistance you could be required to pay interest up-front to lower the bank's risk.
In Wisconsin, the state charges real estate transfer taxes of $3.00 per $1,000 of the home's selling price. However, the seller pays this fee in Wisconsin. Local transfer taxes could vary, and the assessor's office may levy a title recording fee.
If you're in a buyer's market, you'll have more negotiating power and could ask the seller to pay some of the closing costs. Sellers can't cover any fees related to your mortgage, but other fees are open to negotiation.
Other Costs to Consider
Beyond one-time closing costs, there are ongoing costs of homeownership.
When you close on a house, mortgage lenders require that new homeowners put at least half a year's property taxes into an escrow account. The lender pays the property taxes for you, which helps them protect their assets. The city will place a lien against a property if the owner hasn't paid their taxes and the bank wants to make sure this doesn't happen.
Homeowners insurance will also be included in the escrow for a similar reason. The physical house and land it sits on serve as collateral for your mortgage. A robust homeowners insurance policy protects the bank's asset.
Wisconsin winters can be snowy and cold and utility bills for heat and electricity add up. If your rent previously included heat and electricity you should prepare for this expense. Ask the current owner for an estimate of these expenses or call the utility company to find out the past few year's averages, so you can budget for them. Many utility companies in colder climates offer budgeted billing programs which spread those costs over the whole year, so sign up for one before moving in if you're worried about that monthly bill.
And that heating system or other major system could break at a very inconvenient time. Experts recommend setting aside 1% of your home's value each year for maintenance. Staying on top of yearly maintenance keeps systems operating at peak efficiency and prevents more expensive repairs.
Your monthly mortgage payment is just the beginning when it comes to the costs of homeownership. Ensure your financial stability and put all these costs into your budget before offering on a home.
How to Save on Closing Costs in Wisconsin When Buying a Home
Real estate agents are experts in negotiation and will manage negotiations with the homeowner for a lower price, which fees directly into your closing costs. Many of them, from interest upfront to transfer fees, are based on the sale price.
When you're ready to make an offer, they'll know how to navigate market conditions in your area, if the seller has lowered the price, or if the house has been on the market for months. These factors indicate that you could place an under-market bid that the seller might accept. If the home inspector finds repairs or major issues your realtor can use those findings to barter down the seller's asking price.
Ask if you can schedule your closing date closer to the end of the month. This saves you money because mortgage lenders charge accrued interest for the days out of the month that you own the home. If you own it for just a few days, you won't pay much interest compared to two weeks of ownership.
Home buyers, particularly first-time home buyers, can get help with closing costs and down payment assistance through state programs. The Wisconsin Housing and Economic Development Agency offers down payment and closing cost assistance. You can get a low-cost, fixed-rate loan for 10 years to add to your down payment or a 0% second mortgage.
Clever Partner Agents save home buyers money from the moment you make an offer to when you reach closing. By working with our agents, you may also qualify for Clever Cash Back where you receive up to 0.5% money back, depending on the home purchase price, after the sale is final. Reach out to be connected with an agent in Wisconsin today!
Related Articles