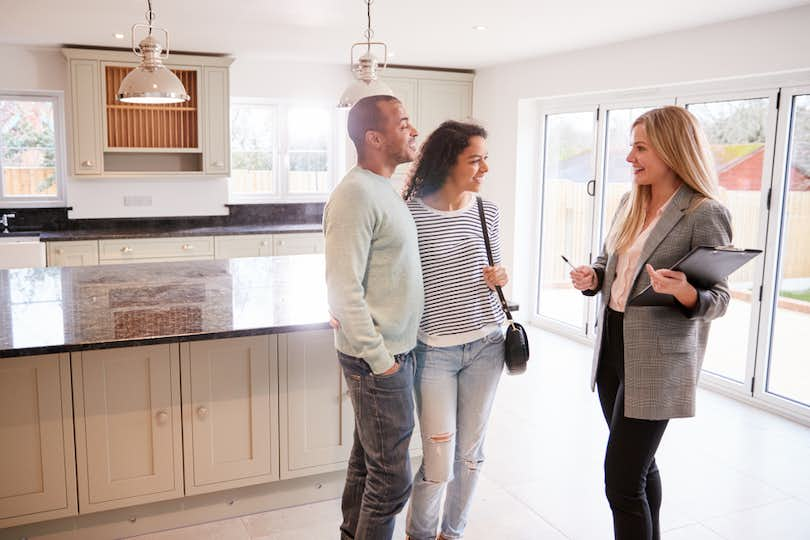 RE/MAX offers its real estate agents two commission split plans.
First, there's RE/MAX's famous 95/5 commission split, in which the real estate company takes only 5% of the agent's gross commission.
However, this option involves a hefty monthly desk fee that's due even if an agent makes zero sales.
Second, for real estate agents who are just getting started — or who don't want to pay the monthly desk fee — RE/MAX also offers an Alternative Payment Plan.
With this plan, although you'll pay RE/MAX a larger cut of your real estate commission, you won't have to worry about the monthly fee.
In this guide to the RE/MAX commission split, we'll dig into how both options work so you can decide which might be a better solution for you.
Keep in mind, no matter which commission split plan you choose, high-quality leads are the key to your success as a real estate agent.
Agents in Clever's Partner Network receive qualified leads who are motivated to buy or sell. So you can focus on growing your business and earning more as a real estate agent.
» MORE: How to become a Clever Partner Agent
JUMP TO SECTION
RE/MAX's 95/5 commission split
First off, here's a quick history lesson. When RE/MAX was founded in 1973, it allowed real estate agents to keep 100% of their commissions.
In return, agents paid their office expenses with a monthly desk fee. They also covered all of their own marketing expenses.
This model helped RE/MAX become one of the top real estate franchises in the country.
Fast-forward to today. RE/MAX no longer lets its agents pocket all of the cash. Instead, it offers a 95/5 commission split, which is still among the highest in the industry. Most other companies offer a 70/30 split or less.
However, the 5% that RE/MAX now takes — which it refers to as its "corporate marketing fee" — pays for each agent's national advertising (instead of the agent covering all of this cost separately).
The 5% fee also pays for the national Internet Data Exchange (IDX). Simply put, this is the technology that enables RE/MAX's corporate website to compile all of the multiple listing service (MLS) listings available.
Sounds great, right?
Before you rush into a RE/MAX agreement with a 95/5 commission split, you should know all about the monthly desk fee.
» MORE: The Pros and Cons of a Multiple Listing Service
The RE/MAX desk fee
Although RE/MAX now takes a 5% commission from agents working under a 95/5 commission split agreement to handle marketing and MLS expenses, you'll still have to pay a monthly desk fee.
This desk fee varies by RE/MAX office and can be as low as $300 to as high as $2,500 per month.
This is a flat fee that you'll have to pay each month, regardless of whether you close a transaction or not.
If you're just starting out as a real estate agent, you shouldn't expect to close any sales for the first few months. This is the time when you're getting established and building your business.
Before agreeing to the 95/5 commission split, ask yourself whether you can afford the monthly desk fee even if you have no income.
The desk fee typically covers your desk in the RE/MAX office and your broker fees. It may also include business cards, social media marketing, local advertising, or other amenities. Offices that charge higher monthly fees typically offer more benefits to their agents.
95/5 split pros and cons 👍/👎
👍You'll keep 95% of your commission
By choosing the 95/5 commission split, you'll get to keep the lion's share of your commission. This split is among the highest in the industry. A more typical real estate commission split is 70/30.
👍You'll pay an unvarying monthly fee
Some real estate agents like knowing exactly how much they'll have to pay for their desk fee per month. It makes budgeting easy.
👍Your desk fee might save you on marketing costs
There's a reason some RE/MAX offices charge steep desk fees. In return for the monthly charge, you may save on marketing costs you'd otherwise have to pay yourself. Make sure to check which amenities you'll receive for your fee before signing an agreement.
👎Desk fees can be steep
Depending on your RE/MAX office, you may be on the hook for upwards of $2,000 per month, regardless of your sales (or lack thereof). If you're a new agent without a lot of steady sales, this could be devastating.
👎Additional fees might be due
According to some RE/MAX agents we talked to, you may also have to pay an additional franchise fee from your commission. Make sure you understand what you owe before signing up.
RE/MAX's Alternative Payment Plan
RE/MAX offers its Alternative Payment Plan, or RAPP, for real estate agents who can't afford the flat monthly fee.
With this plan, each year, you'll receive a lower split until you've paid a certain amount (which RE/MAX calls a "CAP") of $23,000. After that, you'll automatically earn at the 95/5 commission split model without paying a monthly desk fee for the rest of the year.
The following year, you'll reset back to the lower split model. Rinse and repeat!
Basically, with this model, you'll pay your desk fee off in chunks, rather than at a steady monthly rate. The good news is that you won't owe the fee in months when you didn't close a transaction.
Keep in mind that, although RE/MAX calls it a "CAP," the threshold isn't technically a cap. That's because, even once you've reached it, you'll still have to pay RE/MAX its 5% commission split.
The RE/MAX website states that the split you'll receive is based on your sales performance from the previous year.
Here are the options:
All agents who grossed less than $25,000 in the previous year (i.e., all new agents) automatically start at the 60/40 split.
RAPP pros and cons 👍/👎
👍You won't owe in months when you don't close a transaction
If you have a month with zero sales, no sweat! You won't be on the hook for a steep monthly desk fee. This makes RAPP a more palatable option for brand-new real estate agents or agents who have recently moved to a new market.
👎You may still have to pay additional costs and fees
Depending on your office, you may still need to pay marketing costs and other charges for using the RE/MAX brand. Make sure you find out upfront what's expected of you as an agent.
👎You may receive fewer benefits than other agents
With the RE/MAX Alternative Payment Plan, you may receive fewer marketing benefits and amenities than agents who pay a monthly desk fee. This would vary by office; make sure you understand what's on offer to you.
👎You may end up paying more than with the desk fee
Depending on your office's flat monthly desk fee, it's possible you might end up paying more in commission with the RAPP model. Make sure to do the math before signing up.
RE/MAX commission split FAQs
How is commission split in real estate?
As long as real estate agents and brokers follow all applicable laws, they can conduct business however they choose — and that includes commission splits.
However, typically, in a real estate transaction, the seller will pay commission of 5-6% at the closing of a real estate deal. This commission is usually split 50/50 between the seller's agent and the agent who brought the buyer to the sale.
In a typical real estate deal, each agent then pays a percentage of their commission to their broker, such as their RE/MAX office.
» MORE: Average Real Estate Commission by State
What is RE/MAX's commission structure?
RE/MAX lets agents choose between a 95/5 commission split, plus a monthly desk fee, and an 80/20, 70/30, or 60/40 split with no monthly desk fee.
However, there might be differences among different RE/MAX offices. Before agreeing to become a RE/MAX agent, make sure you understand what fees and splits you'll be responsible for.
The bottom line
Ultimately, which commission you choose is your decision — just as you can choose which broker to work with.
If you're an experienced real estate agent confident that you can afford the monthly desk fee, the RE/MAX commission split of 95/5 can help you maximize your earning potential.
On the other hand, if you're a new real estate agent just building your business, the RE/MAX Alternative Payment Plan may be perfect for you. With this model, you won't owe hefty office fees during months you're focusing on building your business, rather than closing deals.
High quality leads that convert to a sale (and lots of them!) are key to your success whichever RE/MAX commission model you choose. Clever provides highly vetted leads, saving you tons of time and energy that you would otherwise have spent on marketing and client acquisition.
There are no upfront costs — you only pay when you close, not for individual leads that don't pan out.
» MORE: How to become a Clever Partner Agent
Related Articles
You May Also Like