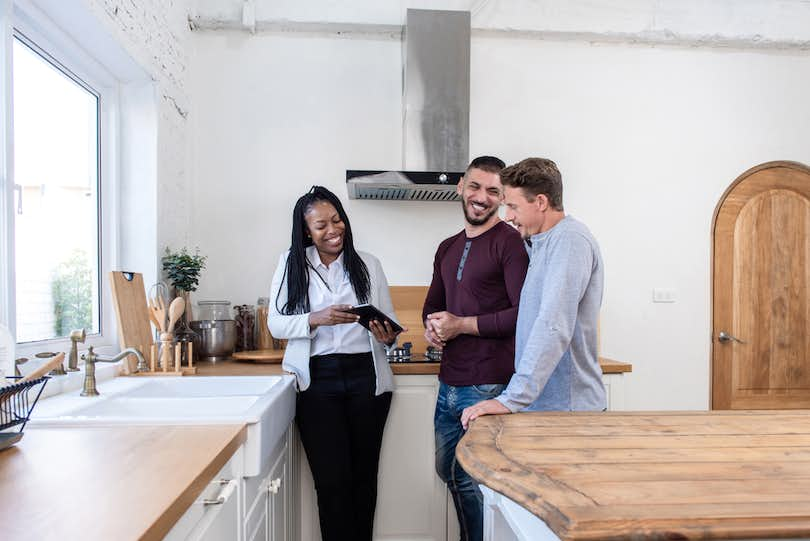 Although Century 21 commission splits vary per franchise, our research shows that most offices start new agents with a 50/50 arrangement.
That means that, as a Century 21 real estate agent, you'll keep only 50% of your gross commission on each sale.
In addition, you may have to pay all or part of an 8% franchise fee. Again, the amount agents pay varies from office to office.
However, many Century 21 offices "upgrade" their agents to more favorable commission splits once they've reached a certain number of sales or commission amount.
Some top-performing agents can even keep 100% of their commission but pay a flat monthly franchise fee.
In this guide to Century 21 commission splits, we'll look at some typical Century 21 commission split scenarios.
But no matter how you slice it, the key to success as a real estate agent is getting high-quality leads.
When you become a Clever Partner Agent, Clever provides you with a steady stream of high-quality, vetted buyer and seller leads with no up-front costs, saving you time and energy on marketing and client acquisition.
» MORE: How to become a Clever Partner Agent
JUMP TO SECTION
Century 21's commission split
Most Century 21 offices use a 50/50 split model in which half the commission goes to the agent and the other half to Century 21.
However, agents are necessarily locked into that commission model.
One Century 21 broker we spoke to told us that the 50/50 commission split applies only to an agent's first five transactions. During this "training period," the new agent receives help from a mentor who helps them navigate Century 21's systems and level up their selling skills.
After the fifth sale, agents at this franchise move to a 70/30 split in which they get to keep 70% of their gross commission.
They stay at that level until they have reached a $20,000 commission cap. At that point, they receive 100% of their commission for the rest of the calendar year but pay a $295 monthly technology fee and a $395 transaction fee due at each settlement.
At the start of a new calendar year, the agents earning 100% are moved back to the 70/30 split.
Another Century 21 franchise we checked out offers a different Kickstart Plan that starts a new agent with a 70/30 commission split but charges a $100 technology fee.
This franchise also lets agents choose a Relentless Plan that lets agents keep 90% of their commission plus a $295 transaction fee on houses that sell for more than $200,000. Once an agent on the Relentless plan reaches $200,000 in gross commission income, they move to a 100% split in which they keep all their commission but pay a $350 monthly transaction fee.
Century 21's 8% franchise fee
No matter which commission split model your Century 21 franchise offers, you'll still be on the hook for all or part of the company's 8% franchise fee. While some franchises make each individual agent pay the full 8%, some pay part of the 8%.
For example, the franchise that offers the Kickstart and Relentless plans picks up 2% of the franchise fee, leaving the agent to pay 6% of each commission.
As you can see, there are a lot of variations to the Century 21 commission split. Make sure to call your local franchise and get all the details of what they offer before committing.
Century 21's commission split pros and cons
👍You can work up to 100%
Some Century 21 franchises allow high-earning agents to keep 100% of their hard-earned commission. However, these agents may have to pay their office a flat monthly fee in return. This fee goes toward office maintenance, technology, marketing costs, etc.
👍There's no flat office fee
Although agents who have worked up to the 100/0 commission split may pay their office a monthly flat fee, Century 21 doesn't charge a set fee to all agents. This means, in months when you have zero sales, you won't be on the hook. (By comparison, many RE/MAX offices charge as much as $2,000 per month, regardless of your sales.)
👍Century 21 provides new agents with mentorship
Because its agents represent the company, Century 21 provides plenty of educational opportunities to make sure you know what you're doing. One franchise we spoke with offers new agents a hands-on mentor for their first five transactions.
👎Commission splits vary from office to office
It's hard to pin down Century 21's commission split. That's because different franchises use different business models. The best thing to do is to call your local Century 21 franchise and see what they can offer you.
Century 21 commission split FAQs
Does Century 21 charge desk fees?
No. Unlike other real estate franchises, such as RE/MAX, Century 21 doesn't charge a desk fee per se.
However, agents are responsible for part or all of an 8% franchise fee. In addition, some offices might charge monthly fees to cover technology or marketing costs.
How is commission split in real estate?
As long as real estate agents and brokers follow all applicable laws, they can conduct business however they choose — and that includes commission splits.
However, typically, in a real estate transaction, the seller will pay commission of 5-6% at the closing of a real estate deal. This commission is usually split 50/50 between the seller's agent and the agent who brought the buyer to the sale.
In a typical real estate deal, each agent then pays a percentage of their commission to their broker, such as their Century 21 office.
» MORE: Average Real Estate Commission by State
The bottom line
Ultimately, it's your choice which broker to work with. Although other real estate companies might start new agents out with higher commission splits than 50/50, as a Century 21 agent, you won't be on the hook for a set monthly desk fee.
And if you're an experienced agent confident in your ability to reach your office's commission cap, you might be able to make as much as 100% on transactions (minus an applicable fee).
Every Century 21 franchise uses a different commission split model. So it's crucial that you contact your local office and find out what arrangement they offer real estate agents.
No matter which franchise or commission model you choose, you're going to need great leads to succeed as a real estate agent.
Clever provides highly vetted leads, saving you tons of time and energy that you would otherwise have spent on marketing and client acquisition.
There are no upfront costs — you only pay when you close, not for individual leads that don't pan out.
» MORE: How to become a Clever Partner Agent
Related Articles
You May Also Like