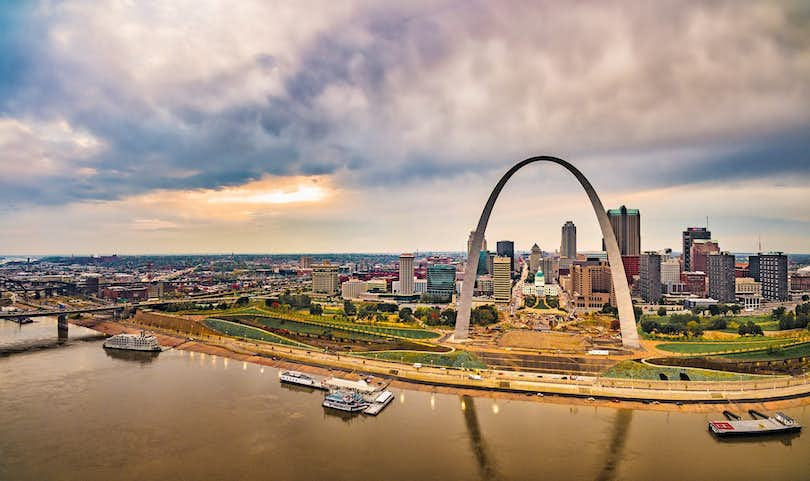 St. Louis, Missouri, often gets an unfair bad rep in real estate. This city with soul flourishes along the banks of the mighty Mississippi and serves as America's "Gateway to the West." It's home to premiere museums, a world-famous zoo, and one of the most successful franchises in major league baseball history, the St. Louis Cardinals.
However, there are some alarming crime statistics associated with the city as well. St. Louis has the highest murder rate per capita in the United States, with 188 homicides in 2015 (59.3 homicides per 100,000) and comes in at No. 13 of the most dangerous cities in the world by homicide rate.
So who would even want to live there? Well, it's not what it might seem at first glance.
»FIND: Top Real Estate Agents in Missouri
Examining Crime Rates in St. Louis, Missouri
In 2016, St. Louis was the most dangerous city in the United States with populations of 100,000 or more. It ranked No. 1 in violent crime and number two in property crime.
At the end of 2016, the St. Louis Police Department reported a total of 188 murders for that year. The St. Louis Chief of Police, John Hayden about two-thirds of all the murders and one-half of all the assaults occur in a triangular area in the northern part of the city.
So what does this mean? What is it really like to live in St. Louis?
According to The Economist, millennials love the St. Louis area and are moving there in droves because of its low cost of living and economy that fosters start-ups. There are plenty of neighborhoods in the city of St. Louis that are safe and affordable.
As mentioned by the Chief of Police, the "crime-ridden" St. Louis is only really one specific area. It's totally possible to thrive in the city and live free of violent crime.
We've put together this list of the safest neighborhoods in St. Louis to help you find the home of your dreams. Whether you are moving to the area for the first time, or simply relocating within it, it's possible to find a neighborhood that's a great fit for you.
The Safest Neighborhoods in St. Louis, Missouri
Here are the best places to live if you are interested in living within the limits of Saint Louis proper:
Peabody-Darst-Webbe
This neighborhood has some of the best public schools in the city and has a high school graduation rate of 90 percent. Locals sometimes called this Near Southside Neighborhood because of its close proximity to the action of the central business district; it's also close to Lafayette Square and Soulard.
Soulard
Soulard has a crime rate 52 percent below the city's average! It also boasts a total of almost 200 restaurants, bars, and coffee shops. It's the perfect place to raise a family, grow a business, or enjoy your retirement.
The Hill
The Hill has some of the best real estate in St. Louis city. Residents here also make about $44,434 per household, which is roughly 32 percent higher than the city's average. It's a great place to live! It's also right next to Forest Park, an area with the highest concentration of museums, golf courses, and zoos in the state.
Central West End
The Central West End has a crime rate 59 percent lower than the St. Louis average! It's one of the safest areas you can call home in the city. And its lush green spaces make it one of the most habitable areas as well.
North Hampton
North Hampton is famous for its great public schools and their high school graduation rate of 84 percent. This is 20 points higher than the city's average. There are also plenty of nice parks and picnics areas around, which you can enjoy knowing the crime rate is 25% lower than the rest of the city.
The Safest Neighborhoods in St. Louis County
If you would prefer to live near St. Louis, but not directly in the action of the city proper, here are some nearby safe neighborhoods in the suburbs for you:
Glendale
Glendale has low rent, high graduation rates, and a great community feel. Residents of Glendale consistently report that they feel safe and comfortable raising their families here. This is because of the great schools, superior community amenities like parks and pools, and overall community feel.
Warson Woods
This is a very close-knit neighborhood with a very suburban vibe. A majority of the residents own their homes and there are many restaurants, coffee shops, and parks to choose from. Many of the people who live here are retirees, giving the area a very stable and consistent feel.
There are many local charitable and community organizations to participate it and crime is very low.
Ballwin
Ballwin is a larger neighborhood in St. Louis County with very highly rated, high-performance schools and a large population of homeowners. There are plenty of parks to play in in this area, with the most popular being local Vlassis Park, due to its swan-filled lake and picture-perfect gazebo.
Webster Groves
If you are interested in growing your family or growing your career in the St. Louis area, then Webster Groves is going to be one of the best place for you to do it. The neighborhood is brimming with young families and recent college graduates just starting out and building up their lives. The schools are top notch and the crime rates are low.
Manchester
Manchester is a place for homeowners and business builders. Those who live here tend to be community-minded and interested in the long-term safety and prosperity of their families. It's a great location not too far from the amenities of St. Louis, but far enough away that you still get that nice country, small town feel.
Related Articles
You May Also Like