Deciding whether to rent or buy a property depends on your current life and financial situation. Everyone has different real estate needs, based on job location, family size, and budget. If you're trying to decide whether renting or buying in Washington is the best option for you, keep reading.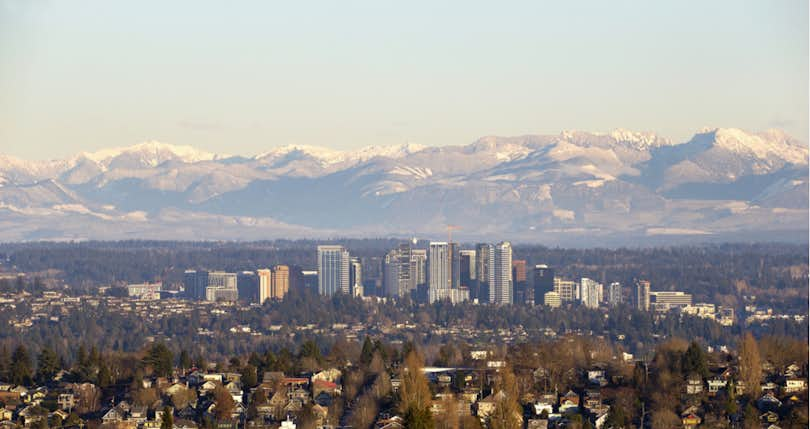 The current real estate market plays a heavy role in whether or not you rent or buy a house in Washington. The market can affect the prices of homes, rent, and land in general. Every person has a unique situation and requires different types of real estate to fit the needs of their lifestyle and family.
Right now, the real estate market in Washington State is between a buyer's and seller's market. Because there is no real difference in the market, home values and prices are fairly steady. The median home value in Washington is $385,900. Washington home values have gone up 6.1% over the past year and Zillow predicts they will rise 3.5% within the next year.
The median price of homes currently listed in Washington is $415,000, while the median price of homes that sold is $369,300. The median rent price in Washington is $1,995, which is currently on a rise that's stretched over the last few years.
As you can see, the price and value of houses compared to rent prices make it more difficult to decide which option is better financially. However, you should still do your research and see what option best suits you.
Buy with a top agent, get cash back!
Qualifying Clever buyers get cash back after closing.
Renting
Renting tends to be the route people take when they don't want to commit to a large financial decision such as buying a house. This is understandable, because buying a house comes with expensive costs such as a down payment, closing costs, transfer taxes, property taxes, and real estate commission fees. After you get past the initial costs, going forward you are in charge of paying for your own repairs and upgrades.
Right now, the average rent price in Washington sits around $1,995 a month. This is considerably affordable considering the higher rental prices in larger cities of Washington State.
Advantages of Renting
Renting comes with many advantages that make it a favorable option for residents. First, you can enjoy the benefits of a house, condo, apartment, or really any type of land that you choose to rent, without paying a fortune at the beginning. Typically, the most expensive part of renting are the security deposit and first month's rent.
When renting, you aren't in charge of repairs unless you create the damage yourself. If something requires a repair, you either call the landlord or property management company. For tenants that have easy to work with landlords, this process is typically hassle-free.
Lastly, renting gives people the option to move around as they please. Many landlords offer leasing agreements ranging in timeframes. They might also work with you if you are honest about how long you need a residence for. With a house, you can't pick up and go whenever you want, without paying some hefty costs.
Disadvantages of Renting
Renting tends to not be a favorable choice for people that want their monthly payments to be going towards an investment. Essentially, all of your rent payments are going to be either paying off the landlord's mortgage or used as some sort of income. In the grand scheme of things, this doesn't leave you with an asset down the road.
When you rent, you also have to succumb to the pre-existing conditions of the residence you're living in. Now, we all know there are renters' laws that protect the wellbeing of tenants, but your landlord is not legally required to fix the cabinets if one of the handles is falling off or the paint is chipping on the walls.
As we said before, you have to call your property management company to request any repairs or damages. This can sometimes lead to delays in getting things fixed. For some people, they like to have some control over the condition of the house they're living in.
Overall, renting is great if you plan on living somewhere temporarily and don't want the responsibility of buying and owning a house.
Buying
As we've discussed before, the average rental price in Washington isn't too high compared to some of the cities in the state. However, this price has been going up for the last few years and isn't expected to slow down anytime soon. In addition, the home values have gone up as well, which would benefit a homeowner more than a tenant with higher monthly rent.
Advantages of Buying
Since, the average home value in Washington is growing and the market is starting to lean towards a seller's market, this makes it a prime time to purchase real estate. So, if you buy a house in Washington, your property might prove to be a profitable investment. If you were to buy a house now, market research shows your home's value could rise 3.5% in one year.
Another common advantage of buying is the stability that comes with it. You won't have to worry about an eviction notice by a landlord or needing to move out because they have to make repairs. Not to mention, if you're planning on staying in your home for more than five years, you can build a decent amount of equity.
As a homeowner, you also get to have control of the condition of your house. You are free to make repairs and upgrades whenever you want. However, keep in mind if your house falls under a Homeowners' Association (HOA), you may have strict guidelines as to what you can and can't do with the exterior of your home.
Buying is also appealing to people who want their monthly mortgage payments to pay off one day. For example, the average monthly rent payment in Washington is $1,900. This means in one year, you will have paid over $22,000 without gaining anything in the end. To some people, this is not worth the money to be paying that much to not even own the property after all that time. As a homeowner, that money is adding to the equity of your house.
»FIND: Top Real Estate Agents in Washington
Disadvantages of Buying
Despite its benefits, buying a house does come with some disadvantages. Owning a house comes with a lot of responsibility that some people might not be ready for. For example, you have to pay for your own repairs and upgrades and are in charge of paying property taxes and homeowners insurance. You are also responsible to pay large upfront costs such as down payments, closing costs, and real estate commission fees.
Buying a house is a big commitment and requires long-term upkeep if you want to make the most out of your mortgage. If you aren't sure you'll be in Washington for a long time or if there's a high chance you'll be relocating because of a job, buying a house might not be your best option. Keep in mind you will also be responsible for paying for repairs, upgrades, and renovations. Some people aren't ready for this kind of financial commitment.
Overall, deciding between buying and renting depends on your current financial and life situation. For people who need the flexibility to move whenever they need to, buying a house might not be the best option. For someone who wants to put their money towards a future investment, renting might not be the best option.
Whether you decide to go down the path of buying or renting, it's important to do your research on the current market conditions and take a look at your financial standing. Buying a house can be a tricky process if you have never bought before, so it's important to connect with an experienced, local real estate agent for guidance and support throughout the process.
Related Articles