What you get with a Redfin agent: Quick summary
Redfin agents offer many of the same services as traditional realtors for a lower listing fee — 1.5% instead of the traditional 3%. BUT there are trade-offs, including less dedicated support for home sellers and minimum fees that may cancel out savings on lower-priced homes.
Many customers are happy with Redfin, but some have reported spotty service quality and other issues related to Redfin's team-based model. Lead agents handle a higher-than-average number of clients, who get shuffled around to different points of contact during the buying and selling process.
If you're mainly drawn to Redfin for its lower realtor commission, know that other low commission brokerages may offer similar savings and better service. We recommend shopping around to find a real estate agent who fits your budget and expectations.
Our advice on using Redfin vs. a realtor
If you're selling a home and want to save on realtor commission, Redfin is probably worth checking out. It's a well-known brand, charges about half the typical listing commission, and has some highly experienced agents.
Just be sure to compare its agents with realtors from other brokerages. Many of them also offer discounted commission rates.
One of the easiest ways to compare realtors is by using a free service, like Clever, that matches you with top agents in your area.
With Clever, you get the same 1.5% listing fee that Redfin offers. And you can choose from multiple agents with the best sales performance and customer reviews in your area.
Agents come from reputable brokerages like Keller Williams and Berkshire Hathaway. When we send you potential matches, you can interview as many agents as you'd like, with no obligation to move forward.
Start comparing top agents in your area!
In this guide
We look at how a Redfin agent differs from a traditional agent, especially in terms of Redfin's fees and service quality. We also give information to help you decide if selling with Redfin is right for you, as well as alternatives you may want to consider.
Redfin agents vs. realtor: Key differences
🔎 Key differences selling with Redfin agents vs. traditional agents:
Redfin agents earn a salary, as opposed to a percentage-based commission for each sale.
Redfin agents don't handle every aspect of your sale. They collaborate with a larger team of specialists like marketers and transaction coordinators.
While the services may look the same on paper, the experience of selling with a Redfin agent vs. a traditional realtor is quite different. Here's why.
Redfin fees are lower than traditional realtors
When you sell with a Redfin agent, you can expect to save between 20–30% in realtor commission fees.
The current average commission rate nationwide is approximately 5.37%. This total fee is typically split down the middle between the two agents handling the sale:
Listing fee: Paid to the listing agent for helping the seller list and sell the home
Buyer's agent fee: Paid to the buyer's agent for bringing their client to purchase the home
Discount brokers like Redfin offer savings on the listing fee side of that equation — i.e., Redfin charges sellers 1.5% compared to the typical 2.5–3% listing fee.
🚨 Watch out for Redfin's minimum fees!While Redfin advertises a 1.5% listing commission, it also has minimum commissions in many markets.For example, if you consult this chart, you'll see that Redfin has a minimum commission of $9,000 in San Francisco and $5,500 in Boston.

You won't necessarily get the 1.5% commission if you work with Redfin agents in these markets. For homes below a certain price point, those minimums can be much more than 1.5%.
You'll still likely have to cover the buyer's agent commission
Redfin encourages sellers to offer a competitive buyer's agent fee to incentivize buyer's agents to show the home and attract more offers faster.
Buyer's agent commission rates are negotiable and vary by market, but 2.5–3% is typical nationwide.
Here's how the total commission fee could break down when you sell with Redfin.
So what does that look like in terms of real dollar savings?
Use our calculator to see how much you could save by paying the 1.5% Redfin realtor fee compared to the traditional realtor fee of 3%.
» MORE: The best low commission companies, ranked
Same general services, less dedicated support
Redfin agents offer many of the same general services as traditional real estate agents, including help with pricing, marketing, showings, offers, paperwork, and closing coordination.
But Redfin agents manage and render these services differently. If you're wondering if and why Redfin is bad, the biggest downside can be the spotty, hands-off service, especially for inexperienced home buyers and sellers.
Consider these differences in how Redfin works for sellers compared with a traditional agent.
Redfin agents handle 3x more transactions than the average realtor
Redfin agents are busier, so they may not have time for all of your questions, pass them off to another team member, or take longer to return your call or text.
This may not be an issue for confident sellers, but sellers who need reassurance and communication — and there's nothing wrong with that — may not enjoy working with a high-volume agent.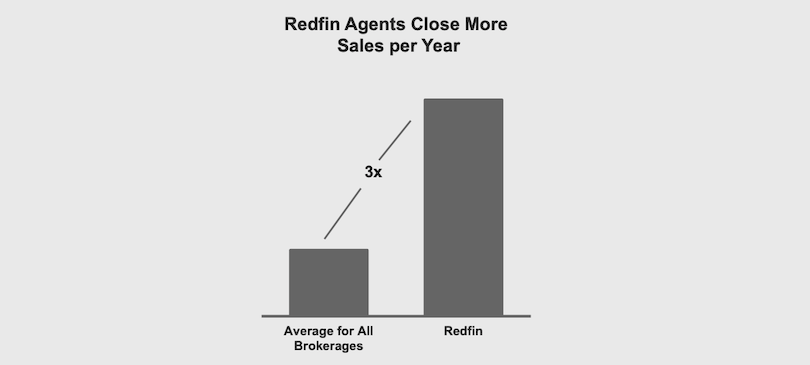 Redfin uses a team-based model instead of a one-on-one model
In a conventional sale, you can go to your agent real estate agent for everything. This builds trust and rapport, and there's direct accountability.
At Redfin, you'll work with a team of specialists. Have issues with the way your home is marketed? You'll have to take it up with your marketing specialist. If you have issues with your open house schedule, you'll have to talk to yet another person, and so on.
This model can be more efficient, but it can also be confusing and frustrating if it's not handled well.
Redfin handles much of the process remotely, via its website and app
A lot of the selling or buying process will happen through Redfin's mobile app and online dashboard.
Redfin's tech-centric approach may be great for some who prefer to communicate and coordinate this way, but for others — particularly the less tech-savvy among us — it could be frustrating or confusing.
Selling or buying a home can be complicated and stressful. Sometimes it's preferable to get answers in real time, either in person or over the phone.
Hire the individual agent, not the brand!
Every real estate brokerage is going to have a mix of great agents and not-so-great ones. Redfin is no exception.
Redfin is transparent about this fact. Its "agent finder" tool gives you information about each individual Redfin agent, including customer reviews and a map of their past deals.
With this tool, you can tell at a glance if you're looking at a five-star elite performer or a lightly motivated novice.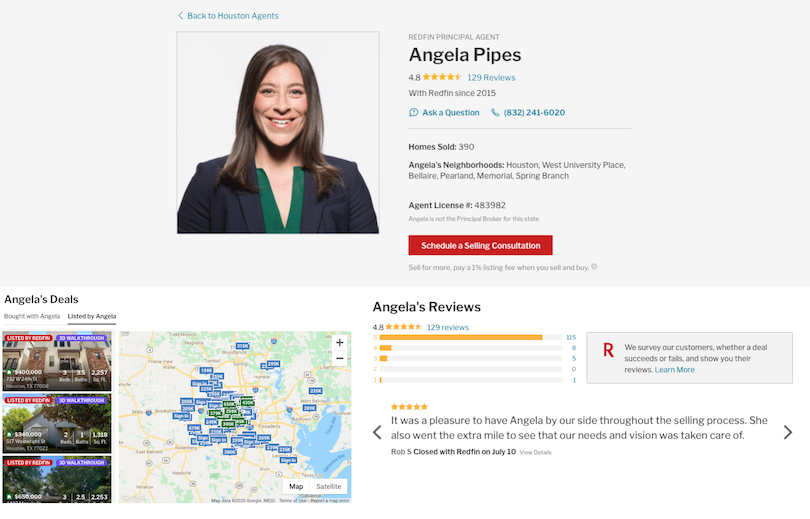 Of course, some of Redfin's more novice real estate agents are future top producers. Like any search tool that relies on past performance, the Redfin agent finder tool probably overvalues certain quantifiable data (like past sales and customer ratings) and undervalues intangibles like a personal connection.
This is a big deal because personal connection and shared priorities are the bedrock of a smooth, satisfying real estate experience.
✍️ What's a Redfin partner agent?Redfin's agent finder tool will also display Redfin partner agents. These are agents from other brokerages who pay Redfin a referral fee to show up in its searches.Importantly, these agents AREN'T bound by Redfin's terms and pricing. Double-check your agent choices, and make sure you interview a range of agents to find a good fit.
When comparing Redfin agents vs. realtors, your first goal should be to find an agent that's the right fit for you.
Interview multiple agents to understand their approach to helping you meet your needs — whether that's the fastest possible sale, top price, service quality, or some other term or priority.
Is selling with Redfin a good idea?
Selling with Redfin may be a good idea if:
You don't need a lot of personalized attention

You're comfortable with technology

You prioritize lower commission

You're selling a high-value home
But selling with Redfin may be a poor fit if:
You value one-on-one service and support from your agent

You are selling a less expensive home

You aren't comfortable with technology
Redfin does offer real savings, usually around 20–30% compared to a conventional real estate transaction. But it's important that you feel comfortable with the Redfin agent in your area.
Alternatives to Redfin and traditional realtors
After comparing Redfin agents vs. realtors, you're likely wondering if there's a middle ground.
Stellar service at a lower commission rate? À la carte options for advanced home sellers? We've got you covered with these Redfin agent alternatives.
Get pre-negotiated low rates with traditional realtors
If you're looking to save on commission but want to avoid customer service trade-offs, consider working with a discount company that negotiates low rates with traditional realtors on your behalf, like Clever Real Estate.
Clever only works with top local agents from brokerages like Berkshire Hathaway and RE/MAX. Since Clever connects its partner agents with you at zero up-front cost, it can pass the savings on to you.
This means you'll get the same service and support you'd expect from a traditional realtor, but you'll pay a fraction of the typical price.
💰 Clever pre-negotiates low commission rates for you!
Try Clever's free agent matching service: compare top agents in your market, get built-in commission savings.
Choose from top local agents from major brands like Compass and RE/MAX
Get a pre-negotiated 1.5% listing fee (half the typical rate)
Clever's service is 100% free with no obligation
You only pay your agent's low listing fee when your house sells
Click below to view agents in your area and see how much you could save!
Compare Redfin with other discount brokers
Redfin is just one of an ever-increasing number of discount brokers out there.
There are a number of national, regional, and local brands to choose from, each offering a wide variety of price points, service models, and pros and cons.
Generally speaking, most will come with some sort of variation on the same basic catch:
You can save big on commission fees, but you'll likely trade off something (or assume some sort of risk) in return — usually customer service.
We recommend shopping around and comparing Redfin against one to two discount brands — along with one to two traditional agents — to get the best possible value and fit for your needs.
» MORE: The ultimate guide to discount brokers
Sell for sale by owner (FSBO)
"For sale by owner" is exactly what it sounds like:
A sale conducted entirely by the owner of the property, with no help from a listing agent.
Since the main challenge is visibility with buyers, many FSBO sellers use a flat fee MLS listing service. These services charge a flat fee to get your listing onto the local MLS, but they don't typically offer any additional services.
👍 FSBO could make sense if you:
Have a red-hot property in a red-hot market
Aren't on any sort of timeline (FSBO properties tend to sell slowly)
Have professional experience that can help you sell a home
Place a very high value on independence and autonomy
Are fine with not getting the highest possible price
» MORE: How to sell your house for sale by owner
Sell to a 'we buy houses for cash' company
🏆 Benefits of selling to a cash buyer:
A cash buyer will buy homes even if they're in very poor condition — sometimes they even buy vacant lots.
Sellers can get a cash offer within days — sometimes hours.
Sellers often have more flexibility to choose move-out and closing dates.
⚠️ Risks of selling to a cash buyer:
Offers are usually far below market value — sometimes by as much as 50%.
Subsequent in-person inspections could result in offer deductions from repair costs.
Cash buyers follow up very aggressively, sometimes for years, even after sellers decline their services.
"We buy houses for cash" companies are known for buying almost any house, regardless of location or condition, for cash.
👍 Good for sellers who:
Aren't concerned about getting the highest price
Need to sell ASAP
Inherited a property they don't have any interest in keeping
Don't have the capital or motivation to perform presale repairs
👎 Bad for sellers who:
Want a fair price
Have homes that could sell conventionally as is
Aren't under any pressure to offload the property
» MORE: The truth about companies that buy houses for cash
Sell to an iBuyer
🏆 Benefits of selling to an iBuyer:
iBuyers can extend cash offers within days or even hours of contact.
They tend to offer much closer to fair market value than other types of cash buyers.
Many offer novel arrangements like home trade-ins.
⚠️ Risks of selling to an iBuyer:
Because they pay fair prices, they rely on service fees to make money.
Sellers can almost always make more money with a conventional sale.
iBuyers are quite selective and prefer newer homes in good condition.
iBuyers are large technology companies that make fast cash offers for homes, often sight unseen. Note that many of these companies have limited geographic ranges, so they may not be available in your area.
👍 An iBuyer could be a good option if you:
Have a home that fits an iBuyer's typically strict purchasing criteria
Value convenience and speed over getting the highest possible price
Want to avoid the stress and uncertainty of listing on the open market
Need maximum flexibility and control over your closing timeline
Redfin vs. realtor: FAQ
Are Redfin agents licensed?
Why is Redfin bad?
Redfin isn't inherently bad, but it does have drawbacks. While Redfin agents are cheaper compared to a traditional agent, Redfin agents handle a lot more clients than traditional agents. So you may get less individualized support from Redfin than you would from a traditional agent.
Can you list FSBO on Redfin?
Redfin doesn't allow you to post for sale by owner (FSBO) homes directly on its platform. However, Redfin's home search portal pulls listings directly from the local MLSs across the country. If you're listing FSBO and pay a flat fee MLS company to post your listing on your local MLS, it should appear on Redfin.com. Read our complete guide to selling FSBO.
Does Redfin have all MLS listings?
Yes. Redfin is a fully licensed real estate brokerage with access to the MLS in each market it operates in. All MLS listings should appear on the Redfin website and app. However, Redfin won't have MLS listings for locations outside its service area. Find other home buying websites like Redfin.
How do I find a Redfin agent?
Visit Redfin.com, add your city or zip code into the search bar, and then search. Clicking on "Real Estate Agents" in the top-right corner will bring up a list of agents in your area. You can then view individual agents' customer ratings and deal history.
Does Redfin have hidden fees?
Related articles