Is the Midwest calling your name, but you're nervous that there's nothing but farm fields? Illinois will change your mind. From a thriving major metropolis to a variety of college cities and small towns, here's everything you need to know about moving to Illinois.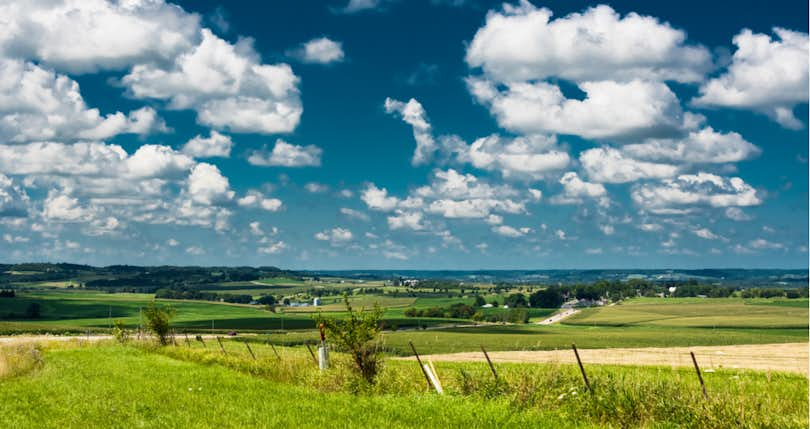 The Midwestern U.S. is an incredible place to live, with hundreds of miles of rolling fields, beautiful scenery, and wide open skies. Illinois has a lot of options that will give you the feeling of wide open freedom.
But if you're looking for big-city excitement and economic opportunity, Illinois has that as well. While the state is much more than Chicago, there's a reason so much of the focus is on the Windy City. It's a hub of finance and industry in the Midwest.
Thinking about moving to Illinois? We don't blame you. Here's a guide that will tell you all you need to know.
Five Reasons to Move to Illinois
Curious why people love to call Illinois home? Here are five great reasons to move to Illinois this year.
1. A Variety of Seasons
For those who love having access to all four seasons without having to travel, Illinois is a perfect landing place. Cold winters with beautiful snow are followed by thawing, blooming, and birds. Summer is hot and sunny, and in the fall the leaves turn gorgeous colors.
2. Three Distinct Regions
No matter what you're looking for, you can find it in Illinois. The northern section is known for Chicago and its suburbs. Central Illinois is focused on agriculture and is the reason Illinois is known as "the prairie state." Southern Illinois is warmer and more affordable while being within striking distance of St. Louis.
3. A Variety of Activities
From the streets of Chicago to the fields of Peoria, you're likely to be close to interesting activities. There are snow and water skiing, theme parks, botanical gardens, wineries, museums and much more.
4. A Strong Sports Presence
The universities in Illinois provide a strong sports identity throughout the state. Northwestern and DePaul both have strong fanbases, and you can't overlook the University of Illinois and Illinois State. Alongside the college programs are a lot of professional sports, including the Chicago Bears, Blackhawks, and Bulls.
5. High-Quality Education
Illinois ranks in the top third of the country in K-12 education, and their universities are nothing to sneeze at either. Northwestern is one of the most selective colleges in the nation, and the University of Illinois and the University of Chicago both offer top-notch programs as well.
Quality of Life
What's it like to live in Illinois? A lot of that depends on if you live in Chicago or in the rest of Illinois. Let's look at each one.
Chicago
65% of Illinois' residents live in Chicago or the surrounding area. The reason is that they love the economic opportunity, the big-city feel, and the fact that it's more affordable than New York or L.A.
Public transit helps you get around, and there's a huge amount of nightlife, great restaurant options, and the art and theater you'd expect from a larger city. There are thriving immigrant communities and dozens of unique neighborhoods to choose from.
Of course, not everyone loves the big city. If the Midwest draws you in because you're looking for wide open spaces and a low cost of living, consider some of the other areas of the state.
Other Parts of Illinois
If you don't live in Chicago, are you stuck in a one-horse town? Absolutely not! Downer's Grove is one of the very best places to live, giving you proximity to Chicago with a smaller-city feel.
Springfield is a great place to live as well, with a lot of historic sites that feature Abraham Lincoln, three universities and a thriving arts center. You might enjoy Champaign if you enjoy a college vibe. Or, look at cities that share the St. Louis metro area, where you can have city access without the Chicago price tag.
Economic Outlook
Illinois is a good place to look for a job. The unemployment rate is a low 4.8%, and has been declining for the last few years.
You can find work in a variety of industries, including machine engineering and development, food science, mobile development, clinical research, and much more. Illinois is the proud home to more than two dozen Fortune 500 companies.
There are a dozen companies that employ at least 10,000 employees each, and many more with over 5,000. The business environment is also strong, ranked in the top third of the nation.
Housing Market Forecast for 2019
What's the housing market look like in Illinois? Much of the state is extremely affordable, although Chicago and the surrounding areas are predictably more expensive. The thing to watch out for is high property taxes.
Keep in mind that like much of the country, Illinois is currently in a seller's market, meaning that there are fewer homes for sale than buyers who want a house. This also drives housing prices up.
As a result, it is important to work with a qualified local buyer's agent who can help you move quickly when you find the home you love. Be sure you don't let the high prices around Chicago scare you away, though. There are a lot of affordable, fun places to live in Illinois!
Next Steps for Moving to Illinois
If you're ready to move, take some time to plan. This is especially vital if you're moving to Chicago, where dense traffic can dramatically impact your ability to get your goods to your new home. You will also want to get the permits you need to park and unload your moving van if you use one.
In smaller cities or towns, you'll have less traffic to worry about. Either way, a Clever Partner Agent from the local area can help you find your dream home. Enjoy the natural beauty and the Midwestern kindness that those in the middle of America are known for. Just don't put ketchup on your hot dog!
Related Articles