Taking out a mortgage past the age of 65 is possible if you know about all your options. Getting approved for a loan after you've retired could be more difficult than you're used to; we'll walk you through every step to ensure you have a smooth and achievable borrowing process.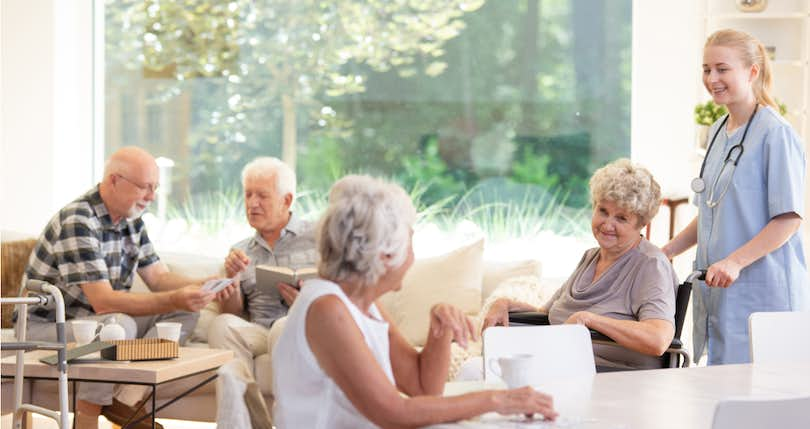 Reaching your retirement is a huge milestone; you've worked hard, saved up, and are ready to kick back and focus on the things you enjoy most in life. Although downsizing to a rented apartment or senior living community is common for senior citizens, it's certainly not your only option.
In fact, baby boomers are remaining active in the housing market, choosing to purchase a new property. Retirees are opting to invest in mortgages, as opposed to paying a lump sum upfront.
But you may be wondering if borrowing money later in life is a wise investment; if you're looking to take advantage of low-interest rates and tax breaks while keeping a hold on your savings, taking out a mortgage on a new home may be right for you — and could be within your reach.
Whether you're looking to move closer to your children or want more freedom to make home improvements in your own space without restrictions, taking out a mortgage during retirement has many upsides that you can take advantage of.
Here's everything you need to know about taking out a mortgage after age 65.
Can I Afford it?
If you're considering taking out a mortgage on your next home, you may be wondering if it's a wise decision financially for you. Start by looking into how much your current house is worth; you will need to generate enough liquid cash from the sale of the house you own now in order to purchase the next one.
You'll then want to figure out what you can afford. 30-year mortgages are often ideal for retirees; the payments are smaller, making it easier to manage all the expenses without a steady income.
Of course, there are many other factors to consider that will help you make a sound decision, but calculating how much of your budget you can allot to monthly payments on your mortgage will help you tackle the bigger financial decisions down the road.
Do I Meet the Qualifications?
When it comes to time to take out a mortgage, you'll find that lenders often have high standards for retirees without a steady income. Before they pre-approve your loan, they are likely to check your financial records thoroughly.
So what exactly are they looking for during their evaluations? Lenders typically want at least two consecutive years of tax returns. This provides them with the proof of income, or viable income they need to see before approving your loan.
Although the thought of not owing money once you retire seems like heaven, consider your credit score; it's important to stay on the credit grid after you retire if you're looking to take out a mortgage — and lenders will be checking your credit score as part of their process.
Having bad credit or no credit at all will cause lenders to deny your request, so keep making steady payments wherever you can.
It's common for some lenders to be more flexible than others, so you'll want to do some research. Try to meet with three different lenders and see who you feel most comfortable with before making your final decision.
Mortgage Options
Aside from finding the right lender, you'll want to be aware of every loan option available to you.
Government-sponsored enterprises such as Freddie Mac and Fannie Mae offer mortgage assistance; they purchase mortgages from lenders and allow eligible retirement assets to be used to qualify under certain conditions. If you are rich in savings but have a reduced monthly income after retiring, this may be beneficial to you.
Reverse Mortgages
Reverse mortgage purchase plans allow older borrowers to buy a home without needing to put a down payment on the property. This is especially useful if you're looking to buy a vacation home away from your primary residence.
The Home Equity Conversion Mortgage (HECM) is FHA's reverse mortgage program. It allows people to purchase another primary residence, as long as they're able to pay the difference between the HECM proceeds and the sales price plus closing costs.
To qualify, you must be 62 or older, a homeowner currently residing in your house, and have paid off most or all of your mortgage. This loan is a great option for senior citizens that meet these requirements, so be sure to look into it.
VA Loans
If either you or your spouse are veterans, look into a VA loan; veterans are able to receive some of the lowest mortgage interest rates possible and often qualify for a loan that requires no down payment — just for having served in the military.
VA loan perks include zero down payment requirements, lower interest rates, and exceptions for low credit scores — just to name a few. And if you're ever struggling to make a payment, VA loans offer special programs to help you out when needed. Certainly an option to look into if you've served.
If you are over the age of 65 and are thinking about taking out a mortgage, consider partnering with an experienced, local real estate agent. A good realtor will outline all financing options available to you, and assist you in finding a trusted lender.
Related Articles
You May Also Like