If you're selling property in Arkansas, you probably have some questions about what you need to disclose to potential buyers. Here's what you need to know about your state's disclosure laws.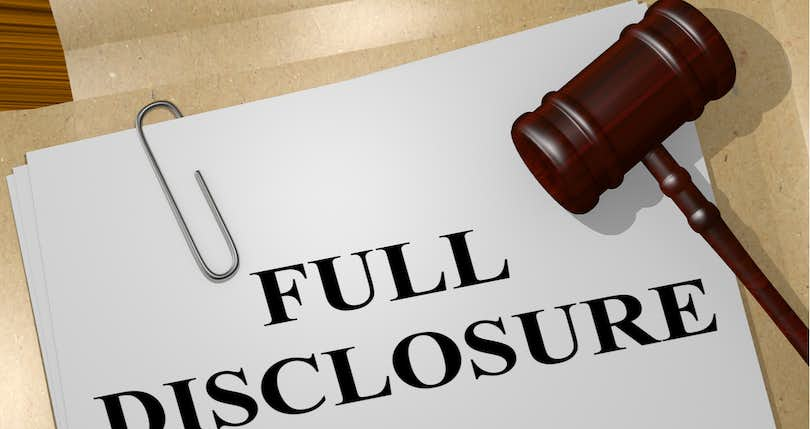 Pretty much every homeowner knows about some sort of flaw with their house, whether large or small. But do you have to go out of your way to point out every single crack in the paint?
You don't have to go that far, but every state has its own laws on how much property owners are required to disclose when selling their property.
Before you list your home, it's important to understand the disclosure requirements in your state.
Selling in Arkansas?
List with Clever, save thousands on commission.
Arkansas Disclosure Requirements
Arkansas is in the minority with its disclosure laws. Arkansas is what's called a caveat emptor state, which means the onus is generally on the buyer to find any problems with the property. However, that doesn't mean homeowners are off the hook entirely with regard to disclosures. Here's what Arkansas sellers need to know about disclosures.
Let the Buyer Beware
Caveat emptor is Latin for "Let the buyer beware." In caveat emptor states like Arkansas, the buyer is responsible for determining the true condition of the property before completing the purchase.
Arkansas is one of only a handful of states that still follow the caveat emptor rule. Caveat emptor laws are a benefit to sellers, but they don't absolve you of all responsibility. Although generally sellers have no legal obligation to inform the buyer of issues with the physical condition of the property, there are some exceptions.
Required Disclosures for Real Estate Agents
Even if buyers aren't required to make disclosures, their real estate agents may be. The Arkansas Real Estate Commission requires licensed real estate agents to disclose information about the condition of the property they're selling.
Arkansas real estate agents are required to take "reasonable efforts to ascertain those facts which are material to the value or desirability" of property that they sell. This doesn't mean your real estate agent has to examine every inch of your property for minor damage, but it does mean that they have to take some care to determine whether there are problems.
Real estate agents don't perform home inspections, and your agent won't tear your house apart looking for defects. But they will likely walk through your property with you and ask questions if they see anything that requires investigation.
Get cash offers from local buyers now!
Compare offers from top cash buyers, plus get an expert realtor's opinion on what your house is worth.
Other Required Disclosures
Even with Arkansas's relatively relaxed caveat emptor policy, there are still certain disclosures you may encounter. Disclosure of material defects is also required if the seller and buyer have certain types of legal relationships.
There are four main exceptions to the general Arkansas caveat emptor scheme: (1) lead paint disclosures; (2) fiduciary relationships between the seller and buyer; (3) the seller is aware of health and/or safety risks; and (4) direct questions.
Lead Paint
Lead paint disclosure is regulated at the federal, rather than state, level. Federal law requires all property owners to fill out a lead paint disclosure form, no matter what state you're located in.
Fiduciary Relationships
If you have a fiduciary relationship with your buyer, additional disclosures are required. "Fiduciary relationship" is just a fancy way of saying that you have a legal duty to act in the best interest of another person. Some common examples of fiduciary relationships are attorney-client and doctor-patient relationships.
Fiduciary relationships can take a variety of forms and have different requirements. If you're in doubt about whether a fiduciary relationship exists or what kind of information you can withhold, talk to your real estate agent or a real estate lawyer.
Health and Safety Risks
If you're aware of any problems with your property that could cause physical harm, you have to disclose that information. Some common examples of safety risks include asbestos, black mold, and things like weak spots in flooring.
Disclosing this kind of information isn't just the right thing to do; it's also a legal requirement. If someone is injured because of a problem you knew about but didn't disclose, you could be found liable for their injuries.
Direct Question from the Buyer
Just because you aren't required to affirmatively make disclosures doesn't mean you can lie. If a prospective buyer asks you a question about the property, you have to be honest. If you lie to a buyer and they find out, you could be held liable and/or the entire sales contract could be canceled.
Talk to an Expert
It can be difficult to determine what types of disclosures are required when selling property. Real estate agents are experts in the types of disclosures property sellers have to make. Your realtor should be able to help you with the disclosure process and, if necessary, recommend a real estate attorney.
💰 Sell with a top agent, save thousands!
Want to find a top local agent without overpaying on realtor fees? Clever negotiates 1.5% listing fees with top-rated realtors from name-brand conventional brokerages like Keller Williams, RE/MAX, and Berkshire Hathaway.
Get guaranteed full service for half the rate these agents typically charge. Schedule a free, no obligation consultation with a top local agent today!
Related links