Some times are better than others to sell your San Diego home. The city experiences seasonal fluctuations, but other market conditions contribute to how much your home sells for and how quickly it moves off the market. Here's what you need to know about selling at the right time.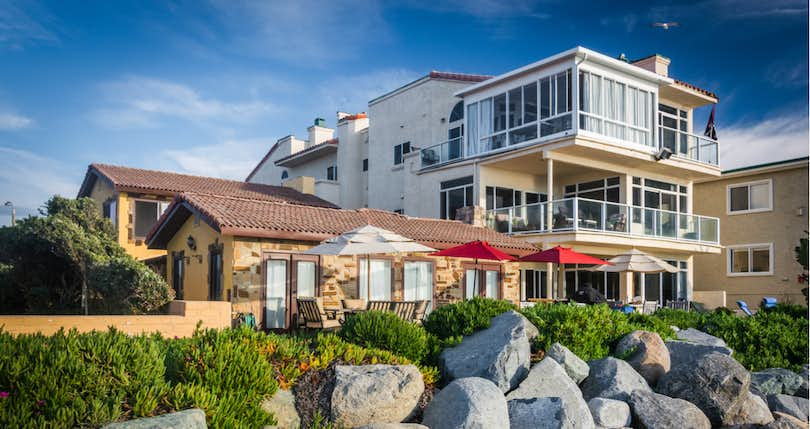 If your home isn't selling as quickly as you'd like it to, blame it on the time of year. San Diego's real estate market is largely seasonal, aligning with buyer demand, time of the year, and other factors that could affect your home's selling price and how quickly you can move it off the market.
If you're trying to time the market, it helps to partner with an experienced local agent who is familiar with San Diego real estate and can help you list your home at the right time for an optimal outcome.
This guide covers what you need to know about the best time to sell your house in San Diego:
Best Time to Sell in San Diego
Like many housing markets across the country, San Diego saw noticeable stagnation in 2012, but has been on the upswing ever since. Now, homes are on the market for an average of 79 days, with longer listing periods during the winter and shorter periods during the spring and summer.
There are several factors that contribute to this pattern:
Historically, most homesellers sell their home quicker and for a more desirable price when they list their home in the spring. Families with children are more likely to move during the months when school is out. They may start their home search during the spring to find a home and move into it before the next school year.
For San Diego home buyers, the first half of May tends to be the sweetest spot. Homesellers usually earn about $1,600 more in the final sale price during this period compared to any other time of the year. The second half of May and the first half of June are the other top three times of the year to list your home.
In addition to changing seasons, interest rates will impact the demand for homes in San Diego. When interest rates rise, home buyers tend to hold off on their home purchasing plans, which lowers the demand for homes. Home values are at an all-time high, with a median price of $632,000, and that number is predicted to increase 2.2% over the next year. And since high home values come with high-interest payments, buyers may be less eager to make a move.
Key Factors That Help San Diego Homes Sell Faster
Regardless of market conditions, there are a few things you can do to help your San Diego home sell faster.
For starters, take time to stage your home and maximize your living space. Homes are selling for a median price of $469 per square foot, so every bit of space matters. Declutter your closets, get rid of bulky furniture, and let buyers see how big your home feels rather than relying on your actual square footage.
Also, give your outdoor spaces a little TLC. San Diego's mild year-round weather brings people outside, so your home buyers will want to maximize any outdoor living spaces. You don't have to overhaul your landscaping, but you should add a little curb appeal and make your yard a pleasant place to be.
3 Tips for Maximizing Your Profits When Selling a Home in San Diego
When you're selling your home in San Diego, you might be torn between selling it quickly and selling it for top dollar. To increase your chances of getting the best of both worlds, put the following three tips into practice:
1. Consider Your Specific Market
Every city is different, and you'll want to tailor your home's listing, price, and marketing to the San Diego market.
Right now, San Diego is experiencing a "cool" market, which is neither a buyer's or seller's market. Homes aren't flying off the market, which could mean your home could take a little longer to sell. This makes it all the more important to price your home attractively and highlight its best features to attract buyers.
Getting an accurate Comparative Market Analysis (CMA) should be a top priority before listing your home. A CMA can help you set an optimal listing price based on current market conditions and the performance of similar properties in your area. A top-rated local real estate agent can do this analysis for you for the best results.
Learn More: Understanding a Comparative Market Analysis
2. Make Impactful Repairs and Renovations
Home buyers expect to make some changes to their new home, but taking some of the repairs off their plate can help to make your home stand out. Consider making the following repairs and upgrades to your home to attract more offers:
Repaint the walls a neutral color
Paint outdoor trim
Pressure wash the home's exterior and driveway
Upgrade appliances
Change or deep clean stained carpets
Homeowners must be careful when creating a task list. You want to choose only those repairs that will help your home sell faster. Ideally, the impact on your home's selling price will be greater than the cost of the repair itself.
Learn More: 5 High-Value, Low-Cost Repairs for Home Sellers
3. Find a Great Local Real Estate Agent
Maximizing your home's final selling price takes more than timing the market. You need to do everything in your power to get the best possible price and uncover cost savings throughout the process.
An experienced local real estate agent can be your best option to achieve a desirable outcome. San Diego agents are familiar with local market conditions and can provide guidance on pricing your home and making repairs without spending more than you need to.
Clever Partner Agents are all top-rated real estate agents in their markets, offering full-service benefits at discounted prices. Our agents come from major brands like Keller Williams, RE/MAX, and Century 21, among others, and have agreed to a flat rate commission to help sellers keep more of their profits.
Find a Clever Partner Agent in San Diego by filling out our form for a no-obligation consultation on selling your home.
Related Articles
You May Also Like