If you're thinking of putting your home up in the market in Nevada's biggest city, you may be wondering, when is the best time to sell a house in Las Vegas? Timing your listing for an optimal return can put thousands more dollars into your pocket. Here is our guide to selling your home in Las Vegas.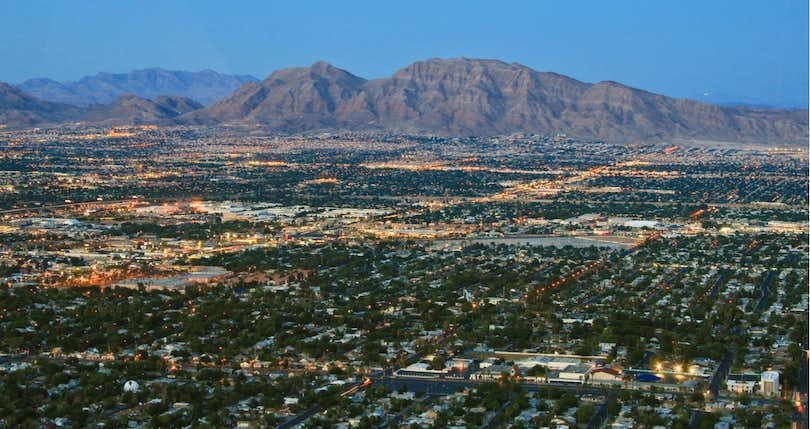 If you live in Las Vegas, then you know home prices have been going up, and there's no sign the price hikes are about to stop any time soon. The average value of a home in Las Vegas shot up by almost 11% last year over 2017. Analysts are predicting similar levels of growth to continue this year.
That's good news if you're a seller. But when is the best time to sell a house in Las Vegas?
On the whole, spring is considered the best time to sell in most regions of the country. That's when homes sell at premium prices and they stay on the market for significantly less time. Some analysts have pegged the peak time for selling a home in the first half of May. Homes sell faster and for about $2,400 more during this period.
If you bet Las Vegas follows the national pattern, you would be wrong. It's true that home sales are better in spring following a few months of winter hibernation. But Las Vegas real estate transactions really go into overdrive starting in June. And the frenzy of activity continues through most of the summer — well into late August.
But don't jump to put your home on the market just for timing's sake. There are many factors involved in choosing the right time to sell. That's why it's always best to find a professional agent who knows the local market conditions and can help you get the most return for your home, no matter what time of year it is.
A professional agent is an invaluable source of information about market conditions and can help make the most of your decision to sell.
Here's more on what you need to know about the best time to sell in Las Vegas.
Best Time to Sell in Las Vegas
Anyone who has taken a deep look into the Las Vegas real estate sector knows that it can heat up at any moment. It's been going strong for years, but real estate experts in the city say they are already seeing home sales shoot up in the first part of this year. In fact, the high-end market of million-dollar homes has nearly doubled.
The hot housing market in the city this year combined with other data suggests sellers may want to enter the market sooner rather than later. The Fed is expected to raise interest rates and that will likely cool the market somewhat in cities like Las Vegas.
How to Sell Your Home Faster in Las Vegas
Price It Right
While timing is important, pricing your home with realistic expectations is key to getting the best return when you put it up on the market. An overpriced home that stays on the market too long may end up having to underbid competitors after a few too many weeks on the market.
Highlight The Best of Your Neighborhood
Home buyers want more than just a structure when they move in. They want to live in a nice community with good schools and easy access to shopping. So, highlight these features. Remember, highlighting important amenities in the community offers the buyer more incentives to buy.
Stage Your House
As sellers compete with more supply in the market, they should begin to widen their marketing options. One way to make your home stand apart from the competition is through "staging" methods. The reason: homes that are displayed with furniture inside end up selling faster and for a higher price than homes that are displayed empty.
Tips to Maximize Your Profits
1. Consider Your Specific Market
As mentioned above, Las Vegas is a hot real estate market. The high demand is caused by a steadily growing economy. That's created a population boom and rising real estate values that topped 10% growth last year.
Some analysts predict that growth will continue until 2021. But there are some national roadblocks that could slow growth in the city's real estate sector. Rising interest rates expected later this year could lead to a tightening housing market. That means sellers will have to focus more on marketing to make sure their listing is competitive.
Learn More: Understanding a Comparative Market Analysis
2. Make Repairs and Renovations For Maximum Impact
It's always difficult to determine how much you should put into repairs before listing your home. There's no hard and fast rule. But try to make as many repairs as you can within reason. Not all repairs are necessary and not all of them will pay off for the seller. Carefully calculate your potential return on investment when considering which repairs to make.
Painting is one of the easiest and least expensive ways to update your home's look. Make any minor repairs in the kitchen and fix any broken appliances. And make sure the lights work. You may also want to refinish scratched hardwood floors or give the carpet a good clean.
Here are a couple of questions to ask yourself about how much to spend on repairs before putting your home up for sale. Will your potential buyers want a fixer-upper? And how much will that limit your asking price?
Learn More: 5 High-Value, Low-Cost Repairs for Home Sellers
3. Find a Great Real Estate Agent
If you're thinking of selling a home in Las Vegas, the good news is that the city's growth spurt is expected to continue. But to maximize what you get on the sale, it's always best to work with a professional real estate agent who knows the local market conditions. They will be able to assess the value of your home accurately.
That way you can have the confidence that you will get the highest return — no matter when you sell. A professional Clever Partner Agent can also make the entire home selling process easier.
Clever works with top-real estate agents in the city, along with major companies like Keller Williams, Century 21, and RE/MAX.
Related Articles
You May Also Like