There are questions many Montana home buyers wonder about. Is there a better time of year than another to buy a home. When is the best to buy to buy a house in Montana? Here's our guide to buying your future home for the best price no matter when you decide to enter the market.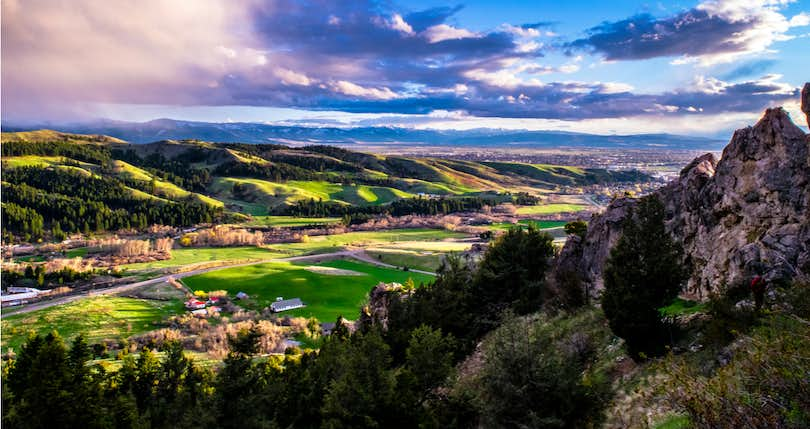 Buying a house is a stressful and emotional process. You'll likely have to spend weeks touring properties, fill out hundreds of forms, and invest a large chunk of your savings to secure the right house.
One way to make buying a house easier is starting the process at the right time. In Montana, housing inventory, mortgage rates, and market trends vary from month to month.
For example, this year listing prices for homes in Montana were lowest in January. On average, homes were $62,212 less expensive. While in November — the month with the highest prices — the listing prices were $103,439 more than the annual average.
In truth, the best time to buy a house really depends on your priorities and situation. Read on to find out which time of year will give you the most options and the biggest savings when buying a house in Montana.
If you're interested in buying a home, the first step in the home buying journey is to find an experienced realtor who's an expert in your local market. The right agent can help you find the best house for your budget and priorities - and negotiate a winning offer so you don't miss out on your dream home.
The easiest way to find a great local realtor is to use a free service like Clever Real Estate. Clever matches home buyers like you with top agents in your area so you can compare your options and choose a realtor who's the right fit for you.
You can interview multiple agents until you find the perfect fit, or walk away at any time - Clever's service is 100% free with no obligation. Fill out the form below to instantly request hand-picked agent matches now!
💰 Buy with a top agent, earn cash back!
Buy your dream home with a top local realtor from a trusted brand like Keller Williams or RE/MAX. Keep more money in your pocket by earning cash back on eligible purchases.
Enter your zip code to request hand-picked agent matches in minutes. Compare your options until you find the perfect fit, or walk away with no obligation. Try Clever's free service today!
Best Time of Year to Buy in Montana
Montana home sales are similar to national trends. They tend to pick up in the summer months. But 2018 also saw a hot real estate market throughout the state this winter. Flatheatbeacon.com reports that realtors were kept busy "into historically slower times of fall and winter."
The reason for an increase in home sales is attributed to a mild winter that led to continued construction projects. So, while there were more buyers in this past winter than usual, there was also a greater supply of homes and that was good news for both buyers and sellers.
The Best Places to Buy a Home in Montana
Bozeman
Located in Gallatin County, Bozeman is a suburban community that gives you easy access to Big Sky Country. It's a lively college town with good job opportunities for young professionals.
Lewistown
This historic town was once part of the Blackfoot Tribe territory. The town is filled with parks and attracts young families because of its good schools. This is the ideal town for anyone looking for a rural lifestyle.
Helena
The city is going through an economic growth spurt, so there are plenty of jobs for qualified professionals. It has plenty of shops and restaurants and is close to several lakes for boaters and fishers. It also has some of the best hiking and biking trails in the world.
Missoula
This is the place to live if you want a mix of urban and rural life. It has all the amenities of a big city like movie theaters, concert venues, and great restaurants. And it's just a short drive from several national parks.
Kalispell
Kalispell is a beautiful little town that's growing quickly. The town has a scenic view of the mountains surrounding a valley. The town not only offers an affordable lifestyle for residents, its rapid expansion also means that any real estate investments are sure to grow with the town.
Four Ways to Get a Great Deal On a Home in Montana
1. Find a Great Montana Real Estate Agent
A trusted real estate agent will be able to help you buy a home at the best possible price no matter what time of year you enter the market. While summer may be more competitive for home buyers, there is also greater demand. A local professional real estate agent will understand the nuances of the local market and will be able to negotiate effectively on your behalf.
They will help take the stress out of the home buying process. After all, you shouldn't make one of the most important financial decisions of your life alone.
A trusted real estate agent or broker will guide you through the entire home buying process. They will search out, evaluate and negotiate for a property on your behalf. They will also work with you to determine the criteria of the home you are looking for.
This may include such things as your price limit, the number of bedrooms in the home, and the style of home. The agent will schedule appointments for homes that meet your particular needs and parameters.
Real estate agents are knowledgeable about local inspection laws and are ethically responsible for making sure your best interests are kept at top of mind from the time you view a property to the time you sign the closing contract.
2. Assess Your Needs and Lay Out Your Goals
A real estate agent is more than just someone who is able to negotiate your home purchase or help you with the paperwork. A great real estate agent will help you lay out your needs and goals for your home purchase. What are the must-haves on your wish list for your home?
Do you need a certain number of bathrooms? Do you require a den? Or maybe you need a two-car garage. Whether it's trying to determine the financial parameters of your house search or just offering advice, your real estate agent will be one of your most important resources through what can be a daunting process.
3. Find a Lender and Secure Financing
Unless you plan to buy your home with cash, you'll need to apply for a mortgage. For most home buyers in Montana, interest rates are among the biggest factors when choosing a lender. Doing a little upfront research and comparing options to find the best rates could save you tens of thousands of dollars over the life of your loan.
For example, in Montana a typical house is worth $318,000. Assuming a 20% down payment, if you took out a 30-year mortgage for 3.5%, your monthly payment would be $1,135. But if you shopped around and found a 3% mortgage, your monthly payment would drop to about $1,073.
Getting a mortgage is a big decision – and it pays to shop around! Keep shopping until you find a lender with competitive rates who also understands your goals. Don't get pressured into taking on a bigger loan than you're comfortable with – work with a lender who explains what you're really signing up for.It's easy to start your home buying journey – answer a few questions to get instantly matched with a lender who works in your area.
4. Negotiate for the Best Possible Price
One of the most important qualities of a good real estate agent is being a great negotiator. After all, it's important to have someone on your side who knows how to make a great deal. They could end up saving you thousands of dollars or more.
Clever Partner Agents have access to up-to-the-minute data so they will be able to offer precise bidding advice. They will also guide you if you decide to make a counteroffer, and they'll let you know if your bid is too low or too high for a particular property.
If you want to know more about the home buying process and how a Clever Partner Agent can help you, fill out our online form. A Clever representative will be in touch soon to answer any questions that you may have. You'll then be connected to a local Partner Agent for a no-obligation consultation.
You May Also Like