Homeowners looking to buy property in Maine should be aware of the best time of year to buy a home for maximum savings. Before putting in an offer on a home, be sure to research the best time to look for a home, the best areas of Maine to live, and other top tips for securing a home for less money.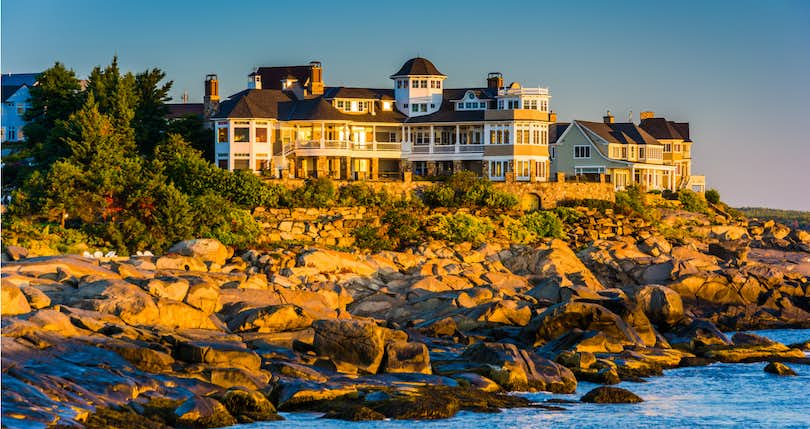 Buying a house is a stressful and emotional process. You'll likely have to spend weeks touring properties, fill out hundreds of forms, and invest a large chunk of your savings to secure the right house.
One way to make buying a house easier is starting the process at the right time. In Maine, housing inventory, mortgage rates, and market trends vary from month to month.
For example, this year listing prices for homes in Maine were lowest in January. On average, homes were $42,329 less expensive. While in September — the month with the highest prices — the listing prices were $29,428 more than the annual average.
In truth, the best time to buy a house really depends on your priorities and situation. Read on to find out which time of year will give you the most options and the biggest savings when buying a house in Maine.
If you're interested in buying a home, the first step in the home buying journey is to find an experienced realtor who's an expert in your local market. The right agent can help you find the best house for your budget and priorities - and negotiate a winning offer so you don't miss out on your dream home.
The easiest way to find a great local realtor is to use a free service like Clever Real Estate. Clever matches home buyers like you with top agents in your area so you can compare your options and choose a realtor who's the right fit for you.
You can interview multiple agents until you find the perfect fit, or walk away at any time - Clever's service is 100% free with no obligation. Fill out the form below to instantly request hand-picked agent matches now!
💰 Buy with a top agent, earn cash back!
Buy your dream home with a top local realtor from a trusted brand like Keller Williams or RE/MAX. Keep more money in your pocket by earning cash back on eligible purchases.
Enter your zip code to request hand-picked agent matches in minutes. Compare your options until you find the perfect fit, or walk away with no obligation. Try Clever's free service today!
Best Time of Year to Buy in Maine
Maine's real estate market was on fire in 2018, after seeing several years of steady growth since 2016. This year, the market is beginning to slow, which is great news for buyers. On the downside, mortgage rates are expected to continue increasing, which means securing a mortgage earlier in the year can help buyers lock in better interest rates.
In general, the best time of year to purchase property throughout the country is winter, when buyers are sparse and homeowners are willing to reduce home prices. Generally, the most expensive time to buy a home in the US is in the spring, when buyers are at a maximum and home prices skyrocket to keep up with the competition.
In Maine, however, the most expensive time of year to buy a home is the end of summer. Winter is a great time to find a good deal on a home but could lead to higher interest rates. Early spring is a great time for buyers in Maine to begin looking, as there is a good variety of homes to choose from at affordable prices.
The Best Places to Buy a Home in Maine
Now that you know the best time to start looking for a home in Maine, you should research where in Maine you want to live. If you're new to Maine or simply looking for the most popular and affordable neighborhoods to purchase property, you should look into buying homes in one of these five cities.
1. Kittery Point
This small town in Maine is home to just over 1,000 residents and has a traditional, suburban feel. This town is home to many families and retirees and has highly rated public schools. Kittery Point has low crime rates and is a fairly quiet and peaceful place to live and raise a family. Typical home values in this area average $329,500.
2. North Deering
This neighborhood in the city of Portland has 15,914 residents. It has a great blend of city and suburban living amenities, with quick access to bars, restaurants, and nightclubs, but great public schools. This area is home to a mix of young professionals, as well as families. Home values average $313k.
3. Cumberland Center
This small town in Maine is one of the best places in the state to raise a family, with 2,492 residents and top-rated public schools. There is not much in the way of nightlife, but there are many parks and family-friendly amenities worth exploring. Home values here are slightly lower at $304,500.
4. Hampden
This rural town in Maine is home to 7,314 residents and has been rated one of the best places to live in Maine. There's a great mix of everything for all types of residents, from top-rated school systems to access to restaurants and nightlife. Crime rates are also low and housing options are extremely affordable, averaging $206k.
5. Cape Elizabeth
Located in Cumberland County, this gorgeous town in Maine is home to 9,235 residents. This suburb has some of the best public schools in Maine and has quick access to coffee shops, restaurants, bars, and parks. Cape Elizabeth is home to many families, young professionals, and retirees, with home values averaging $388k.
4 Ways to Get a Great Deal On a Home in Maine
Now that you know the best time of year to buy and the best places to buy, you'll want to use the best real estate strategies to ensure you get the best deal on a home. These four tips can help save you money during the buying process in Maine.
Find a Great Maine Real Estate Agent
The first step all buyers in Maine should take is to find a local real estate agent to help them navigate the buying process. Real estate agents can offer valuable advice throughout the buying process and offer specific recommendations on top areas to live and when to make an offer to get the best possible home price.
In addition, real estate agents can help buyers with counter offers and inspection negotiations to ensure they receive the best value on their new home. Many agents also offer home buyer rebates on homes in Maine, allowing buyers to save even more at closing.
Learn More: What Does a Real Estate Agent Do for a Buyer?
Assess Your Needs and Lay Out Your Goals
Deciding what's important to you in a home is one of the most important decisions you'll make as a buyer. A local agent can help set up a home search based on your buying budget and selection criteria to find you new homes as soon as they hit the market.
By searching on the MLS, agents can get you early access to view homes before other buyers, so you have a chance to view the home and place an offer before the general public.
Find a Lender and Secure Financing
Unless you plan to buy your home with cash, you'll need to apply for a mortgage. For most home buyers in Maine, interest rates are among the biggest factors when choosing a lender. Doing a little upfront research and comparing options to find the best rates could save you tens of thousands of dollars over the life of your loan.
For example, in Maine a typical house is worth $260,000. Assuming a 20% down payment, if you took out a 30-year mortgage for 3.5%, your monthly payment would be $928. But if you shopped around and found a 3% mortgage, your monthly payment would drop to about $877.
Getting a mortgage is a big decision – and it pays to shop around! Keep shopping until you find a lender with competitive rates who also understands your goals. Don't get pressured into taking on a bigger loan than you're comfortable with – work with a lender who explains what you're really signing up for.It's easy to start your home buying journey – answer a few questions to get instantly matched with a lender who works in your area.
Negotiate for the Best Possible Price
Just because a home is listed at a certain price doesn't mean that's the final price you'll end up paying. Your real estate agent can provide insight into how high or low your offer can go and can help manage negotiating counter offers.
In addition, after the home inspection, your agent will run through the results and help walk you through repairs and expenses you should negotiate with the seller, to ensure you get the best possible price on your home.
Learn More: How to Find a Buyer's Agent That's a Good Negotiator
When you're ready to start the buying process to find your new home in Maine, reach out to a Clever Partner Agent. You can get started by filling out the online form and a Clever representative will reach out to answer any questions you might have and to connect you with a local full-service agent.
You May Also Like