Buying a house in Arkansas? Make sure to do your homework about the different costs that are involved in the process. Read on to learn more about how much home buyers in Arkansas spend on property taxes, home insurance, inspections, and more.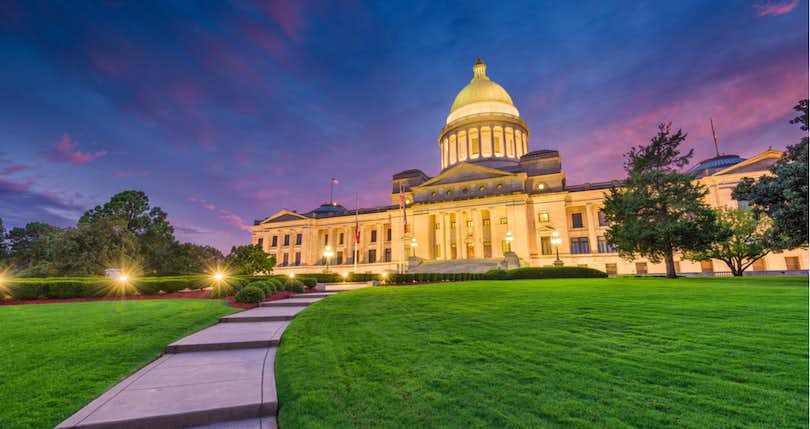 The down payment won't be your only out-of-pocket expense while buying a house. You'll have to pay other costs like appraisals, taxes, insurances, etc. before you can complete the purchase. Let's take a look at the closing costs buyers are faced with in the state of Arkansas and how you can minimize these expenses.
Closing Costs for Arkansas Homes: What to Expect
There are a number of different fees and commissions that buyers have to deal with. It isn't always apparent at the beginning of the process what kinds of expenses will come up over the course of the purchase.
According to a study by BankRate, the average closing costs for a house in Arkansas is $1,905. That's $915 in origination fees combined with $990 in third-party fees.
However, there are various other fees involved in the buying of a home that the aforementioned study didn't take into account. For example, you will have to pony up for the title search and title transfer fees to your local County Recorder's office. You will also have to pay escrow fees to the attorney or agent holding on to the money before the sale is confirmed.
All things considered, closing costs will come out to about 2% to 5% of the purchase price of the property. Assuming you buy a home at the median value in Arkansas, which is $126,700, you would pay between $2,534 and $6335 in closing costs. It's important to take these numbers into account when you go into negotiations with the seller.
While closing costs can be expensive, one of the largest mortgage expenses is the interest rate. Over the life of the loan, a few small percentage points can result in hundreds of thousands of dollars in interest payments.
One of the best ways to lower your interest rate? Shop around and compare lenders! Fill out the form below for a quote from a licensed, local lender – even if you're pre-approved it pays to compare.
Common Closing Costs for Arkansas Home Buyers
If you're buying a house for the first time, you're probably not familiar with all the different things you'll have to spend money on. Here are some of the closing costs you can expect as a home buyer in Arkansas.
Loan Origination Fees
Most buyers turn to lenders to provide financing for part or all of the price of a home. This is when you'll run into the first additional cost in the process: loan origination fees.
Loan origination fees are collected by lenders to process your loan application and the rest of the work that goes into it. It's charged upfront and is always a percentage of the loan amount — generally between 0.5% and 1%. For a house priced at $126,700, that's $1267 in loan origination fees.
Home Inspections
Finding a house that fits your requirements is only part of your job as a buyer. Then comes the process of inspecting the home to make sure that it is in good enough condition to make it a wise financial investment.
A basic home inspection will go over the structural system, plumbing, roofing, electrical system, and ventilation. If the house has a sewer system, you might have to get it checked out separately.
The amount of money you pay for an inspection depends on the size and age of your house. Getting a home inspection done for a 2,000 square foot house in Arkansas costs about $400 on average.
Miscellaneous Closing Costs
Apart from the expenses we've already seen, there is a slew of other payments you will have to make while buying a home. These aren't as significant as some of the other fees on their own, but they do add up. Here are some of the miscellaneous closing costs that you will have to pay for while buying a house in Arkansas:
Title fees: This is money taken to handle the transfer of the deed from the buyer to the seller. This includes notary fees, filing fees, and the charges for the attorney who overlooks the process
Home appraisal: Lenders often require buyers to have the home appraised so they know what its value is. Getting a single-family home in Arkansas appraised can cost between about $215 and $343.
Escrow fees: In Arkansas, the escrow process is carried out by an escrow agent or an employee of the title company. There are separate costs involved in hiring an agent to oversee the escrow process.
Other Costs to Consider
In addition to the aforementioned costs, there are also certain recurring costs that buyers will incur.
Insurance
Buyers often overlook the money they will pay in insurance after acquiring a house. First-time buyers may not be aware that they have to purchase various kinds of insurance, including homeowners' insurance, title insurance, and mortgage insurance. Just homeowners' insurance can cost over $1000 each year.
Property Taxes
The amount you pay in property tax depends on the appraised value of your house. The appraisal is done by an assessor every few years. If the value of your house increases as a result of a renovation or development of the area, so will your property tax.
The average property tax rate in Little Rock, Arkansas is 0.778%. The median value of a house in the city is $140,500, so you would pay $1,093 in property taxes on such a home assuming the average property tax rate.
Maintenance
The next leaky faucet or cracked shingle is always around the corner. If you don't tend to such issues right when they happen, you'll probably spend a lot more on them later. Thankfully for home buyers in Arkansas, maintenance costs in the state are among the lowest in the country. Maintaining a home in the state costs $15,115 annually on average.
How to Save on Closing Costs in Arkansas When Buying a Home
There are a few things you can do to cut down the amount you spend on closing costs while buying a house in Arkansas. Here are some of the cost-saving avenues to look out for.
Negotiate Fees
Buyers can negotiate with both sellers and lenders to shave a significant portion of their closing costs. Go over the Closing Disclosure form to see what fees the lender is having you pay for. You can ask certain fees to be omitted from the final bill by negotiating with your lender.
Shop for Services
When you buy a house, there are various services for which you will have to hire professionals. That includes things like the appraisal of the property, inspections, insurance, and so on. Make sure to compare the various service providers in your area so you choose the ones who provide you with the best deal.
Closing Cost Assistance Programs in Arkansas
Here are some of the closing cost assistance programs you can benefit from while buying a house in Arkansas:
ADFA Down payment Assistance Program (DPA): This provides buyers with between $1,000 and $10,000 that can be used towards closing costs. The program is offered as a second mortgage with a 10-year term.
Arkansas Dream Downpayment Initiative (ADDI): This program is aimed specifically at low-income individuals and families. Qualifying parties receive assistance of up to 10% of the price of the house, up to $10,000.
Keeping an eye on all the various expenses while buying a house can be an uphill task. A top real estate agent can help you identify ways to save money and be an invaluable resource going into negotiations.
Related Articles