Moving to another city is intimidating when you don't know about the area. It all starts with doing your homework and learning about the best neighborhoods in the area. Want to find the best Oakland neighborhood for you and your family? Read our article to learn everything about O-town communities.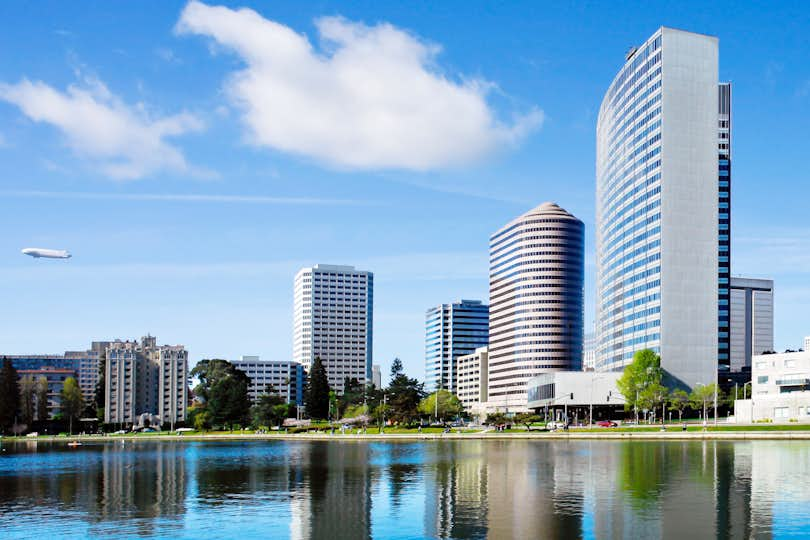 So you're looking to move to California's Bay Area but don't want to endure the fog and gloomy San Francisco weather. Oakland offers the best of both worlds, affordability and warmer weather without all the hustle and bustle of the Golden City. You might be planning to move to O-town but aren't sure what neighborhoods you should consider.
While it isn't rocket science, it's important to do your homework before moving to find the best place to live. Don't know where to start? Here are the five best neighborhoods you should consider when choosing where to live in Oakland.
1. Rockridge
This neighborhood is one of the most popular O-town areas located in the northern part of the city. While Rockridge housing may be expensive, the amenities make it worth it.
The community offers a wide variety of shopping and dining options. The bungalow-style properties are surrounded by antique shops, upscale restaurants, and even yoga studios.
The median home value in this market is $1,678,500 while the median household income is $182,758. While you may think this community is only suitable for millennials, it's a family-friendly place offering great daycare and primary school options.
This neighborhood has a BART station that provides an easy commute to the Bay Area. Rockridge may be a great choice for young professionals and families alike depending on their budget.
2. Piedmont
Piedmont is a small affluent neighborhood that shares a border with Rockridge. The median home value in this area is $1,604,023 while the median household income is $204,144.
The community is a great option for families looking for a quiet residential area with great schools. The neighborhood has five parks and playgrounds providing options for outdoor family-friendly activities such as picnics and walking your dog.
If local shopping and dining amenities are a must on your checklist, this neighborhood may not be your best option. However, you can find great dining and shopping options in Rockridge just minutes away.
3. Montclair
Montclair is located in the western slopes of Oakland. It's one of the safest neighborhoods in the Oakland area. This neighborhood offers a wide array of housing options from cottages to apartments near the Montclair Village.
The median home value is $839,425, making it one of the most affordable neighborhoods on our list. The median household income in the area is $154,178. This community is home to the highest-ranking schools in Oakland making it ideal for families.
The neighborhood boasts a compact shopping district known as the Montclair Village. Most houses in the area are surrounded by heavy forest that provides natural privacy.
---
Looking to buy your dream home? Finding the right realtor makes all the difference!
The first step in your home buying journey is to find a top local realtor who's an expert negotiator and has proven experience in your area. The right agent can help you find the best house for your budget and priorities — and craft a winning offer so you don't miss out on your dream home.
The easiest way to find a great local realtor is to use a free service like Clever Real Estate. Clever matches home buyers like you with top agents in your area so you can compare your options and choose a realtor who's the right fit for you.
You can interview multiple agents until you find the perfect fit, or walk away at any time - Clever's service is 100% free with no obligation. Fill out the form below to instantly request hand-picked agent matches now!
💰 Buy with a top agent, earn cash back!
Buy your dream home with a top local realtor from a trusted brand like Keller Williams or RE/MAX. Keep more money in your pocket by earning cash back on eligible purchases.
Enter your zip code to request hand-picked agent matches in minutes. Compare your options until you find the perfect fit, or walk away with no obligation. Try Clever's free service today!
4. Temescal
If you're looking for an arts scene neighborhood, Temescal may be your best option. This community used to be a separate town from Oakland.
The median home value in this area is $1,074,076. Temescal homes appreciated 1.6% over the last year. Experts forecast a rise in home value of 0.3% within the next year making it ideal for home buyers looking to protect their investment.
The neighborhood offers easy access to the Bay Area through its MacArthur BART station, which is a hot spot for residents and visitors alike. You'll find coffee shops and hip restaurants in the midst of its art scene. The Temescal Arts Center is the main attraction offering art performances and even classes.
5. Lake Merritt
Lake Merritt is most popular with young professionals looking for a cheaper alternative to San Francisco. The median home price in this community is $441,200 while the median household income $82,630. If you're all about the active lifestyle, this neighborhood may be your best option.
The area boasts almost 4 miles of shoreline along Lake Merritt providing outdoor activities such as rowing, running, canoeing, among other options to its residents. The recent renovation of the lake has turned it into the main attraction of the community. This neighborhood is home to local wildlife such as a wide variety of birds.
This community offers a wide array of bars and restaurants to please even the most demanding palate. Lake Merritt was placed on the National Register of Historic Places. This neighborhood provides a balance between outdoor and urban lifestyles.
Doing your homework is the first step to finding the right neighborhood for you and your family. However, you should consider consulting a real estate agent for guidance in your home buying journey.
An expert can provide insight into what neighborhoods will fit your budget while meeting your needs. Clever Partner Agents have agreed to help home buyers save money through Clever Cash Back.
When you choose a Partner Agent, you work with a local expert who will guide you every step of the way in your home buying process and help you find your dream home in the best Oakland neighborhood.
Related Articles