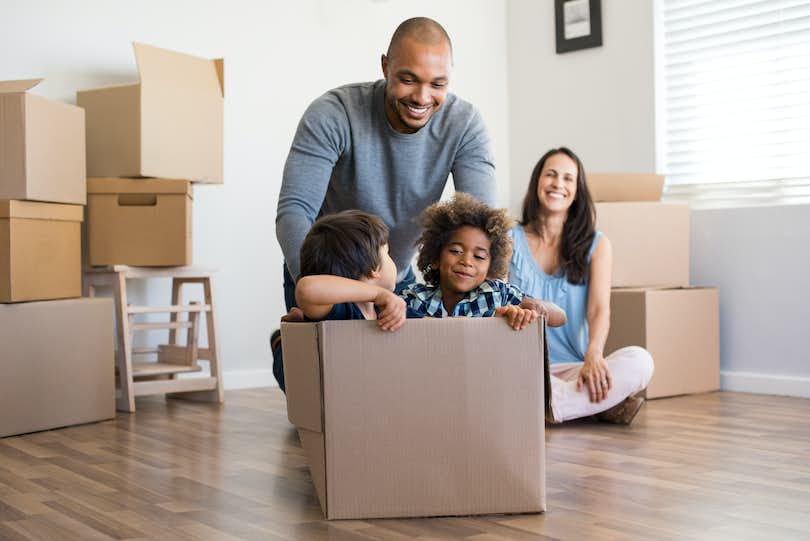 There's no doubt about it, Americans have been on the move! Whether it's due to the rising cost of living or an uptick in remote work opportunities, people are re-evaluating their living situations.
But where are Americans moving to? And are they enjoying the process? To answer these questions, Home Bay surveyed 1,000 Americans on their moving experiences in the past year. From details on how far they moved to lingering regrets and how much moving really costs, the findings are revealing.
Here's what we know as we look to the coming year.
The most popular state people moved to was Florida
As many Americans search for affordability (and pristine beaches), Florida took the top spot for the most popular state to move to.
Perhaps unsurprisingly, tax-friendly Texas came in second when it comes to an influx of new residents.
North Carolina rounded out the top three states Americans are moving to.
The state most people moved from was California
The Golden State is a beauty, but the cost of living has people fleeing.
Consider the fact that the average home buyer would need to spend between $56,729 and $206,212 to close on a home at the median value. Statistics like these have people selling homes in California to get more bang for their buck elsewhere.
New York and Illinois complete the list of the top three states most people moved from.
More than 60% of Americans moved fewer than 20 miles away
Although many Americans have gone searching for savings in other states, the most popular move is still a short one. Nearly two-thirds of Americans (61%) moved fewer than 20 miles from their previous home. This means they likely stayed within state lines and possibly within the same metro area!
If money were no object, Americans would prefer to move to California
Time to get dreaming! What if cash was no concern? Where would Americans want to live?
As we said before, California is beautiful, which is why it takes the top spot. More specifically, Americans would like to live in Los Angeles if they could afford it. But let's face it, even if with a flat-fee real estate agent in California, it's expensive to buy property.
According to migration data, people who prefer cities are heading to Austin, Raleigh, and Orlando instead.
A quarter of Americans moved from cities to suburbs
Los Angeles isn't the only dream location. As it turns out, 40% of Americans would prefer to live in a city if money were no object. As data demonstrates, that wasn't plausible for many people in 2022. In fact, 25% left the city for the suburbs. This provided opportunities for bigger homes and more affordability.
The top reason Americans moved in 2022 was to improve their quality of life
As we study the reasons behind moving, 24% of Americans who moved in 2022 say they wanted to improve their quality of life. Right behind this top concern was a desire to live in a cheaper area (23%) and buy a bigger home with more space (22%).
36% of Americans have regrets about their move
Unfortunately, moving isn't always the happy ending Americans hoped for. Roughly 36% of people who moved in 2022 say they have regrets.
Some say they wish they had never moved at all, while others regret not going to a bigger place. These regrets prompted one-fifth (20%) of respondents to say they missed their original home.
A whopping 44% of Americans say they cried at least once during the moving process
The moving process isn't all sunshine and roses. Many emotions come about while trying to navigate a move.
Although 65% of people experienced positive emotions like excitement and relief, 59% were stressed and anxious. Nearly half of Americans who moved last year cried at least once during the process!
28% of Americans regret not hiring movers
From heavy furniture to dozens of boxes, the physical act of moving is exhausting at best. There are several different ways to do it, but the DIY approach may be more work than it's worth. Approximately 28% of people who moved without assistance regret not hiring professionals to lend a hand.
Nearly half of Americans who hired moving companies said items were broken during the move
For those who did hire movers, it wasn't all smooth sailing. Nearly half of those who did (49%) said items were broken during the move. This is just one reason why many people opt for moving themselves.
Most Americans tipped their movers
To tip or not to tip? It seems this is a common question across many different industries, moving included. But for those who did use a moving company, 81% tipped their movers for a job well done. This is great news for crews who spend the day doing some serious heavy lifting.
Many people choose to invest in moving insurance
Most Americans expect at least one thing to go wrong during their move, especially if they've done it a time or two.
Knowing this, 47% of respondents purchased moving insurance before the big day. This type of insurance usually covers damage to or total loss of your belongings.
37% of Americans believe they did not budget correctly for their move
No matter the approach you take, you're bound to drop some serious cash on a move. From packing supplies to U-Haul trucks, most Americans spent less than $2,000 on their moves (54%). The rest estimated a cost that came in over $2,000, and roughly 43% of people said the cost of moving surprised them. Remember to consider these expenses just as you would closing costs.
Moving caused 43% of Americans to fight with loved ones
Maybe it was the cost of movers? Perhaps it was the stress of packing up and heading to a new house? Either way, moving caused strife in some relationships. Roughly 43% of Americans say they fought with loved ones in the midst of coordinating a move.
37% of Americans who moved remained renters
More than half of Americans say they don't think it's a good time to buy a home, which is probably why 37% of Americans who moved remained renters.
Perhaps more surprisingly, 22% of the people who took this survey said they live with family or friends and aren't paying any rent at all. Talk about savings!
50% of boomers upsized, compared to 32% of millennials
Generational differences were apparent in real estate decisions over the last year. Half of boomers upsized, compared to just 32% of millennials. That said, across generations, three-bedroom residences were the most common choice for a new move.
Temporary moves have been on the rise
According to data from USPS, temporary change-of-address requests have been on the rise since the beginning of the COVID-19 pandemic.
Rents in large cities like New York saw a drop during this period, and while it is reversing, some experts believe many high-end apartments in metropolitan areas are still worth 20% less than they were before the pandemic.
A third of Americans cited climate change as a reason to move
Could changing weather patterns impact moving trends? One-third of Americans say climate change is a motivating factor. What's more, 34% of survey participants cited "better weather" as a reason for their upcoming move or a move they made within the last two years.