Good pizza is like a good truck — it's customizable, it has the right amount of grease, and if it was made in Detroit, you know you're getting a quality product.
For the second year in a row, Detroit earned the title of America's best city for pizza, according to a new study that ranked pizza scenes in the 50 largest metro areas in the U.S.
The analysis comes from Clever Real Estate, a company that regularly releases data-oriented rankings of America's biggest cities. For its 2023 pizza rankings, the site used a mix of metrics, including Google Trends data, Yelp ratings, pizza restaurants per capita, local pizza prices, and a survey of 1,000 Americans.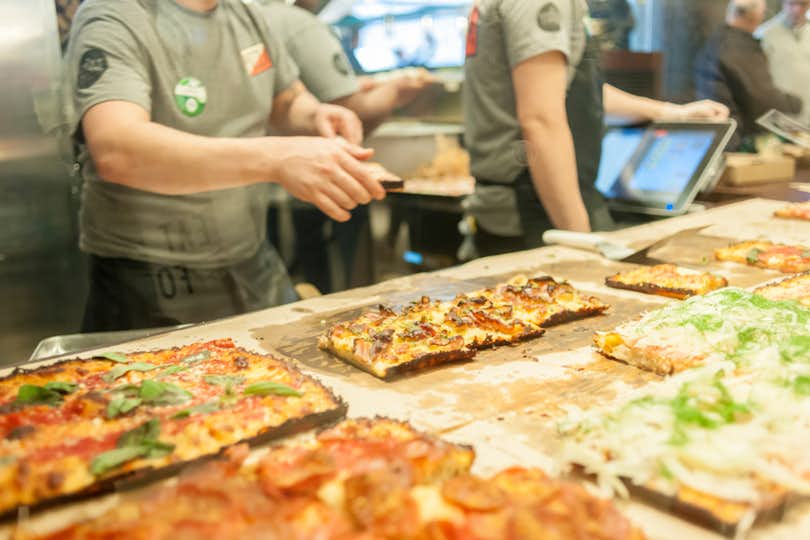 Top 10 Best Pizza Cities in America
1. Detroit, Michigan
2. Hartford, Connecticut
3. Boston, Massachusetts
4. Phoenix, Arizona
5. Philadelphia, Pennsylvania
6. San Diego, California
7. Denver, Colorado
8. Miami, Florida
9. Buffalo, New York
10. Pittsburgh, Pennsylvania
For those wondering how two revered pizza towns, Chicago and New York, got left out of the site's top 10, the authors explain that Chicago was hurt by its pizza-shop scarcity. The Windy City has only 4.9 shops per 100,000 people — about half the amount the average city in the study had (8.4 per 100,000 people).
New York, meanwhile, got dinged for having the most expensive pizza in the country. It will cost you $35.08 for a large pepperoni pie in NYC — 61% higher than average.
Here's how the top five cities earned their rankings.
Detroit, Michigan
The Motor City ranked as the best pizza city in the country for the second consecutive year largely because of its low prices, high restaurant ratings, and high online search activity.
The study analyzed pizza-related search terms and found Detroit has the highest Google Trends score (99 out of 100) of any city — 52% higher than the average score of 65. Additionally, the average price for a large cheese pizza in Detroit comes in 27% below the average cost found in other cities on the list.
A number of notable pizza chains had their start near Detroit, such as Domino's, Little Caesars, and Jet's Pizza. The Motor City's other claim to fame is its delicious Detroit-style pizza.
"(It uses) high-hydration dough with cheese right on top, all the way to the edges, creating a crispy, craveable crust," says Karen Dybis, metro Detroit reporter and author of the upcoming book, "Detroit Style Pizza: A Doughtown History."
"We love it locally, but we're all so proud to see the rest of the world not only recognize Detroit for its pizza prowess but also for its great chefs, pizza makers, and legendary restaurants like Buddy's, Loui's, Cloverleaf, and more," Dybis said.
Hartford, Connecticut
Coming in second on the list is Connecticut's capital city. Hartford features a variety of pizza options, with 15.5 pizza shops per 100,000 residents. Hartford residents seem to have a soft spot for pizza's Mediterranean roots, with the nation's highest Google Trends score for the terms "Neapolitan pizza" and "Greek pizza."
And for caffeine lovers, Hartford also ranked second on Clever's recently released list of America's best coffee cities. So whether you're looking for a pep in your step or pepperoni on your pie, Hartford is a great place to be.
Boston, Massachusetts
Boston ranked above average in every metric used in the study, including a Google Trends pizza score of 83 — 28% higher than the average city's score (65).
Beantown has become a hot spot for pizza lovers, with 12.3 pizza places per 100,000 people, and offers everything from old-school classics like Santarpio's Pizza to fancy wood-fired pies from places like the Chelsea neighborhood's Ciao! Pizza and Pasta.
Phoenix, Arizona
Phoenix climbed all the way to the No. 4 spot on this year's list after being ranked No. 42 last year. The jump stems from two new metrics being added to the study's methodology: the average Yelp ratings of local pizza joints and a pizza reputation survey.
Pizza restaurants in this desert oasis have an average Yelp rating of 4.2 stars, and when 1,000 Americans were surveyed, 17% of respondents named Phoenix as one of their top five pizza cities.
Arizona's capital city is also home to one of the foremost pizza makers in the U.S. and an influential figure in the artisanal pizza scene — Chris Bianco. The renowned James Beard Award-winning chef and restaurateur owns Pizzeria Bianco and several other must-try restaurants around town.
Philadelphia, Pennsylvania
Although the City of Brotherly Love may be best known for its cheesesteaks, its pizza acumen shouldn't be overlooked. Philly jumped into the top five this year due to its 11.5 pizza shops per 100,000 people, which is well above the study's average of 8.4 per 100,000.
Pepperoni pizza prices tend to be a bit higher here, but that's to be expected with so many top-tier options.
With both Philadelphia and Pittsburgh ranking in the top 10, the study crowned Pennsylvania the best state for pizza in 2023.
This article was produced by Clever Real Estate and syndicated by Wealth of Geeks.
Related articles