You've put the final touches on your short-term rental property and are ready to welcome guests.
But with over 7 million listings on Airbnb worldwide, how do you stand out so you can attract visitors?
To have success with your short-term rental, you need an eye-catching listing that attracts the right customers and keeps your occupancy rates steady.
Here are six strategies current Airbnb hosts use to create a stand-out listing and get bookings.
6 tips to make your Airbnb description and listing stand out
1. Create your listing with your ideal visitor in mind
Successful Airbnb hosts know what guests want during their stay at that location and incorporate that into all aspects of their listing and marketing.
For instance, Brittany Mendez, CMO of short-term vacation rental site FloridaPanhandle.com, has listings that tailor to different clientele, such as a mountain-based location, a beach-based place, and a more luxury-based option.
"It's all about catering to the audience that stays in each different location. Once you understand the needs of the person booking, your marketing strategies are better overall."
Consider these questions to understand your ideal guest:
Who is the typical visitor to your area?
Who would best enjoy your property? For example, would your property appeal to families, newlyweds, retirees, or outdoor enthusiasts?
Why are they choosing a short-term rental versus a hotel or other accommodation?
What type of experiences are they seeking? Maybe tourist attractions, outdoor activities, or local events. Or are they visiting a local university or hospital?
Knowing who you're serving and what they want allows you to tailor your listing and marketing to attract your ideal guests.
Action steps
Read the reviews on other short-term rental properties in your area.
Ask your guests. You can incorporate a brief survey that asks questions like what they enjoyed about their stay, the property, and what would make the visit better.
Connect with your local tourism board and other local businesses.
2. Highlight local points of interest and experiences in your listing's description
People who book short-term rentals are often interested in exploring and learning about the area's attractions. Even locations that aren't known as tourist spots have unique experiences or local hangouts that will appeal to guests.
For instance, Christopher Falvey, co-founder of Unique Nola Tours, provides information to guests on local experiences, especially walking tours. He recommends "doing what you can to provide an immersive experience where guests feel like they're a part of local culture."
Action steps
Provide recommendations for places visitors may not know about or that showcase the area's local flavor.
Create a local guide that helps visitors learn about and explore the area. This guide could also be a way to build a connection with other local businesses.
3. Use phrases and sentences in the listing's description so potential guests can visualize themselves staying there
Lauri Flaquer, co-owner of Oasis on the Water Retreat and an Airbnb Superhost, sets a scene with her description. It captures the cozy and relaxing feel of her Airbnb and allows potential guests to visualize themselves there.
For example, she uses sentences like: "Whether sipping your coffee, watching a misty river or drinking in a crimson sunset, you'll savor each moment spent here."
Additionally, she focuses on marketing her area as a destination, not just a location.
For example, the listing's description lets the reader know about nearby activities and experiences, including some unique to that property, like the "private kayak, canoe, paddleboard launch, and swimming area across the street."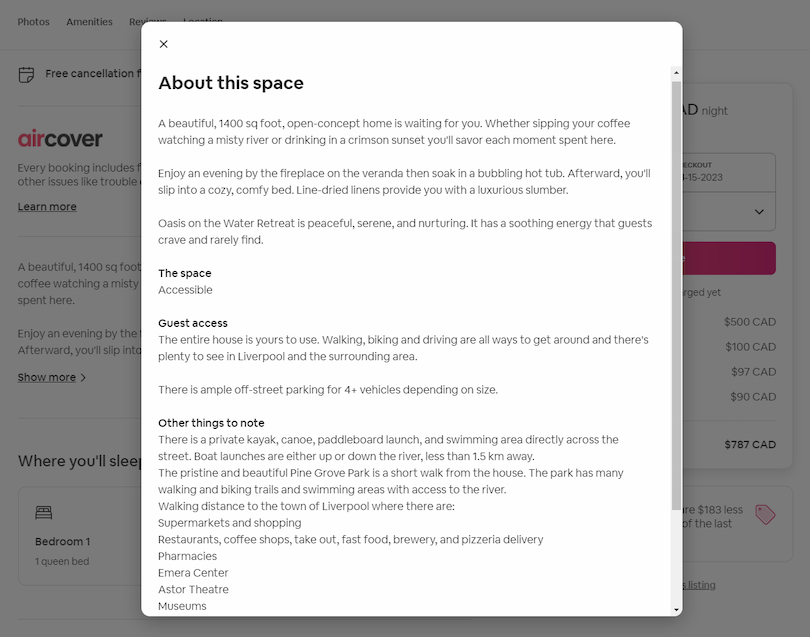 Action steps
Incorporate language that helps potential guests visualize themselves staying at your short-term rental, including words that evoke emotion.
Include information on specific amenities, experiences, and destinations they can enjoy while staying. If your property has unique features or experiences, highlight those, such as "private access," or if equipment like bicycles, paddleboards, or similar objects are available.
4. Use high-quality photos that make readers feel like they're there
Potential guests want to see the property firsthand to ensure it's the right fit for them. But your listing photos can do so much more.
Your photos are an opportunity to help potential guests visualize staying at your rental property. They complement your listing's description, allowing people to see and feel what it's like to stay at your location.
For example, Lauri Flaquer's photos for her listing, Oasis on the Water Retreat, set a scene. Additionally, the images bring elements of her description to life, such as "Enjoy an evening by the fireplace on the veranda, then soak in a bubbling hot tub."
This combination makes it easy for people to see themselves staying and relaxing at her property.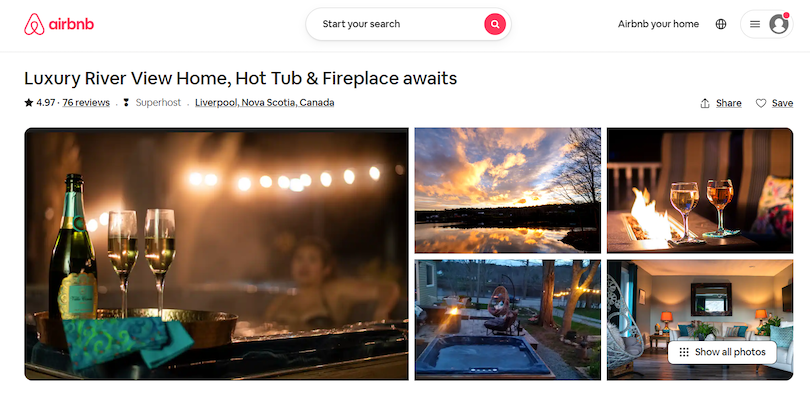 Action steps
Use high-quality pictures that show the unique features of your property and help people visualize themselves staying there.
Hire a professional photographer familiar with short-term rental properties if possible.
Make sure photos are well-lit and up-to-date.
5. Highlight the distinct personality of the property
The more you can show the personality of your property through your listing, the easier it is to attract the right audience.
Pam Abrahamsson, an Airbnb Superhost, recommends showing personality both in your listing and in your properties. "It's why many people want to rent someone else's home."
For instance, the listing for her property, A Street Cottage in Crescent City, highlights the eclectic decor and bold color accent walls that represent the feel of the place. "This property has a very distinct personality, but my guests self-select."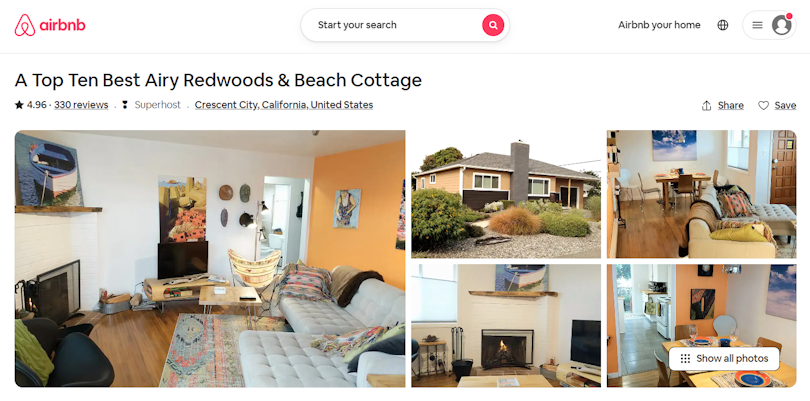 Her other property, The Getaway, has a comfortable, eclectic vibe with local wood accents that pulls in elements of the location — the redwoods and beach.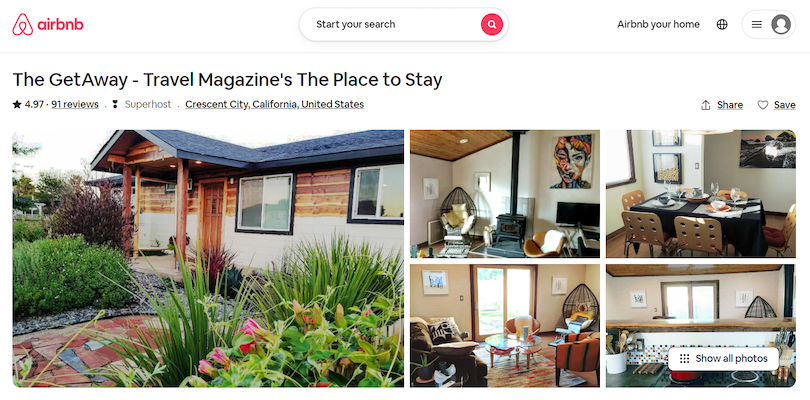 Despite both locations being near each other, she never feels like her properties are competing. "They are very different in personality. One's more 'martini and jazz,' and the other's more 'sunshine happy puppy' vibe."
Lauri Flaquer also finds that this approach helps you build a connection with guests, which can help with word-of-mouth marketing. "Guests come, have a great time, fall in love with the place, and refer friends and family to come stay with us."
Action steps
Avoid a generic listing by showing and describing your property's unique elements and personality.
Decorate with the comfort and needs of your guest in mind.
Show and mention luxury or amenities that help your property stand out in your listing.
6. Create a website for your Airbnb listing
Christina LeVasseur, co-owner of Cozy Mountain Escape in Silverthorne, Colorado, created a website to increase the chance of potential guests finding the property during their research.
"The website has helped us rank on the first page of Google for keywords related to "Silverthorne Airbnb."
The website also makes booking the property on Airbnb easy, with multiple links taking them to the listing.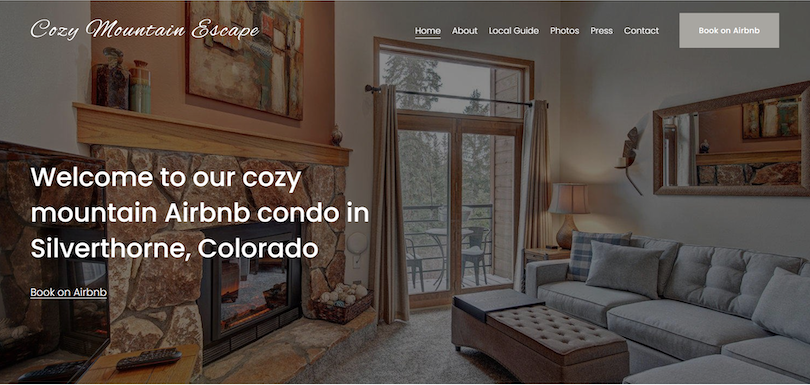 Lauren Keen Aumond and her husband also maintain a website, Vacation Tarpon Springs, to promote their properties. The website lets them provide additional information to potential visitors and guests and makes it simple for visitors to explore each of their properties.
"A hidden benefit of the website is our blogs, which we also use in our communications with guests, especially the ones about where to eat and what to do in each location."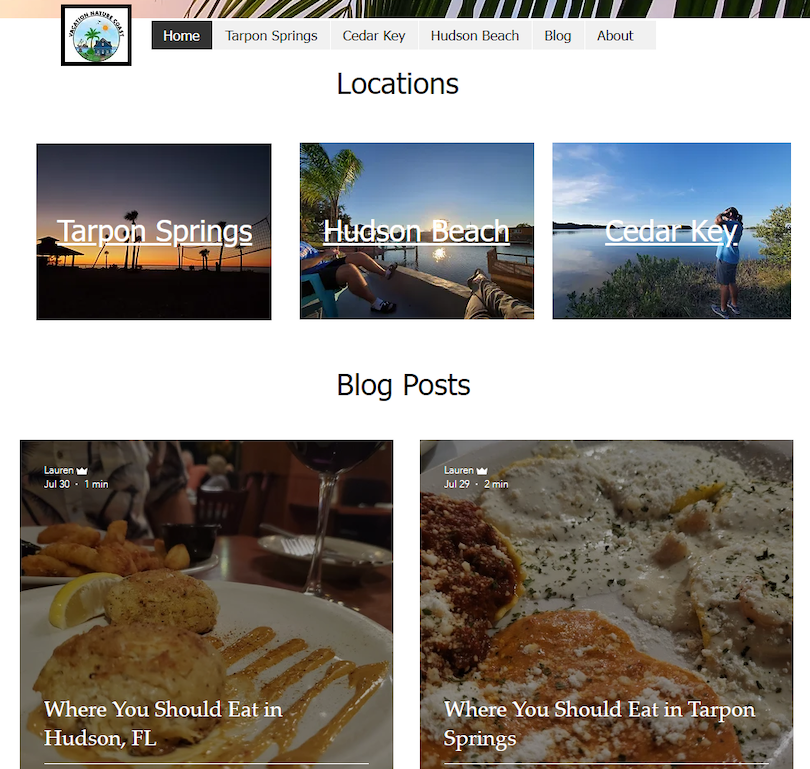 Action steps
Provide blog content on your website that provides visitors with useful information about the location.
Include reviews from previous guests on your website.
Include keywords, especially in your profile and listing titles, that visitors commonly use in their searches to help you rank in Google.
Final thoughts: Build a connection with your Airbnb listing
Getting your listing seen by your ideal audience can take time, especially when you're starting.
Fortunately, creating a detailed listing lets potential guests get a feel for your property and visualize being there. This step helps you build a connection with your ideal audience. And over time, your listing will start to stand out, so you attract new guests.
Related articles