With demand for short-term rentals climbing, more homeowners are getting into the Airbnb game to earn extra money.
One critical choice hosts make when they get started on Airbnb is whether to manage the rental themselves or hire someone to do it for them.
Managing an Airbnb is no small task, given the expectations of today's renters. Some hosts see that as a benefit, allowing them to meet new people and create a personalized experience. However, others prefer a more hands-off approach.
We asked current Airbnb hosts to share their thoughts on when it may and may not make sense to hire a property management company — and what things to consider if you do.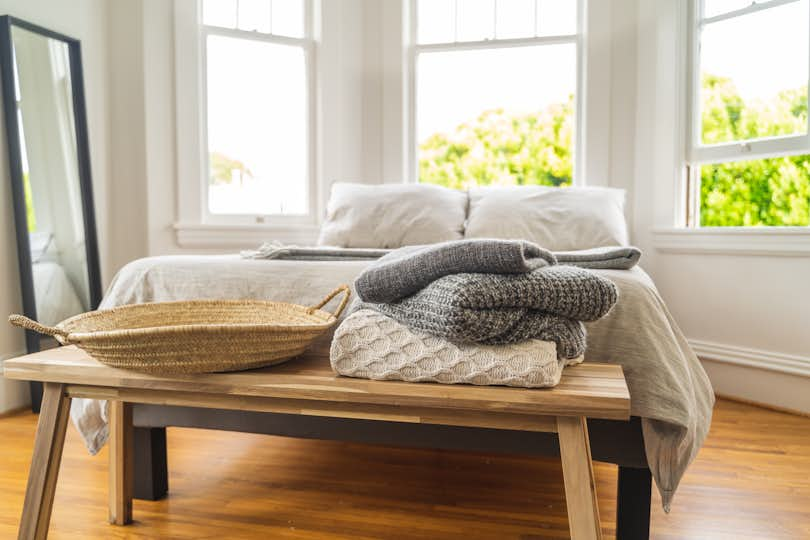 What is involved in Airbnb property management?
Your success on Airbnb will depend on how well you manage your property and the guest experience.
Provide guests with a positive and memorable stay, and they'll be far more likely to become repeat customers and leave positive reviews that attract new visitors. Their repeat business and willingness to spread the word will in turn increase your future booking rate and profits.
Whether you manage the property yourself or hire someone, here are some of the common tasks associated with hosting a property on Airbnb.
Listing and marketing the property
Managing the property's listing and bookings
Creating and monitoring a pricing strategy
Managing payments and financial reporting
Answering guests' questions, solving any problems that arise, and providing information about local amenities, attractions, and events
Overseeing check-ins and check-outs
Restocking supplies
Keeping up with maintenance and repairs
Cleaning
Managing guest reviews
Airbnb property management options
Fortunately, you have options on how you'd like to manage your short-term rental property. So you can choose a solution that fits your needs, situation, and lifestyle.
Three common short-term rental property management options include:
Self-management
This option involves you personally overseeing the management of the rental property. Many hosts who select this option will be actively involved in all aspects of hosting, including , marketing, pricing, coordinating with guests, and more.
If you opt to self-manage your Airbnb, you may still choose to hire some third-party service providers to help with tasks like maintenance, cleaning, and repairs.
Additionally, you might choose to automate certain things. For example, some hosts auto-generate booking confirmations with details about the property and what to expect during the stay. They might also opt to set up a lock box so guests can check themselves in and out.
Managing your property yourself provides you the most control over how your property is run and allows you to retain the greatest share of the profits. The tradeoff is that this approach requires more of your time.
Hiring a full-service property management company
As an alternative to self-management, you could hire a property manager or management company to oversee your Airbnb rentals.
This option allows you to have a hands-free approach. However, you'll have less control over how the property is managed, and you'll have recurring management fees.
Fees can range from 10% to 50% of the rental cost and vary based on rental location, the company selected, and specific services used.
Using a hybrid or half-service system
Another option involves hiring a property manager or company to do some of the tasks while you do the rest.
This approach lets you focus on tasks that you have the time and ability to do yourself and retain some control over your property's management. Additionally, property management fees will be less than if you hire a full-service company.
4 reasons to manage your own Airbnb rental
1. You have the time and skills
Some hosts enjoy managing their rentals. They like meeting new people and have the skills, time, and systems necessary to effectively do the work themselves.
For instance, Lauren Aumond of Real Adulting Is Easy manages nine short-term rentals with her husband. They set up systems, automations, and resources to make it easy for them to manage the properties themselves.
"I'm heavily automated with different software for property management, pricing, lock automations, and payments. Plus, my husband is handy."
However, she does hire out some tasks like bookkeeping and cleaning.
She suggests hosts "try managing it yourself. If you're bad at it or hate it, then hire it out."
2. You want a better understanding of the short-term rental business
Many current hosts recommend managing a property initially, so the new host can better understand how the business works.
For instance, Renata Castro, an Airbnb host of the Jewel of the Woods property and a long-term rental owner, found that "there's a learning curve in managing a short-term rental, which is more hospitality-oriented than many people anticipate."
3. You want to save money
Veronica Hanson, an entrepreneur and Airbnb host, didn't want to split her profits with someone else.
"We only have one house to manage. Coordinating housekeeping and maintenance from abroad is not a problem as long as you have a few trusted and trained crews in rotation."
4. You want to maintain control over how the property is managed
Some hosts start a short-term rental specifically because they enjoy the more hospitality-focused rental market.
Additionally, self-managing your property ensures tasks are done to your satisfaction.
David Hampshere, CEO of Purple Egg Real Estate and short-term rental host, self-manages his property "to ensure it's done right and build experience. Plus, you can't judge a third party's work unless you have the experience yourself."
4 reasons to hire an Airbnb property manager
1. You want to save time
Luke Xavier, an Airbnb host and travel blogger at USA Rover, used to manage his rental property himself. But a year ago, he hired a property manager to handle the day-to-day tasks. "I don't have time to manage the property myself," he says. "Hiring someone allows me to focus on other aspects of my business."
Adam Dailey, an entrepreneur and host of 10 short-term properties, also hired a property manager so he could focus on what he's best at, such as property acquisitions and design.
However, he suggests hosts should "map out the amount of money you would pay a property manager to ensure it's worth it to you."
2. You want to outsource some tasks but manage others yourself
The extent of your involvement can vary depending on if you select a hybrid or full-service company. This approach can give you flexibility and allow you to focus your energy on tasks that best suit you.
Before hiring a manager or company, consider what specific tasks you want them to do.
For instance, Wesley Williams, an Airbnb host and real estate investor, went with a hybrid management company to take care of guests, while he does the upkeep.
"They manage the listing, bookings, and communications with guests," he says. "I manage the cleaning, repairs, and maintenance." This arrangement saves him money and allows him to focus on what he has time for and enjoys.
However, Luke Xavier also notes that if you hire a manager, "you'll need to be comfortable with giving up some control over your property."
3. You want to provide a consistent experience for guests
Short-term rental guests typically expect a high-quality experience. Mark Severino, an Airbnb host and real estate investor, describes it like this: "Short-term rentals are essentially a hospitality business that can require you to communicate with guests at all hours."
Yet, some hosts don't have the time, experience, or proximity to respond to guests' needs as effectively as a local property manager.
For instance, Marcia Sherrill, a longtime Airbnb host, finds having a property manager gives her peace of mind and ensures her guests have a positive experience.
"Property managers know exactly what to do, what works, and what doesn't. They are experts and can handle any problems that arise."
Additionally, Charles Floate notes that a property manager "is well-trained in handling all guests' interactions from resolving disputes peacefully to assisting with large requests." As a result, this can take the pressure off the host and ensure the property runs smoothly.
4. You want to increase a property's functioning and efficiency
Working with a property manager helped Airbnb host Jon Sanborn of Brotherly Love Real Estate increase the efficiency of his multiple rentals.
"The property manager I work with is reliable, considerate, and has a system. Under their management, I've seen a rental increase of 21%."
Zackary Smigel, the founder of Real Estate License Wizard, appreciates that his property manager can quickly address guests' questions and ensure they have a positive stay.
"I found someone who understood my needs, so this investment has paid off. Just be sure you research different companies thoroughly."
Tips from Airbnb hosts on choosing a property management company
Hiring a property manager is a significant decision since this is ideally someone you'll be working with for some time. So you'll want to take time to carefully research your options.
Here are some tips from Airbnb hosts to help select the right property manager or company for you.
Create a list of services you need before talking with managers so you don't end up with extras you don't want. Judi Kutner, a real estate agent and head writer of Apartment Notes, also recommends identifying tasks you may need an expert to handle, such as legal processes or advertisement.
Research multiple companies before deciding, and create a spreadsheet of key information to make it easier when comparing your choices.
Review feedback from other hosts in your market before hiring a property manager. Amr Shafik, a short-term rental host and co-founder of Getaway, has found that "the more local knowledge and vendor relationships the manager has, the better."
Know what price you can afford and still remain profitable. Dennis Shirshikov, an Airbnb host and strategist at Awning, recommends "being direct about pricing and shopping around."
Ask questions about how they communicate with you and their customer support services for guests, including how quickly they respond to guests and maintenance issues.
Final thoughts
Ultimately, the decision on who will manage your property depends on your goal — whether it's maximizing your profit or your time.
Plus, you can always re-evaluate your decision later. For instance, many hosts start out self-managing, but later hire a manager as they scale their business.
Each choice offers its own benefits.
Related articles