A staggering 93% of Americans work at least one side job to make extra money or help make ends meet, according to a recent survey from Insranks. Among those, 51% are considering an additional side hustle because of inflation, which sits at its highest point in 40 years.
For busy people and families, side gigs like blogging or selling your DIY wares on Etsy aren't always possible. However, a busy life doesn't prevent you from earning extra income.
If you own a home, you can put it to work by using the space in and around it. Many of these income-generating ideas require very little effort after the initial setup. Just make sure you aren't breaking any homeowner association rules or land-use laws in your area. That said, here are 11 creative ways to make money off your home.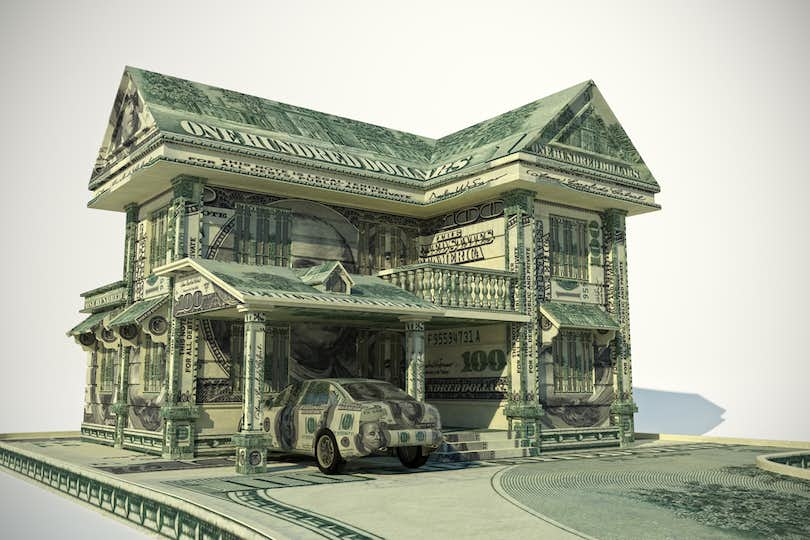 1. Transform your basement or attic into a storage unit
"Some of the most surprising ways to make extra income from your home are by renting out storage space in places like your attic, basement, or even an especially large and unused closet," says Leonard Ang, CEO of iPropertyManagement. "In high-demand areas, a closet can command $200 a month!" Apps like Neighbor and Stache are forums for listing your extra space for rent. The latter claims hosts make an average of $4,000 to $6,000 yearly.
2. Rent out your garage or extra parking space
"If you live near a public transportation hub, like a train station where parking is hard to find, you can rent out your garage or driveway to commuters," advises Melanie Musson, a finance expert with Clearsurance.com. "You can earn between $500 and $1,500 a month renting out garage space if your garage is in the right location. (My friends do this in Philadelphia, PA, near the Fox Chase Train Station)." Spothero and Neighbor offer platforms to list your available parking spot. Just be sure you check your association bylaws if you live in an area governed by an HOA.
3. Animal lover? Why not pet sit in the comfort of your home?
One way to make money from your home is to open it up to four-legged friends in your area. Websites like Rover connect pet owners to local pet sitters and boarders, many of whom host pets in their homes. For pet owners who like to pamper their fur babies, it's an appealing alternative to a less personalized daycare or boarding facility. And as a host, you have control over your rates, booking schedule, and house rules, including the sizes and species of pets you'll accept! Many pet hosts on the site charge upward of $50 per night, making it a fun and fairly lucrative side gig.
4. Become an RV host
Musson also has friends who reserve a portion of their driveway to rent out to RV travelers. "While this won't work everywhere, if you live in an area with a housing crisis, there are almost certainly people who will be willing to have a place to park their RV," says Musson. "All you have to provide is space and electric hookups." You can also temporarily rent out your RV spot through platforms like Vanly and RVwithme. If you like the idea of turning your unused outdoor space into a campground, you could earn an extra $700 or more a month, according to Vanly.
Keep in mind that some municipalities may have licensing and registration requirements for this type of business. And if you live in an HOA, you may have trouble convincing your neighbors to let an RV move into the neighborhood, but in areas with lax land use requirements, renting out a section of your property to travelers could be a low-lift way to make extra cash.
5. Start a community garden in your backyard
"We decided a few years back to rent out small portions of our property for people that didn't have space and wanted a small vegetable garden," says Richard Clews, founder of pantsandsocks.com, who at one point had eight people renting small garden plots on his property. "We rented out plots for $100 per month, plus they needed to pay for a drip system to be installed. We were generating $800 per month, and after about $200 going towards the water bill, we had $600 for groceries every month."
If you've got extra garden space, you can list it through websites like YardYum and SharedEarth. What Clews likes most about the setup is how little effort it requires. "Our garden tenants could enter through a side gate whenever they wanted on the weekends. If there were drawbacks, it was only that there might be a few people on your property every weekend, but we did a good job of screening people and haven't had any problems."
6. Turn your backyard into a private dog park
"One money maker that has honestly been a perk in and of itself has been making our yard available on SniffSpot," says Roland Foss, a senior operations manager at BellHop. The app lets users rent out their yards to dog owners who want a safe space for their pets to run around. (Don't worry. It's on your guests to pick up after their pets.) "In addition to providing us with several hundred dollars per month in extra income," says Foss, "it has also given our very friendly dog and three-year-old daughter plenty of backyard playmates."
As with any business, there may be local requirements about land use and business licenses in your area, but Sniffspot claims it's never encountered a law that prohibited users from opening up their yard for this purpose.
7. Have a stylish space? Open it up for film and photo shoots
"Especially for those with a talent for interior decorating and design, allowing companies to film advertisements or take photos in your home can be an excellent and fun way to make some money off your home," suggests Grace Baena, interior designer at Kaiyo.com. Platforms like PeerSpace and HomeStudio let you list your home for free and take a percentage of the booking fee when a client reserves your home. In addition, they let you name your price, and they provide insurance coverage in case anything is broken or damaged during the shoot.
8. List your home on AirBnb
"For two years we used our home as a part-time Airbnb to fund traveling with our kids," says Veronica Hanson, Owner of Nomad Veronica. "The trick was, we set the price high enough that it wasn't booked that often, and when it was booked, it produced substantial enough income for us to take a fun vacation. We traveled to France, Italy, Switzerland, and a couple's trip to Mexico while renters were in our house. Sometimes, because of the kids, we ended up doing staycations near their school, but the kids loved having a swimming pool in the hotels.
Hanson says she and her family earn about $40,000 in extra income renting their home an average of 50 nights per year. And it's fine if you don't want to pick up and go whenever someone books your place. As long as you're comfortable hosting travelers, you can rent out your guest bedroom (preferably with its own entrance) and still earn quite a bit of cash in a month.
9. Try your hand at house hacking
While not for everyone, house hacking — occupying a portion of your property while renting out the remaining space — can be an amazing way to cover most or all of your mortgage. Just ask real estate investor Mark Severino, who's currently renting out half of his duplex in Dallas, TX, while living in the other unit upstairs.
"I've experimented with it as a traditional rental, AirBnB, and now a furnished rental (which has had the best return)," says Severino. "The extra income is $2,000 per month and pays the vast majority of my mortgage, freeing up my own money to reinvest into my business and keep my living expenses low."
10. Turn your backyard or pool area into an event space
Have a gorgeous outdoor area? Or a private oasis with a pool? Consider renting your backyard for weddings and parties. Hardy Selo of Property Guru recommends an app called Splacer, which links you with event planners seeking unusual places. Many spaces listed on the site rent for upward of $1,000 an hour. For those with a pool worth diving into, says Selo, Swimply is another option. The app lets you rent your pool out by the hour to locals seeking an escape.
11. Host an ongoing garage sale
In California, a web developer who just bought his first condo pays for maintenance and upkeep by reselling goods he finds at local auctions. He parks his car in an outdoor parking spot and stores the auction items in his one-car garage. He's sold everything from rugs to vacuum cleaners to cycling gear. Not every item sells, so he sometimes has to eat the costs associated with the original purchase. However, more often than not, he can earn several hundred dollars per month in extra income, which he puts directly into an investment account set aside for housing-related expenses.
Ready to put your home to work for you?
In times of rising inflation and economic uncertainty, a side gig can be an empowering path toward greater security. Even better if it requires little time or effort on your part. By maximizing the space around your home, you can start generating that extra income without the drag of a second job.
Related Articles