With rising inflation rates and mortgage rates, you might feel apprehensive about buying a home anytime soon.
A high inflation rate means you will likely spend more on everyday essentials, like groceries. That, in turn, means less cash available to save for house down payments, closing costs, or upgrades, all of which can cost tens of thousands of dollars.
There is hope, though. According to a survey by Self, a resounding 45% of working Americans supplement their income with side hustles. The survey of more than 1,100 Americans found many use side hustles, earning an average of $897.04 per month.
That's money you can use to prepare for homeownership. Here are a few examples:
Pay down debt: If you have high-interest debt, paying it down could raise your credit score. A good credit score typically qualifies you for competitive mortgage interest rates, saving you thousands over the course of the loan.
Save for a down payment: If you put 20% down on a home, you can avoid paying private mortgage insurance (PMI), which adds another monthly bill.
Pay closing costs: Your mortgage company should give you an estimate of the money due at closing. First-time homebuyers often don't realize you'll pay large expenses at closing, like paying for months of homeowners insurance in advance. After saving so much for a down payment, closing costs can come as a shock.
A side hustle can help fund these goals, cover basic monthly expenses, and alleviate financial stress. In fact, a recent Bankrate gig survey showed that "41 percent of U.S. adults with a side job in 2022 need the extra income to pay for everyday living expenses."
Self also reported that 32.2% of Americans use their side hustle income for disposable spending, and 29.8% use it to save and invest. The goal is to get to a financial position where your side hustle income is an asset that helps you to reach larger financial goals, rather than a necessity because the cost of living is too high.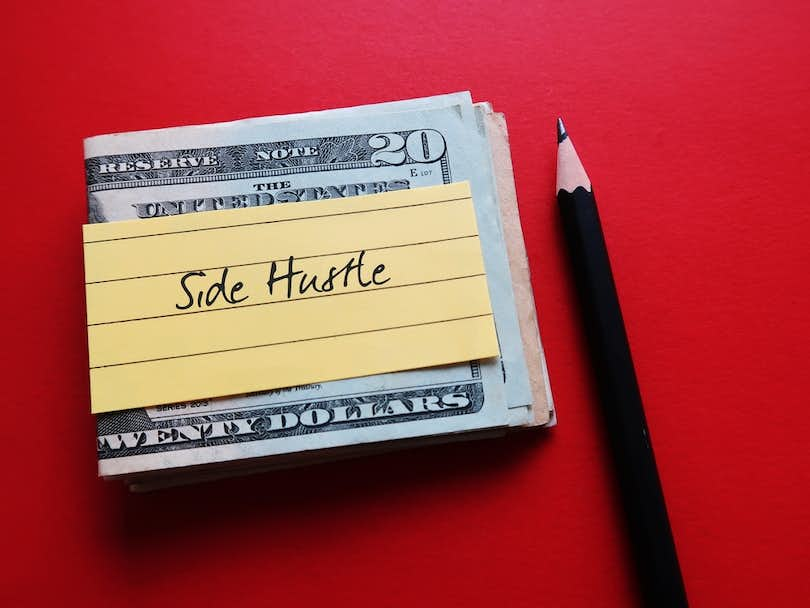 These people saved up with side hustles
If you can earn enough from your side hustle to utilize it for purposes beyond basic needs, consider using it to help pay for a house. Your side hustle income can help contribute to savings for a down payment, closing costs, renovations, and furniture.
Lindsey Morris, the creator of Annie's Inspo, said, "I earned $39k in profit from reselling products on Amazon. I used this money to bring to closing for the down payment of our house."
Bhawna Balchandani, the founder of Penny Calling Penny, said she became a freelance proofreader and content writer on the side to make extra money. Additionally, she sold her own photos to Shutterstock. This enabled her to save just over $5,000 in a few months. She said, "That money was used up for the down payment of my dream house."
In 2005, at the height of the real estate market, Jim Wang purchased a townhouse in Maryland for $295,000. At the time, Wang explained he had to take out a first and second mortgage as he didn't have the cash to put a full 20% down. The second mortgage was $15,000 and came with a high-interest rate, so Wang wanted to pay it off as soon as possible.
Fortunately, the year before, Wang started his first blog as a side hustle. It took a couple of years before the website produced more than a few hundred dollars a month. But, once it did, Wang was able to use the extra cash "to aggressively pay down that second mortgage as quickly as possible."
John Pham also used blog income to help him achieve his real estate goals. After years of helping others grow their websites behind the scenes, he decided to start his own blog, The Money Ninja, during the pandemic.
His site, which he worked on in addition to having a full-time corporate job, enabled him to produce enough extra income to put 20% down ($181,000) on a $905,000 Boston penthouse.
What side gigs might you do?
Of course, your side hustle doesn't have to bring in hundreds of thousands of dollars to be considered a success. For many Americans, having an extra $500 to $1,000 a month can make a marked difference in their ability to pay their bills or enjoy some small luxuries, like dinners out or a weekend trip every now and then.
The best way to choose a side hustle is to lean into skills or talents you already have. For example, consider becoming a fitness teacher if you enjoy taking fitness classes. If you like being around children, ask for babysitting jobs, which can be very lucrative.
You could be a barista if you can only work extra hours early in the morning. If you need to keep your time flexible, driving for Uber or Lyft might be a great option.
If you're an excellent writer, there are many places online where you can get paid to produce content. If you've been acting all your life, try your hand at getting paid to do voiceovers.
Whatever you choose, a side hustle should bring in income and even add a little joy to your life. It's a way Americans can take their financial lives into their own hands and earn enough to weather an economy with an uncertain future.
With enough consistency, you can grow your side hustle into a small business that creates a solid monthly income. Then, you can decide how you want to spend it, whether it's your regular monthly bills, family needs, hobbies – or a home.
Related articles