In a difficult market for buyers, lenders are also feeling the squeeze. Mortgage purchase applications are down 29% over this time last year, with more and more buyers being priced out by spiking interest rates and high home prices.
To lure buyers back to the signing table, mortgage companies are serving up incentives to help buyers cut their interest rates — at times covering the costs out of their own pocket, or working with the seller to pay for the discount on your behalf.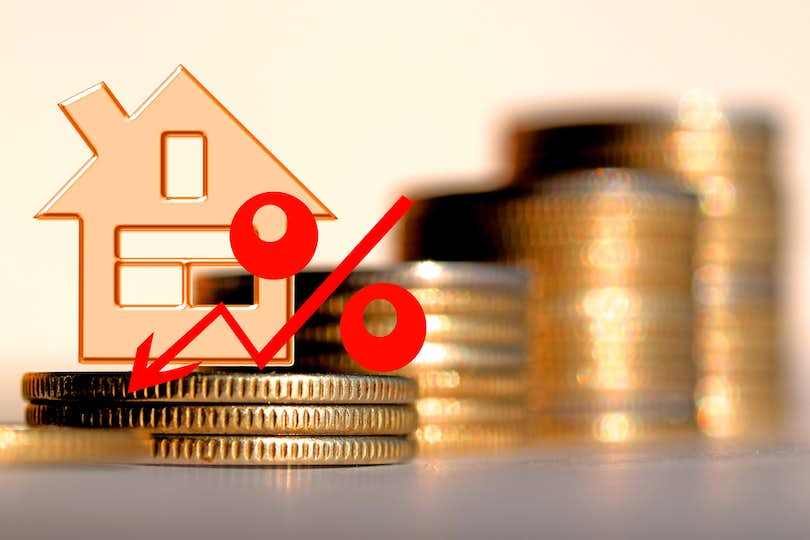 Rocket Mortgage, for example, the nation's largest mortgage lender, recently announced its "Inflation Buster" program, giving homebuyers a discount of one percentage point over the first year of their loan.
The discount is fully funded by Rocket Mortgage, which says a buyer could save about 10% off their first 12 mortgage payments, given a 30-year fixed rate of 5.75% on a loan of $400,000. Actual savings will vary by interest rate and loan amount.
Rocket's move follows an earlier play by rival lending giant United Wholesale Mortgage (UWM), whose "Game On" initiative slashed prices across all loan offerings by 50 to 100 basis points (0.5–1 percentage point) this spring and offered to match the prices of 15 leading lenders, including LoanDepot, Citizens Bank, and Penny Mac.
Other lenders, like RWM Home Loans, which is a mortgage partner of Clever's, are touting a two-year reduction in interest through what's called a 2-1 buydown.
Let's say you qualify for a mortgage with a 30-year fixed rate of 6%. With a 2-1 buydown, you'll pay 4% interest in the first year of your mortgage. In year two, you'll pay 5% before graduating to the full 6% interest rate in year three.
The two-year savings can be significant — equating to roughly $10,800 on a $500,000 loan, assuming a 20% down payment and an interest rate of 5.500% (*5.552 APR) before the discount.
2–1 buydown savings on a $500,000 mortgage (5.500%, 30-year fixed rate)
Years
Interest Rate
Monthly Payment
1
3.500%
$2,245
2
4.500%
$2,533
3–30
5.500%
$2,839
Total savings, years 1–2: $10,800
Source: RWM Home Loans
Another fairly well-known option on the table to help combat rising interest rates, notes Drew Carls, a loan officer with Legacy Mortgage Mutual, is a permanent interest rate buydown, also funded by the seller.
Like with the 2-1 buydown scenario, Carls explains, "the sellers will provide a seller concession, which is then used to buy discount points to lower the borrower's overall interest rate."
It's worth noting that the rate reduction on a permanent buydown won't be as significant, since it lasts the life of the loan, and not just the first two years. Generally, you can shave half a percentage point off your 30-year interest rate for every 1% extra of the loan value paid in closing costs upfront.
However, a buydown may provide even greater savings than a lower list price, says Carls, who shows how the two different scenarios might play out on a home list at $500,000.
Savings comparison on a lower list price vs. rate buydown
| | $500K List Price | $20K Price Reduction | $6K Seller-Paid Closing Costs | $8K Seller-Paid Closing Costs |
| --- | --- | --- | --- | --- |
| Purchase price: | $500,000 | $480,000 | $500,000 | $500,000 |
| Loan amount: | $400,000 | $384,000 | $400,000 | $400,000 |
| Interest rate: | 6.000% | 6.000% | 5.500% | 5.250% |
| APR: | *6.124% | *6.126% | *5.758% | *5.550% |
| Term (months) | 360 | 360 | 360 | 360 |
| Payment: | $3,381.53 | $3,285.60 | $3,254.49 | $3,192.14 |
| Cash to close: | $111,392.29 | $107,272.84 | $111,310.10 | $111,269.00 |
| Monthly savings: | $0.00 | $95.93 | $127.04 | $189.39 |
Source: drewcarls.com
In Scenario 1, the buyer negotiates a $20,000 discount on the asking price, lowering their down payment by $4,119 and saving them $96 a month on their mortgage. (This assumes a 20% down payment and a loan for the remaining $400,000, at an interest rate of 6%.)
In Scenario 2, the buyer asks the seller to pay $6,000 in closing costs to buy down their interest rate by half a percentage point. At the new lower rate of 5.5%, the buyer shaves $127 off their monthly payment. An $8,000 in seller-paid closing costs (or 2% of the loan amount) takes $189 off the buyer's monthly payment. That's double the savings afforded by a $20,000 discount on the list price.
Whether you bargain for a lower purchase price or discounted interest rate will likely depend on your priorities and on how long you intend to stay in the house. Some people may prefer the upfront savings to a lower monthly payment, and vice versa.
How to take advantage of mortgage rate discounts
Both Rocket Mortgage's 1-year discounted rate and UWM's price match initiative will be applied automatically to those who qualify for a conventional, FHA, or VA purchase loan with either company. If your mortgage company allows for an additional buydown on top of a competitive interest rate, you could be in for even greater long-term savings.
To take advantage of a buydown, you'll need to ask your lender about the program and negotiate with the seller to cover the cost of the closing credit. Using RWM's 2-1 buydown example from above, the seller would need to provide a concession of $10,800, equal to the total of your discounted payments during the first two years of your mortgage.
While that $10,800 concession may seem like a lot, the current market slowdown has made a lot of sellers more open to paying it — especially when it means getting the desired asking price for their home. Home purchase applications are down 20% from a year ago, and the supply of homes for sale has nearly doubled since January.[1] As a result, there are fewer buyers competing for a greater number of homes.
In many markets, home prices have begun to fall from their June peaks — and some sellers are eager to make a move before prices drop even more.
"Many sellers still need to sell their home for one reason or another, and consider this a small price to pay in order to get their property sold as soon as possible," said a spokesperson for RWM.
Even if a seller isn't willing to cover the full costs of the buydown, your mortgage company may be able to help make up the difference. The buyer's or seller's agent may also be willing to assist through a commission rebate given at closing.
According to several realtors we talked to, these types of concessions — while unheard of during the pandemic housing boom — have become much more commonplace as the market begins to balance.
Colorado realtor Sean Gilliam recently had a seller offer his clients $20,000 in concessions to help pay down their interest rate. And in Florida, realtor Andrew Iremonger is also seeing buyers get more aggressive with their asks for closing cost concessions.
"Today, many of those buyers who were outbid 12 months ago still want to be homeowners," said our source at RWM, "but they simply cannot afford the record high monthly payments. This has resulted in a buyer's market, where there are more properties to choose from and deals to be had."
With a rush of lender incentives and a swiftly rebalancing market, weary buyers who had repeatedly been outbid during the housing boom may finally have an in, especially if they're able to refinance at a better rate once the discount expires.
"Many economists believe rates will trend lower again in the coming years," said RWM's spokesperson. "At that time, these homeowners will hopefully be able to refinance into a lower 30-year fixed rate, which reduces their monthly mortgage payment for good."
Anticipating the future drop in mortgage rates, Rocket Mortgage is advertising what it calls its Rate Drop Advantage program as a companion to the Inflation Buster incentive, saying the program could help cover many of the costs associated with a future refinance.
While there's no telling what the future holds for the broader economy, for now, buyers have their pick of deals to choose from when it comes to shopping mortgage rates.
Related articles