After two years of rock-bottom borrowing costs and a nationwide scramble for home offices in the suburbs, U.S. home prices reached peak insanity an all-time high this spring.[1]
Now, as higher interest rates and recession fears force the housing market down off its adrenaline high, some buyers who rushed to get in at the top are wondering whether that $600,000 panic buy was such a great idea.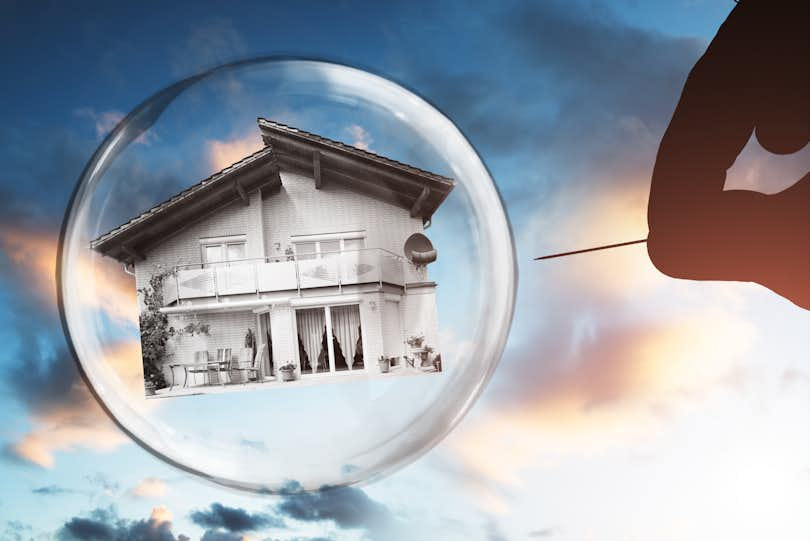 Homes in virtually all of the U.S.'s largest 100 metros are overvalued, some by as much as 70% — this according to a recent analysis by Florida Atlantic University (FAU), which looks at current home values relative to a market's long-term home price trend.
Moody's Analytics, as first reported by Fortune, drew a similar conclusion about the 2022 housing market: Among 413 of the largest regional housing markets in the U.S., 96% are currently overvalued.[2]
👋 Get free advice from a licensed expert
If you're looking to buy or sell a house and weighing your options, Clever can help!
Our fully licensed Concierge Team is standing by to answer questions and provide free, objective advice on how to get the best outcome with your sale or purchase.
Ready to get started?
Give us a call at 1-833-2-CLEVER or enter your basic info below. Our Concierge Team will be in touch shortly to help.
Remember, this service is 100% free and there's never any obligation.
Boise tops the list of most overvalued markets in the U.S.
In both the FAU and Moody's analyses, Boise came out on top as the most overpriced market in the U.S. If you want to buy a house there, you'll pay a premium of more than 70% relative to what area incomes and long-term price trends indicate the price should be.
While there are some discrepancies between the two data sets over just how much particular markets are overvalued, both show that the following large metros are off by 50% or more:
Boise, ID
Austin, TX
Las Vegas, NV
Ogden, UT
Phoenix, AZ
Charlotte, NC
Nashville, TN
Melbourne, FL
Spokane, WA
Most overvalued markets among top 100 U.S. metros
Many U.S. cities could see home prices drop in 2023
Perhaps just as shocking as the inflated sticker price on U.S. homes is how quickly they became unaffordable.
Two years ago, Moody's found that only 81 of the 414 housing markets in its analysis were overvalued by 10% or more — and none by as much as 50%. Fast forward to 2022, and that number has jumped to 344.[3]
While the meteoric rise in home values has left many potential buyers wondering when prices will fall back down to earth, economists agree a 2008-style collapse isn't very likely. Given the tight lending restrictions put in place by the Dodd-Frank Act, the current housing market bears little resemblance to the one that preceded the Great Recession.
Indeed, Zillow's July home value forecast shows home prices rising another 2.4% over the next 12 months — although it's a steep downward adjustment from May, when they put that estimate at closer to 10%. Analytics firm CoreLogic also anticipates modest home prices growth through 2023.
More bearishly, Moody's chief economist Mark Zandi predicts that national home prices will essentially flatline in 2023.[2]
Regionally, however, he expects more volatility — with more than half of the largest 412 U.S. housing markets seeing a drop in home prices over the next 12 months and the remainder enjoying continued price growth.
Certain cities have already started to see a decline.
In Austin, for instance, where the number of active listings has more than tripled since the start of the year, Zillow data shows that home values are off by 2.11% since reaching their peak at the end of May, even after adjusting for seasonality. Boise, Ogden, Provo, and Salt Lake City are also down slightly since May.
Moody's anticipates that all but three of the top 20 cities on Florida Atlantic University's "most overvalued" list will see home prices drop by the end of 2023. The exceptions include Atlanta, Charlotte, and Raleigh, N.C.
Projected change in home prices through 2023
Given the degree to which housing markets are overvalued, a modest 1–5% drop-off in home prices may not provide current buyers with much relief.
Instead, upward pressure on home prices is likely to remain for some time as builders scale back construction and fewer sellers put their homes on the market amid decreased home-buying activity.
However, Moody's Chief Economist Mark Zandi notes that there's an important caveat to his firm's home price projections. Should a full-blown recession take hold over the next two years, the odds of which he places at about 50%, prices in the most overvalued markets could see declines of 15–20% or more.[4]
🤷 What does it all mean for buyers and sellers?
Sellers in these markets shouldn't expect continued price rises. If you've been waiting to cash in on your home's equity, don't wait too much longer.
Buyers waiting on the sidelines should watch these markets closely and be ready to jump in.
Buyers and sellers both should assess their personal situation and keep a close eye on their market. A trustworthy real estate agent can help you get a read on what's happening in your area and help you determine whether it's time to make a move or hold off.
Related articles