Weary home buyers are noticing a little less competition this summer after two years of a red-hot seller's market. But many sellers aren't giving in to the notion that the runup is over.
"It's become a bit of a stalemate between buyers and sellers," says Colorado real estate agent Sean Gilliam. "Buyers hover around a home, hoping the price will drop while they see which loan product will give them the lowest rate. Sellers still want that full price offer."
As buyers and sellers test the waters, some are overreacting or underreacting. That's understandable, but also costly.
Here are the three biggest mistakes realtors are seeing from buyers and sellers as the housing market cools.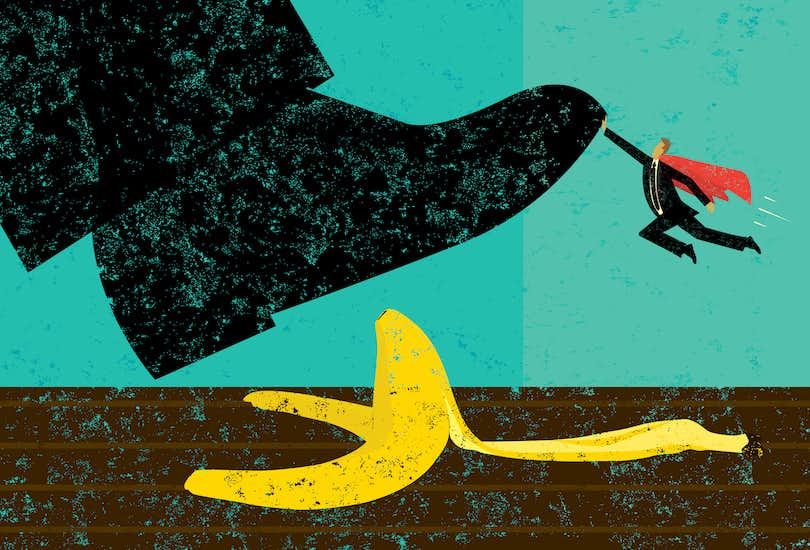 Image source: Shutterstock
Mistake 1: Submitting a lowball offer on a home you're serious about buying
In June, Redfin reported a drop in home buying competition, with the rate of bidding wars dipping below 50% for the first time in two years. With less competition from other buyers, some home seekers have gotten shockingly bold with their offers.
Los Angeles real estate agent Ken Sisson recently had a buyer instruct him to write an offer that was $100,000 under what the sellers were asking. However, the home ended up with multiple offers and ultimately sold for more than $20,000 over list price.
In coastal Florida, realtor Andrew Iremonger saw four separate offers come in at more than 25% off the list price — all within the same week, and all for different homes. In one instance, he had a buyer call him upset, claiming that his agent had suggested lowballing would be a good idea. He asked if the sellers would consider another bid, but by that time, it was too late.
"Unfortunately," says Iremonger, "these were just ill-informed buyers that all lost out because of misinformation they're hearing about the marketplace." He and other realtors we spoke to caution buyers to be realistic with their offers, especially if they genuinely want the home.
Even in the face of less competition, "sellers still want the higher prices others were getting the past few years," explains real estate agent Eric Hegwer, who helps buyers and sellers navigate Austin's housing market.
"The market is still a seller's market," agrees Iremonger, "and all signs point to that staying the case for the next five to six years at least."
The remedy: Ask for concessions instead
While buyers may not be able to get away with lowballing just yet, in Colorado, Gilliam has noticed that fewer buyers are willing to waive appraisal and inspection requests.
Iremonger is seeing a similar trend, with more buyers asking for help with closing costs — something that was unheard of just a few months ago.
''Sellers want that full price offer but are more willing to negotiate concessions," Gilliam says.
In one of Gilliam's most recent transactions, the sellers offered $20,000 in concessions to help the buyers pay down their interest rate — but only if the buyers agreed to the full asking price.
While home prices remain stubbornly high, buyers with a savvy realtor may be able to negotiate savings in other areas that significantly benefit their bottom line.
» READ: How to Find a Real Estate Agent
Mistake 2: Letting FOMO determine your asking price
"Sellers never want to miss the top," explains Sisson. "So they tend to want to list their homes 5% to even 10% above what the comparable sales would indicate as current value."
However, Sisson warns that the fear of missing out on additional appreciation that could be gained during the listing period is a strategy that often backfires. "By not wanting to leave any chips on the table," he explains, sellers ensure that there's a lot less interest in their home.
The housing data backs his point. A recent analysis by Redfin found that 10% of home sellers dropped their list price in June. In three-quarters of the markets analyzed, the number of listings that underwent a price drop was above one in four.
And, while home prices are still up nearly 12% year over year, Redfin data shows that they're off from their peak in June.
The remedy: Think of pricing as a marketing tool to create competition
Rather than trying to bake future appreciation into your listing price, Gilliam cautions sellers to adopt a more conservative approach to pricing, listing "at market value, or even just a tad below, in an effort to attract more buyers."
Sisson agrees. "Even during the Great Recession," he says, "there were homes that fetched multiple offers and sold over list price by employing the right pricing strategy."
When priced and marketed correctly, he continues, a home can almost always spark a bidding frenzy.
» LEARN: How to run a comparative market analysis (CMA) to price your home
Mistake 3: Waiting around for a massive price drop
Having seen home prices skyrocket to 30% above their previous peaks [1] in the mid-2000s, many homebuyers are waiting eagerly for the market to take a nosedive. They have some reason to believe.
Recently, Moody Analytics conducted an analysis for Fortune showing that 96% of U.S. housing markets are overvalued[2] — some (like Boise) by as much as 73%.
While most economists expect the growth in home values to slow over the next year, opinions are mixed on whether prices will actually drop.
Moody's Chief Economist, Mark Zandi, told Fortune that home prices in 149 of the most overpriced markets could slide by as much as 5–10% over the next year. However, other housing data experts aren't quite as worried.
Analytics firm CoreLogic places the number of markets at high risk of a price drop at closer to 45.

[3]

Meanwhile, Zillow forecast data shows home prices climbing year-over-year in virtually all 100 of the largest U.S. metros, with double-digit growth anticipated in 21 of those same cities.
Even if prices do fall, most economists agree that it won't be anything like the 33% drop [4] we saw in 2008 — a very different situation fueled by lax lending practices that have since been regulated out of existence.
» READ: A Guide to Surviving the Real Estate Market in a Recession
The remedy: Don't hold your breath for Armageddon
For one thing, the inventory of homes for sale remains historically low. While active listings have picked up steadily over the past several months, the number of homes for sale is still less than half of what it was in June 2019.
Given that builders are slowing their production to account for decreased buyer demand, the inventory squeeze may not let up anytime soon.
"At the end of the day, we have far more demand than we have houses," says Iremonger, who notes that millennials are stepping into home ownership in a big way.
A growing percentage of homebuyers are also willing to migrate in search of less expensive housing, according to Redfin,[5] meaning that previously affordable markets may not be so budget-friendly in the coming years.
"Nobody has a crystal ball," says Iremonger, "but I would assume we will see another one to three months of slowed transactions as buyers start getting used to the interest rates," which economists believe will remain at least at 5–6% over the next year.[6]
Once people realize rates aren't dropping anytime soon, he continues, they'll start flooding back into the market with a plan to refinance once rates go lower.
Hegwer believes that rising rental rates could also push buyers back toward the market. "When their leases expire," he says, "they will be hesitant to pay the higher rents."
👋 Key takeaways
The housing market is cooling quickly, but it's still a seller's market.
While bidding wars are falling out of style, lowball offers aren't going to cut it. Instead, try negotiating with the seller on concessions — such as asking them to help buy down your interest rate.
On the sellers' side, homes are no longer selling for above-asking in a single weekend. In a majority of the largest U.S. metros, one in four sellers dropped their listing price in June.
Even as more sellers drop their prices, economists don't anticipate a 2008-style housing bust. Waiting around for a dramatic drop in home values will most likely leave you disappointed.
Related Articles