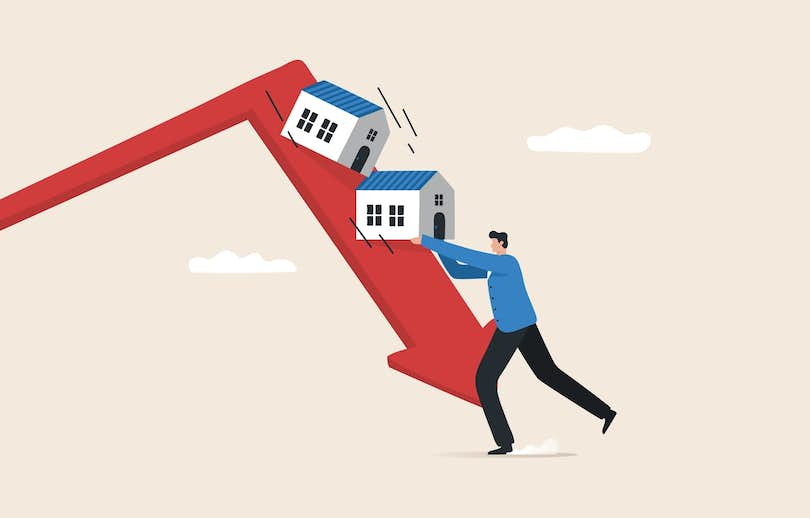 A Potential Market Correction | Renters Hit Hard | Millennials Especially Vulnerable | 6 Tips for Dealing With a Recession
Many economists say it's looking more and more likely that the U.S. is headed for a recession.[1] The stock market has entered a bear market (meaning it's down 20% from its peak), the Federal Reserve has increased interest rates to combat runaway inflation, and the red-hot housing market has begun to slow down.[2]
Americans seem to sense trouble on the horizon, too. Google Trends data shows the term "real estate market crash 2022" reached peak popularity (100%) in January/February of this year. While interest has fluctuated since then, it has continued to spike as the year has gone on, reaching 88% of peak interest from May 29 to June 4.
So how would a recession impact the 2022 real estate market? The truth is, the real estate market could actually be a bright spot in the recession. Although housing prices tanked during the post-2008 recession, they look to be supported by pretty strong fundamentals in 2022 and are likely to weather the storm.
This isn't as unusual as it might sound. Home prices rose or held steady in three out of the past five recessions.[3] On top of that, the real estate industry has evolved radically over the past decade, with the rise of the iBuyer industry, titanic brokerages such as Redfin, and innovative real estate companies like Clever Real Estate helping home buyers and sellers save on transactions — something especially important amid economic uncertainty.
Let's touch on why home prices are well-positioned for a recession, and examine some strategies individuals can use to navigate the housing market during an economic downturn.
For Home Buyers Struggling With Affordability, a Market Correction Would Be Welcome
Home prices have been on a historic rise over the past few years. They rose 36% from March 2020 to March 2022 and 20% in 2021 alone, a year in which inflation grew at a pace of 7.5%.[4] [5] The fact that home prices have outpaced inflation so dramatically — and in a period of extremely high inflation — suggests that they're probably overheated themselves.
A study on housing prices and inflation from Anytime Estimate confirms that home prices are severely inflated right now but traces the problem back several decades. Because of stagnant wages, the average home in 2022 costs much more, proportionally, than the average home cost in 1970. Since 1970, inflation has increased 644%, but home prices have gone up by a whopping 1,608%.
To put it in perspective, if home prices since 1970 went up at the same rate as inflation, the median home price in 2022 would be only $177,788. (In reality, it's more than twice that, sitting at just over $408,000.)
This trend has accelerated since the beginning of the 21st century. Since 2000, overall prices of goods have increased by 67%, while the median household income, adjusted for inflation, has risen only 7%.
Renters Are Suffering, Too
This crisis of affordability is squeezing renters and home buyers alike — not surprising, since home values and rent are closely intertwined. A study from Real Estate Witch compared rent prices with income and discovered some similarly disturbing trends.
From 1985 to 2020, average rents increased by 149%, while income grew only 35%. This means that over that time, rents increased four times faster than the average income. And since 2000, rents have outpaced inflation by 29%. The upshot? Everything's gotten more expensive, but rents have gotten a lot more expensive.
This has especially squeezed younger generations. In 1985, the average baby boomer had to spend only 9% of their income on rent, while the average millennial in 2020 had to spend nearly twice that, or 17%. To put it simply, millennial renters have to pay a portion of their income that's almost twice as big as the portion their parents had to pay.
Millennials Face a Tough Housing Market — and They Know It
Millennial home buyers, facing an unprecedented crisis of affordability, have responded in predictable and sometimes desperate ways. According to a study on millennial home buyers from Real Estate Witch, 90% of millennials would buy a house without having seen it in person, and 1 in 6 millennials would be willing to offer $100,000 or more above asking price for their dream home.
In a market this competitive, it's not surprising that over half of millennials (51%) feel stressed or anxious about homeownership, especially when you consider that, as a generation, millennials are not only buying into an extremely expensive housing market — they're also burdened with more debt than previous generations. A staggering 92% of millennials have some debt, including 70% who have more than $10,000 in debt, and 1 in 3 who have more than $50,000.
So How Do You Survive the Real Estate Market in a Recession?
Looking at these studies together suggests that the housing market is overpriced — perhaps unsustainably so. In that context, a recession-induced correction might actually be healthy for the market in the long run if it brings home values more in line with real incomes.
Many experts expect a mild correction rather than a full-on crash in home values, as higher mortgage rates and increased inventory affect the market. Some people are already dubbing this the Great Housing Market Deceleration.[4] Instead of home values plummeting, expect them to grow more slowly, plateau, or sag mildly.
Surviving this type of real estate market during a recession isn't that complicated if you adhere to a few basic financial principles.
» MORE: 20 Ways to Financially Prepare for a Recession
Delay Selling Your Home, If You Can
The market is already slowing down, and it's projected to slow down even more once the effects of higher interest rates spread through the economy. The Federal Reserve's stated purpose for raising interest rates is to bring demand down until it's more in line with supply, and that's already happened — mortgage demand in June 2022 was half of what it was the previous year.[6]
With fewer buyers out there, selling your home over the next year could be difficult, and you might be forced to cut the price, perhaps multiple times, before you find a buyer. If you can wait a few years to sell, it'd be worth the wait to catch the recovery.
If You're Hoping to Buy, Clean up Your Financial Situation
For buyers who are waiting to look for a home once prices cool, it's going to be important to present a pristine financial record to your lender. When mortgage rates go up, banks become pickier about who they give mortgages to.
Reduce your debt as much as possible, starting with high-interest debt such as credit cards. Work to improve your FICO score, which mortgage lenders use as a huge factor in their lending decisions. Set a strict budget and stick to it, so you can build up your cash reserves. A large down payment shows the bank you're serious and committed to the home purchase.
Remember That Mortgage Rates Will Come Down With Inflation — and That They Aren't That Bad, Historically
Mortgage rates rose as a result of the Federal Reserve increasing interest rates to tame inflation. If the strategy works and inflation comes down, it's safe to assume that mortgage rates will come down too.
When can prospective buyers expect that to happen? Well, it's not going to be next week or next month. Bloomberg recently surveyed traders and economists about their expectations for interest rates, and the verdict was that the Federal Reserve would cut rates around late 2023 — nearly two years from now.[7]
If you can't wait that long to buy a home, fortunately, there is a more optimistic way to look at current market conditions: Mortgage rates weren't just low during the pandemic — they were unusually and historically low, hitting 2.7% in late 2020, as a result of the Fed's decision to steady the economy by buying up billions of dollars in treasuries and mortgage bonds. Today's elevated mortgage rate of just over 5% isn't actually all that much higher than the 4.6% 30-year fixed-rate mortgage rate of late 2018.[8] This means what may feel like a painful inflationary spike is actually more of a return to normal.
If You Have Cash in Hand, Look for Opportunities
With mortgage rates elevated, there will be significantly fewer buyers on the market, and sellers will get desperate after their home sits on the market for weeks or months. In this situation, a buyer with cash has the leverage to negotiate a great deal and can do so without worrying about competition.
Adapt Your Investment Strategy — and Don't Panic
Once the downturn begins, you may feel tempted to cash out. Experts suggest this impulse should be resisted, as investors who stuck with their stocks during the last bear market made out much better than the ones who sold some holdings on the way down.[9] Sharp rallies will come — if you're patient.
The same advice applies to real estate investments. If home values eventually dip, it'll likely only cancel out a small portion of the last decade's total gains. Even if you bought at the very top of the market, values will start climbing again, if you can wait out the trough. Investors who weather the storm almost always come out better than ones who bail when adversity hits.
Diversify Your Skills and Employability
If a full-on recession hits, job cuts could follow. Get ahead of cuts by updating your professional skills and making yourself into a versatile, indispensable employee. If you do get let go, try to leverage your network to find your next gig.
About Clever
Since 2017, Clever Real Estate has been on a mission to make selling or buying a home easier and more affordable for everyone. 12 million annual readers rely on Clever's library of educational content and data-driven research to make smarter real estate decisions—and to date, Clever has helped consumers save more than $82 million on realtor fees. Clever's research has been featured in The New York Times, Business Insider, Inman, Housing Wire, and many more.
Articles You Might Like