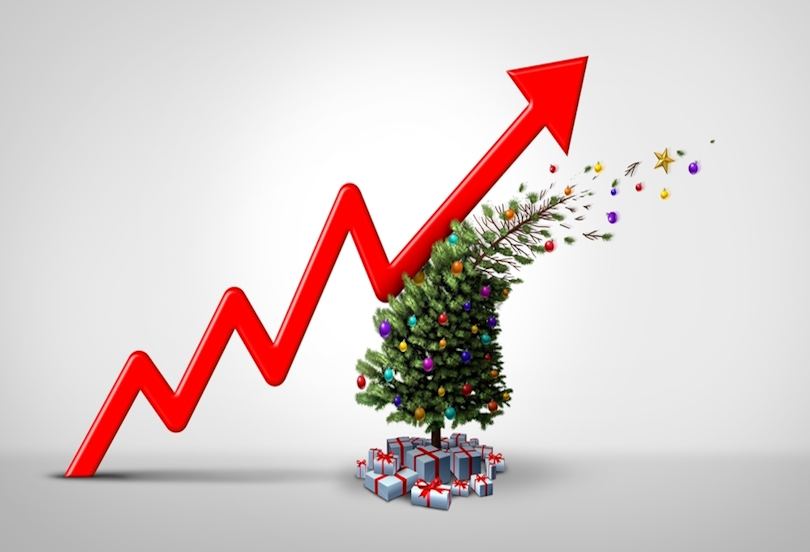 ✂️ 💵 Inflation Has Americans Cutting Back This Holiday Season 💵 ✂️
Most Americans (61%) plan to adjust their holiday spending because of inflation, with the average shopper spending less in 2022 ($851) than in previous years ($893).
Inflation & Reduced Spending | Shopping Sooner in 2022 | Where Americans Are Shopping | Shopping Psychology | Personal Finance Problems | Holiday Stress
High prices have shoppers feeling frosty about the 2022 holiday season.
As inflation forces consumers to spend more on gas and groceries, about 1 in 3 Americans (34%) plan to spend less on holiday shopping in 2022 than they did last year, according to a new Clever Real Estate poll of 1,000 Americans.
Retailers have taken notice, hosting holiday sales earlier than normal and ratcheting up discounts to move merchandise.[1] Stores want to draw attention to deals now before Americans decide to cut back further on nonessential spending — especially when 58% of the country already reports feeling worried about finances.
A lack of expendable income has consumers tightening their budgets this winter. The average shopper plans to spend $851 on holiday gifts in 2022, down from the $893 they normally report spending.
Given high rates of inflation and credit card debt, 39% of Americans say they can't afford to do any holiday shopping — although 79% of those who say they can't afford it plan to shop anyway.
Read on for more data on how higher prices this holiday season are impacting Americans' shopping and spending.
2022 Holiday Spending Statistics 🎁
Shoppers Plan to Spend Less During 2022 Holiday Season Due to Inflation
With the inflation rate near a 40-year high, it's no surprise a majority of Americans (61%) plan to adjust their holiday spending in 2022. In fact, nearly 1 in 10 Americans (9%) plan to skip holiday shopping completely.
Holiday shoppers plan to cut back on their 2022 holiday costs by about $42. On average, they say they'll spend $851 on gifts this year, down from $893 in a typical year. Among those spending less, more than half (57%) cited inflation as a reason they're trimming their budgets.
The main reasons shoppers are cutting back are:
Inflation has made things too expensive (57%).
They are cutting their expenses in general (39%).
They need to save more (37%).
They lost income (31%).
They have fewer gifts to buy (20%).
They spent too much last year (14%).
Costs have grown so much that 39% of Americans say they can't afford to shop for the holidays this year, with women (45%) more likely to say they can't afford it than men (31%).
On the other end of the spectrum, about 30% of Americans plan to spend more on holiday shopping than they did last year. Of those spending more, 38% indicate they'll have to spend more because inflation has made products more expensive.
The main reasons some Americans are spending more include:
They have more income (46%).
They have saved more money (40%).
They have more gifts they need to buy/more people to buy gifts for (40%).
Items cost more than last year due to inflation (38%).
They increased their expenses (29%).
About 1 in 10 Americans Are Not Planning Any Holiday Shopping
Many Americans who typically shop for the holidays are opting out this winter. About 9% of Americans say they don't plan to do any holiday shopping in 2022.
The most common reasons for Americans not gift shopping include:
They can't afford it (54%).
Inflation is too high (33%).
They rarely/never do holiday shopping (21%).
They have no one to buy for (17%).
They don't celebrate the holidays (16%).
They want to avoid crowds of other shoppers (12%).
They are bad at picking out gifts (5%).
Half of Americans Want to Ditch the Gift-Giving Tradition
At a time when nearly 2 in 5 Americans can't afford everyday goods, many see the spending associated with the holiday season as an additional burden.
Over three-quarters of Americans (76%) wish there was less pressure to spend a lot of money on holiday gifts.
Some take that sentiment one step further. Half of Americans (50%) say they'd prefer if gift giving was not a traditional part of the holiday season.
Millennials in particular are channeling Ebenezer Scrooge, with a majority (54%) saying they'd be OK abandoning gift-giving in the Christmas past.
Here is the share of each generation that would support getting rid of gift-giving:
Generation Z: 46%
Millennials: 54%
Generation X: 48%
Baby boomers: 42%
Men are also less attached to gift-giving, with 53% saying they'd give it up compared to 47% of women.
2 in 3 Americans Admit to Overshopping for the Holiday Season
Retailers often employ tricks to get customers to spend more than planned, especially during the holidays.[2] Many consumers struggle to resist deep discounts offered in the season of giving. More than 1 in 3 Americans (37%) say they've gone into debt while holiday shopping in the past.
67% of Americans admit to overshopping/spending too much in past holiday seasons.
58% are concerned about their finances heading into the holiday season.
44% tend to regret their spending habits over the holidays.
37% say they don't stick to a budget when holiday shopping.
37% say they've previously gone into debt over holiday shopping.
34% worry they'll go into debt shopping this holiday season.
In addition, 39% of Americans say they simply can't afford holiday shopping this year, but 79% of people who say that plan to shop anyway.
How Americans Plan to Pay for Their Holiday Shopping Sprees
Slipping into debt can be a risk with the "swipe first, ask questions later" mentality that accompanies some Americans' credit card use. Fortunately, shoppers say they'll primarily use debit cards (61%) and cash (51%) to pay for gifts in 2022.
About 41% plan to use a credit card for holiday shopping. On average, shoppers using a credit card say they'll put about 60% of their holiday spending costs on it.
The most common payment methods for holiday shopping include:
Debit card (61%)
Cash (51%)
Credit card (41%)
Money app (e.g., Venmo, Paypal, etc.) (26%)
Gift card (22%)
Buy now, pay later programs (e.g., layaway, Afterpay, etc.) (13%)
Payment installment (10%)
Americans Are Getting an Early Start on Holiday Shopping in 2022
As high prices force consumers to cut back on nonessential spending, retailers are holding on to stockpiles of merchandise, with more on the way.[3] With a surplus of goods, stores are advertising deeper discounts earlier than they have in past holiday seasons.[4]
Americans seem to be responding: A majority (52%) are switching up their shopping schedule in 2022. About 39% plan to start shopping earlier than usual — three times as many as the 13% who plan to shop later than usual.
Americans plan to shop for the holidays:
Earlier than normal: 39%
About the same as normal: 48%
Later than normal: 13%
Among the 91% of Americans who plan to participate in holiday shopping in 2022, the vast majority (80%) plan to start before December.
Americans plan to start shopping in:
October or earlier (34%)
November (46%)
December (16%)
Christmas Eve (4%)
Plans, however, don't always come to fruition. About 51% of Americans admit they tend to procrastinate on their holiday shopping. A majority of men (54%) say they tend to procrastinate, compared to a minority of women (48%).
Holiday Shopping Plans: Americans Prefer Cyber Monday Over Black Friday
Nothing persuades consumers to shop more than discounts, so it follows that a majority of Americans will target the biggest discount days of the year: Black Friday and Cyber Monday.
Cyber Monday is actually more popular than its in-person counterpart. Cyber Monday is expected to draw 61% of Americans, compared to 57% for Black Friday, our data shows.
Those who plan to hit stores on Black Friday say they will:
Buy gifts for others (49%)
Buy gifts for themselves (37%)
Get most of their holiday shopping finished (30%)
Go to multiple stores (23%)
Line up before a store opens (16%)
Camp out by a store (10%)
Among the 43% of Americans who plan to skip Black Friday in 2022, the most common reasons for doing so include:
There are too many crowds (53%).
They would rather shop online (27%).
They dislike Black Friday (26%).
It's too much effort (26%).
It's too intimidating (16%).
They prefer Cyber Monday (15%).
They have other plans (14%).
They don't think they'll get any good deals (13%).
Where to Shop: Americans Favor Major Retailers During the Holiday Season
Americans widely prefer major retailers over small businesses, especially when holiday shopping online.
The most common locations holiday shoppers plan to browse include:
Online at a major retailer (e.g., Amazon, Walmart.com, Target.com, etc.) (68%)
In-person at a major retailer (e.g., Target, Walmart, Best Buy, Macy's, etc.) (68%)
In-person at a small/local business (39%)
Online at a small business (e.g., Etsy, local shop, etc.) (35%)
Charity shop/nonprofit organization (e.g., Goodwill, Salvation Army, etc.) (21%)
Overall, most Americans say they prefer shopping for gifts in a store (54%) rather than online (46%). On average, women are more likely to say they prefer in-store shopping (57%) than men (51%).
Although online shopping continues to grow in popularity, it's expected to be undermined by inflation and early discounts in 2022.[5] In an example of online retailers going all-out, Amazon held more than one Prime Day for the first time this year in an effort to boost sales.
Additionally, Adobe Analytics projects online sales this season to yield their smallest growth since 2015.
Supply Chain: Americans Expect Quick, Cheap Shipping
Supply chain delays have been one of the biggest secondary impacts of the COVID-19 pandemic. To be safe, some businesses even ordered holiday merchandise in the spring.[6]
Despite headlines about supply chain snags, Americans have already grown accustomed to relatively quick delivery when ordering packages online, likely as a result of Amazon's two-day shipping through its Prime program.
On average, half of Americans (50%) expect a package to arrive within four days of ordering, and nearly 1 in 6 (16%) expect it within two days.
People expect their packages within:
1 day (4%)
2 days (12%)
3 days (22%)
4 days (12%)
5 days (13%)
6 days (3%)
1 week (19%)
2 weeks (11%)
More than 2 weeks (4%)
Americans have grown to expect shipping that's not only fast — but cheap. About 1 in 8 Americans (13%) say free shipping is the most important thing they look for when holiday shopping.
About 44% of Americans say they would not pay more than $10 in shipping for an item bought online, and nearly 1 in 5 (19%) say they wouldn't pay any money toward shipping.
Americans say the most they'd pay for shipping is:
$0/free shipping (19%)
$1 (2%)
$5 (23%)
$10 (26%)
$20 (10%)
$50 (9%)
More than $50 (11%)
Americans also carry some concerns that they might never receive their packages once ordered, whether from shipping snafus or porch pirates.
62% have had a package get lost in the mail.
51% worry about having a package stolen after delivery.
33% have had a package stolen after delivery.
Holiday Shopping Psychology: What Perks Persuade Americans to Shop?
Each holiday season, consumers are inundated with marketing materials from stores as retailers try to bring people inside with sales, coupons, and other strategies.
Our data shows some of these pitches are more persuasive than others. For example, 74% of Americans find online ads very or somewhat influential in getting them to shop, compared to 68% who find TV ads influential. Shoppers suggest holiday sales (93%) are the most influential overall in getting them to make a purchase from a store.
Americans say they're most likely to shop if:
The store has a sale (93%)
The store offers free shipping (91%)
They receive a coupon from the store (89%)
The store is near where they live/easy to get to (89%)
The store offers fast/expedited shipping (88%)
A friend recommends the store (80%)
The store is locally owned (77%)
They see an online advertisement (74%)
The store stands for what they believe in (e.g., charitable, donates to politicians they like, etc.) (71%)
The store has trending products (e.g., featured in a shopping guide, on social media, etc.) (70%)
They see a TV advertisement (68%)
The store has a holiday catalog (68%)
They receive an email from the store (66%)
An influencer they like posts about the store (53%)
Gen Zers (66%) are 2.5x more likely than baby boomers (27%) to be persuaded to shop by a social media influencer, while millennials are more likely to be influenced by an email from a store (71%) than Gen Zers (61%) or baby boomers (60%).
Asked another way, Americans ranked their most important priorities when shopping during the holidays:
| | | |
| --- | --- | --- |
| Overall Rank | Answer | Average Rank |
| 1 | Finding a deal/sale | 3.86 |
| 2 | Finding the right gift | 3.90 |
| 3 | Not outspending their budget | 3.98 |
| 4 | Free shipping | 4.15 |
| 5 | Expedited/fast shipping | 4.70 |
| 6 | Shopping local | 4.80 |
| 7 | Buying brand names | 5.30 |
| 8 | Buying trending/popular products | 5.32 |
Most Americans Fell Short of Their 2022 Financial Goals
2022 has thrown a lot at consumers. Lingering impacts from the pandemic combined with historic inflation have Americans struggling to hit their financial goals.
Only 48% of Americans say they met their money goals this year, and 65% of Americans say they're doing the same or worse financially as last year — which may explain their muted interest in holiday shopping.
46% of Americans planned to save more money this year, but only 30% actually did.
30% of Americans planned to earn more income, but only 23% did.
30% of Americans planned to save for something fun (e.g., vacation, electronics), but only 23% did.
24% of Americans planned to pay off credit card debt, but only 17% did.
24% of Americans planned to build an emergency fund, but only 15% did.
Interestingly, only 40% of women say they met their financial goals in 2022 compared to 58% of men.
Feelings About Holiday Shopping and Finances
Americans are approaching the 2022 holiday season with a mix of emotions. Many are trying to find some holiday cheer but still worry about their long-term financial footing.
When it comes to holiday shopping, Americans feel:
Excited (52%)
Giving (37%)
Stressed (32%)
Comfortable (31%)
Overwhelmed (29%)
Anxious (27%)
Charitable (17%)
Concerned (16%)
Selfless (14%)
Annoyed (9%)
Sad (8%)
Indifferent (5%)
Although men and women are about equally likely to say they're excited for the holiday season, women (39%) are much more likely than men (24%) to report being stressed. Meanwhile, men are also nearly 3x as likely to say they feel indifferent about holiday shopping (8% vs. 3%).
That male-female split carries over into how Americans feel about their finances. The most popular answer for men is comfortable (39%), but for women, it's stressed (42%).
Overall, the most common emotions Americans feel about their finances are:
Stressed (37%)
Comfortable (32%)
Frustrated (26%)
Anxious (26%)
Insecure (24%)
Fortunate (23%)
Uncomfortable (23%)
Proud (18%)
Embarrassed (15%)
Relieved (15%)
Angry (11%)
Resentful (10%)
Methodology
The proprietary data featured in this study comes from an online survey commissioned by Clever Real Estate. One thousand Americans were surveyed Oct. 6, 2022. Each respondent answered up to 21 questions related to holiday shopping and personal finance.
About Clever
Since 2017, Clever Real Estate has been on a mission to make selling or buying a home easier and more affordable for everyone. 12 million annual readers rely on Clever's library of educational content and data-driven research to make smarter real estate decisions, and to date, Clever has helped consumers save more than $82 million on realtor fees. Clever's research has been featured in The New York Times, Business Insider, Inman, Housing Wire, and many more.
More Research From Clever
Articles You Might Like
Frequently Asked Questions About Holiday Shopping
When do you start Christmas shopping?
Many Americans plan to start Christmas and holiday shopping earlier than normal in 2022. About 80% of shoppers plan to start shopping for gifts before December. Learn more.
How is inflation impacting holiday shopping?
When do Americans expect a package to arrive after ordering online?
Half of Americans (50%) expect a package to arrive within four days of ordering it online. About 16% of Americans expect it to arrive within two days. Learn more.