Closing costs can often add up to more than what home buyers in Virginia expect. Read on to find out what typical closing costs you'll be responsible for and how much they could cost you.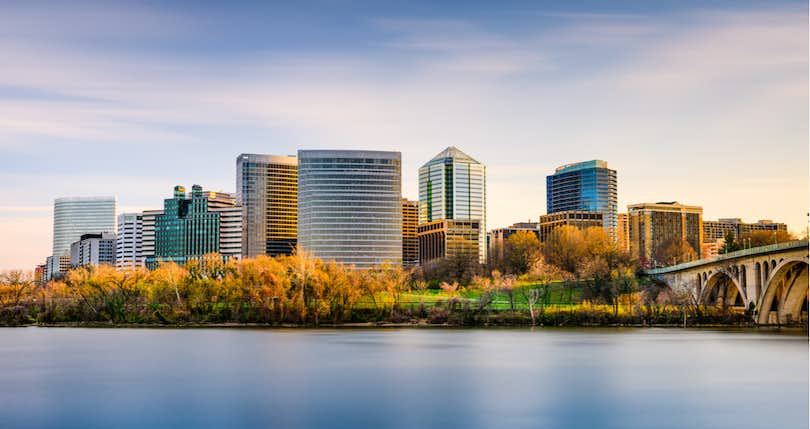 When you've found your dream home, it's easy to get stars in your eyes and get excited about the prospect of moving in immediately. However, the final sale price isn't the total overall cost of buying a home. You need to consider Virginia real estate closing costs for buyers when it comes to figuring out what you can afford in a home.
With the help of an experienced local agent, you'll be well prepared before you pull the trigger on your home purchase. There will be no surprise closing costs that lead to you spending more than you expected.
Closing Costs for Virginia Homes: What to Expect
According to research from Bankrate, you can expect to pay an average of $970 in origination fees and $1,144 in third-party fees at closing. However, there are lots of other variable costs that weren't included in this study.
Taxes, local government fees, escrow costs, and title charges are often paid for by Virginia home buyers Most industry experts recommend planning to pay 2% to 5% of the total sale price of your home at closing.
If you buy a home in Arlington that's priced at the median home value of $689,300 (according to Zillow data), you'll end up paying between $13,786 and $41,358 to close on your home.
While closing costs can be expensive, one of the largest mortgage expenses is the interest rate. Over the life of the loan, a few small percentage points can result in hundreds of thousands of dollars in interest payments.
One of the best ways to lower your interest rate? Shop around and compare lenders! Fill out the form below for a quote from a licensed, local lender – even if you're pre-approved it pays to compare.
Common Closing Costs for Virginia Home Buyers
When calculating Virginia real estate closing costs for buyers, you'll find that the state is much like other states; it requires you to have a settlement agent or attorney in your corner. You can compromise and get a rep from a title company if necessary.
In Virginia, you'll be expected to sit down with the seller and their representatives at a closing table where you'll look over inspections, exchange keys, and talk details one last time. Expect to pay your attorneys or title representatives a fee for helping you with the closing.
On top of these charges, you'll have to account for the commissions for your agent. While these fees are paid by the seller, that's not guaranteed.
For buyers who struggled to get a full 20% down payment together, they'll be expected to pay for private mortgage insurance. This insurance is a way for you to assure lenders that they're protected even if you default. Depending on the size of your mortgage and how low your down payment was, you could be paying an additional few hundred dollars every month.
Before your lender is going to allow you to even be approved, you'll have to get the home appraised. The home appraisal is going to tell lenders if the home is even worth the amount that you're looking for. This costs a few hundred dollars and varies based on details of the property.
The seller is also required to pay for a transfer tax to the local government in order to cover infrastructure needs and other local costs. In Virginia, expect to pay 0.1% or $1 for every $1,000 that the home sells for. While this cost is up to the seller to submit, it's often calculated into the cost that the buyer incurs in the process.
Other Costs to Consider
In addition to all of these costs, you need to prepare for the price of homeownership. When you buy a home, you're not getting a static piece of property. You're buying something that changes over time, requiring different maintenance to retain its value. If you're used to renting, you might forget that every issue along the way is on your shoulders.
The costs of dealing with your plumbing or roofing woes are up to you now. This is why it's so critical to have a home inspection before you pull the trigger. Make sure that you're ready to cover any potential problems with your home from day one.
Month after month, you'll have to pay for utilities. If you're moving from a cooler place or somewhere that was smaller, you might be surprised by how much it costs you to keep your place comfortable in the summer. The electricity bill will be much higher if the home gets less natural light.
Every year, you'll be tasked with paying property taxes, which vary wildly by region. Talk to your agent about what you can expect as a tax burden, as you might prefer to move just a few miles away to save a few hundreds or even thousands of dollars a year.
Working with an experienced local agent ensures that you get a price that you can afford with money leftover for homeownership costs.
How to Save on Closing Costs in Virginia When Buying a Home
When closing on a home, you'll need to be savvy to save money. Remember that the less you spend on your home, the less you'll have to spend on the closing fees overall. With the help of an agent who knows how to play hardball, you'll be able to save through out the process.
Virginia residents who get their loans through an FHA program or through a Veterans Affairs program are eligible for a wide variety of additional assistance. Virginians get an added boost through the Virginia Housing Development Agency's CCA grant programs. The closing cost assistance that they offer to people who move to a rural area or through the VA can make all the difference to breaking down hurdles to homeownership.
If you've tried every avenue and negotiated your sellers down to the very bottom dollar they'll accept, you need to work with an agent to help you find other ways. Thankfully, by working with a Clever Partner Agent, you might qualify for Clever Cash Back.
Related Articles