Are you looking for one of the best home builders in Ohio? Reach out to one of the companies on our list. Find a Clever Partner Agent working in your area who will help you find land to build upon while also selling your current home.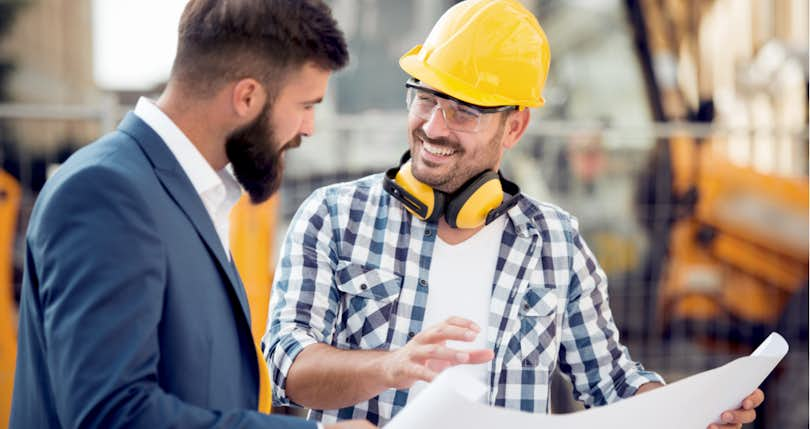 Whether you are interested in living in Hamilton or Columbus, Cincinnati or Akron, you may feel as if you have toured every available house for sale in your desired area. Are you struggling to find the perfect spot that your family can call "home?"
Maybe you thought you found the perfect house, but the home was in the area served by an undesirable school district. Perhaps you looked at another property but were discouraged that the garage wasn't large enough to hold your two cars and snow blower. Maybe you are looking for a house with an open floor plan on several acres, but you can't find anything meeting those qualifications.
Do you compromise your desires and settle for a home that doesn't thrill you? Or do you build a house from the foundation up, so you can pick the pulls on the kitchen cabinets and the trees to plant in the front yard?
Want to build a custom home in Ohio?
Find the right custom builder with a Clever Partner Agent.
Maybe you could consider remodeling an existing home in a fantastic neighborhood to get an open-concept house with a fabulous kitchen. Or is it economically feasible to buy an existing home, knock it down, and build a brand-new house in its place?
The number of options available makes decision-making difficult.
Any time you face a difficult decision, you should reach out to an expert for help. If you can't decide whether to buy, renovate, raze, or build, talk with a Clever Partner Agent in Ohio. We have agents in all areas across the state who will talk you through the pros and cons of each decision. They've seen it all when it comes to real estate, and chances are they have encountered others facing similar decisions.
Tearing Down an Existing Home to Build a New Home
Before you pull out your jackhammer and start ripping up the tile floor in the house you plan to raze there are things to consider. First, don't tear down the home yourself. (Yikes!) Even though you may have always dreamt of a job on a demolition crew, let the professionals handle the situation. You don't want a ceiling to fall in on you!
Next, talk with an architect and a contractor to see if you can renovate or add to the house you purchased to make it into the home of your dreams. It may be cheaper to go that route rather than starting from scratch, especially since you will have to purchase the house that you will destroy.
Also, make sure you have proper clearance from the city, county, and utility companies before you start the razing process. Make sure the home is not protected because of having some historical significance. The demolition company should be able to help you with this process.
Finally, you will need to pay a licensed company to demolish the home and remove all the waste. The cost varies depending upon how large the existing house is and whether or not builders used hazardous materials, such as asbestos while constructing. The average price to demolish an Ohio home with a basement is between $8,000 and $18,000.
Buying a Lot for Construction
Maybe you feel as if tearing down an old house to build your new home isn't an eco-friendly decision. Instead, you want to hire an Ohio builder to design and build your dream home from the ground up.
As you look for land, check zoning for the property and see if there are any special building restrictions for the area. You may have to purchase a minimum number of acres on which to build a new house.
The price for an empty lot depends upon the location and whether or not it is a piece of property that connects to the city water and sewer system. Obviously, the lot's size and location will also be a determining factor of its cost.
The average cost to build a 2,800 square-foot home is about $153 per square foot. The national cost of new home construction is $291,522. Look for home cost calculators online that will give you the typical range of constructing a home in a particular zip code.
Hopefully, this discussion has given you points to consider on whether to renovate, raze, or build. What's next? Depending upon your decision, you may first need to find a demolition expert. After that, you will need to find someone to remodel or build a new home from the ground up to the roof.
How do you pick a renovation expert or custom home builder? First, check with a local real estate agent. They will know people in the business and will be able to connect you with the company that is the right fit for your situation.
Your agent will also take care of the sale of your current home, so you can focus on picking out the granite for your countertops and the light fixtures for your entryway. The local agent will work for a flat fee commission rate as opposed to receiving a percentage of your sale.
Here are some builders working in Ohio that will discuss your project with you. There are hundreds of companies operating in the state, so this list is far from complete. Many of these companies have specialties that may be helpful to consider if you are interested in building a particular type of home, such as a home on a lake or an eco-friendly structure.
Top 10 Custom Home Builders
Michaelson Homes LLC
Do you hate driving through neighborhoods where all the homes look exactly alike? You won't receive a cookie-cutter design with Michaelson Homes. The team at Michaelson's has over 20 years of experience, and they build new structures or renovate existing homes.
Michaelson Homes is located in Milford, but they also serve the east side of Cincinnati.
Prete Builders, Inc.
Do you have a complicated building or remodeling project? Prete Builders loves a challenge. They serve residents in the northeastern part of the state, particularly around the Vermillion area. They also have completed many commercial projects and churches as well.
This award-winning company was named the Best Builder by the Lake Erie Living Magazine for five consecutive years. Although they will complete your renovation project, they specialize in custom, energy-efficient homes.
Justin Doyle Homes
The Justin Doyle Homes team works out of Liberty Township, a suburb of Cincinnati. They have won several awards, including the Cincinnati Homearama Builder Award.
The Justin Doyle team specializes in custom home building, but they are also happy to tackle your tear-down/rebuild projects. Check out the fantastic reviews from their satisfied clients.
G.A. White Homes
If you are looking for a home builder in the Dayton area, contact the crew at G.A. White Homes. With over 32 years of experience, this company is known for its visually stunning homes built with precision.
The typical job completed by G.A. White costs between $300,000 to $2 million. Reach out to this company if you would like to build or renovate.
Myers Homes
For projects of all sizes, get a quote from Myers Homes. This company works on remodeling projects, big or small. They will take care of your bathroom remodeling project, home addition, wine cellar installation, and siding repair.
This award-winning company serves Aurora, Bainbridge, Beachwood, Bentleyville, Chagrin Falls, Chesterland, Cleveland Heights, Gates Mills, Highland Heights, Hunting Valley, Lyndhurst, Mayfield, and many other communities.
The Leland Group
If you are looking for a company with experience, schedule an appointment with representatives of The Leland Group. This company has been serving the Cincinnati area for over 30 years.
Besides new home construction, The Leland Group also does home remodeling and extensions, energy-efficient homes, pool house design and construction, and workshop design and construction.
DiYanni Custom Homes
Do you already have an architect's plans for your dream home, and you are looking for someone to complete them? The people of DiYanni Custom Homes have a passion for making your vision become a reality. Their showroom features a wide selection of tile, wood flooring, cabinets, and hardware that will allow you to customize your house down to the tiniest feature.
Whether you are building in Cincinnati or Dayton, Columbus or Cleveland, DiYanni Custom Homes will work hard for you.
Arthur Rutenberg Homes
Since 1953, the crew of Arthur Rutenberg Homes has built many homes based on four cornerstones: design, craftsmanship, service, and responsibility.
Known for their luxury homes featuring the extensive use of glass and airy common areas, Arthur Rutenberg Homes has received many design awards. If you are building a high-end home in the Cincinnati area, reach out to them for a quote.
Otero Signature Homes
Although the people at Otero build new homes, they also do home additions and remodels too. The company serves consumers in the Cleveland area and has received many Cleveland Choice Awards.
Otero Signature Homes is a certified Green Builder and an Energy Star Partner. Their new homes come standard with luxury amenities that other home builders consider upgrades.
Sonrise Construction LLC
Yep, Sonrise is spelled correctly. This family-owned business was started in the early 70s, and they have been serving the Cambridge, Zanesville, and St. Clairsville area for decades.
Sonrise Construction will remodel your basement or bathroom, repair your foundation, build your garage, or build a new home from the basement to the attic. The company enjoys excellent reviews from their customers and takes pride in their craftsmanship and quality.
Are you excited to build your new home? Before you sign a contract with one of these professional Ohio home builders, reach out to a Clever Partner Agent who will work tirelessly to sell your existing home. Our agents will get a good price for your home so you can put a healthy down payment on your new construction.
Related Articles
You May Also Like