Do you want to build a custom home in Maine? Finding a builder who understands your budgetary and home design specifications will save you time, money, and stress. Read on for our breakdown of the top 10 custom home builders in Maine.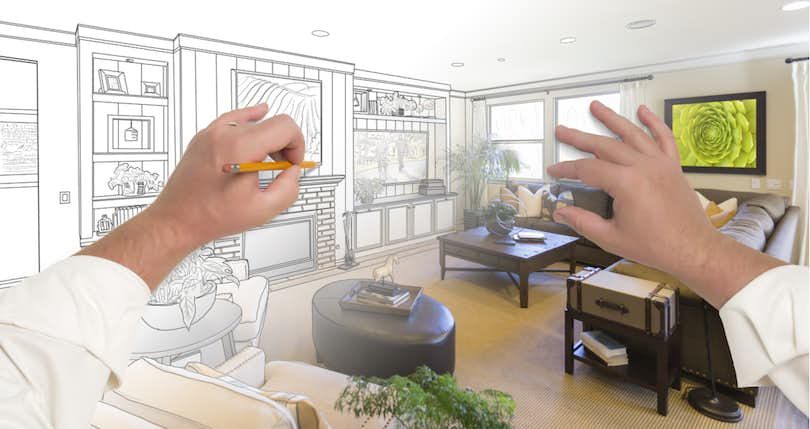 Building a custom home is an increasingly popular aspiration for both renters and homeowners in Maine. However, before you can build, don't forget to plan out a basic budget for purchasing land, constructing a home, and/or demolishing existing structures. To get you started, we've included some general information on each of these expenses.
The cost per acre of land purchases in Maine will vary depending on whether you intend to build in an urban or rural location. Before purchasing a land lot, remember to scrutinize the title deed for contract contingencies or covenants that could affect construction and access to the land.
When building custom homes, the biggest and most obvious expense is the cost of construction. According to statewide home building data, Maine home builders can expect to pay approximately $143 per square foot of basic construction — this rate will also cover the cost of preparing and clearing the work site.
Ancillary factors will also influence the final cost of construction in Maine, including building size, building complexity, project timeframe, material specifications, and specialty or add-on requirements.
Building a custom home in Maine?
Find the right custom builder with help from a Clever Partner Agent.
If you own or intend to purchase a tear-down home, you also must consider the cost of hiring a professional demolition company. Demolition companies charge their clients based on the total square footage of the work site. Depending on the complexity of the tear-down, Maine-based demolition companies will charge between $4 and $15 per square foot.
Remember, building your own home will have a major impact on both your finances and your lifestyle. Before you sell your current home and embark on a large-scale construction project, it's a good idea to walk through the custom home building process with an experienced, Maine-based real estate agent. A good agent will not only search for high-value land lots or demolition properties — they'll also leverage their professional networks to help connect you with reliable, top-rated home builders.
To give you a better idea of your contractor options, we've listed the top 10 custom home builders working in Maine.
1. Maine Construction Group
If you want to work with a locally owned and operated construction company, you'll find there's a lot to like about Maine Construction Group. Although they've only been in business for eight years, Maine Construction Group has already cultivated a reputation for excellent customer service and comprehensive project support.
When it comes to custom homes, Maine Construction Group's professional in-house team will work and advise you through every step of the building process, from concept planning to final construction.
2. Spang Builders
Spang Builders has been operating in Maine since the company was first founded in 1984. The team at Spang Builders offers both custom home building and remodeling services.
Spang Builders places enormous value on the planning and design phase of custom home projects. To ensure an efficient, reliable, and transparent working relationship, the Spang Builders team rarely takes on more than one client at any one time.
3. Bowley Builders
With 40 years of building experience in Maine, Bowley Builders offers a proven approach to custom home construction. As a family owned business, Bowley Builders takes great pride in having an in-house team of top-rated specialists.
Working with an in-house team can be a big advantage for prospective home builders. Explaining and updating your creative vision for your home will be a lot easier if the architect, designer, and construction team are all employed by the same building company.
4. MGM Builders
The founder of MGM Buildings, Mike Manning, was only 16 years old when he planned his first custom home. This same passion is on full display in each of MGM Buildings' 200 completed home projects.
Mike and the team at MGM Buildings understand the value of distinctive design and craftsmanship. You can trust MGM Buildings to be supportive and faithful to your custom home vision.
5. RL Coombs Inc.
If you're planning on building a large custom home, RL Coombs Inc. is the builder for you. Once you have worked out the design specifications of your custom home, the building crews at RL Coombs Inc. will take care of the rest. With an oversized team of professional contractors, RL Coombs Inc. is one of the fastest custom home builders in Maine.
6. YFI Custom Homes
Because of personnel constraints, YFI Custom Homes only works on a few mid-range and high-end custom home projects. However, because they are only working with a few clients at a time, the team at YFI Custom Homes can maintain a meticulous level of design detail and an extraordinary level of customer support.
7. Maine Coast Builders
Maine Coast Builders specializes in taking on custom home projects facing unique construction challenges. This includes clients who plan on building their home on sloped ridges or waterfront terrain.
Jeff Jones, a master cabinetmaker and the President of Maine Coast Builders still has an active hand in both project management and concept planning. If it suits your design vision, the team at Maine Coast Builders can also deck out your home with fine cabinetry and stylish interior woodworking.
8. Brush and Hammer Builders
Brush and Hammer Builders is a detail-oriented, high-end real estate development firm that operates in and around Portland. Brush and Hammer Builders want to help you create a beautiful, clean, modern, and memorable home. They understand how important the design process is to clients — that's why Brush and Hammer Builders offers every potential client a free, no-obligation design consultation at their Portland design center.
9. Hewes and Company
After over 44 years of operation, Hewes and Company is still building homes across Maine. While it is often regarded as a more traditional home builder, Hewes and Company is one of the most technologically progressive builders in Maine.
Although they are more than capable with conventional construction methods, the team at Hewes and Company specialize in building homes from sustainable or recycled materials. They also offer energy efficient, eco-friendly appliances and low-cost vacuum insulation.
10. Schiavi Custom Builders
When looking to maximize your customization options, it's hard to look past Schiavi Custom Builders. They know the value of the client's vision and the Schiavi team will go to great lengths to understand the desired room layout, interior design, and structural features of your dream home.
Still Confused About Custom Homes? Contact a Local Real Estate Agent!
If you're confused about the custom home building process or want to know more about a specific builder, it might be time to get in touch with a professional. For more personalized advice and full-service support, reach out and get in touch with a local Clever Partner Agent.
Remember, if you need to offload your current property to finance a custom home, Clever can help! Clever Partner Agents will not only help you close on a high-value sale, they'll also work for a discounted commission rate.
In fact, when you work with a Maine-based Clever Partner Agent, they'll sell your home for a flat $3,000 listing fee or, if the sale value is over $350,000, a 1.5% listing commission. As a Clever client, you can either put these cost savings towards closing or funnel the extra money into your custom home project.
Related Articles
You May Also Like