Building a home is an exciting prospect, but it also means you have a lot of decisions to make. Washington is a great state to live in and with its real estate market booming, it also has a lot of great builders and architects to choose from. Here are our favorite custom home builders in Washington.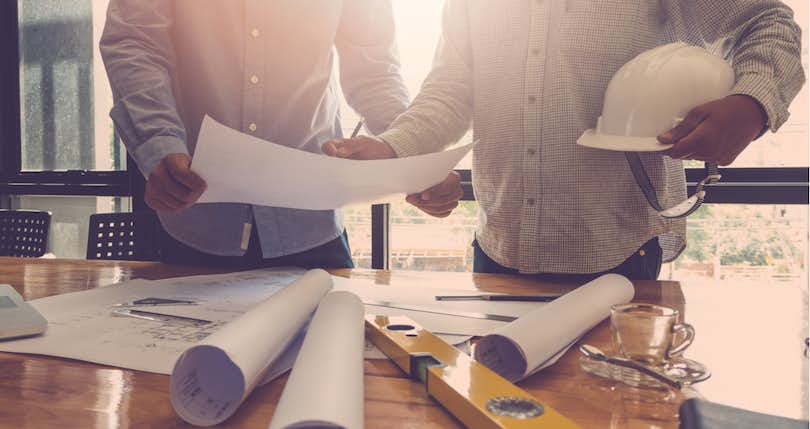 Are you thinking about building a custom home in Washington? Congratulations! Designing and building a home can be a dream come true. But it's also a big decision.
There are different factors you'll have to decide on and pay for — land, construction costs, architecture, design, building materials, and potentially even demolishing an existing home.
When building a custom home, the options are limitless. For that reason, it's hard to put a general price tag on the process.
Before you start building, you'll need to work with a residential architect to design your home. Generally, you can expect to pay between 5% and 15% of the construction costs to design professionals. If that's too much for your budget, you can ask your builder to submit a design; this generally costs somewhere in the range of $1.50 to $2.50 per square foot.
Other costs custom home builders will have to consider are the cost of construction machinery, labor costs, building materials, laying the foundation, framing, exterior finishes, major systems installation, interior finishing, and final details like landscaping and patios.
Building a home is a life-changing decision. Before you sell your current property or start looking at new lots, consider connecting with a local realtor.
An experienced real estate agent will walk you through each step of the process and help you set realistic expectations. Local agents leverage their professional contacts to help connect you with the right custom builder for your goals and budget.
Whether you want to build a beach bungalow, urban loft, or a luxury mansion, there's a custom builder in Washington for you. Here are our top 10 builders in Washington in 2019.
1. Williams Contracting
Williams Contracting is a top custom home building company in the Olympia area. It's known for its high-quality construction and customer service.
Williams Contracting's specialties are home design, construction, and remodeling. It's a full-service, design-build firm, which means they will design, plan, build, and manage every aspect of your home construction with you. It has both in-house designers and in-house construction workers, rather than working with outside contractors.
2. JayMarc Homes
JayMarc Homes specializes in building luxury custom homes in the Seattle metro area, including Mercer Island and Bellevue. It has won a number of awards, including the 2019 Silver National Housing Quality Award, Best in American Living Awards, Gold Nugget Awards, and New Home Council Tribute Awards.
JayMarc Homes has great ratings from its customers. It prides itself on the personal attention it gives to its clients and its engagement with the Greater Seattle community.
3. Urban Restoration
Urban Restoration specializes in residential home building and remodeling on the east side of Lake Washington. Its owner, Reg Willing, has been in the residential building business for more than 20 years and is proud of the reputation he's built for his company.
Urban Restoration works closely with its customers to help with their budget plans, material selection, and decisions about designers and architects. They work to make sure all of its clients are completely satisfied with their homes.
Want to build a custom home in Seattle?
A Clever Partner Agent can sell your current house quickly.
4. Prodigy Homes
Prodigy Homes is a custom building company in the Tri-Cities, currently building in a number of subdivisions in Pasco, Kennewick, Richland, and West Richland. It offers an online platform where its clients can check in on their home's progress, each step of the way.
Prodigy Homes is proud of the experience it gives its customers and has won several awards, including Best In Parade, Best Overall, Best Workmanship, Best Landscaping, Best Master Suite, and Best Exterior Appeal in the 2015 Parade of Homes Awards.
5. Sageland Design
Sageland Design is a top company with years of experience. It's known both for its unique, innovative designs and for being one of the most budget-conscious and cost-effective custom builders around.
Sageland Design operates in the Tri-Cities area and will help you build your dream home within your budget.
6. Charter Construction
Charter Construction has been building custom homes near Puget Sound for almost three decades. It has relationships with some of the best architects, tradesmen, and designers in the area, to help build your house to your specifications.
Charter Construction understands that every project and client is unique and tries to really get to know its customers. It tries to create an intimate experience for its customers throughout the process.
7. Carlisle Classic Homes
Carlisle Classic Homes is a top custom builder in the Seattle area. It has been in business for 17 years and finished over 300 projects in that time.
Carlisle Classic Homes likes to remind potential clients that the word "classic" is more about quality than style; they work on a wide variety of architectural types. Carlisle Classic Homes is known for its high-quality construction and was voted one of the Top 50 remodeling firms in the entire country by Remodeling Magazine.
8. Kinesis Construction
Kinesis Construction describes its projects as "clean, warm, durable, and low maintenance," and that attitude combined with their fine workmanship has made them one of the most trusted custom builders in Seattle for decades.
Kinesis Construction's designs are known for their fine woodworking. They try to work with their customers to find smart solutions for their daily lives. The team also prides itself on finishing on time and on budget without fail.
9. Ventana Construction
Ventana Construction is a top full-service custom home builder in Seattle. Its main goal is to give its clients superior customer service and productivity. To that end, Ventana Construction maintains frequent communication with its customers and operates an online project management system.
Ventana Construction is known for being pleasant to work with, keeping its customers updated, and providing quality outcomes and beautiful homes.
10. Sapphire Homes
Sapphire Homes is a locally-owned small business in the Seattle area. Despite being smaller than most of the other companies on this list, Sapphire Homes builds 30-40 spec homes in Seattle and on the Eastside each year. In the last 5 years, they have built more than 135 homes in over 20 different communities.
Sapphire Homes has a reputation of building high-quality houses with striking features like covered outdoor living areas, wood-wrapped interior windows and mirrors, extensive hardwood, slab Quartz in kitchens, and stainless steel appliances.
Next Steps
If you're looking to build a home, chances are you're also thinking about selling your existing property to finance the construction. An experienced real estate agent can help you with that.
Clever Partner Agents are top-rated real estate agents located in every market in Washington. Partner Agents don't just help their clients sell quickly and for top dollar — they also work for a significantly reduced rate, helping sellers save thousands on commission. This can give you a nice nest egg to get started with your new building project.
Related Articles
You May Also Like