If you're thinking about building a new custom home in the Omaha area, it can be overwhelming to think about juggling all the details and decisions associated with a new build. These top custom home builders in Omaha can help you throughout the process, along with an experienced local real estate agent who can also help you sell your home when the time comes.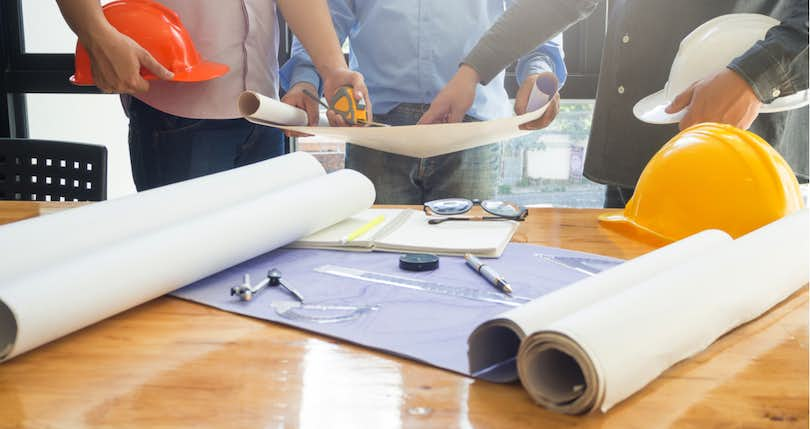 If you've kept an eye on the market for a while and haven't found your dream home, you may consider building from scratch. Some people love building a new home, as it gives you the opportunity to make everything in your new home exactly how you want it.
However, others may be overwhelmed by the number of decisions needed, the price tag for including everything you want, and the moving pieces and parts of the process. This is why you'll want to hire a great custom home builder local to the Omaha area for the job and seek the help of a real estate agent.
The average cost in the U.S. to build a new house is $291,522, according to HomeAdvisor, but the prices can range from $147,336 to $436,401. On average, the cost is about $150 per square foot. These numbers vary greatly based on location, quality, and time of year.
If you don't already own a plot of land, it can cost anywhere from $10,000 to $50,000 to buy on in Omaha. The price fluctuates, of course, based on the size of the plot and the area of the city in which it is located. Typically, lots located in the eastern part of the city are on the lower end of the scale, while those located further west hit the higher end.
Building a new home is a big decision. Before selling your current home, connect with an experienced, local real estate agent who can walk you through the process, set realistic expectations, and help you start looking for high-value lots or places you can demo existing properties. An agent can also leverage their extensive professional network to help you connect with local contractors and home builders that align with your specific goals and budget.
First place winner in the Custom Home Builders category of Omaha Magazine's 2019 Best of Omaha awards, Curt Hofer & Associates touts their individualized, one-of-a-kind, high-end custom homes. They custom design your home based on factors others don't: your lifestyle, how you entertain, and how you relax.
Plus, for an annual fee, you'll receive two inspections each year, a detailed report with recommendations for attention or repair, and estimates for costs associated with repairs, plus free service calls, free price quotes, and discounted labor and design services. Curt Hofer & Associates received nine ratings of 5/5 on Houzz.
Runner-up in the 2019 Best of Omaha Custom Home Builders category, Pohlad Custom Homes is family-owned, hands-on business. They concentrate on building just six to eight new, custom homes per year so they can provide attention to every fine detail. You won't have to worry about getting passed around to third-party contractors or agents. Pohlad Custom Homes has received seven ratings on Houzz, all of which were 5/5.
Top winner in the Home Builder category of the 2019 Best of Omaha, Charleston Homes has built homes all over the Omaha Metro. While you often hear about a move-in date for a new home build being pushed back by months, or even years, when you sign an agreement with Charleston Homes, you're given a two-week completion window.
Two months before finishing your new home, they'll provide the exact completion date. This means you can lock in your mortgage interest rate and schedule the moving truck without worrying about a moving timeline. Charleston Homes has never missed a completion date in its 12-year history.
The Home Company earned the second spot in the Home Builder category of the 2019 Best of Omaha. Ranked an average of 4.7 in 23 Google reviews, The Home Company boasts of some of the most efficient homes in the Omaha area. Plus, you can expect great communication and follow-up throughout the process. They meet as a team each week to discuss questions or concerns and then the buyer gets a call back. The Home Company also uses software like BuilderTrend so buyers can track their price throughout the entire build, giving you peace of mind for your pocketbook.
Legacy Homes snagged third place in the 2019 Best of Omaha Custom Home Builders category. The Mercedes of custom home builders, Legacy Homes offers fully customizable homes, from ceiling to floor. They offer an interactive Design Studio where you can shape every aspect of every room in your home and experience it through hands-on displays. Legacy Homes specializes in homeowners seeking to move up into more customized digs, or baby boomers wanting to downsize.
Empire Homes & Remodeling, Inc. received nearly a perfect score out of its seven reviews on HomeAdvisor. Empire Homes assures they can construct a gorgeous, custom home for you even on a tight budget. With more than three decades of experience, they use construction strategies that can save money without affecting quality workmanship.
Celebrity Homes has been in business since 1977. The company holds a commitment to energy efficiency and using building materials that minimize environmental impacts. Celebrity Homes has also teamed with some of the area's best lenders to form their "preferred lenders" list and a "free loan program." This program offers no closing costs and no construction loans— meaning you don't have to pay interest on your mortgage during the construction period — plus a free year of both homeowner's insurance and homeowners association dues.
Thomas David Builders craft about 15 custom homes each year in the $450,000 to one million dollar price range. They deliver homes that are architecturally appealing, functional, and age gracefully. They also offer instant pricing on your dream home and a 100% planning and design satisfaction guarantee. This means if you aren't fully satisfied with their design or proposed workmanship, Thomas David Builders will redesign the home at no cost to you.
From its start as a small custom builder, McNeil Company Builders has grown into a nationally recognized, award winning design-build contractor, completing projects in excess of $400 million. They've also ventured into commercial projects and apartment buildings but still complete gorgeous single-family homes. They tout creativity and collaboration and it can definitely be seen in the homes they build.
With a 5/5 on Google Reviews, Denali Homes comes highly recommended. Every project gets personalized attention with an owner on site everyday to check progress and make sure things are going smoothly. Denali Homes have a crisp, open feel and most take just seven to eight months to build.
Before you make any big decisions about your new home, contact a Clever Partner Agent to help you with the tricky timeline of selling your current home while building a new one. These top-rated real estate agents are experts in their local markets. They come from major brands and regional brokerages — like Keller Williams and Century 21 — and offer the same full service as other agents. The only difference is that they have agreed to work for a flat fee of $3,000 or 1.5% if your home sells for more than $350,000. In addition to substantial savings you can reallocate toward the new build, you'll also get their guidance on the new home building process.
Related Articles
You May Also Like