It's an open secret of sorts. Home buyers can usually get better deals in the late fall and winter. But when is the best time to buy a house in Alabama? The fact is, it may not be when the trend predicts. Here's what you need to know about timing when to buy a home.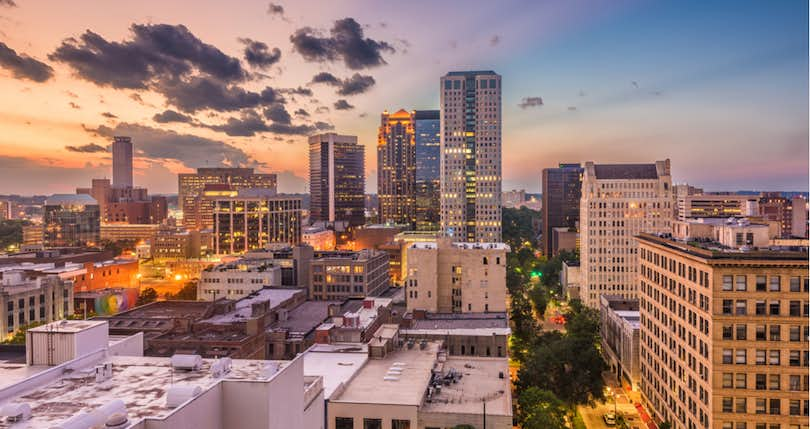 Buying a house is a stressful and emotional process. You'll likely have to spend weeks touring properties, fill out hundreds of forms, and invest a large chunk of your savings to secure the right house.
One way to make buying a house easier is starting the process at the right time. In Alabama, housing inventory, mortgage rates, and market trends vary from month to month.
For example, this year listing prices for homes in Alabama were lowest in January. On average, homes were $20,872 less expensive. While in October — the month with the highest prices — the listing prices were $13,756 more than the annual average.
In truth, the best time to buy a house really depends on your priorities and situation. Read on to find out which time of year will give you the most options and the biggest savings when buying a house in Alabama.
If you're interested in buying a home, the first step in the home buying journey is to find an experienced realtor who's an expert in your local market. The right agent can help you find the best house for your budget and priorities - and negotiate a winning offer so you don't miss out on your dream home.
The easiest way to find a great local realtor is to use a free service like Clever Real Estate. Clever matches home buyers like you with top agents in your area so you can compare your options and choose a realtor who's the right fit for you.
You can interview multiple agents until you find the perfect fit, or walk away at any time - Clever's service is 100% free with no obligation. Fill out the form below to instantly request hand-picked agent matches now!
💰 Buy with a top agent, earn cash back!
Buy your dream home with a top local realtor from a trusted brand like Keller Williams or RE/MAX. Keep more money in your pocket by earning cash back on eligible purchases.
Enter your zip code to request hand-picked agent matches in minutes. Compare your options until you find the perfect fit, or walk away with no obligation. Try Clever's free service today!
Best Time of Year to Buy in Alabama
The best time to buy a house in Alabama is like in many other parts of the country. November to January are good times to start looking for a home, if budget is your main concern. But it should also be noted that as the year goes on, the supply of homes also gets bigger.
So, while it may be that you can find homes at lower prices in the winter, there is also less selection. Housing supply in Alabama can rise dramatically even in a 30-day period. According to the University of Alabama's Center for Real Estate, historically, March home sales on average increase from February to March by almost 11%.
The real estate market in Alabama is relatively affordable. The statewide median sales price is $162,759. It has increased (by 2.6% from 2018 to 2019), but it is still a great market for buyers. Home buyers, particularly first time buyers, can enter at any time of year. If you work with a good realtor, you can negotiate a good price once you are ready to buy.
The Best Places to Buy a Home in Alabama
Attala
This industrial town of nearly 6,000 tucked between Birmingham and Chattanooga, Tennessee, has some of the most affordable homes in the U.S. The median home price is just $78,000, and that presents a lot of opportunities for investors. Last year, it saw an 8% hike in home prices.
Albertville
Albertville, once inhabited by the Cherokee nation, has median home values at about $114,700. It saw a year-over-year change of 8% between 2017 and 2018.
This is a town with a thriving economy and a very low unemployment rate. It's expecting a recent jobs boom to continue into 2020.
Birmingham
This is one of the hottest real estate markets in the region right now. The median home price in Alabama is $86,000. The low home prices are attracting investors from larger metropolitan areas.
The city has undergone a major revitalization in the past few years and it has become a hub for banking, medical research, and construction. Its affordability and growing jobs sector is a major attraction for young professionals and families.
Huntsville
Huntsville home prices climbed by 5.7% last year. But at $153,200 they are still more affordable than in comparable urban centers. The real estate market is expected to keep growing into 2020.
Huntsville, also known as the "Rocket City," is the home of rocket-propulsion research. Jobs in space and engineering sectors create a thriving local economy, while attracting professionals from across the U.S.
Four Ways to Get a Great Deal On a Home in Alabama
1. Find a Great Alabama Real Estate Agent
Having the right real estate agent has never been more important. Towns and neighborhoods change rapidly and so do market trends. A professional real estate agent will always be up-to-date on the most recent data so that you can find your ideal home at the lowest possible price.
If you work with a great realtor you can find your ideal home well within your budget no matter what time of year you decide to buy. As noted above, prices may generally be lower in the winter, but there is more supply in the summer.
Your real estate agent will help take the stress out of buying a home so that you don't have to make one of the most important financial decisions of your life alone. A good realtor will guide you through the entire process of buying a home from the initial search stage to signing your purchase contract. In fact, they can even start working with you before you decide to look so that you can be sure that buying a home is within your financial reach.
Lastly, there are many national, state, and local regulations when it comes to buying and selling a home. A real estate agent's job is to represent your best financial interest. He or she will be able to suggest reliable home inspectors, lenders, and other professionals that you will need when buying a home.
Learn More: What Does a Real Estate Agent Do for a Buyer?
2. Assess Your Needs and Lay Out Your Goals
A real estate agent will be able to negotiate the best price for your home and then guide you through the closing details. But one of the most important things he or she can do for you as a home buyer is help you determine your needs and goals for your home purchase.
In other words, what must you have in your new home? Do you need to buy near a school? Does your prospective home have to be close to a major highway or shopping center? Do you need a two-car garage?
What makes a dream home is entirely up to you. You may not even have thought about the specifics of your ideal home. A professional realtor will be able to answer all of your questions and help you decide what works best for you. You and your real estate agent can then view homes that fit your criteria.
3. Find a Lender and Secure Financing
Unless you plan to buy your home with cash, you'll need to apply for a mortgage. For most home buyers in Alabama, interest rates are among the biggest factors when choosing a lender. Doing a little upfront research and comparing options to find the best rates could save you tens of thousands of dollars over the life of your loan.
For example, in Alabama a typical house is worth $157,000. Assuming a 20% down payment, if you took out a 30-year mortgage for 3.5%, your monthly payment would be $560. But if you shopped around and found a 3% mortgage, your monthly payment would drop to about $530.
Getting a mortgage is a big decision – and it pays to shop around! Keep shopping until you find a lender with competitive rates who also understands your goals. Don't get pressured into taking on a bigger loan than you're comfortable with – work with a lender who explains what you're really signing up for.» Get instantly matched with a lender who works in your area.
4. Negotiate for the Best Possible Price
Buying a home is an art form in many ways. There are many subjective aspects to it, not least of which is that you have to like the home you buy, not just its price.
But once you have found your perfect home, you will want a professional negotiator on your side. The difference between a good negotiator and bad negotiator could save you tens-of-thousands of dollars. Clever Partner Agents have access to up-to-the minute data and can help you put in a precise bid. They can also guide you through the counter-offer stage.
Learn More: How to Find a Buyer's Agent That's a Good Negotiator
Fill out the online form, if you want to know more about the home buying process and how a Clever Partner Agent can help you. A Clever representative will contact you soon about any questions that you may have. You'll then be connected to a local Partner Agent for a no-obligation consultation.
» MORE: Alabama Closing Costs
You May Also Like